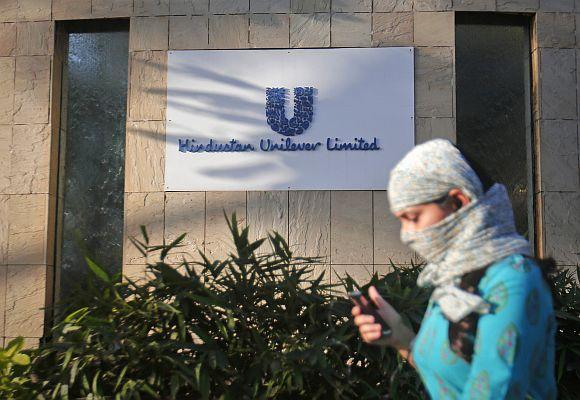 Even as Unilever readies to increase its stake in India's largest consumer goods manufacturer and its subsidiary, Hindustan Unilever (HUL), following SEBI's clearance, HUL's legacy brands keep going strong.
Thirty-six of HUL's 45 brands have been listed among India's most trusted brands in the Brand Trust Report, 2013. It is the largest number of brands from a single group featured on the list. And, the legacy brands have a significant role to play.
Polling a sample size of 3,000 people who tend to be influencers, across 16 cities, the Trust Research Advisory released the third edition of its brand trust report to list India's 1,100 most trusted brands.
There are no less than 61 attributes (such as 'caring', enthusiastic') to determine the rankings, with 3 million data-points on the 19,000 brands in the report.
"Sales are an indication of the brand's trust - how much do consumers trust a brand to say, pay a premium for it," says the CEO of Trust Research Advisory, N Chandramouli.
Trust reigns high for legacy brands. "Many of HUL's brands are legacy brands, and it has successfully kept alive communication on these," Chandramouli points out.
HUL had met stiff opposition from investors in December, 2012, when it decided to hike royalty payments to its parent for the brands from the latter's portfolio sold in India. However, as the survey points out, there are advantages in nurturing legacy brands.
Lux leads the HUL portfolio and is ranked as India's 15th most-trusted brand. The HUL brands that follow are Dove (19th) and Ponds (23rd). In tea, HUL sweeps the rankings with four brands (such as Red Label and Lipton), among the six brands that were recalled as being trust-worthy by participants, in the survey's unaided interviews.
In the bath and beauty category, it has 18 brands among the total 68 in the segment. In home care, HUL's Domex leads, followed by its Vim.
However, its relatively new brands such as Closeup in oral care play second fiddle to legacy brands such as Colgate from Colgate-Palmolive and Vicco.
P&G, Unilever's global rival, has fared better in certain segments such as fabric-care and personal care, despite HUL's presence with its legacy brands. P&G's Tide leads the trust table in detergents, beating HUL's Surf Excel, Rin and Wheel. In personal care, while Lux leads the category, P&G's Olay (18th) is a close second, followed by HUL's Dove and Ponds.
"Even though it would need deeper analysis to find the reasons for such a result, an overview suggests that Tide is seen as a more rational brand with clear-cut benefits, while Surf Excel is seen as a more creative brand. Olay could be helped by its premium image and residual trust from yesteryear's usage of imported products," suggests Chandramouli.
In the overall ranking, that features Nokia, Samsung, Sony, BMW, Tata (Group) and Godrej in the top five, the corporate brand of HUL has slid to 324th from 60th last year. HUL declined to comment when contacted.