The National Spot Exchange (NSEL), in a filing on July 6, said it had raw wool stock of 12,435.5 tonnes in its warehouse in Ludhiana's Seerah village. NSEL's contract specifications said the warehouse was on the premises of ARK Imports.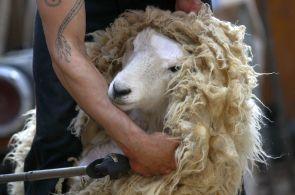 A week later, the stock went up to 12,531 tonnes, before falling to 12,351 tonnes on July 20. In a stock position filed on July 26, it said this had come down to 11,190 tonnes. This means 1,245 tonnes was transported out of the warehouse over this period.

NSEL had no other warehouse for this consignment. These entries suggest heavy movement of consignments in and out of the warehouse, of several hundred tonnes every week.

Yet, when Business Standard visited the facility, a different picture emerged. Several people in the vicinity of the warehouse told us there had been no activity there for several months.

Khemraj, in charge of the warehouse's security, said, "I have not seen any truck going in or out for six-seven months. I know only there is wool stored in the godown." He also mentioned a foul smell from the godown; "Maybe it is infected".

Simble Singh and Gurdeep Singh, who work in a nearby factory, Gitansh Alloys (P) Ltd, said: "Although some officials come on weekdays, there is no movement of trucks in or out of the godown."

When Business Standard approached the warehouse supervisor, who identified himself as Hari Om, he confirmed it belonged to NSEL. And, said he'd no clue about the stock position, as he'd
joined NSEL only about a month before.
The warehouse premises hardly looks like a place where a consignment worth several hundred crores of rupees is stored. At the last traded price, raw wool stock worth Rs 816 crore (Rs 8.16 billion) was supposed to be in it.
Shrubs and weeds have cropped up all over, suggesting lack of human movement. The approach road is narrow, barely enough for one vehicle to pass.
Not befitting a place where hundreds of tonnes of wool are supposed to be deposited every day by sellers and similar quantities taken delivery of by buyers, as shown in the exchange records.
Locals also mentioned there was no electricity or power connection in the plot housing the warehouse, raising questions about the exchange's storage processes.
Wool experts said raw wool is uncleaned and typically comes with flesh pieces; it can lead to a lot of foul smell and deterioration in quality if not stored properly.
Business Standard's
attempts to reach Anubhav Aggrawal, the promoter of ARK Imports, did not succeed.
The staff at his residence said he was not at home and refused to share further details. They said he'd be available at his factory at Dungri in Ludhiana on Monday.
Further surprise was in store as
Business Standard
tried to locate the registered office of ARK Imports (P) Ltd, 228-G, Industrial Area-A, Near Janak Puri Chowk, Ludhiana.
We got to plots 228, 228-A and 228-B but there was no G. Nobody in the vicinity could locate plot 228-G.