The 30-share Sensex ended up 64 points at 26,851 and the 50-share Nifty closed 19 points at 8,015.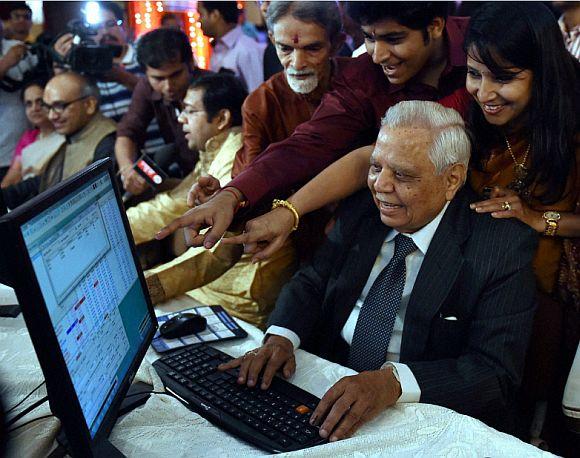 Image: Stock brokers react during the auspicious Muhurat trade on the first day of Diwali at the Bombay Stock Exchange on Laxmi Poojan in Mumbai on Thursday. Photograph: Shashank Parade/PTI
Markets gained for the fifth straight session to end the customary 'Muhurat' trading session held to usher in the new year Samvat 2071 on a firm note post the slew of reforms announced by the government over the past few days.
The 30-share Sensex ended up 64 points at 26,851 and the 50-share Nifty closed 19 points at 8,015.
Foreign funds were net buyers in equities to the tune of Rs 7.54 crore on Wednesday, as per provisional stock exchange data.
After a 26% rally in Samvat 2070, analysts expect the up move to continue going ahead on the back of the reform process and policy actions of the government. However, they are mindful of the possibility of a global economic slowdown and its likely impact on India.
"Indian equities have soared 26% since last Diwali in a rally on a new?found hope of radical reforms with the new government coming to power with a historic mandate, on the back of some acutely depressed valuations.
The Nifty has been volatile more recently as investors look to realign their bets with global markets turning jittery.
This is a god sent opportunity to buy into quality names. We anticipate a prolonged bullish phase for stocks and the next trigger will be announcement of key reforms as well as build up in earnings momentum," points out Amar Ambani, head of research, IIFL.
Global markets Major Asian stock indices ended lower amid growth concerns even though mixed economic data from China failed to boost investor sentiment.
The flash HSBC/Markit manufacturing purchasing managers' index (PMI) for China inched up to 50.4 from a final reading of 50.2 in September, slightly higher than analysts expectations of 50.3.
However, level of factory output slipped to a five-month low of 50.7. Shares in Japan ended down 0.4% while China's Shanghai Composite ended down 1% and Hang Seng slipped 0.3%.
However, Straits Times ended up 1%. Stocks in Europe pared early losses to trade firm after surveys of both manufacturing and services in German were better than expected. The CAC-40 and DAX were trading 0.5-0.8% higher while the FTSE was trading flat with negative bias.
Sectors and stocks
All sectoral indices ended in the green with BSE Oil and Gas index being the top sectoral gainer up 0.7% along with Capital Goods followed by FMCG, Healthcare, Oil and Gas and Power indices.
Oil and gas shares were among the top Sensex gainers with Reliance Industries and ONGC ending 0.7-0.8% higher. In the IT space, TCS and Infosys gained 0.3-0.5% each.
Other Sensex gainers include, ITC, L&T and private banks ICICI Bank and HDFC Bank.
Wipro ended down 3.6% after its revenue growth in the September quarter disappointed the Street.
The company's dollar revenues from IT (information technology) services grew 1.8 per cent sequentially to $1.77 billion, below analysts' estimates. Among other shares, Asian Paints ended up 1.8% on plans to acquire 51% stake in Ethiopia-based Kadisco Paint through its Singapore-based subsidiary Berger International for an undisclosed sum. Kansai Nerolac Paints surged 6.5% amid robust Q2 earnings.
The company reported 40.62% increase in standalone net profit at Rs 72.66 crore for the second quarter ended September 30.
The company had reported net profit of Rs 51.67 crore in the July-September quarter of 2013-14 fiscal. PMC Fincorp (formerly Priti Mercantile Company) jumped 9%, extending its previous day's over 10% rally, after the stock turned ex-stock split on Wednesday, October 22.
Financial Technologies India surged 9%, extending its previous day's 6% gain, on back of heavy volumes on the National Stock Exchange (NSE).
In the broader market, the BSE Mid-cap and Small-cap indices ended up 1-1.6% each. Market breadth ended strong with 1,979 gainers and 533 losers on the BSE.