Havmor will now make its next journey, across India, under the banner of South Korea's Lotte Group, the confectioner best known for manufacturing and marketing chocolate marshmallow pies under the Choco Pie brand, says Sohini Das.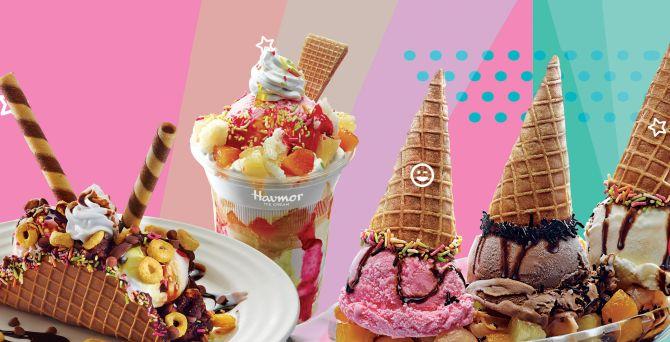 In seventy-three years, Havmor, the Gujarat-based ice-cream brand, has travelled multiple places; starting from Karachi moving on to Dehradun and Indore, and finally settling in Ahmedabad.
It will now make its next journey, across India, under the banner of South Korea's Lotte Group, the confectioner best known for manufacturing and marketing chocolate marshmallow pies under the Choco Pie brand.
Recently, Lotte acquired Havmor, ranked among the top three ice-cream makers in Gujarat, at two and a half times the latter's Rs 400 crore annual turnover, its second Indian buy in a decade.
Lotte had acquired Chennai-based Parry's Confectionary from the Murugappa Group in 2004, renaming the company and setting up base in Ahmedabad.
Parry's brands, Coffee Bite, Lacto King, Caramilk and Coconut Punch, popular among kids became a part of Lotte's domestic portfolio thanks to its acquisition.
But the company didn't stop there; using the existing infrastructure provided by Parry's to launch its flagship Choco Pie brand in India.
The latter today is the largest selling brand in its segment and considered generic to the category in the country.
Experts say Lotte will do the same this time round too; use Havmor and its network to not only mark its presence in a new category, but also launch its own ice-cream brands in India.
Havmor's current promoters, the Chonas, will also help Lotte in this endeavour as they will continue to run the company for the foreseeable future, though Lotte may induct its own people once the mandatory hand-holding process is over.
Globally, Lotte has a presence across segments; from biscuits to snacks, gums, candies, chocolates, ice-creams and health supplements.
"It is quite possible that Lotte would use Havmor as the more mass-market brand and add Lotte ice-creams at the premium end.
"Buying Havmor is about having access to local manufacturing, sourcing and distribution, besides having a strong local brand in its portfolio," says Harish Bijoor, chief executive officer, Harish Bijoor Consults.
Ankit Chona, the third generation of the promoter family at Havmor, says that Lotte will be able to grow the brand faster in a shorter span of time.
"Lotte is a strategic investor and not simply a financial investor," he says. "While the decision to sell out has not been easy, it is a logical step forward."
Industry sources say that Havmor had embarked on an ambitious Rs 250-crore expansion drive under Chona including expanding existing ice-cream capacity and adding a new facility at Faridabad.
This would have required funds for which Chona would have had to get an investor on board or tap the capital markets.
"The promoters' hold over the company would have anyway been impacted as a result.
"Instead, they chose to focus on their food and restaurant business and exit the ice-cream segment," said an industry executive on condition of anonymity.
The Chonas will continue to run the restaurant business under the Havmor name (it has 20 such restaurants and 60 eateries) and sell Havmor ice-cream at the Hav Funn ice-cream parlours located at these restaurants.
Lotte, on the other hand, will run the Havmor ice-cream parlours, located in 14 states, selling 150 different variants of the brand.
As things stand now, Havmor sells around 200,000 litres of ice-cream per day during peak season and half of that in off season with a presence through 115 franchise outlets in west and north of India.
The Chonas will also continue running Huber and Holly, a chain of premium ice-cream cafes, launched recently in the south of India.
Ankit Chona says the plan includes putting more energy and focus on running and expanding the restaurants and premium ice-cream cafes.
He is looking to add 10 restaurants and around 20 Huber and Holly outlets in the near future.
Experts say Havmor under Lotte could also be taken to adjacencies and new product categories as the South Korean major eyes a larger presence in food.
Multinational food and beverage companies, led by companies such as Nestle, Coca-Cola, PepsiCo, Kraft-Heinz, Mondelez, Hershey and Mars among others, have been looking to grow their food business as India slowly but steadily emerges as a destination for packaged food.
More global majors now are committing big bucks for the Indian market including Lotte, which said recently that it would invest anywhere between Rs 20,000 to Rs 32,000 crore in the next five years in India across food processing and retail among other sectors.