Puri gave up the comforts of Citibank to set up a new-age bank from a rat-infested room in the Kamala Mills Compound in Worli, Mumbai and turned it into a marquee brand.
Raghu Mohan takes a look at his 26-year stint as HDFC Bank's boss.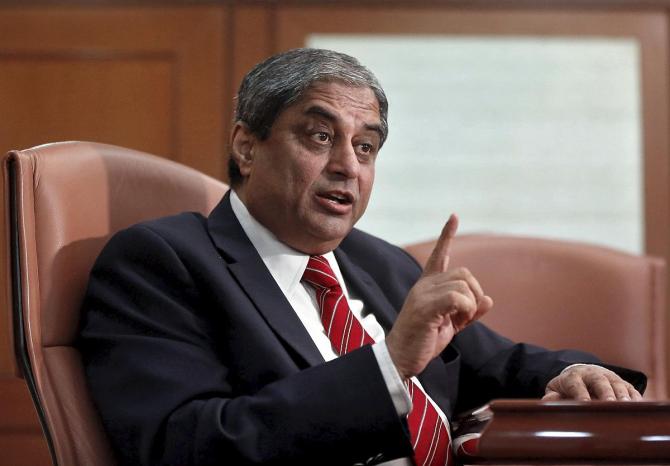 Roger Bannister ran the first sub-four-minute mile (3:59.4) in 1954; it's routine now.
How tough is it to run a bank?
When private bank licences were issued in the early to mid-1990s, few had a clue how the plot would pan out.
Of the four spawned by institutional players, HDFC Bank, ICICI Bank and Axis Bank are now the pack leaders; IDBI Bank remains an "outlier" with a chequered life since its inception.
Outside of the banks that met such a profile, only IndusInd Bank has survived (and done well).
The rest have disappeared in the sands of time.
So it's been a stellar journey for HDFC Bank's "Bannister", Aditya Puri, who is stepping down as managing director on October 26 after a quarter century at its helm.
It's one thing to say that few would have given up the chance to steer the bank when HDFC chairman Deepak Parekh had made the offer.
The opportunity came at a personal cost though it's unlikely Puri would highlight this - he had to give up his stock-options at Citigroup in 1993 to helm a "start-up".
Remember, he had been identified among the top-50 emerging stars in Citi's worldwide franchise by its then CEO, John Reed.
In hindsight, the biggest gamble he took was to give up the comforts at Citibank as its CEO in Malaysia to set up a new-age bank from a room in the Kamala Mills Compound in Worli, Mumbai.
He had to battle rats; they chewed up the wires of his computers - thrice!
HDFC Bank is today a marquee brand, and investors have to pay a good price for its stock.
It would not be off the mark to describe it as an amalgam of "Start-up India" and "Make in India" way before these catchphrases were minted.
There are not many who have matched Puri's longevity at the crease (it's unlikely to be bettered as a record).
Joseph Neubauer led Aramark for 31 years; Ray Irani did so at Occidental Petroleum for 21 years.
That's if you were to look outside the list of promoter-bosses who helmed firms across the world - Puri is our own in the Neubauer-Irani mould.
What has set HDFC Bank apart is that it has eschewed risks.
In its first decade, it was tagged a "boring bank" - to imply it did not serve up "surprises", pleasant or otherwise.
This had a lot to do with Puri's personality - a no-nonsense, conservative banker.
This was reflected in the way the bank rolled out its retail banking suite.
In the mid-1990s when several of his peers chased market share, he refused to play the game.
The bank first bought secured product lines into the market; credit cards were hawked only in 2000.
The strategy underlying this was that at a time when you had little by way of personal credit histories or credit bureaus, it made sense to first gauge the emerging trend from the secured retail portfolio before dabbling in the unsecured (read credit cards).
The bank took a leaf out of American Express's book, which had hawked a balance-transfer scheme when it went into the mass retail cards business earlier.
In a single fell swoop, HDFC Bank's card business got both the eyeballs and wallet share of some of the best customers.
This safe-and-steady approach helped weather the storms.
Just how well he read the tea leaves became clear in the post-Lehman world when banks had to go back to their drawing boards - but not HDFC Bank.
Its foray into digital began early, in 1999 with "NetBanking". "SMS banking" came a year later and then "mobile site", an app (routine now, but Bannister-like for those times).
He then launched "Bank Aap Ki Muththi Mein" - your smartphone turned into a branch.
It was tech-agnostic and worked on iOS, Android and Windows.
Puri ensured that the bank surfed every subsequent tech wave.
Puri's own personal fashion statement is also related to tech: the cell phone. He doesn't carry one.
That's not to say he doesn't own one.
So, rest assured Puri will remain connected with the financial world - and the network will follow.
Photograph: Danish Siddiqui/Reuters