41 listed firms made 73 donations to gaushalas (cow shelters) and other cow-related charities over the last four years. The donations range from a few thousand rupees to a million.
Illustration: Dominic Xavier/Rediff.com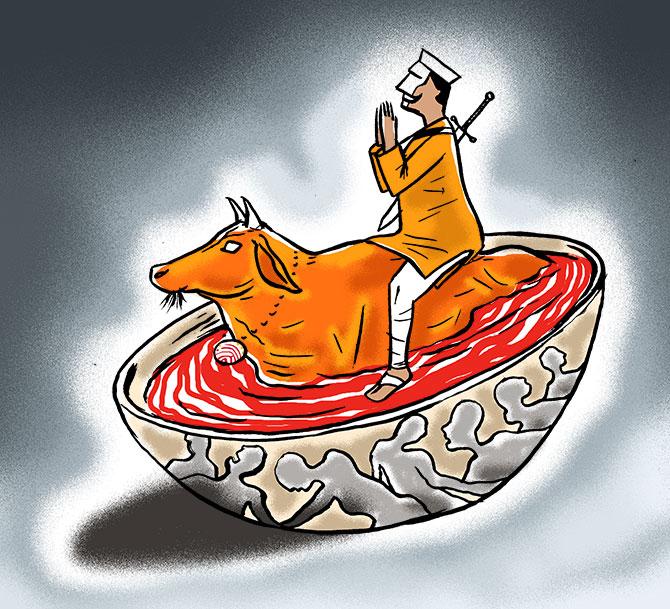 Firms engaged in activities ranging from power infrastructure to manufacturing tableware have one thing in common.
They are all part of a trend in terms of one specific budget allocation as part of their corporate social responsibility (CSR) spends.
They all donated money to gaushalas (cow shelters) and other cow-related charities over the last four years.
Numbers from PRIME Database show that there have been 73 separate donations made by 41 different listed firms between 2014-15 and 2017-18.
The donations range from a few thousand to million. For example, Genus Power Infrastructures donated Rs 11.7 lakh towards cow protection activities and programmes in 2014-15.
Finance company Paisalo Digital donated Rs 1.95 crore towards 'mother cow welfare' in the same year.
La Opala RG, which manufactures glass tableware, including plates and dinner sets, donated half a million for the 'smooth running and maintenance' of a gaushala in 2017-18, in addition to the earlier donations.
There are some instances where specific examples are given where the activity seems aimed at capacity building and rural welfare such as when Excel Industries in 2014-15 said 5,000 cattle were vaccinated in collaboration with the panchayat samiti (a rural local governance body) and also helped fund artificial insemination of 50 cows from eight villages.
But some companies provide less specific details and instead include spends as part of community-related activities, including the renovation of a bus stand, education, or sanitation.
This makes it difficult to figure out how much money has been allocated to 'cow-related' work specifically.
The number of companies making such donations has peaked in 2017-18.
There were 28 different listed entities which had some cow-related spend during the year.
This is twice the number in the previous year.
Animal welfare is one of the activities companies can fund through CSR.
Schedule VII of the Companies Act, which makes CSR mandatory, mentions companies can spend money for 'ensuring environmental sustainability, ecological balance, protection of flora and fauna, animal welfare, agroforestry, conservation of natural resources, and maintaining quality of soil, air, and water.'
Cow welfare can also be covered under rural development.
Development activists and social workers are not enthused with CSR funds being spent on gaushalas.
"In a poor and fund-starved country like India, corporate funds are better spent on projects and activities that improve life at the bottom of the economic pyramid...," says Swetank Mishra, who runs a developmental non-governmental organisation called Sahej.
According to him, the money spent on gaushalas could buy mid-day meals for millions of poor children or even fund basic primary schools in the poorer districts of the country.
The price of providing a single mid-day meal per child is under Rs 10, according to the ministry of human resource development figures.
The total allocation to segments, which include at least one cow-related spend, is Rs 21.57 crore since 2014-15.
The highest spend (Rs 920.8 lakh) was in 2017-18.
Shriram Subramanian, founder and managing director of proxy advisor InGovern Research Services, suggested that mandatory allocations to CSR can weigh down on companies, and such allocations may not be the best way to meet development goals.
"They seem to be misdirected," he said.
Emails were sent requesting comment to the 41 companies that made allocations to cow-related CSR activities over the last four years. None of them responded.