'He's at best a holding-CEO. Not one who will re-imagine the bank,' a senior banker and former colleague tells Raghu Mohan about HDFC Bank CEO & MD Sashidhar Jagdishan.
It is rare to find a corner-room occupant being candid about an organisation's shortcomings in the annual report.
In his first note to shareholders, Sashidhar Jagdishan, 56, managing director and chief executive officer of HDFC Bank, said: 'In the last 28 months, we have been in the spotlight for the wrong reasons when it comes to technology. Also, there have been deficiencies in compliance... As a bank, we are certainly sorry for what has happened.'
The statement reflects Jagdishan's baptism by fire in the eight months since he took over from his larger-than-life mentor Aditya Puri.
The Reserve Bank of India had censured the bank for the frequent technology outages and embargoed it from issuing new credit cards and fresh launches under the 'Digital 2.0' initiative.
The RBI also conducted a third-party audit of the bank's IT systems. The audit report is with the central bank.
Then in November 2019, a whistle-blower alleged that a vendor -- Mumbai-based Trackpoint -- was incentivising some employees in the bank's auto-loan team to bundle the financing of GPS systems and cars. Following an inquiry, the bank sacked the employees and the vendor.
Meanwhile, the central bank issued a show-cause notice on the arrangement with Trackpoint, and slapped HDFC Bank with a Rs 10 crore (Rs 100 billion) penalty.
These incidents have led to introspection.
'Customers are at the heart of everything we do. But every individual has to ask himself: Am I doing the right thing for the customer? Am I doing the right thing for the organisation? Does my conscience permit this?' Jagdishan noted in his statement.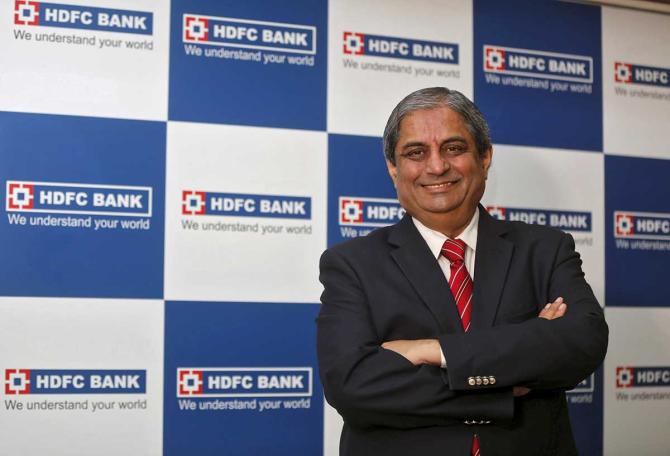 Just how did one of the world's most valuable banks (and completely home-grown), which prided itself on its technology backbone and governance standards, get itself into such a quagmire?
Surely Jagdishan, as one of Puri's closest confidants (and a designated 'change-agent' in the months leading up to his taking charge), would have been in the loop on these festering issues?
He joined the bank in 1996 and served in positions at the heart of its operations -- group head of finance, human resources, legal & secretarial, administration, infrastructure.
But his succession was preceded by its share of drama.
The RBI had been 'informally sounded out' on whether it would raise the age limit of 70 years for directors on bank boards and align it with the Companies Act limit of 75 years.
The development came on the cusp of a hunt to find successors to Puri, one of the longest serving private bank CEOs globally, and IndusInd's Romesh Sobti.
Jagdishan's appointment could be viewed in this light.
"Jagdishan is a great implementer, very god-fearing and amiable. But he's not a P&L person. He will implement Aditya's party-line very well," said a senior banker and former colleague, adding, "He's at best a holding-CEO. Not one who will re-imagine the bank. That said, it takes all kinds of people to run a bank."
"All of us were in the shadow of Aditya's personality, but had an independent streak. Jagdishan was not one to rock the boat," said another senior banker, adding, "For Shashi to apologise for, say, the bundling of the GPS, is an easy pass. But he had been the bank's chief financial officer. At his level of seniority, he could have questioned the processes in the auto-loan department. And this practice (bundling) continued for years."
The technology downtime was evident in December 2019, when the bank's net banking and mobile application shuttered for three straight days. And the bundling of the GPS device costing Rs 18,000-Rs 19,500 had been going on since 2015.
Downtimes can happen to any bank. But as a senior banker pointed out: "You build capacities ahead of business. The thumb rule is that you maintain head-room of at least 30 per cent when it comes to technology."
He attributed the glitches to the huge ramp-up in the bank's retail business at nearly 50 per cent of its book, and the surge in digital transactions post-demonetisation and post-pandemic.
There was also the private banks' market share capture from state-run banks over the five years, which the RBI's Report on Trend and Progress of Banking in India (2018-2019) highlighted.
This capture happened because nearly a dozen state-run banks were sent under the RBI's prompt corrective action framework for slipping up on key financial parameters in the preceding years.
For HDFC Bank, this led to huge market share gains even as digital transaction volumes shot up; and the bank was found wanting when it came to servicing customers.
To be sure, technology investment costs are steep.
Jagdishan, who is as understated as his predecessor was high profile, said in the annual report: 'We have invested heavily in the scale up of our infrastructure to handle any potential load for the next three to five years. We are also in the process of accelerating our cloud strategy to be on the cutting edge leveraging best-in-class cloud service providers.'
So, how is one to situate Jagdishan's official admission of these shortcomings?
The apology should be seen as being on behalf of the bank's top brass over the years. He is the honest messenger who has been courageous enough to be upfront.
Feature Presentation: Ashish Narsale/Rediff.com