Objections from the competition regulator and powerful retailers' associations could prompt a tightening of foreign direct investment rules for online sellers.
Peerzada Abrar reports.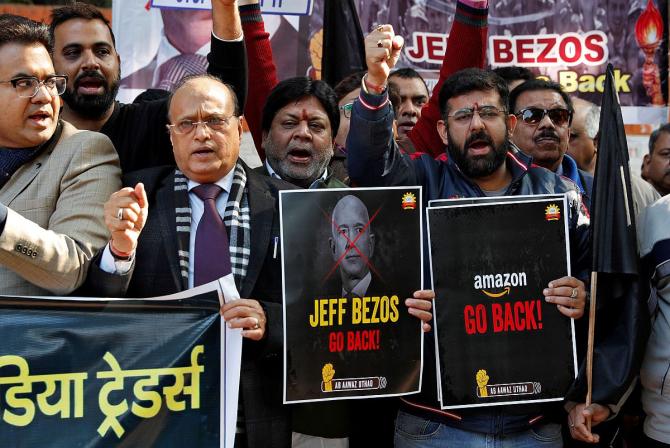 Last November, a lawyer for Future Retail Limited (FRL) told Delhi high court that Amazon is interfering with its lawful business and thousands may lose their jobs and FRL may go bankrupt.
Senior advocate Harish Salve, who appeared for FRL, likened Amazon to East India Company.
Senior advocate Gopal Subramanium, who represented Amazon, told the Future counsel to keep the "East India Company" rhetoric aside, as Amazon has invested $6.5 billion all over India and created 900,000 jobs.
This drama played out in the case in which Amazon has challenged Future's $3.4-billion deal with Reliance, alleging the retailer's deal breached an agreement with the American e-commerce firm.
Before that, in February last year in Karnataka high court, the legal counsels of Competition Commission of India (CCI) and Delhi Vyapar Mahasangh (DVM) cornered the e-commerce firm, justifying the CCI decision for a probe against it.
This occurred at the hearing of a petition filed by both Amazon and Walmart-owned Flipkart seeking an interim stay on the CCI investigation.
Giving examples of how Amazon is promoting sellers in which it owns a stake, senior counsel K G Raghavan, who appeared for DVM, alleged that the relationship between the petitioner (Amazon) and preferred sellers on its platform are like the "tentacles of the octopus" and "has to be deciphered by the investigation".
This case is still on.
Taken together with Enforcement Directorate investigation into alleged forex rule violations, Amazon is facing its biggest challenges in India yet.
This comes at a time when the Jeff Bezos-led firm has pledged to digitise 10 million micro, small and medium enterprises (MSMEs), enable $10 billion in exports and create another one million jobs by 2025.
Of the three, the courtroom battles involving the politically powerful trade body Confederation of All India Traders (CAIT) and its affiliate DVM are particularly consequential because they are reportedly likely to lead to a tightening of foreign investment rules for e-commerce companies.
These issues were amplified following a Reuters report in February this year citing internal documents that suggested that Amazon had circumvented local laws on foreign direct investment (FDI) in e-commerce.
The report talked about how Amazon has given preferential treatment to a small group of sellers on its India platform, publicly misrepresented its ties with the sellers and used them to circumvent increasingly tough foreign investment rules that affect e-commerce.
So, has Amazon actually broken e-commerce regulations?
Legal experts suggest that the Seattle-headquartered giant has exploited policy loopholes, just like other retailers and online retail firms.
For instance, the documents reviewed by Reuters are dated between 2012 and 2019.
Since then, the policies have changed many times and combining old data with the current policy may not prove that the firm has broken any law.
Consider the most common allegation of Amazon's preferential treatment of some select sellers.
CAIT and DVM alleged that Amazon has a direct relationship with the seller Cloudtail and was giving it preferential treatment along with another seller, Appario.
Cloudtail, one of the largest sellers on Amazon India, is owned by Prione Business Services, which is a joint venture between Amazon and Infosys co-founder N R Narayana Murthy's Catamaran Ventures.
Appario Retail is a subsidiary of Frontizo, which is a joint venture between Amazon and the Patni Group.
These were deals that Amazon signed between 2014 and 2017.
However, the revised e-commerce laws restricted marketplace platforms' shareholdings in direct retail suppliers.
Industry executives said Amazon had made these investments within the parameters of the law and it is up to the government to come up with policies to regulate such agreements.
Amazon, in fact, is not the only one facing the prospect of a CCI probe.
The case provoked extraordinary scenes in court in February last year when lawyers from arch-rivals Amazon and Flipkart filed a writ petition in Karnataka high court challenging the investigation order on information filed by CAIT and DVM.
The single judge ordered a stay on the investigation, to which CCI filed a petition before the Supr­eme Court in October last year to vacate the stay.
Interestingly, Karnataka high court also commented on a 2018 case involving the All India Online Vendors' Association and Flipkart, where the traders' association accused Flipkart of abusing its dominant position.
CCI had invited Amazon to present its views as a third-party or expert.
CCI had said at the time that Flipkart or Amazon had not violated any law.
Karnataka high court found it strange that CCI had changed its views.
This year in January, Karnataka high court started hearing the CCI probe petition again.
This is a continuation of the matter after the Supreme Court declined to entertain CCI's petition in October last year and asked the HC to decide the CCI plea for vacating the stay.
In February, CCI told Karnataka high court that Competition Act was brought in to create a level playing field and it wants more players in e-commerce to promote healthy competition and better choices for consumers.
Madhavi Divan, additional solicitor general, appearing for CCI, told the court that when a big player comes and gives a discount, it is an investment for them.
She argued that studies show that these big players incur losses for that time and push the smaller players out.
But as Amazon's legal counsel Gopal Subramanium pointed out, CCI's own market study had concluded that even if the online platform had entered into exclusive agreements with sellers, they could not be called anti-competitive.
Subramanium also said about 756,000 sellers conduct business on Amazon's platform and all of them cannot be preferred sellers.
The online retailer promotes competition with its competitive prices, he added, explaining that any discount is done by the dealer or seller of the product.
He contended that Amazon has no say in that decision since it is only a marketplace platform.
The sellers that are shown to the consumers on the e-commerce platform are based on an algorithm that takes into account price, delivery and ratings.
He had also contended that discounts are given even in offline channels, during the festive season, again at a seller's discretion.
Meanwhile, CAIT, which represents 70 million traders, urged the government to ban Amazon's local operations after the Reuters report was published, and demanded a time-bound investigation into the alleged malpractices, which should include Walmart-owned Flipkart.