'Trump's sparring with China is good for business,' Raymond's CMD tells Pavan Lall.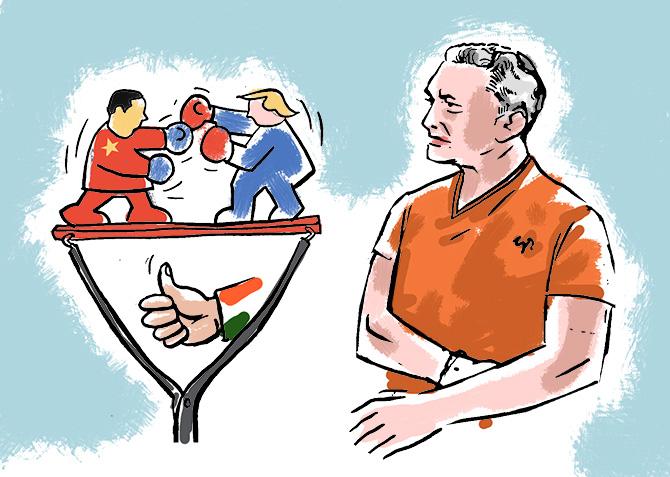 Clad in a V-necked, orange pima cotton T-shirt emblazoned with his team logo 'GHS', grey track pants and Tommy Hilfiger flip flops, Gautam Hari Singhania, chairman and managing director of the Raymond Group, is meeting me on a warm afternoon at the JK House, Raymond's headquarters on Warden Road.
I am directed to the Atelier Lounge, which is part high-end boutique and part men's upscale country club, which features a bar replete with single malts, an exhaustive French wine list, and a gigantic 12-foot flat-panel TV that could be mistaken for a billboard.
Of late, the sports gear is de rigueur for him -- far removed from pinstripe power suits.
"Well, I'm not part of (daily) management anymore," is his answer with a half-smile, followed by the rider, "I'm not involved day to day, but don't think I don't know what is happening every day."
From throwing legendary bacchanalian parties in Powai, Mumbai, that lasted from sundown to sunset and finished off with a champagne breakfast he personally curated, Singhania is now obsessed with maximising shareholder value, handing over operational charge to professionals and keeping Raymond in the competitive edge.
That may seem a charmed life from the outside, but there are huge pressures, he says, adding that is "the professional hazard of an type A personality".
At 53, Singhania does have his plate full.
There's the disruption across industries, geopolitics and the shifting sands of leadership in corporate India on the one hand, and his growing realty business and an unfortunate and very public spat with his father and former Raymond chairman Vijaypath Singhania, on the other.
Waiters silently bring foldable tables in front of us to set them up for lunch.
Did it have to come to what it did with his father?
Singhania pauses, then says: "There is nothing hidden about the dispute between my father and me. He wants me to do things that are not possible."
"The company is on one side and my father on the other. The dispute is personal and my job is to firewall my family issues from that of the organisation."
Is resolution likely?
"God willing, hopefully one day, who knows. I've tried my best and, of course, I'm open to it. Who wouldn't like to resolve issues?"
Waiters return bearing silver thalis.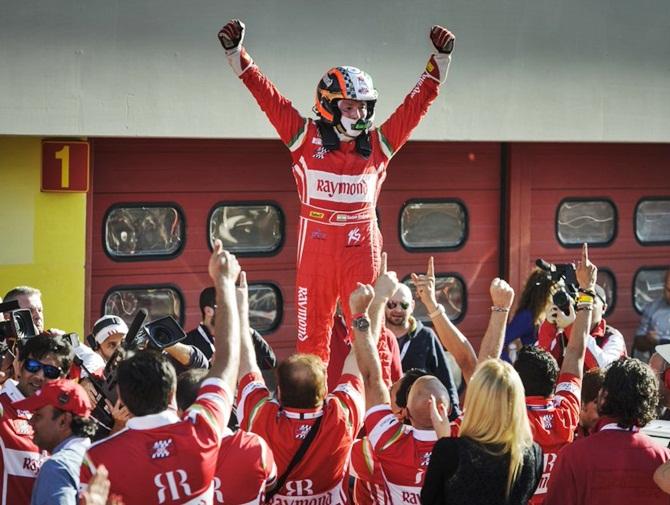 Laid out in neatly arranged identical bowls are paneer masala, navratan korma, jeera aloo and cucumber raita.
These are accompanied by warm, crisp naans. We dig in with our hands.
The food is simple, but fresh and perfectly prepared with minimum spice and oil.
Singhania speeds through lunch; I follow suit. "I'm a pretty normal guy who is doing his job," he says almost reading my mind as I wonder if jeera aloo is what the yacht-owning, Lamborghini-driving, vicuna-jacket-wearing promoter consumes every day.
The Cathedral & John Connon School alumnus remembers taking work trips in Dakota aircraft to factories at Bilaspur and Allahabad and the diet on the plane would be home-cooked fare like puri saag and curd along with chatter on business.
"I'm simple about everything: I like non-spicy vegetarian food, family is very important, and religion is part of my life."
But, of course: He takes his wife and daughters on skiing trips to Switzerland when he takes a breather, I learn.
The lesser known facts include his regular visits to the Venkateswara temple in Tirupati every quarter and the frequent talks he hosts for spiritual leaders.
While Singhania has been at the helm of Raymond for close to two decades now, in the late 1980s he also ended up working for The Indian Post, a family-owned newspaper.
"It was challenging to go from textiles to newspapers, which was a perishable commodity and which I knew nothing about. But my time there was great," he says.
"In the end, I was caught between other media giants and an unfortunate political situation and the paper was sold to Gujarat Samachar."
Today, Raymond has over 1,100 stores across 550 cities, a retail distribution network spread over 20,000 locations, from metro cities all the way to tier 10 towns.
But there are challenges. If earlier it was about licences to do business -- one could get by even if the product was bad -- today there are more companies in the fray, consumers are sharper and the whole game has changed, says Singhania.
The emphasis is on the brand and the marketing. The real "challl-enge" -- he stretches the word for emphasis -- is how you keep reinventing things and make them new.
At the B2B end, Raymond is making made-to-measure suits and supplying fabric to international chain stores such as Macy's, JC Penney and Debenham.
"Trump's sparring with China is good for business," he says.
Khadi has been added as a fabric and apparel choice, as has ethnic wear to include ornate sherwanis.
Singhania has consciously pushed men's accessories.
"A very senior industrialist's wife reached out and said that her husband wanted to have all their shoes done by us," he recalls. He told her: "We can do all the suits also."
That isn't marketing spiel. Inside the Atelier a sales associate shows customers a large touch monitor with several combinations and permutations for ordering hand-crafted leather shoes.
It's cutting edge and quite unlike what many international labels offer.
So what has he done different in the last year?
Singhania says the focus has been on the real estate business -- Raymond has just launched its first project in Thane -- which is completely different from textiles.
"It's all about the permissions," he says. Raymond owns 130 acres in Thane, valued around Rs 5,200 crore/Rs 52 billion according to market estimates.
Lunch over, the waiters arrive with a mango roulade cake for dessert for me which I decline and Singhania ponders vanilla ice-cream and then decides against it and then pick up a strain of thought.
It is from his mistakes that he has learnt the most, he says. Which did he learn the most from, I ask. Raymond's denim merger was one.
In 2006 Raymond tied up with denim maker Uco of Belgium and what emerged was a player with a combined capacity for 47 million metres per annum.
However, multiple issues arose that led to the collapse of the tie-up. The consequence was heavy restructuring costs.
"Maybe I did it for the wrong reason, or maybe not enough homework went behind it, but it was a mistake," he admits.
"You learn and move on, you can't ponder over spilt milk."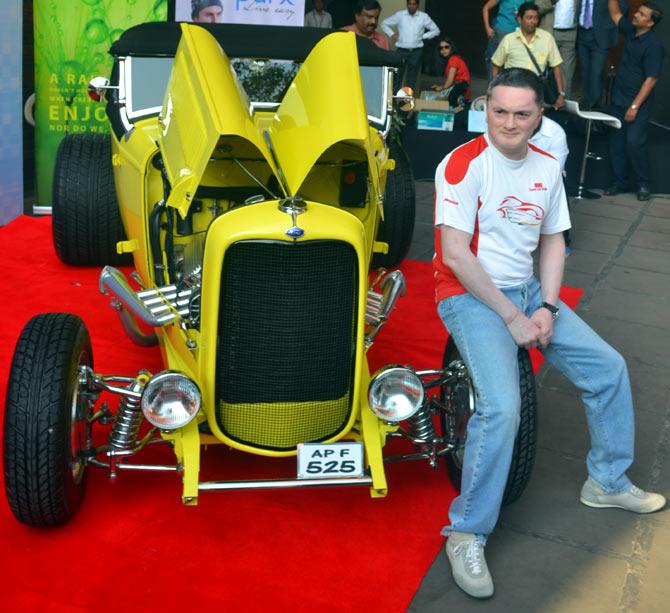 Seconds later we are interrupted by an assistant bearing a white note which Singhania looks at before exclaiming.
"Some notice would have been nice. Push it by half an hour." There's always something on, he explains, from product review meetings to manager meetings to someone landing up unscheduled and so on.
While his day starts at around 7.30 am, Raymond's boss says he only manages to grab the day's newspaper and e-mails post 8.00 pm.
"I've reached that stage in my life where, left to myself, I'm happier not to travel."
His advice for millennial entrepreneurs?
"The thing about managing money or people when you get to a certain scale is that you have to have a core value system in place and do the right thing," he says.
"That's also the harder road and to stay the course is even more so. But that's the journey of life."