Saurabh Mahajan, a former Indian Army officer, is making history in medieval battles grounds.
Rediff.com's Archana Masih meets the man who has supplied vintage armour and war props to Assassin's Creed, The Hobbit and knights in shining armour to the Tower of London.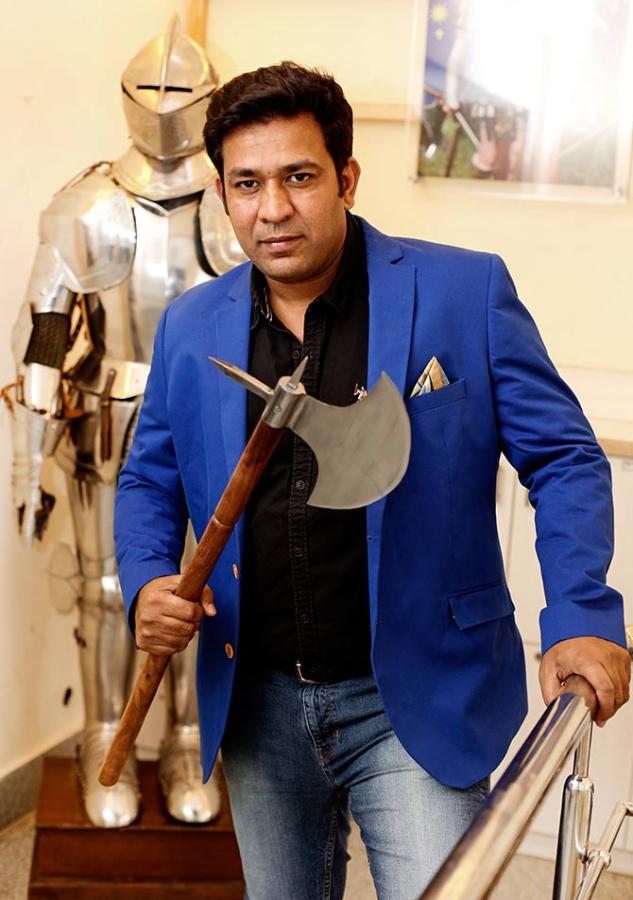 IMAGE: Captain Saurabh Mahajan started Lord of Battles after serving the Indian Army. He wants Lord of Battles to be one of the world's best companies supplying medieval products for movies and theatre. Photograph: Kind courtesy Lord of Battles
There is every chance that the swords being sold at the souvenir shops at Fontana de Trevis in Rome will have a Made in India tag and the guards at the Tower of London are wearing armour made by a Dehradun-based company run by a former captain of the Indian Army.
"I see these two guys wearing chain mails (armour) at the Tower of London, and I tell them they are made by my company -- and they say, 'Sir, can we have a picture with you!" says Captain Saurabh Mahajan, founder and managing director, Lord of Battles, sitting in his office with a miniature medieval body armour behind him; and a treadmill, in front.
Medieval helmets (imagine King Arthur and his knights) sit on a shelf. Rock music plays softly in the background as Mahajan deftly straddles the medieval and modern worlds.
The walls are lined with posters of Hollywood and television blockbusters that the company has supplied medieval war weapons, armour and camping equipment to -- The Hobbit, Assassin's Creed, The Bastard Executioner, Merlin series...
There are posters of other big Hollywood films with bigger stars -- films that have come and gone -- and a hugely successful television series but I am cautioned not to mention them because of strict non disclosure contracts.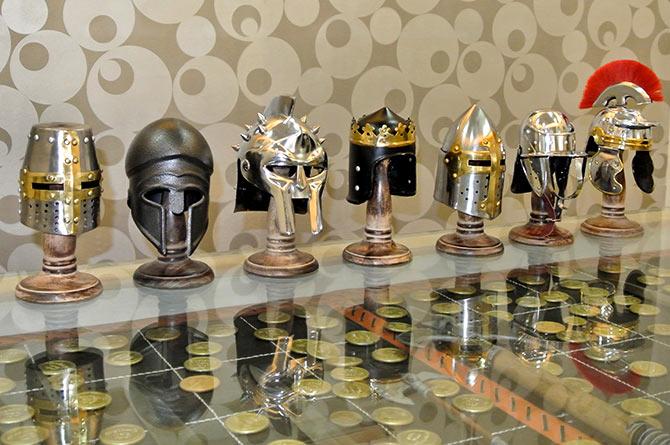 IMAGE: Medieval war helmets made by the company on display at the Lord of Battles office in Dehradun. Photograph: Kind courtesy Lord of Battles
So careful is Mahajan about any breach of contract that he ensures a member of his staff e-mails me a list of the films, television shows and stage productions that can be mentioned in this feature.
"Hollywood production companies are very strict and secretive because billions of dollars are at stake. If anyone puts a picture online of an item being used, the interest in the film is lost," says Mahajan, who started Lord of Battles in 2005 after serving the Indian Army for seven years, five of those in Jammu and Kashmir.
"Till the time the movie is released we don't know anything," he says. "Even for Assassin's Creed they told us the correct name of the film after the release."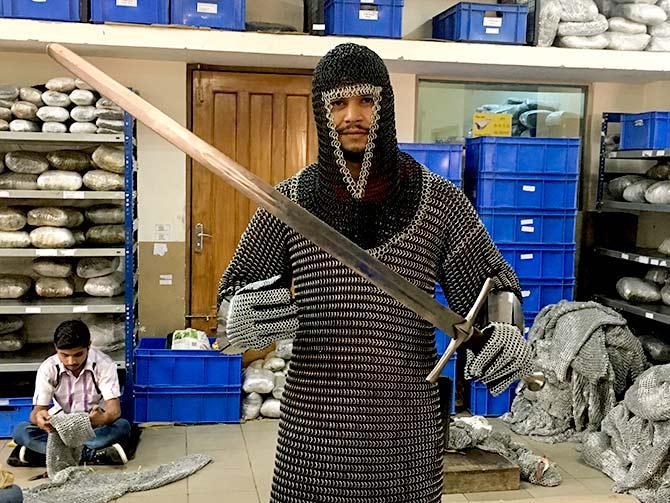 IMAGE: A worker sportingly puts on a chain mail armour at the workshop. Chain mails are the most in demand item. Photograph: Seema Pant for Rediff.com
Mahajan learned the importance of secrecy early on in the business.
A chain mail made by Lord of Battles for famous theatre company in London was worn by a friend who was visiting the office. He posted a picture wearing the chain mail on Facebook and tagged Mahajan.
The costume designer of the play, who was Mahajan's friend on FB, saw the picture and cancelled the order.
"It was done unintentionally. I hardly had 2, 3 friends on FB then. But because it was to be worn by the lead character, they cancelled the order and changed the design."
Up till now most orders for films have come through the big 'prop' companies from the US, UK and Europe that buy from Lord of Battles and subsequently sell to the movies.
"We must have supplied stuff for many movies -- as many as 70, 80 maybe -- but because they are sold through prop companies, most often we don't come to know."
"We are also bound by contract not to reveal the name of the film. The movies I mentioned are the ones that have directly contacted us."
A prominent spot in the office-cum-workshop display posters of a hit television series. The company has provided items for the last two seasons. It is supplying items for the next season as well.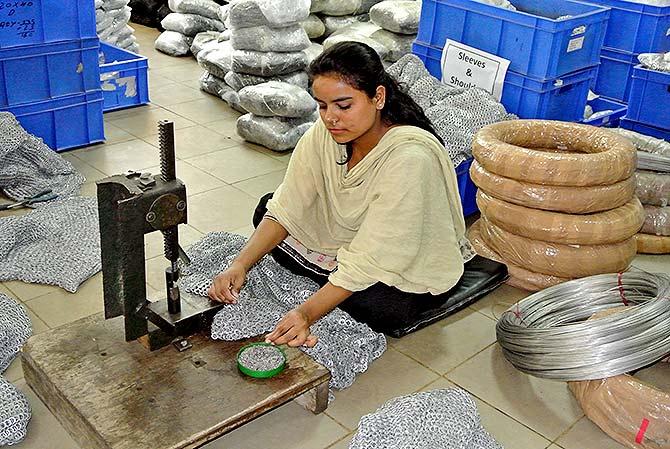 IMAGE: Rings are sewn together to make patches that then create an armour. Captain Mahajan started with 3 workers. He now employs 130 crafts persons. Photograph: Kind courtesy Lord of Battles
A 100% export company, Lord of Battles primarily sells to markets in the US, UK, Europe, Australia, Russia and Japan.
The items most in demand are chain mails, camisoles (the clothing worn under the chain mail), medieval leather boots and camping items -- pots, pans, cauldrons, S-hooks, kettles etc.
In the workshop below, neck ties and wine bottle holders, made of chain mail, are ready to be shipped to a souvenir shop in Europe.
On another rack, 150 sauce pans are waiting to be dispatched for a camping scene in an upcoming film.
"Our craft persons make everything by hand, nothing is machine-made. It's a great feeling to see big actors wear our stuff," says Mahajan, giving us a walk-through as we walk past Michael Fassbender in Assassin's Creed.
A group of women working from home stitch the rings into patches that are then made into armour. 130 craft persons, mostly employed in the factory in Saharanpur, UP, work on creating the items.
Currently, the company is creating material for two films and five theatre productions. A group of Russian costume designers had arrived the previous day to decide on the final costumes for a war movie.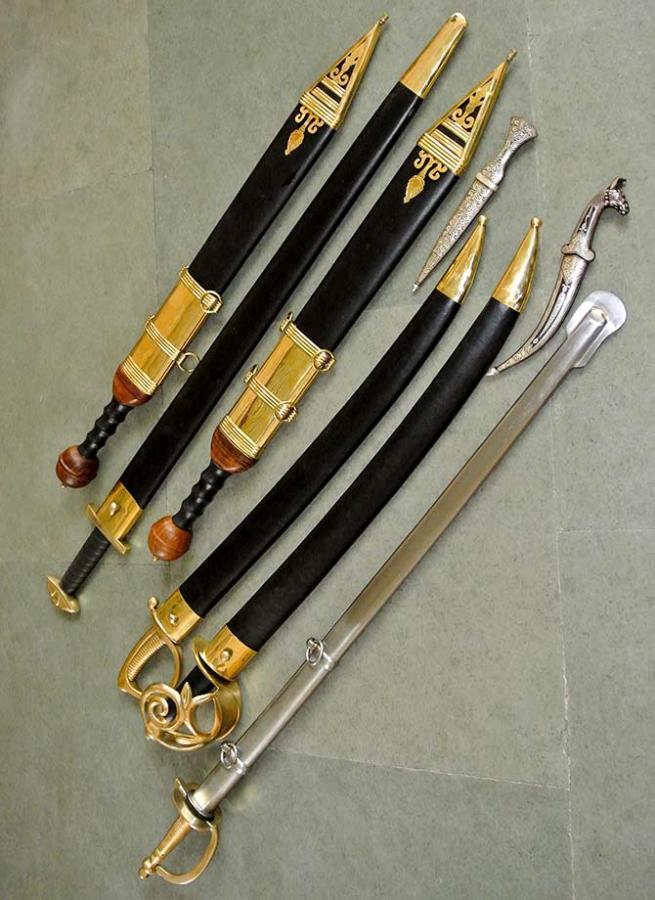 IMAGE: Swords and daggers. Hobbyists who participate in the re-enactment of great battles form the biggest market. Photograph: Kind courtesy Lord of Battles
A meeting with an Australian costume designer on a rafting adventure in Rishikesh led Mahajan to start Lord of Battles.
The lady was looking for medieval helmets and Mahajan got them for her at a fraction of the estimated cost.
She referred him to other costume designers and orders gradually started coming for re-enactment and live action role-play.
From 2010, theatres and movies companies started approaching him.
The biggest initial boost came when Alistair MacArthur, head of costumes, Royal Shakespeare Company, contacted him for Morte d'Arthur.
"We were invited for the play and the end it was announced that the manufacturer of the props were luckily in the audience. They made us stand and gave us a standing ovation. Imagine what a feeling it was!" remembers Mahajan.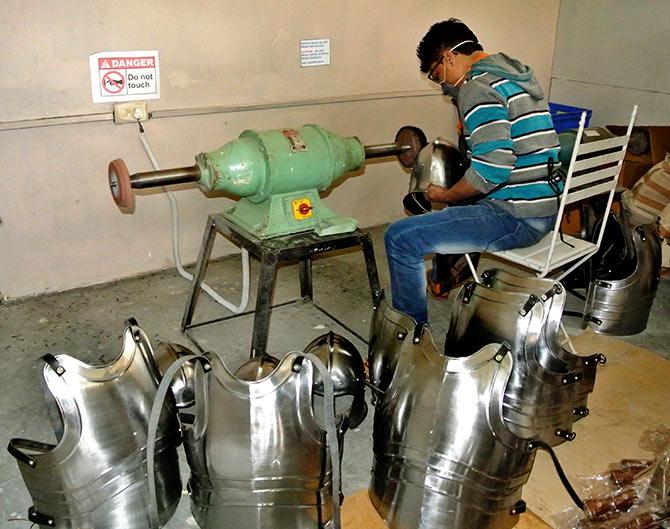 IMAGE: Chest plates and helmets being crafted by a worker. "Our items are hand-made with great detail," says Captain Mahajan. Photograph: Kind courtesy Lord of Battles
What gives the company an edge over its main competitors in Poland, the Czech Republic, says Mahajan, is that Lord of Battles' products are hand made.
In most cases, the production house sends a design sample. Lord of Battles also has a small in-house design team.
The company also supplies medieval leather journals, helmets, chain mails, miniature helmets etc to the souvenir shops at the Wallace Collection Museum, the Tower of London and to several castle shops in Europe.
"I want us to be one of the world's best companies supplying medieval products for movies and theatre," says Mahajan who has no immediate plans to enter the Indian market.
"We craft each item with great detail, hence they are expensive. A helmet costs Rs 8,500, I won't be able to make it for Rs 1,500 for a Hindi film and compromise on the quality. I want to do limited business, but good business," he says.
Once he has achieved his professional goal, Mahajan wants to start a war museum in India some day.
"The aim is not to only increase the turnover," he says, over coffee and delicious locally made biscuits.
"My salary in the army was Rs 21,000 and I was happy. Money is not the only thing that gives you happiness. What is important is customer satisfaction."
He has never been late with any delivery, he says, and credits his training in the army for this quality. "It costs $15,000 a day for booking a castle and a lot of money is lost if a shipment reaches late."
The Lord of Battles conference room has framed letters of appreciation from production companies commending him for his on time delivery.
IMAGE: A Roman helmet and shield sold in souvenir shops in Rome. Photograph: Kind courtesy Lord of Battles
The son of an army officer and alumnus of the National Defence Academy, most of Mahajan's military batch mates are now lieutenant colonels and colonels.
The pride in his voice is evident when he says his best friend recently commanded a regiment in Dehradun.
In 2004, when Mahajan left the army he only had about Rs 5 lakh rupees. He invested all of it in his business.
His advice to young entrepreneurs is to give it their best and take some calculated risks.
"In international business, if you are honest, deliver on time and maintain quality, you will multiply," he says, posing with a sword.
"You should also have fun in what you do."