There is a waiting period of 8 months for a Rolls Royce, as every car is hand-built in a UK facility that churns out only 4,000 units a year; the wait gets longer if you want it customised.
Ajay Modi reports on the exclusive process behind owning the status symbol.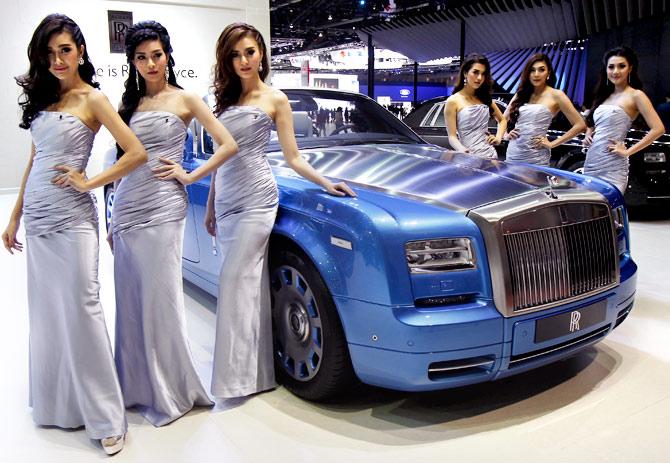 Models pose beside a Rolls-Royce Phantom Drophead Coupe Waterspeed.
Customers in India often make the entire payment for a Rolls Royce in a single cheque!
Don't miss: The Indian barber who owned a Rolls Royce
Photograph: Chaiwat Subprasom/Reuters.
Yadur Kapur, the owner of a Delhi Rolls Royce outlet, once delivered a new car to a buyer's residence 2,000 km away from the capital. The car was driven all the way to this buyer's city -- Kapur is not comfortable naming the city -- by a driver from the outlet.
The Delhi outlet caters to demand from the markets in northern and eastern regions of the country.
Rolls Royce has just launched the new Phantom in India, priced at over ₹110 million for the top model. But the Delhi-based outlet has already got four-five calls from prospective buyers.
The Rolls Royce range in India begins at ₹45 million and goes up to ₹110 million. Kapur's outlet stocks three-four cars for display and demonstration.
"I have got phone calls this week with requests to deliver the car. Deals are already done in a matter of seconds. But I don't have cars to deliver," said Kapur.
There is a waiting period of at least eight months for the Rolls Royce car, as every vehicle is hand-built (assembled) at its Goodwood in the United Kingdom, which churns out only 4,000 cars a year.
The new Phantom takes 450 hours to get built with over 60 workers.
The wait can turn longer by two-four months if the buyer decides to customise the vehicle according to his taste and preferences. A few of the buyers prefer to fly down to Goodwood, accompanied by Kapur's executive.
A Rolls Royce spokesperson said each such visitor lands at the Rolls Royce helipad in Goodwood to spend a day watching his/her car being hand-assembled and offer inputs according to his choice.
"We do not have a catalogue for these buyers as it would mean that the offering is set. We inspire them to come up with any suggestions for the interiors, colours, etc", he said.
Not specific to Indian buyers, but Rolls Royce gets peculiar requests from buyers.
Once a buyer wanted the seat covers to be in same colour as his dog.
A member of the royal family asked for the interiors to be matched to her nail polish colour.
"We had once flown a soft drink can from Japan to the UK factory so that the holder in car could be designed to offer a firm grip whenever the owner placed the can," said the spokesperson.
Rolls Royce buyers in India and elsewhere are ultra high net worth individuals.
"They have one thing in common -- they are all very successful and have the money to buy this car and want the best in life," said the spokesperson, adding that more than 350 Rolls Royce cars were delivered to Indian buyers between 2013 and 2017, making India one of its promising markets.
There are four outlets in the country -- one each in Delhi, Mumbai, Chennai and Hyderabad -- and the company believes it is adequate to take care of the demand.
Well, not many can afford a Rolls Royce. But there is enough interest for a second-hand car.
Kapur said he had a list of people keen to buy used Rolls Royce cars, but there was hardly any available in the market.
"These cars are for a lifetime. Many preserve it for generations. I have a customer who has been driving one such car every day to his office for over 10 years. They simply don't want to sell it," he added.
A number of families own two Rolls Royce cars in India -- the father may have a Phantom, the son could own a Ghost, said Kapur.
Unlike most car brands, Kapur's showroom does not get many walk-ins.
"Our system is not walk-ins. Our customers call us up and we go to them with the car at their residence or office. My sales team knows each customer by name and is available around the clock for any help," he said.
In case a buyer needs assistance, an executive is flown within 24 hours.
Kapur's customers -- at least some of them -- make the payment in a single cheque.