Why are missed calls such a big deal for leading telcos? Surajeet Das Gupta finds out.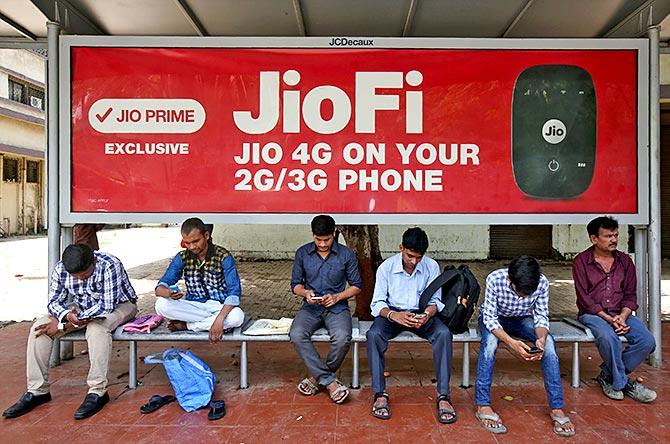 The telecom titans -- incumbents vs newbie Reliance Jio -- clash again, this time over innocuous missed calls.
Incumbent operators have complained to the regulator that Jio has arbitrarily slashed the duration of the call alert ringer from 45 seconds to 20.
By doing so, it has increased the number of missed calls on competitors' networks and is forcing their customers to call Jio customers back.
Jio, say sources, has hit back alleging that the two operators have consciously kept voice calls rates for 2G and 3G customers steep, which is a high as as Rs 1.80 a minute.
High voice tariffs are forcing subscribers on these competitor networks to make missed calls to Jio customers, who have no problem calling back, since voice calls on the Jio network is free.
Why are missed calls such a big deal for leading telcos?
The real grouse concerns IUC (interconnect user charges), or the money per call that a telco pays when its customers make a call to the user of a competing network (it's the cost for using the competitor's network to terminate the call).
The provocation for the latest outbreak of hostilities is that recently, the Telecom Regulatory Authority of India (Trai) floated a consultation paper to reconsider its decision to scrap IUC (currently at 6 paisa per call) from January 1, 2020.
Trai's logic for doing so is simple: Two years ago Trai had banked on the fact that technological innovations such as voice over LTE, the 4G mobile communications standard (which makes voice costs negligible), would remove the asymmetry in the share of outgoing calls to incoming calls between Jio and incumbent operators.
Things haven't worked out that way because incumbents have been slow to acquire 4G customers and the number of incoming calls terminating on Jio's network has been far lower than expected.
It's a unique problem that incumbents have with Jio; for other competing networks such as Airtel and VIL, the ratio of incoming to outgoing calls between the two are nearly similar so IUC payments are neutralised.
For incumbent cash-strapped telcos, there is a lot of money riding on IUC.
In the last quarter alone, Jio paid over Rs 850 crore to Airtel, VIL and State-owned BSNL as IUC charges.
And Airtel and VIL earned over Rs 580 crore in a quarter from IUC, most of it from Jio.
Given that the incumbents together made losses of over Rs 7,700 crore last quarter, it's no rocket science to understand why IUC earnings are significant.
No surprise, then, they want IUC charges extended for a year or two and the charges upped.
They say there is always a cost for using the network and it cannot be zero but should be calculated on the basis of the average cost of all operators to generate a minute of voice call.
Jio, on its part, wants an end to IUC for equal and opposite reasons.
This is why the time duration of the ringer alert has become so contentious.
Airtel alleges that with a 45-second alert, which is considered normal in India, more than 45 per cent of customers take the call.
By reducing it to 20 seconds, the proportion of subscribers who take the call falls by 20 per cent.
Thus, Airtel alleges, Jio is forcing their customers to make an outgoing call to Jio's network and earning IUC rather than making a payout.
Jio has now agreed to push the ringer alert to 25 seconds but Airtel says that will mean not more than 38 per cent of the subscribers will take the call.
Airtel says with the 20 second ringer alert, the number of outgoing calls to Jio from Airtel's network has gone up from 35 per cent to 40 per cent of total calls.
As a result, IUC payouts from Jio have dropped dramatically by Rs 80 lakh a day By using this route, Airtel alleges, Jio is rapidly increasing its share of offnet calls as a percentage of total calls (currently at 39 per cent) so that it can reach the magic figure of 50 per cent in a few months.
Then, competitors say, Jio will convince the regulator to scrap IUC after December.
Jio officials counter than Trai's consultation paper shows that Vodafone (UK) has pegged the ringer alert at 15 seconds, AT&T (US) and in Optus (Australia) at 20 seconds and Verizon (US) at 30 seconds.
So 45 seconds is over the top.
Also steep voice calls costs on competitors' 2G customers encourages them to make missed calls to subscribers on competing networks, who then call back, incurring IUC costs for Jio.
According to Jio data, Jio missed calls from incumbents, especially in Bihar, Rajasthan and Odisha, is 30 per cent of all calls against a country-wide average of 14 per cent to 30 per cent.
Jio also allege that incumbents have, on an average, 1.4 times more 4G spectrum than Jio, yet they have been slow in nationwide rollout of 4G services.
As a result, only 33 per cent of their subscribers are on 4G networks and that is the key cause of the asymmetry (the assumption being that 2G customers will call out less).
Airtel counters that its 4G network covers 92.8 per cent of the country and it has as many mobile towers that are 4G-enabled as 2G.
Unlike Jio, which only has 4G customers, incumbents also have to cater to 2G and 3G customers, who may lack the money or inclination to upgrade to 4G.
"The minimum recharge coupon for Airtel is Rs 35 with outgoing calls; for Jio the minimum you pay is Rs 49 for Jio feature phones and Rs 153 for non-feature phones.
"If Jio also catered to the low-priced market it would have achieved parity in incoming and outgoing calls.
"If they cater to higher-paying customers, obviously they will have more outgoing calls and the asymmetry will continue," says a senior executive of one of the incumbents.
Jio sources contend that it is grabbing over nine million new customers a month, so the number of incoming calls are also increasing.
For instance, from May onwards incoming calls from competing networks as a percentage of total calls to Jio's network went up 2 percentage points every month and hit 38 per cent in July.
If new customers are added at the same pace every month, Jio expects to reach parity between outgoing and incoming calls by March next year.
And going further, competitors will have to pay Jio IUC.
But by the December deadline Jio will continue to have a deficit of 5 per cent (incoming calls from competing networks will be 45 per cent of total incoming calls) though the IUC payout could be much lower.
Trai has some tough calls to take.