Five inspiring women who travelled thousands of miles to Hyderabad recently to grow their business and skills share their tales of global entrepreneurship. Vaihayasi Pande Daniel listened in.
The Global Entrepreneur Summit, that concluded on November 30, saw many young, energetic women arrive in Hyderabad from far-flung parts of the world.

Rediff.com's Vaihayasi Pande Daniel spoke to five of them, to find out what brought them to India and their takeaways from the summit.

Reyhan Jamalaova, Azerbaijan

Reyhan, 15, who is studying in the ninth grade and plans to become an astrophysicist, was one of the youngest participants.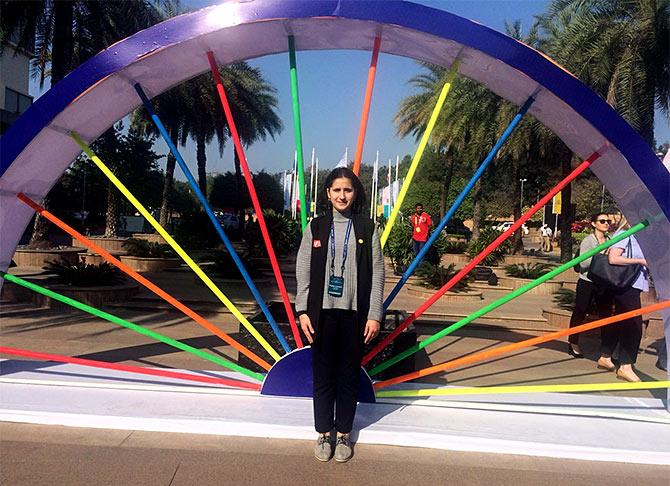 IMAGE: Reyhan Jamalaova, Azerbaijan. Photograph: Courtesy Reyhan Jamalaova.
Who she is
My favourite subjects are physics, chemistry and math. And one of the my biggest wishes is to win the Nobel prize.
In this way I (became) interested in new inventions. I watch lots of documentaries and science-fiction films with my father. Actually my father inspired me. I found this idea with my father.
Rainergy is a device which gets electricity from rain to solve the problem of energy deficiency in rainy countries.

Then I applied to ClimateLaunchPad (the world's largest green business idea competition) acceleration programme. I was selected and developed my idea for a prototype over three months with the help of our mentors: Leyla Taghizade, Jasur Hasanov, Asif Ibrahimov.

In the ClimateLaunchPad national final, I won the title of Audience Favourite Startup.

I was advised by my mentor Taghizade to apply to GES2017 and I was selected to participate.

My future plans are to launch Rainergy in the global market. In the beginning nearly nobody believed in this idea. (But) I didn't lose hope.

To be a young entrepreneur is very exciting. It gives me inspiration, stimulus and lots of luck.

Why the Hyderabad GES 2017
I think that GES is a golden key to my future. I believe my GES experience will help me in my future education and successes. So I attended the summit.

The GES was very exciting and intensive, in terms of networking, new opportunities.

I was really shocked and excited when Ivanka Trump mentioned my name in her speech and recognised my achievements. It was an honour for me.

Interesting people at GES2017
I met lots of entrepreneurs and investors. They gave me lots of brilliant feedback. All were interested in this project. Some investors even wanted to fund in this project. We are still talking about investment. As I said before, I always believed that this summit is a golden key to my biggest successes.

Reaching Hyderabad
Actually I came to Dubai from Baku. Then I came to Hyderabad from Dubai. It took nine hours to reach Hyderabad from Baku.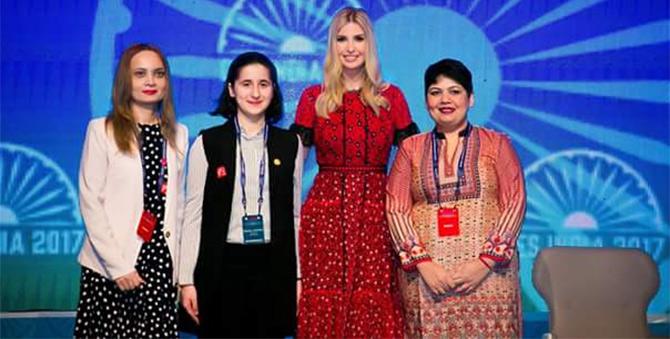 IMAGE: Reyhan Jamalaova with Ivanka Trump, US president Donald Trump's daughter. Photograph: Courtesy Reyhan Jamalaova.
Reactions to Hyderabad
I loved the Indian people very much. They were very friendly, very warm. It was the first time I was outside my country. So I was very excited to be there. I love India, but I don't like Indian food (I am sorry for this).

The takeaway from GES2017
Mostly I liked the plenary session (mostly Ivanka Trump's speech.)

Ivanka Trump
I think Ivanka Trump inspired lots of women entrepreneurs with her speech (and also me). She is a great woman. I love her.
Ouafa Benterki, Algeria

Ouafa is the CEO and founder of MTY Intelligent Software.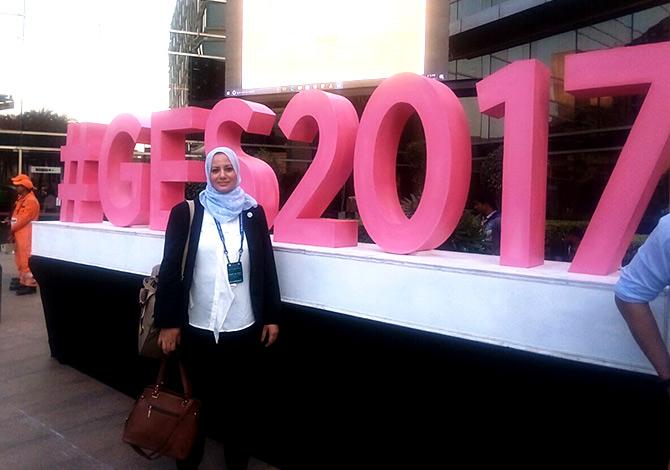 IMAGE: Ouafa Benterki, Algeria. Photograph: Courtesy Ouafa Benterki.
Who she is
My startup MTY Intelligent Software is the first Algerian startup that specialises in language industry. Our platform uses a machine translation tool combined with a data analytics tool that allows data mining, content localisation, and specialised translation.

I was an academic who wanted to take a project from laboratory to the industry. The greatest thing was to be able to learn, fall, and rise again. And every time, after we fall, being able to earn and learn new skills and the ability to have a problem-solving mindset.

Being a woman entrepreneur requires one to be strong, patient, be focused and never give up on your dreams. If you don't realise your own dreams no one will do it for you.

Why the Hyderabad GES 2017
An amazing experience. Being selected among the most innovative women entrepreneurs in the world to attend the GES 2017 was an achievement. Furthermore, the event was an occasion to meet and connect with CEOs of the best companies in the world, innovative startup founders and wonderful women entrepreneurs.

Visiting India was a dream. I had the chance to meet people who have had amazing experiences and they gave me a lot of insights. I met many startups founders with wonderful business ideas and a problem solving mindset.

Negatives
The only drawback I noticed was the fact that there were many interesting conferences scheduled at the same time. Attending one conference would deprive you from attending the other.

Positives
The behavior of the people was wonderful -- be it the GES 2017 team or the Indian citizens I met (who were part of) the framework of the event, they were eager to help .

Second, was the high level of the GES 2017 delegate. They inspired me and I was delighted to connect with such amazing people.

Third, the wonderful cultural programme organised by the Indian government. It allowed me to enjoy the events while learning about Indian culture and history

I was nominated by the US embassy in Algiers to attend the GES summit... I wanted to learn new skills, meet people who have successful businesses to be inspired (by them) and have them as role models.

Also as an Algerian delegate I was delighted to represent the Algerian women, especially women who are involved in AI and machine learning.

Interesting people at GES2017
I met women entrepreneurs, businessmen, investors, startup founders, and had the chance to visit Hyderabad University and meet the vice chancellor and also the dean of the computer science school.

It was very useful in terms of professional contacts, as this enriched my professional network (and offered) eventual partnerships and collaboration, and even online resources for women in AI and machine learning.

Reaching Hyderabad
My flight was Algiers-Dubai-Hyderabad. Almost 17 hours on Emirates Airlines.

Reactions to Hyderabad
The arrangements were good, but unfortunately I didn't get hte time to make a tour of Hyderabad to see the most interesting places.

The takeaway from GES2017
The master classes (sessions led by a master in a field) were very interesting, in addition to conferences related to innovation. But there was a conference on Women in AI that was my favourite.

Ivanka Trump
I believe Ms Ivanka shed light on a very important issue: educating women and giving them resources. Empowering women entrepreneurs will lead to a better world.
Naziah Ali, Republic of Fiji
A publisher from Fiji, Naziah's ancestors hailed from India.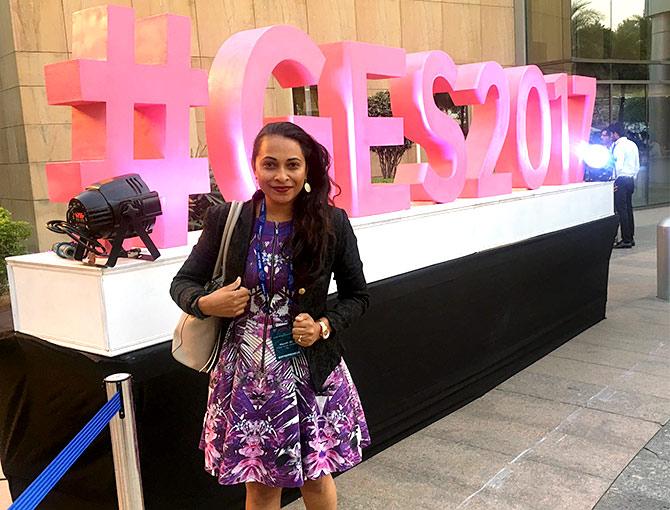 IMAGE: Naziah Ali, Republic of Fiji. Photograph: Courtesy Naziah Ali.
Who she is
I run a publishing company called Cover Story Limited. We publish the country's number one lifestyle magazine called Mai Life Magazine and we also publish the national airline's inflight magazine called FijiTime.

Apart from that, our company does custom publishing, marketing and public relations work for various clients. I'm a former journalist and I've always been interested in being a travel writer.

I worked for the UN for five years before I saved enough money to start my business. I partnered with two friends who believed in me and invested in the company with me.

It was a struggle when we started the business but I believed in our product. It was hard getting any sort of capital as a magazine business had no real assets apart from words and images. Back then it seemed like a losing battle. I turned up in office every day with the aim to do my best.

Eventually we managed to grow the business to where it is today. We have a wide readership and are just about to launch a few tech projects.

The greatest learning I've had is not giving up. There is light at the end of the tunnel. Some dreams are lost because you give up too easily. No battle is won without preparing. So be prepared and dedicate yourself to your mission.

As a female, especially a young unmarried entrepreneur I had to overcome a lot of sexism. Most projects or business deals came with a catch.

I ended up losing quite a bit of revenue in the initial years because men in power thought they could barter sexual favour with a contract. I've had to tell them straight and lose out but eventually those worth doing business with and those who valued my worth have become long term clients and affiliates.

Why the Hyderabad GES 2017
I decided to join the summit because I saw it as an opportunity to be connected to experts in the area of technology. Being an entrepreneur from a small country like Fiji comes with its own challenges.

As the summit focused on women entrepreneurs as well, I knew it would connect me to other women leaders who have gone through a similar path from whom I can also learn.

The summit connected me to entrepreneurs from around the world who are leaders in their field. I've been able to meet and learn from influential leaders from global brands like Dell, Facebook, PayPal, Amazon and more.

The experience was very inspiring, to say the very least. It reaffirmed some of my plans in focusing more on the digital world.

In Fiji, the digital space is only just becoming popular and e-commerce is still in its infancy. We don't really have a start-up culture. I hope to grow some of my ideas and probably kick-start the start-up revolution that the whole world is enjoying at the moment.

I also had a few days discovering Hyderabad. I am so amazed to see how big and vibrant "India's Silicon Valley" is.

I think the Government of India and Telagana did a terrific job hosting us. From the opening to the special dinner functions, all the events were well organised and catered for everyone. Considering the number of people at the summit, they handled it very well.

Interesting people at GES2017
I've met a number of innovators including app developers who I plan to work with in the very near future. I found meeting them very useful as these are the people that I would be engaging with. Knowing that they have been selected to participate at the summit means they are the creme de la creme of India in their fields.

Reaching Hyderabad
I flew internally from the capital to the international airport which took 30 minutes on Fiji Link, then I had a three-hour layover before I connected to Hong Kong which was about 11 hours on Fiji Airways. I had a six-hour layover in Hong Kong before I took a five-hour flight to Hyderabad.

Reactions to Hyderabad
Hyderabad is a beautiful city. We explored the city a few days and made some very good bargains. I ended up buying some outfits for my wedding next year.

Some of my friends from Fiji who were at the summit also did a bit of shopping and one bought pearls as Hyderabad is known for its pearls.

I stayed at the Marriott so it was a bit challenging for me to deal with the time difference and having to spend more than an hour on the road every day, each way, to reach the conference centre. In Fiji when you travel half an hour you are in another town. Apart from that the hotel was good and I enjoyed the time I spent there as I managed to meet other participants and shared our stories and experiences with them.

The food is great. I've enjoyed eating Indian food and the Hyderabad biryani. My ancestors came to Fiji some 150 years ago so we regularly eat Indian food. But it's different to what we were served so I've thoroughly enjoyed it.

The takeaway from GES2017
I
loved the sessions on emerging markets and branding the most. These were very relevant to my field as a small media company planning to expand its reach. I learnt a lot about fintech and I think there is a huge potential for fintech as it is an untapped market in my country.
Ivanka Trump
I think she is quite inspiring, especially for a young entrepreneur like me. Having achieved what she has means she had to put in the discipline and the dedication to be where she is. When she speaks it comes from that experience and maturity. For someone like me it's something worth emulating.

Her words about women thriving resonated with me because I've noticed how women can help grow our economies when empowered to thrive.
Nina Angelovska, Macedonia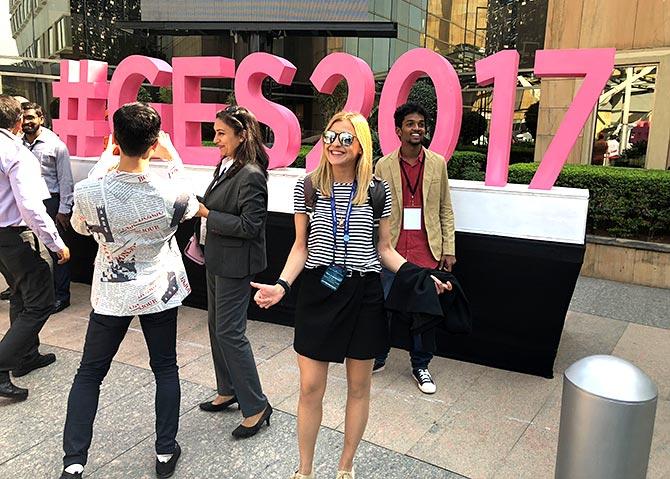 IMAGE: Nina Angelovska, Macedonia. Photograph: Courtesy Nina Angelovska.
Nina is the CEO and founder of Grouper.mk, the first deal platform in Macedonia. Launched in 2011 she says it transformed the e-commerce market. Grouper acts as an intermediary between the companies that want to promote their services and products online and the end-users that want to discover new places and experiences while saving money with the discounted deals up to 90 per cent offered in the form of coupons.

Who she is
Since I was a little girl, my mother taught me to strive for knowledge and be the best at whatever I do. During my studies, I was devoted to embracing knowledge and got very passionate about e-commerce. I was also excited about competitions and considered them a way to prove myself. I was 21 years old when I won the Most Innovative Business Plan in a national competition and got funding to start my business.
Full of energy and ambition, I was ready to seize opportunities and dive into the business world. The new business model of group buying seemed like a perfect initiator for e-commerce development in my emerging country. Where others saw obstacles, I saw a challenge to change the e-commerce market in my small emerging country. The path was not easy but every barrier we overcame made us stronger and wiser. With hard work, a motivated team, good organisation, constant learning, support from friends and family and a bit of luck, anything can be done and it can be fun!

Regarding "being a women entrepreneur", I can say that during the past seven years of hard work I have been facing challenges every day but I cannot say that the reason for these barriers were connected to the gender issue, rather they were challenges that would have been there for every entrepreneur regardless of their sex.

But still I think that we are living in a man's world filled with prejudices. A woman has to work as twice as hard as a man does to reach the same level and build her position and reputation. And we have to be aware that it's all about passion, hard work, dedication and intuition. It's all about competition of brains and knowledge not muscles. It's about who will be better, who will be faster, who will make the better decisions.

Women make up for more than half of the world's population and still their contribution to economic growth is far beyond its potential. Men and women should have equal opportunity to reach their full potential. For changes to happen the world needs will, persistence and laws and regulations.

Why the Hyderabad GES 2017
If I should pack my #GES2017 experience in one sentence this would be it: Incredible India & the brightest, most brilliant & humble entrepreneurs from all around the globe".

Simply put, GES is to entrepreneurs what the Oscars is to actors. India welcomed 1,500 brilliant entrepreneurs, investors and supporters gathered in Hyderabad, Telangana to share energy, experiences, knowledge and passion during the three days… and enriched with visits to local attractions and spiced with degustation of the amazing masala Indian food.

Reaching Hyderabad
So after about 48 hours of traveling (delayed flight, overnight and exploring Doha on the way) me and Marija Matovska (in the role of ecosystem supporter from Social Impact Lab and at the same time the kindest human being on earth) finally touched Indian ground.

Reactions to Hyderabad
Amazingly uber friendly. Was greeted by the people of India with roses (that are also an ingredient in many dishes we tasted), astonishing hospitality and inspirational GES billboards everywhere, hundreds of delegates from all over the world headed to their hotels, meeting each other in the buses on the way, sharing their stories. Despite it being 3 am and everyone was jet-lagged, you could feel the energy and entrepreneurial spirit in the air, (just like) you can tell the curry in the Indian dishes.

Interesting people at GES2017
It felt so good to be surrounded with like-minded people with whom you could discuss literally every possible topic that pops into your mind and in such a smooth and understanding mutual "language" despite the diversity in culture and origin. It was good to talk about the entrepreneurial features we all found in common like micromanagement/micro-coaching, delegating and trusting people to the best job, and letting control and perfectionism while scaling businesses :)

Everyone's work I met was highly recognised in their home country and everyone showed modesty to the core which was amazing.

The takeaway from GES2017
Coming from Macedonia, for sure the tiniest market compared to all other entrepreneurs' countries and trying to always look at the bright side, me and Marija hope to have represented Macedonia properly. I promise to try to get to Macedonia at least a third of the inspiring entrepreneurs I met to share their stories, successes, ups and downs… hoping that they can affect the mind-set of our young Macedonian people.

I strongly believe that entrepreneurs shape the future. And after meeting dozens of hard-working, passionate and dedicated entrepreneurs and hearing their incredible stories, I would add that these entrepreneurs are not only are the shapers but they are the creators of the future.
I have always wondered if entrepreneurs coming from different countries are different with regards to the development stage of their economy, access to finance and cultural and cognitive differences. After GES I can tell that no matter what, there is one strong mutual characteristic for all entrepreneurs and that is the mind-set and ability to see the obstacles as challenges and turn them into opportunities in their countries and beyond. The intersection between tech and diversity is fascinating with regards to entrepreneurship.
Tim Immaculate Bih, Cameroon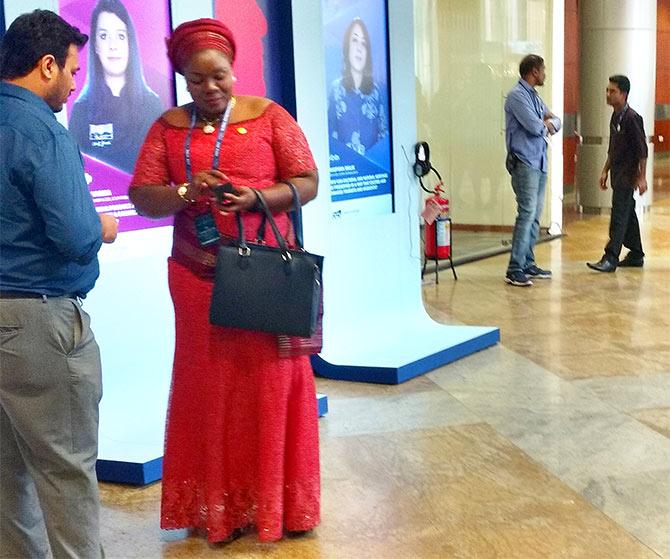 IMAGE: Tim Immaculate Bih, Cameroon. Photograph: Courtesy Tim Immaculate Bih.
The founder of Immaculate Construction (ICON), Bih is a civil engineer. She is also the main mover behind Butterfly Housing, Cameroon, that builds affordable and sustainable housing, which she says contributes to the fight against climate change through its innovative concept that helps to minimise the use of energy in homes.
Who she is
My business is to design and construct buildings like schools, residential buildings, ventilated improved toilets for schools and other civil construction work.
Currently, I am working on real estate projects in Cameroon where low cost and sustainable houses will be constructed for mid-income earners and new beautiful neighbourhoods will emerge in Cameroon.
A butterfly house grows and the family size increases, it is climate responsive, it is fast to deliver. Only one day is needed to erect one house and only three months to construct 50 houses. It is a quality house that will last for 99 years.
I made it as a female civil engineer because I had believed in myself. I came across challenges and encouraged myself first before anyone else. It takes passion and dedication to succeed as a female entrepreneur especially in a male-dominated sector like mine. I stay true to myself and to my customers. I am reliable and innovative. All these make me stay relevant in the market.

Why the Hyderabad GES 2017
Attending this summit, I knew apart from gaining knowledge, I would be fortunate to connect with investors who would be interested in my project. I met people who seemed to have come from the same womb though coming from different area of the globe -- loving and friendly people! The good thing was that before we arrived in India, most of us had already connected through GES2017 Facebook page and knew a little bit of each attendee's innovative project.
The organisers did a fantastic job. The most amazing thing was the GOQii device which was given to each participant to wear as a watch. Although I never mastered the device well initially, I got to know everything about it as time went on during the summit. There were people I met but never had the opportunity to collect their business cards. It was very easy for me do that from my country with the help of the GOQii device software.
Everything about the summit was made very easy for all to access like; food, hotels, session halls, etc. The hospitality of Indians is unbeatable.
The only negative thing I witnessed was lack of proper arrangement of facilities for those in wheelchairs. I happened to be in a bus with a brother on wheelchair during one of the sightseeing events. We arrived last at the event because the security could not identify our bus as one of the GES buses which I believe was because (this handicapped friendly) bus had just been arranged and the GES logo couldn't be put on it may be due to time.

Reaching Hyderabad
I travelled by Ethiopian Airlines from Douala, Cameroon, to Addis Ababa. From Addis I went to Muscat by Ethiopian airlines and from Muscat to Hyderabad in India by Oman Air. The journey took 24 hours from Douala to Hyderabad.

Reactions to Hyderabad
The arrangement was superb! My hotel room was very comfortable and the services were very good too. Indian food was delicious. Honestly, I consumed more than I had planned because of the spicy taste of Indian food which I like very much.

Interesting people at GES2017
I met investors, entrepreneurs in my sector -- energy and infrastructure -- and also others in other sectors.

It was essential meeting entrepreneurs in my sector because we learned and shared from each other about the innovations we had and looked for ways of collaboration to also implement the ideas in our various countries.

I also met investors who were not investing in my sector, but they were just so willing to connect me to those who would be willing to invest in my project. Although not everyone I met was directly useful to me in my project, I (found the summit) very useful because it would be very easy to connect people in my community to such amazing people who could help them scale their projects too.

The takeaway from GES2017
Attending GES 2017 was very useful because there was a lot of knowledge acquired, powerful networking with entrepreneurs, investors and other guests from around the world. It was very important getting to know the innovations each attendee came there with, in different sectors, and also learn how women can be supported to reach their full potentials in any field they belong.
There were many speakers who did a very good job but I would single out Mr Amitabh Kant, CEO at NITI Aayog. He was very interesting during the master class titled The city that never sleeps – cities of tomorrow and during closing plenary session titled Breakout: When women win, we all win.

During the master class, he changed my ideology of urban design. He gave reasons why large roads and big cars shouldn't be encouraged in urban planning, rather public transportation should be encouraged and electric cars production encouraged. He was very courageous when he had to condemn America's road designs and the big cars they use which are not helping out with the fight against climate change.
Ivanka Trump
A very inspirational and dynamic woman contrary to what I thought she was. She made a lot of good remarks in her speech one of which was;
"Just think how much better our world will be if ALL OF US, men and WOMEN, are empowered to dream big, aim high, and work together towards a more just and prosperous future. A future where all mothers and fathers can work hard and build a better life for their families -- where all boys and girls can go to school, discover their talents, and pursue their ambitions -- and where the people of all nations can live and work with one another in dignity and peace."
This is an amazing thought but in reality how many leaders in the world today think like that even the America?
I believe more in action than words because most at times the words are not so true. We truly need a world where anywhere you find yourself, you feel at home. No more geographical, religious, racial, gender discrimination, etc. Ms Ivanka Trump is very intelligent and smart and I hope she acts on her words soon!