The diversification bug had bi­tten ITC several decades ago as it moved to de-risk a business m­o­­del focused on tobacco.
Ishita Ayan Dutt traces the developments.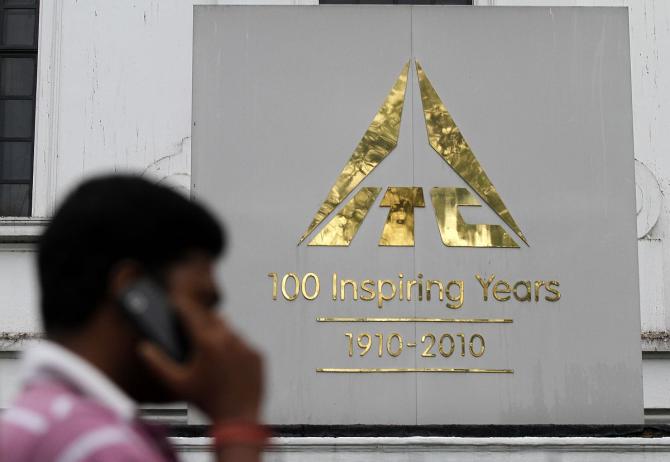 Photograph: Rupak De Chowdhuri/Reuters
A quiet transformation has been in the works at ITC.
The market leader in cigarettes, which has been building its fast moving consumer goods (FMCG) business over the last two decades, has reorganised the business into verticals, cherry-picked talent from competition, and beefed up its product portfolio, to take it to the next level of growth.
Most of the changes have come about in the last four years and ITC is now reaping the dividends — standalone revenues from the non-cigarettes FMCG business have grown 40 per cent from FY17 to Rs 14,728.21 crore in FY21 and pre-tax profits 30 times to Rs 823.69 crore.
The business accounted for 30.58 per cent of gross revenues and 4.85 per cent of pre-tax profits in FY21.
"In the last four years, our margins in FMCG have gone up by 640 basis points (bps) and EBITDA margins have been moving up consistently.
"We created levers that enabled a sustained growth trajectory," said ITC chairman and managing director Sanjiv Puri.
Puri took charge as the chief executive officer in 2017; in 2018, he was redesignated managing director and effective May 2019, he became chairman.
The levers that helped ITC grow its non-cigarettes FMCG business were primarily: Restru­c­tur­ing product portfolio; slicing up the foods business into five verticals and putting chief operating officers in charge of categories; reorganising supply chain and reducing distance-to-market by setting up ICMLs (integrated consumer goods manufacturing and logistics) facilities; leveraging digital technologies in operations and market servicing.
The diversification bug had bi­tten ITC several decades ago as it moved to de-risk a business m­o­­del focused on tobacco.
Paper­boards and hotels go back to the 1970s.
The non-cigarettes FMCG is relatively a young entrant, but st­ill about 20 years in the making.
Yet, much of the portfolio in the segment has come about in the last deca­de.
In the last four or five years, 14 new categories have been added — some organically, some through acquisitions; homecare, hygiene, dairy, juices, chocolates are among the newer ones.
"We are fortifying the core, addressing adjacencies through mother brands and creating the new core for the future.
"Based on our capabilities and trends in the market, we seeded 14 new categories," he added.
Restructuring of the portfolio has also involved taking out cost. For instance, lifestyle retailing.
"We have been reviewing our portfolio and we realised that we were not making the right kind of headway in lifestyle retailing.
"It's completely shrunk now and we are just liquidating inventory," said Puri.
"If we can't reimagine how we are going to do this business, we are not going to get back. We will take a final call this quarter," he added.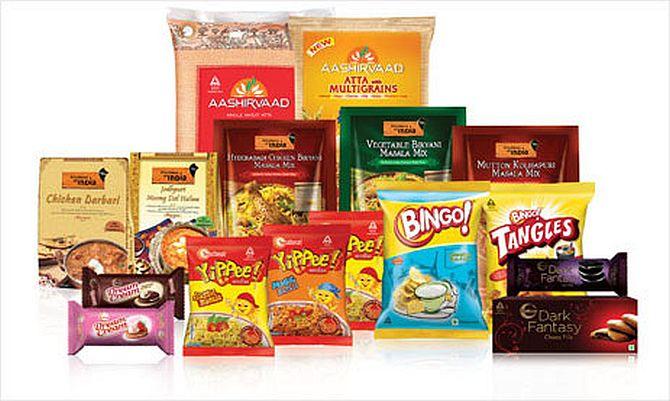 With a plethora of categories at play, ITC felt the need to restructure the business, particularly for foods, which accounts for bulk of ITC's non-cigarettes FMCG business (according to the FY20 annual report, branded packaged food products gross revenues was at Rs 10,377.73 crore).
"We pivoted our structure in the foods business and put in place integrated teams to provide sharp focus and consumer centricity. We created COOs (chief operating officers) across the business," explained Puri.
The business was split into five verticals: Dairy & beverages; staples; snacks; chocolates, coffee, confectionery; biscuits and cakes.
COOs were appointed to head categories, and contrary to its usual practice of looking inw­a­rd for talent, ITC brought in varied experience from competition.
Sanjay Singal, who joined as COO dairy & beverages, was earlier with Dabur; Anuj Rustagi, COO, chocolates, coffee, confectionery and new category development was with Unilever earlier; Ali Harris Shere, COO, biscuits and cakes, was with Britannia before.
Only K Chaturvedi, COO, snacks, and S Ganesh Kumar, SBU, chief executive, staples, snacks and meals, were internal ITC lifers.
In cigarettes, last December, Devraj Lahiri — who had spent nearly two decades with VST Industries and went on to head the company as the managing director — joined as COO of the India tobacco division.
The cigarette business — where ITC is a leader by a long chalk — has been facing headwinds.
Punitive taxation has incr­e­ased illegal trade and it has been exacerbated by the pandemic.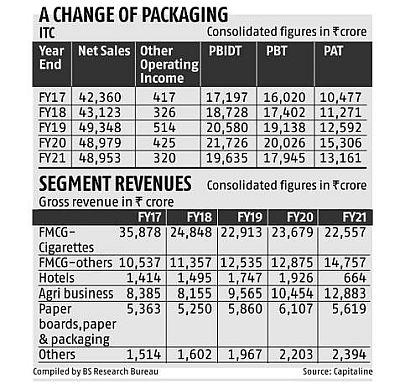 Tobacco Institute of India (TII), in its newsletter for March-April, mentioned that seizures of illegal cigarettes amounted to Rs 1,772 crore during the first 11 months of FY21, an increase of more than nine times over FY20.
As far as the top-line is concerned, the headwinds have come from cigarettes because of the manner in which taxation has unfolded, admitted Puri.
However, ITC can draw comfort from the fact its non-cigarettes business now accounts for about 58 per cent of revenues.
Even though FMCG accounts for the largest chunk of revenues, the agri business is also becoming an important cog.
Between FY17 and FY21, revenues from the segment have grown by 52 per cent (see table).
In FY21, it acco­u­nted for 26.13 per cent of gross revenues.
But it's the non-cigarettes FMCG business for which ITC has set ambitious goals.
"Our aspiration is to be the largest player in FMCG and we will get there," said Puri.
For long, profitability of the non-cigarettes FMCG business has been a worry for investors.
But with pre-tax profits crossing Rs 800 crore in FY21, analysts are more optimistic.
A Credit Suisse report post Q4 FY21 results noted that the business has consistently progressed in profitability over the past four years and margins are now near-acceptable in FMCG business levels, i.e., low teens.
Stock market veteran Sudip Bandyopadhyay, said, the non-cigarettes FMCG business of ITC is maturing and the signs are quite visible now.
Bandyopadhyay is group chairman Inditrade, a financial services provider.
He was head of treasury and strategic investment and worked with ITC from 1989-2005.
But, the Street is hardly impressed.
In the last one year, returns on the stock is 7.8 per cent versus near-57 per cent by benchmark Nifty 50 index.
With cigarettes accounting for about 74 per cent of pre-tax profits, for the Street ITC remains a tobacco play, and globally, ESG investors are screening out tobacco stocks.
"There is a massive overhang on tobacco stocks.
"The Street wants ITC to demerge its businesses because the sum of parts is more valuable than consolidated," Bandyopadhyay pointed out.
Beyond an "alternative structure" for hotels, though, that's not on ITC's agenda yet.