Delhi, which has gained infamy as one of the world's most polluted cities, has for some years now witnessed a sustained campaign from various quarters seeking a ban on firecrackers. While the Centre launched the newly approved, eco-friendly firecrackers earlier this month as a "safer and cheaper" alternative, the mood in the market is tepid, says Ritwik Sharma.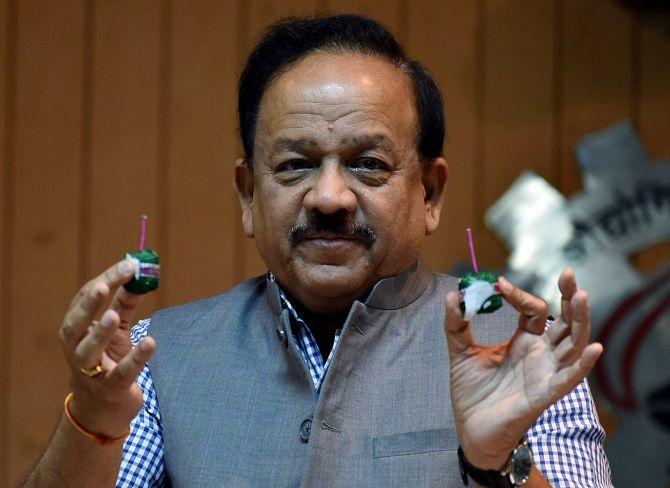 "We are not selling illegal firecrackers," read the notices distinctly displayed outside a handful of shops near the historic Jama Masjid in Old Delhi. Inside, precisely two varieties of firecrackers are available: phuljhari (sparklers) and anar (flowerpots), both compliant with the "green crackers" formulae laid down by the Council of Scientific and Industrial Research (CSIR), India's largest research and development organisation.
Ankur, the owner of Prem Fireworks who reveals only his first name, gestures towards the half-empty shelves at his store that started selling fireworks over three decades ago. In 2016, after the Supreme Court banned the sale of firecrackers in Delhi, he switched to selling brass sculptures borrowed from relatives. While customers are walking into his store, the limited stock is a disappointment.
"Merely one or two out of every 10 customers are buying green crackers since we began selling them last week," he says.
Buyers aren't impressed with the higher prices either, he says. The price of anar, which used to sell for Rs 150 for a box of five, has doubled. And a box with 10 packets of sparklers now costs Rs 450 instead of Rs 300. Ankur procured his stock of green firecrackers from a manufacturer in Jhajjar, Haryana.
At a nearby store, which has been a stockist for a popular brand from the firecracker manufacturing hub of Sivakasi in Tamil Nadu, vendors are being badgered by a mini-crowd looking for more popular and noisy crackers. "Don't ask for bombs," says a vendor. "We have none. It's all empty." When a customer test-fires a toy gun, he is promptly told to stop and not invite unwanted attention.
Amit Jain, a third-generation owner of the shop, says, "In the last three years, we have survived on our household savings. I used to sell 200 kinds of crackers. Now there are two." He says his business is down from a turnover of around Rs 3 crore in 2015 to less than Rs 50 lakh. The shop has been selling products like toy guns following the 2016 ban.
Jain is among the 100-odd firework wholesalers in Delhi who have permanent licences. The Petroleum and Explosives Safety Organisation (PESO) issues these licences. Earlier, the Delhi Police's licensing unit would give out temporary licences to about 1,100 vendors to sell firecrackers during the Diwali week. This time, until two weeks ago, only 11 such licences had been issued, Jain claims.
Delhi, which has gained infamy as one of the world's most polluted cities, has for some years now witnessed a sustained campaign from various quarters seeking a ban on firecrackers. While the Centre launched the newly approved, eco-friendly firecrackers earlier this month as a "safer and cheaper" alternative, the mood in the market is tepid.
In Delhi's largest wholesale market of Sadar Bazar, where seasonal sellers of firecrackers were found aplenty, there are none to be found today. Some persons suggest that secret sellers of conventional firecrackers can still be found.
Harjeet Singh Chhabra, who sells kitchen equipment parts, used to deal in firecrackers during Diwali until 2015. Last year, he became a local celebrity of sorts when he strapped vegetables to fireworks as his own version of green crackers. This time round, he intends to sell the official green crackers.
"I had paid Rs 90,000 in GST for firecrackers worth Rs 500,000 in 2017. I set up shop, and on the fourth day we were told to stop selling them. Why don't they ban alcohol similarly?" he says.
The push for eco-friendly festivities, in fact, started with Dussehra itself. Ashok Agrawal, president of the Luv Kush Ramlila Committee that stages the Ramlila at Red Fort, says that during Dussehra this year, they got green crackers from Sivakasi. They cost four times as much as conventional ones but were lower in decibel count, he says.
As with other areas, the ruling parties at the Centre and state in New Delhi seek to score political points over environmental concerns too. While the Bharatiya Janata Party-led central government launched the green crackers, the state government under the Aam Aadmi Party created artificial ponds to immerse idols during the recent Durga Puja so as to not pollute the Yamuna further.
"The immersion in ponds was the major eco-friendly initiative this year. Secondly, in the Chittaranjan Park Mela Ground Durga Puja, plastic was forbidden," says Sanjiv Sen, president of the puja committee there.
These measures are very specific to Delhi, adds Sen, who is a senior Supreme Court advocate. "In Delhi, pollution is at an alarming level. Cities such as Mumbai and Kolkata are also polluted but the scrutiny of the Supreme Court in Delhi has made a difference in the responses."
After banning the sale of firecrackers in Delhi and the National Capital Region (NCR), the Supreme Court last year sought to restrict bursting of conventional firecrackers and permitted only green crackers to be used during Diwali.
The Centre asked the CSIR fraternity to conduct research to address the environmental concerns due to emissions from fireworks, including particulate matter, sulphur dioxide and nitrogen oxide. In January 2018, eight CSIR institutes led by the Nagpur-based National Environmental Engineering Research Institute (NEERI) began a project to develop "green crackers".
The institute developed new formulations to cut light and sound emissions, and reduce particulate matter by 30 per cent. The NEERI website says the formulations do not contain barium nitrate – which can cause nausea, vomiting, irregular heartbeat, muscle weakness -- for some firecrackers such as atom bombs, flowerpots, pencils and sparklers. It has also jointly developed with manufacturers improved formulations based on reduced barium nitrate and has set up a facility at Nagpur to test emissions and noise.
At Sivakasi, 60 per cent of manufacturers are producing green crackers this year, says P Ganesan, president of the Tamil Nadu Fireworks and Amorces Manufacturers' Association. The industry makes around Rs 2,000 crore during the Diwali season but is expecting 40 per cent less business this year. It has sent limited shipments to Delhi-NCR, which is its biggest market besides West Bengal, Maharashtra, Gujarat and Tamil Nadu.
Closer to Delhi, at a factory of Bird Fireworks in Rohtak, Haryana, there is more greenery than green crackers. Keshav Kalra, whose grandfather started the family business in the 1960s, says, "We grow our own vegetables without pesticides. We don't want our children to burst crackers. The industry welcomes green crackers. It is a good initiative that should keep everyone's interests in mind."
The three-acre site has several trees, including guava, mango, lemon and kinnow. Under the shade of a tree, an elderly woman is hammering away at defective sparklers to separate the chemical that will be reused during fresh production. A stretch of the ground looks like a bed of needles from a distance. They are a fresh batch of green sparklers laid out to dry.
The factory has various rooms meant for specific stages of production, and rectangular structures with red inner walls to store fire safety equipment. The layout adheres to PESO norms. Inside the rooms, two women are packing the final products that will get bundled into a box labelled with a logo and quick response (QR) code meant for green crackers.
"Pollution has been caused by the burning of crops and we are being blamed," complains the factory's elderly labour supervisor. "Our livelihood has been badly affected in the last three years. We were unemployed for months and had to work as daily wagers elsewhere."
The unit's storehouse can stock up to 35,000 kg of crackers. After production resumed last month, it has just a few stacks of cartons with green crackers.
Before 2016, the annual turnover of Bird Fireworks, which also has a second factory in Rohtak, was Rs 4-4.5 crore. This year, Kalra says they don't expect it to be more than Rs 30-40 lakh. With both labour and production down, the family has shifted to steel manufacturing and has also entered the restaurant business.
Kalra's grouse is that unlike the automotive industry, which has been granted time to switch from BS-IV compliant cars to the less polluting BS-VI, fireworks dealers have been prevented from selling their stock of conventional crackers whose expiry dates can extend to three-four years. "You can't ban a product until it is substituted."
While NEERI helped manufacturers tweak their conventional firecrackers to reduce emissions, the two parties had to sign non-disclosure agreements. As part of this, the brands cannot mention their formulations on the product boxes. But, Kalra says, they are required to reveal their formulations according to PESO guidelines. The regulatory overlap, he fears, could lead to the scrapping of licences as manufacturers risk violating norms of either the R&D unit or the government department.
Among other concerns that he flags are the inability to guarantee the shelf life of green crackers as they are untested over long periods. And the possibility of an inordinate delay in developing large quantities of green crackers due to limited testing facilities.
Four years ago, three toddlers made headlines when their parents made them litigants in a petition against firecrackers. Gopal Sankaranarayanan, the father of one of the children, is a cofounder of non-profit advocacy group Care for Air. The group's president Jyoti Pande Lavakare points out that the petition also highlighted other causes of air pollution such as crop burning and not just firecrackers.
Lavakare stresses that the fireworks industry, largely unorganised, is also criticised for putting labour at risk and traditionally employing children. So, reskilling the workforce, preferably towards a cleaner industry, is a better alternative. The National Skill Development Corporation, she adds, can help in this direction. The Indian fireworks industry has an annual turnover of more than Rs 6,000 crore and a growth rate of about 10 per cent, and employs over five lakh families directly or indirectly, according to NEERI.
Green crackers produce 30 per cent less emissions, which, Lavakare says, isn't good enough. "We are a developing country that needs to have a healthy public. We should stop ourselves from bursting any firecracker. If we must, we should do it as a community, as we find in celebrations abroad."
Are people willing to change? The buyers at the shops near Jama Masjid are getting used to fewer or no crackers. "There are health advantages to it, especially for the old and for children," concedes one. "We can't wish for conventional crackers anymore. Besides, even if they were available illegally, a middle-income person doesn't have extra money to spend on them -- and risk penalties."