With a string of deals with telecom service providers, DTH operators and Bollywood stars, Netflix goes all out to protect its turf in India and fend off competition, says Viveat Pinto.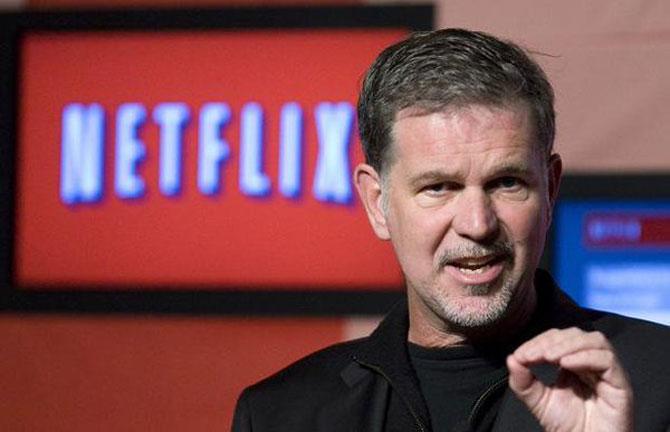 IMAGE: During his India tour last month, CEO Reed Hastings said he'd like Netflix to be available 'anywhere' where the internet is available. Photograph: Alex Osterwalder/Twitter.
When Reed Hastings, CEO of Netflix, the world's largest video-on-demand service, came to India in March, many were reminded of Apple CEO Tim Cook's visit to the country last year.
Cook watched cricket, hobnobbed with Bollywood and talked to people on the street,
Hastings too spent virtually every waking moment of his week-long tour understanding the pulse of the Indian consumer.
Besides taking a bike ride of Old Delhi to soak in its sights and sounds, Reed, 56, met partners, both current and potential, in his bid to expand Netflix's service here.
He stitched up deals with telecom networks such as Vodafone to facilitate easy payment of Netflix subscriptions via phone bills. So a Vodafone subscriber, who is also a Netflix user, can now pay for his VOD subscription as part of his monthly mobile bill or prepaid balance.
More such tie-ups with other networks are in the offing.
Additionally, Hastings also partnered with direct-to-home players such as Airtel DTH and Videocon d2h to widen Netflix's reach and met rivals and Bollywood celebrities to understand the Indian content and entertainment ecosystem.

Some content tie-ups have been put in place already, such as the one with Shah Rukh Khan's Red Chillies Entertainment where the movie star's films will be exclusive to Netflix for the next three years.
And an English-and-Hindi-language adaptation of author Vikram Chandra's book Sacred Games, which will be Netflix's first original series in the country, produced in partnership with Anurag Kashyap's Phantom Films.
The method in the madness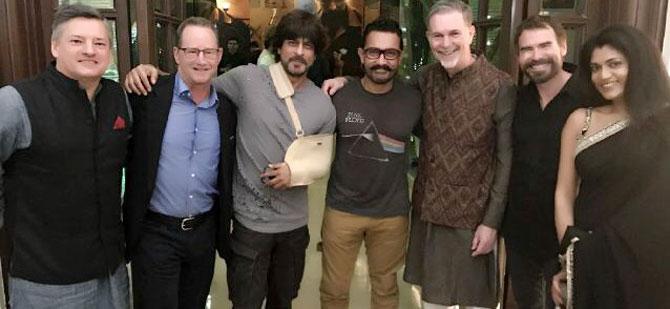 IMAGE: Shah Rukh Khan's movies will be exclusive to Netflix for the next three years. The superstar entertained Aamir Khan and Reed Hastings at his home, Mannat, on the latter's visit to Mumbai. Photograph: iamsrk/Twitter
While there was no denying just how much Hastings had packed into his India tour, his first since Netflix's launch in India in January 2016, experts say there was a method to the madness.
According to the just-released FICCI-KPMG Report 2017, India's internet consumption via mobile phones is projected to double to 30 per cent in the next five years from 15 per cent now.
The declining prices of smartphones as well as the increase in the size of the smartphone screen have ensured that mobile is fast becoming the screen of choice for media consumption, the report says.
"Besides this, falling data prices too have contributed to the growth of video on the go," Pankaj Krishna, CEO & founder of research agency Chrome Data Analytics and Media, which has studied the VOD market closely, says.
"The biggest trend in digital has been the growth of mobile video, which is expected to continue its growth trajectory."
The FICCI-KPMG report says that mobile video traffic will grow 11.5 times in the next five years, at a compounded annual growth rate of 63 per cent.
What's more, the number of video-capable devices and connections in India will grow 2.2 times in the next five years, crossing 800 million in number.
Clearly, VOD will only boom, something Hastings made no bones about during his India visit, saying that 'internet TV' was the future in India.
'Getting in at the beginning of internet TV is an opportunity as phone networks and players do more on the internet in India. This (India) is one of the top three markets for Netflix in terms of mobile usage. And with internet TV, there is tremendous growth in the creative sector,' he said at a press meet in Delhi.
While industry estimates peg India's VOD market in terms of value at nearly ₹1,400 crore, the subscription end of the market is barely two per cent, with the balance 98 per cent dominated by service providers who are primarily subscription-free and supported by ads.
A case in point here being Hotstar, broadcaster Star's VOD service, which while having a subscription-led service for premium users still has the bulk of its traffic and downloads (200 million downloads to date) coming via its subscription-free service.
Pricing plays a key role too in the competitive VOD market, experts say.
Netflix's monthly subscription starts at ₹500, going up to ₹800 across plans; Hotstar's premium service is available for ₹199 per month; and Amazon Prime Video has an annual introductory offer of ₹499.
So Netflix, say experts, is currently operating in a small niche catering largely to English-language, paid VOD subscribers.
To get more users, localising content aggressively and making it available across platforms will be key, say experts.
Hastings hinted as much during his India tour, saying he'd like Netflix to be available 'anywhere' where the internet is available.
But is that easy to do?
Priyanka Chaudhary, director, Grant Thornton, says, "Content acquisition is increasingly becoming a high-stakes game. With the thrust on exclusive, and more recently, niche content as opposed to monetising existing libraries, costs for OTT players are moving northward. This trend is proliferating even as the VOD market in the country is evolving and players are seeking scale, implying that monetising options are limited."
Jostling for space


IMAGE: Players such as Amazon, Hotstar, Voot, SonyLiv and JioPlay were ahead of Netflix in January, a fact that must worry Hastings. Photograph: cellanr/Wikimedia Commons
Just how fragile the balance is can be gauged from this.
In a month's time, Amazon Prime, which is Netflix's rival in the US, had racked up nearly 9.5 million subscribers in India, according to App Annie estimates for January 2017.
This came on the back of the latest titles and blockbusters it had bagged in Bollywood and regional cinema.
In contrast, Netflix's subscriber base for January 2017 stood at 4.2 million only.
Players such as Hotstar, Voot, SonyLiv and JioPlay were ahead of Netflix in January.
While Netflix has not indicated the investment it is making in local content, Amazon Prime has earmarked ₹500 crore for it and Hotstar, SonyLiv, Eros Now and Voot have set aside ₹400 crore each.

Plus networks such as Reliance Jio are also pushing hard -- it has bundled its VOD service, JioPlay, along with its free data and voice offerings.
While Jio begins to charge for its services, to soften the blow, it is pushing its 100-million-strong subscriber base to take up its ₹303 (per month) Prime membership, which will cap their monthly outgoings at that amount for the next one year.
At the same time, prime users will continue to get access to unlimited data and voice as they now do.
Clearly, the battle has only just begun for Netflix.