80,000-100,000contract workers have lost their jobs in Tamil Nadu owing to the slowdown in the auto sector.
Meanwhile, companies like Daimler, Yamaha, Nissan, Apollo Tyres, Ashok Leyland, and firms from TVS Group have all reduced their contract workforce.
They have also cut back on the number of working days, reducing workers' earnings as well.
T E Narasimhan reports.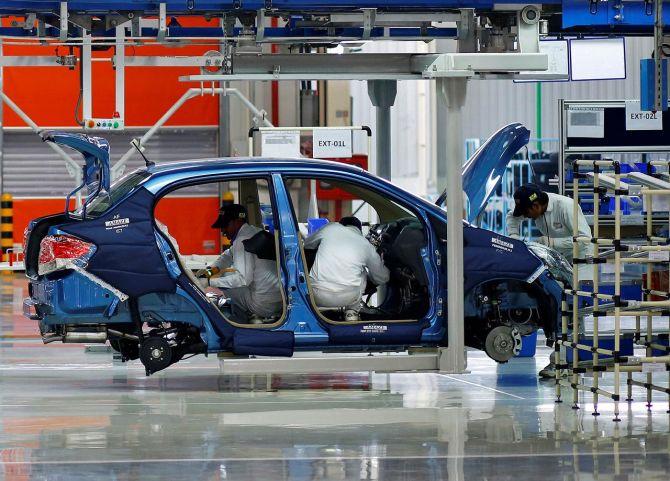 The second of a three-part series on auto sector crisis talks of how some allege that layoffs are to put pressure on the Centre to reduce GST.
Part 1: As slowdown gets worse, Pimpri-Chinchwad auto hub is in slow lane
Benny and his friend C Prasanna were working as trainees in a two-wheeler factory at Oragadam, an auto hub near Chennai.
They were part of the nearly 700 contract workers at the factory who were recently laid off.
S Siva, a worker at a foundry in Coimbatore, lost his job, too.
He now works as a driver and earns half his previous salary.
Benny, Prasanna and Siva are among 80,000-100,000 who have lost their jobs in Tamil Nadu owing to the slowdown in the auto sector.
However, many stakeholders in the sector allege that while demand has certainly declined, some OEMs (original equipment manufacturers) are shedding contractual workers to pressure the government into reducing the Good and Services Tax (GST) on autos and auto parts.
Meanwhile, the stories of job cuts abound.
Companies like Daimler, Yamaha, Nissan, Apollo Tyres, Ashok Leyland, and firms from TVS Group have all reduced their contract workforce.
They have also cut back on the number of working days, something that Hyundai has done as well.
A Soundararajan, general secretary of CITU, Tamil Nadu, alleges that many units in the state have laid off around 1,000 contract workers and trainees each.
Daimler India denies this and admits to reducing temporary jobs only by around 200.
"We have had a few non-production days.
"We continue to adjust our production as per market demands.
"We have decided to go with single-shift production for the interim.
"We have had to let go of a few contractual workers and will look into optimisation of contracts to adjust to market realities.
"However, there will be no job cuts of permanent workers," the Daimler spokesperson said.
Again, despite CITU's claim that Apollo Tyres has cut around 1,000 contract jobs, the company's spokesperson says, "Though the demand for our tyres in the replacement market is still strong, the slowdown in the vehicle sales has resulted in less demand from the OEs.
"Our production is tuned to the market demand.
"In the current scenario, there is a need to rationalise production, including rationalising the contractual manpower."
An email sent to Yamaha India, which has reportedly cut around 700 temporary jobs, did not elicit any response.
Nissan, too, denied the trade union's claim that it had shed around 1,000 temporary jobs at its Renault-Nissan plant in Chennai.
At TVS Group firms, Ashok Leyland, Hyundai and Royal Enfield there have been internal circulars announcing a drop in production.
Some, like Ashok Leyland, have also come up with an Employee Separation Scheme.
The CEO of a manpower company reveals that whereas earlier his firm was supplying around 1,000 workers a day to a Chennai car manufacturer, today the figure has plummeted to around 400.
Aditya Narayan Mishra, CEO, CIEL HR Services adds that over the last three months, workers' earnings dropped by 12-15 per cent due to the reduction in the number of work days.
Trouble in Manchester of south India
Even four months ago, foundries at Arasur, on the outskirts of Coimbatore, were buzzing with activity.
Today, the place looks like a ghost town, with major foundries having reduced production by nearly 50-60 per cent.
This has led to the loss of around 50,000 jobs, mostly in the micro and small units - even though many of the latter were not catering to the auto sector.
So why were they affected?
A Siva Shanmughakumar, president, Coimbatore Tiny and Small Foundry Owners Association and owner of Sri Jayaram Foundries, explains the conundrum.
He says that the major foundries were producing nearly 8000-10,000 tonnes a month for the auto sector, while about 400 tiny and small foundries with a capacity of around 2,000 tonnes were catering to the pump sector.
When the orders of the big foundries declined by nearly 60 per cent over the last three months, they started tapping into the pump sector in order to survive.
This dealt a huge blow to the small units, which cannot compete with the bigger ones on pricing.
A senior official from a big foundry says that six months ago, his company invested around Rs 4 crore to buy 10 new machines to cater to OEMs in Chennai.
Three months back, some of them cancelled their orders partially or fully. His firm needs to pay Rs 8 lakh every month as EMI on the loan and salaries of nearly 300 people.
To utilise capacity, the company is now running three machines with 60 people and catering to the pump sector.
Shanmughakumar, who once had 15-20 people working at his unit, has only eight workers today.
"If this industry doesn't revive, we are finished," he says.
The association claims that in Coimbatore alone, nearly 3.50 lakh people are employed, directly or indirectly, by firms which are linked to the auto sector.
J James, president, Tamil Nadu Association of Cottage and Micro Enterprises, Coimbatore, has ruled out the possibility of these units diversifying to other sectors such as defence and railways as that would require much higher investments.
With many SMEs defaulting on their loan repayments, banks are unlikely to lend them more funds.
Slowdown exaggerated?
A supplier to one of the top three car makers says that while there is definitely a slowdown in the sector, it is not as much as it is being made out to be.
There have been no massive job cuts among the permanent workers and nor have plants or ancillary units shut down.
"OEMs are exaggerating the slowdown in order to put pressure on the government to reduce the GST rate from 28 per cent to 18 per cent," says the CEO of the auto component maker.
Photograph: Anindito Mukherjee/Reuters