'It is not as bad an airline as it is made out to be: We serve wonderful food, the leg space is more, our cabin crew is warm and friendly.'
'The customer needs to be apprised of these things,' Air India CMD Ashwani Lohani tells Arindam Majumder and Alokananda Chakraborty.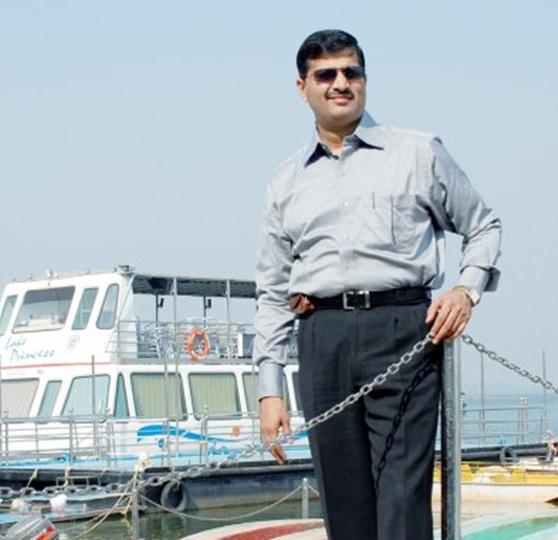 The India International Centre has an old world charm about it. It is also the place frequented by politicians, bureaucrats, Supreme Court judges, journalists and so on.
It is no surprise that Air India boss Ashwani Lohani, who strongly believes in the strength and goodness of the government sector, chose this place to have lunch with us.
Just a day before we are scheduled to meet, the federal auditor Comptroller and Auditor General of India had contested the government-owned airline's claim of a turnaround saying that it had understated its losses.
We were apprehensive Lohani might call off the meeting anticipating tough questions. But he doesn't disappoint.
Lohani is there a little before 1.30 pm, when we are scheduled to meet, and is unflappable.
"Why should one be afraid if he has done nothing wrong?" he says and insists Air India has changed... and changed for the better.
Air India recorded its maiden operating profit in a decade in the last fiscal. The profit earned on the back of a record low fuel price was enough to get a pat on the back from Prime Minister Narendra Modi.
It is also a fact that the airline that once dominated the Indian skies has steadily lost ground to private airlines and is always under scrutiny.
With India's chief economic advisor expressing doubts over its viability, the clamour to privatise the loss-making carrier has only grown louder.
Lohani refuses to be drawn into the debate on whether Air India should indeed be privatised.
"I don't fret over things that are not in my control, I only concentrate on doing things the right way," Lohani says, pointing out that he has been successful in changing the perception of the airline in the public eye.
"It is not as bad an airline as it is made out to be: We serve wonderful food, the leg space is more, our cabin crew is warm and friendly. The customer needs to be apprised of these things."
Before things heat up we decide to order food. Lohani is a light eater: He chooses garlic toast and a helping of sprout salad. We protest as we order our fish and chips. As an after-thought Lohani adds a beer.
He says he has had a heavy breakfast -- he had been to an army camp near Siachen in the morning and had stuffed parathas there.
"I also like to control what I eat and exercise to keep fit." Breathing exercises and asanas are part of the daily routine for this man who goes to office all seven days of the week.
In the summer of 2012 when the government offered a bailout package of Rs 30,000 crore (Rs 300 billion) to the airline, Lohani, then a divisional railway manager, had written a blog post saying how those developments made for 'interesting reading.'
'The recent downturn in the fortunes of Air India makes for interesting reading. Amazing how Indian bureaucrats can screw a high-performing public-sector corporation in a short time frame,' Lohani had said.
In August 2015, Lohani was appointed chairman and managing director of the struggling airline. By then, he had gained a reputation as a turnaround man having revived the fortunes of the India Tourism Development Corporation and the Madhya Pradesh Tourism Development Corporation.
We ask him how he feels about that title.
"I don't know what it means, I really don't know. I have just handled two or three organisations properly. Yes, I agree that under my tenure their fortunes revived," he says matter-of-factly.
Then he lets slip his dislike for management jargon. "You see all these things -- 'turnaround', 'strategy' -- they are over-rated terms, they don't mean anything."
"You have to believe in the power of people and the strength of a leader. An organisation can be changed if the staff believes in its leader.'
Lohani has recently asked his top team to sit on the same floor of Airlines House, the Air India headquarters. "It helps to connect with people."
"There is no strategy for turnaround," he goes on. "In my view 'strategy' is too light a word, I believe in the power of my men, their genuine efforts. People look for integrity, confidence and an unbiased attitude from the top management. You do that, you can easily have the support of your men."
Simple.
Lohani recounts an incident during his days as DRM at Indian Railways. The safai karmacharis of a station were on strike for more than a week.
"I went there, took off my shoes, sat with them on the platform and requested them with folded hands to call off the strike promising that all their problems will be resolved. And they did call off the strike," he says, asserting the need for constant communication with a team.
So how long will it take Air India to turn around? He refuses to give a timeline citing the huge debt burden he has inherited.
"It impacts every single thing, every single decision. I had given myself one year for ITDC, but this is completely different. I was eager to join Air India, but wasn't aware that I have to fight such huge debt."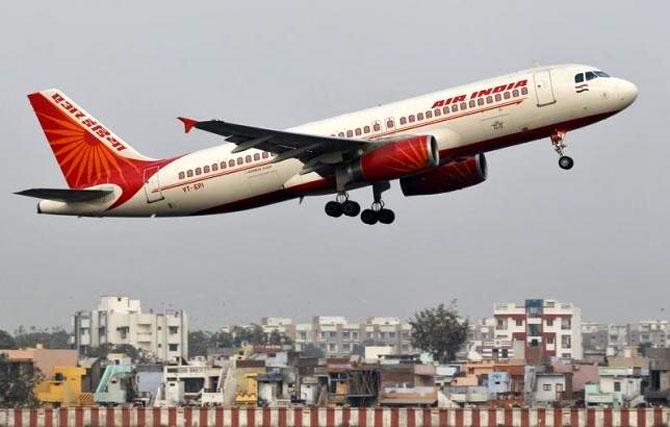 Air India sits on a debt pile of around Rs 46,000 crore (rs 460 billion), which entails an outgo of over Rs 4,000 crore (Rs 40 billion) per year in terms of debt servicing.
It is in negotiation with lenders for restructuring the debt, but efforts have failed to fructify so far.
As we near the end of our conversation, we order fig ice creams, a popular draw at this place. Lohani is not interested. "I like home food. Not because of anything else, but because my wife is a great cook." He orders another beer.
We point out that even in operational terms Air India's performance has been below par as compared to private airlines.
"You can't compare us to private companies, the modus operandi is different -- we are a network airline -- in the public sector you are scrutinised at each and every step, I can't even order for a spoon without approval," says the bureaucrat who likes to think of himself as a CEO.
What has been his biggest achievement as Air India boss?
"I think I have brought in a sense of professionalism at the airline -- it runs like a business," Lohani gets back to his earlier comment about the importance of leadership.
"You have to be transparent in your dealings with your subordinates," he adds, pointing out that his own family travels by train.
The other thing the father of two girls is proud of is the new environment of "fairness" in the organisation.
"If I receive a complaint from a woman colleague against a male colleague about harassment, I first sack the guy. Inquiry baad mein hogi (Inquiry will happen later)."
Is that fair to the male colleague?
"Well, if you do that once, twice, the men will be very very careful. Plus, the women also know there will be immediate action. So they won't bring frivolous complaints."
How does it feel to be constantly under the media glare?
"You have to live with it. This is a large and complex operation. But you learn to deal with things."
In fact, it is the same reason why he doesn't like Delhi so much. "It is large and complex. I like small town simplicity," says Lohani, who grew up in Kanpur and has lived in 10 cities during the course of his career.