Don't bet everything you have, Lemon Tree's Patu Keswani tells Pavan Lall.
Illustration: Dominic Xavier/Rediff.com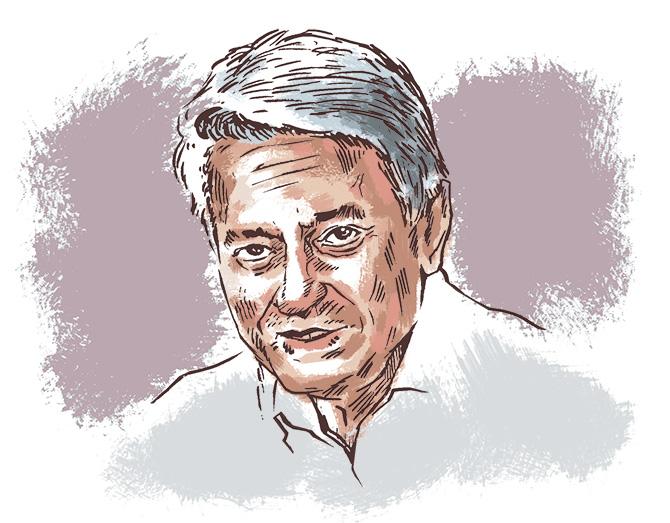 Walk into Patanjali 'Patu' Keswani's house in Delhi's Vasant Vihar and you'll be greeted by a very big five-year-old yellow Labrador with a bark to match. He's called... what else... Lemo and despite the bark, I'm told, he's harmless.
Inside, I'm led into an entertainment room of sorts that features an outsize library, flat panel TVs and a recliner where I wait for my host.
Around 10 minutes later, Keswani, dressed in a Polo T-shirt and blue jeans, bounds across to see me.
Now 60 years old and sans his trademark pony-tail, the one-time GM of Mumbai's Taj Mahal Palace Hotel has retained the friendliness that's second nature to hoteliers.
I'm greeted with a "Hey bro!"; Lemo is dispatched to another room; Keswani lights up a Benson & Hedges; and off we go.
A former IIM-Calcutta graduate who cut his teeth at the Taj group of hotels before becoming its COO, Keswani has done what only one other executive managed to do: Jump out of the group and start a listed company. (The other one is Vishambar Saran of Tata Steel who later started the Visa Group.)
Measuring his words carefully, Keswani says he "loved the Tatas and loved the culture there", but by the time he was 40, he had decided that he wanted to work for himself. What he is unabashed about is whom he admired the most.
A waiter comes to check what we would like to have and I'm offered a drink but opt for coffee. My host goes for the same.
It was from Tata Steel Chairman Russi Mody, for whom he worked as an executive assistant for about a year, that he learnt some "valuable corporate lessons for winners".
"Two young Tisco employees had said they had traveled by first class train but had gone by third class and pocketed the difference," Keswani tells me. When Mody found out he called to sack them.
The hapless employees said losing their jobs would hurt their upcoming marriages. Mody's retort was, "Russi's heart bleeds for you, but Mr Mody can't change his decision".
The point: Keep the personal and professional separate. The other thing he learned from Mody was to know his employees by their names.
"Mody could actually walk into a meeting room and mug up the names of a few dozen people in the space of an hour. It changed how people treated him and I learned that everyone likes the personal touch -- especially from a leader," Keswani says.
Our coffees arrive, served with a flaky Rajashtani biscuit called the mathri. Unusual but a house favourite, I suspect.
It hasn't all been a cakewalk for Keswani. "Not many chairmen of hotels would have been a bell-boy picking up luggage. I did that for a while," he tells me adding that an IIM batch-mate didn't recognise him when he picked up his luggage, which hurt.
Didn't Keswani also own a private jet at one point, a Rs 50 crore Cessna Citation? He laughs and explains that he did because it felt like a practical idea around a decade ago.
Eighty per cent of it was financed and after a while he realised he was only averaging five hours of flying time. 'Then use it more often,' said his partner who was a billionaire. 'I want to but every time I think of doing so, it is being used by you,' Keswani told his friend. That was that, and he got out of the deal.
Earlier, during a pre-midlife crisis phase, he and a couple of colleagues had gone out to a Taj lodge, got drunk on single malt and had planned an early retirement.
"We figured we needed around Rs 50 lakh a year to live well for which we needed a capital base of around Rs 5 crore. That would give us that number if we invested them in 10% return RBI bonds."
One friend said he had Rs 2.5 crore and another said he had Rs 3 crore. Keswani had Rs 70 lakh, his wife had Rs 30 lakh and a house in Delhi, and he thought growing the entire amount seven times was do-able.
So, in 1999 he put it all in equities. By the end of it, he had lost Rs 97 lakh. His broker apologised and explained that the market couldn't be timed and gave him a Cartier watch as consolation money.
Later he discovered that not only was the broker churning and burning and getting 2% commission on each trade, the Cartier that had stopped working after six months was a fake. The lesson: Don't bet everything you have.
The Taj Hotels stint lasted a decade with Keswani befriending a host of corporate bigwigs, politicos and assorted celebrities.
He also took a sabbatical in between and worked for AT Kearney for 18 months to make up for the losses in the stock market.
When he returned, the plan for Lemon Tree had crystallised in his head and he kicked off his venture.
In 2005, an investor wanted to buy 25% of his company. Another PE player was also showing interest, but he was already committed to the first.
Then, on the Saturday before he was going to get the money, he got a call from the investor. "We need to meet," he was told.
Instinctively, he called the second potential investor and said he wanted to reopen talks. "Why? Has that recent failed IPO derailed your investor's plans?"
Keswani wasn't aware of that fact, but proceeded to meet up with his investor in his office the following day.
The PE firm's managing partner investor walked in, gave him a weak smile and handed him a letter from an associate that said that based on the disastrous results of the IPO investment all further deals would need greater scrutiny.
'Do you want to revise your offer downward?' Keswani stood up, shook the investor's hand, and said, 'thank you... the deal is off, and I never want to deal with you ever again', and walked out the door.
"Always have a Plan B, Plan C and a Plan D," Keswani says.
Keswani lights another cigarette and fields a call for which he apologises as he explains that he is off to Udaipur the next day to launch an upscale hotel.
It's going to be called Aurika and has ex-Oberoi hands working there. "Really?" I look at the mathri and ask how would that tie in with his whole cheap and cheerful model.
He already has 58 such hotels, with over 6,000 rooms and as many employees. Won't that cause some dissonance? Keswani flinches for a second and says, "Lemon Tree isn't cheap, it's good value", and that Aurika will be in line with that by offering premium services and F&B at hard-to-beat prices.
Keswani started with 3-star hotels, then moved to 4-star with Lemon Tree Premier, then to 2-star with Red Fox and is now moving upscale with the belief he can do better at lower price points.
Is Keswani perturbed by the constant disruption in his sector? He admits that it's something he spends a lot of time pondering over.
It's the Googles and the Amazons that he is now observing to see how they could potentially impact his business in the future.
Beyond work, how does he occupy himself? The answer is simple. "I read, I play with my dog, and have a girlfriend."