Image:
A woman walks past a shop window.
Photographs:
Albert Gea/Reuters
Anusha Soni and Antonita Madonna
in New Delhi and Bangalore
Beating the slowdown blues, Diwali discounts and offers have increased sales for organised retail, as well as e-commerce companies. However, traditional retail is recording a fall in sales.
While leading malls claim their business has risen 20-25 per cent this festive season, online players are reporting a rise of 60-70 per cent in sales.
The Indian retail market is estimated at Rs 31 lakh crore (Rs 31 trillion). Of this, the unorganised segment accounts for the majority.
"This is going to be the best quarter for us. Clothing has picked up really well, after the lull period of Shraadh. To record good sales, we are packaging our products in the best manner possible," says Arjun Sharma, director, Select City Walk, a premium mall in the national capital. Through the past few days, the footfall here has increased 10 per cent, says Sharma.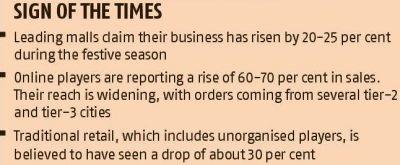 …
Why this Diwali will be grim for your next door retailer

Image:
Mobile phones category has seen brisk sales.
Photographs:
Reuters
This season, most leading brands are hoping to see a rise of up to 40 per cent in business.
"If you compare sales 30 days before Diwali, there's growth of seven-10 per cent over the last year," says Rishi Vasudev, chief operating officer (tailored clothing), Arvind Brands.
While Arrow has seen 17 per cent growth, Louis Philippe expects to record 40 per cent growth compared to the festive season last year.
This Diwali, apparels are top of the list, with the western wear segment seeing rapid pick-up.
Another category seeing brisk business is mobile phones, says Nikhil Rungta, chief business officer, Yebhi.com, which has recorded 25 per cent growth in pre-Diwali sales.
Leading online retailer Flipkart, too, says the mobile phone category is faring exceedingly well this Diwali season.
NEXT to read more…
Why this Diwali will be grim for your next door retailer

Photographs:
Justin Sullivan/Getty Images
While a large number of deals and discounts might have resulted in growth in online sales, the fact that popular websites are widening their reach, with orders coming from several tier-II and tier-III cities, has contributed immensely to online retailers.
The case of traditional retail, however, is a study in contrasts, with a drop of 30-40 per cent in pre-Diwali sales.
"This year, the consumer has turned choosy and sales are witnessing a decline. It is also because of the high rate of inflation this year," says Praveen Khandelwal, general secretary, Confederation of All India Traders, which has about 20,000 small-scale business establishments across the country as members.
The association has been at the forefront of intense agitation against foreign investment in multi-brand retail.
Khandelwal says the shift towards modern retail has hit sales. He adds the advent of e-commerce is one of the biggest challenges and traditional retail would have to redefine itself.
…
Why this Diwali will be grim for your next door retailer

Image:
DLF Promenade.
Photographs:
Siddhartha/Wikimedia Commons
Another noticeable trend this season is the excitement unique ideas have generated. For instance, DLF Promenade, a prominent shopping destination in the capital, has a home-makeover offer.
"We have tied up with Berger Paints, Pure Home & Living and Spaceworx - you get your home painted, add new furniture and get someone else to come in and give your home a thorough spring cleaning," says Dinaz Madhukar, senior vice-president and mall head, DLF Promenade.
Rajat Malla, centre director, Market-City (a shopping mall in Pune), said in most tier-I and II cities, young earning couples wanted to maintain a certain lifestyle, adding these were the people who kept the retail business going, despite the consumer slowdown.
Pinaki Ranjan Mishra, partner and national leader (retail and consumer products), EY (earlier Ernst &Young), says a transformation is being seen in consumption behaviour, as more and more people are moving to modern retail, even in tier-II and III cities.