Experts applaud FM's 4% fiscal deficit target
Last updated on: July 10, 2014 12:57 IST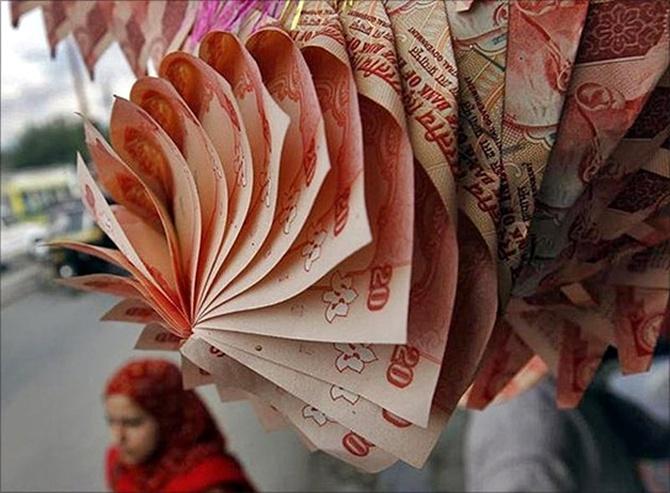 Finance Minister Arun Jaitley said the country will stick to the fiscal deficit target of 4.1 per cent of gross domestic product (GDP) set by the previous government for the year ending March 2015.
Jaitley added the fiscal deficit would narrow to 3.6 per cent of GDP by fiscal 2015/16 and to 3 percent by 2016/17.
Below are analyst comments on the budget.
Nirakar Pradhan, chief investment officer, Future Generali India Life Insurance, Mumbai
I think everything is better than expectations. FDI in defence and insurance have come which shows government is focused on restarting the investment cycle.
Fiscal deficit target at 4.1 per cent is also a positive surprise. The finance minister has a comprehensive package for all the issues and economic challenges that India is facing.
I will look at increasing exposure to shares now. Equity is falling just on event-based profit-taking but will catch up in the near term.
Shubhada Rao, Chief Economist, Yes Bank, Mumbai
"Fiscal consolidation is a strong takeaway. The FDI in insurance and defence and the plethora of schemes for improving the rural economy with all round focus on development programmes, are a key thrust. It's a good beginning.
For the 4.1 percent target of the fiscal deficit, the heavy lifting may be done by PSU disinvestment and non-tax revenue streams."
Shakit Satapathy, fixed income strategist, AK Capital
"It seems to be a neutral budget with positive light on key economic variables to tackle the current stagflation. Though targeting the earlier fiscal deficit of 4.1 per cent is a surprise favour to the market, the conviction of fiscal management in revenue and expenditure sides is being awaited."
(Reporting by Mumbai markets team; Editing by Sunil Nair and Anupama Dwivedi)
Please click here for the Complete Coverage of Budget 2014 -15
Source:
© Copyright 2022 Reuters Limited. All rights reserved. Republication or redistribution of Reuters content, including by framing or similar means, is expressly prohibited without the prior written consent of Reuters. Reuters shall not be liable for any errors or delays in the content, or for any actions taken in reliance thereon.