The high and low of India's retail sector
Last updated on: July 1, 2011 08:49 IST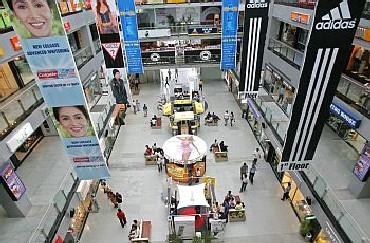 Sample this. Tata Group's retail flagship Trent was profitable from Day 1. It's a record, anywhere in the world, anyway you look at it. The secret? Fifteen years ago, the Tata Group managed a steal for itself as it shopped its way into big ticket retailing with perhaps the best deal in town.
In the first flush of liberalisation, foreign direct investment (FDI) in multi-brand retail was allowed in India, a tempting proposition that had led one of Britain's oldest retailer, Littlewoods, to set up shop here.
But the Liverpool company soon cashed out, failing to grasp the consumption story of a billion plus market, and Trent - which was still taking baby steps towards becoming the group's premier retailing company - saw a bargain that was simply irresistible.
Trent thus began with a buyout. Its initial lifestyle and fashion retailing template came as part of the package deal.
Click NEXT to read more...
The high and low of India's retail sector
Last updated on: July 1, 2011 08:49 IST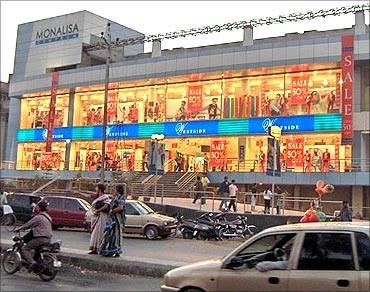 "It was a perfect opportunistic pick for Trent. We back calculated and got the price right for it. So Trent had one running store right from the day of acquisition and was also profitable from the first day itself," remembers Raju Bhinge, chief executive of Tata Strategic Management Group (TSMB), the group's consulting and advisory wing.
So what you see of Trent today with all its many formats was built on that one store in Bangalore. That's when in the spring of 1998, the Tata Group looked at big-format fashion and lifestyle retail for the first time.
"You need to understand how to stock things, merchandising, store formatting and optimise that learning," Bhinge time travels fondly, sitting inside his new glass and steel office in Central Mumbai's Lower Parel, oblivious of the cacophony of cars and blaring horns outside.
Now, 2,144 store rollouts later, the various pieces of the retail puzzle seem to have fallen well into place with the Tata Group emerging as the second biggest retailer - both in revenues and scale of operations - in India.
Click NEXT to read more...
The high and low of India's retail sector
Last updated on: July 1, 2011 08:49 IST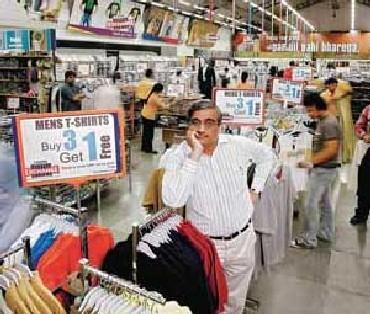 "It seems scattered but when you look at it, you'll see we've built a reasonably nice looking business without making much fuss," quips RG Gopalakrishnan, director, Tata Sons.
Spanning 14 different formats and over 4.96 million sq feet, the combined sales in 2011 from the many hypermarkets, fashion and lifestyle, electronics, watches, jewellery, books and music stores that the group companies run will also narrow the gap between them and the maharaja of Indian retail Kishore Biyani.
Biyani's Future Group - the country's largest retailer - is expected to post revenues of Rs 11,000 crore-Rs 12,000 crore (Rs 110 billion - Rs 120 billion) in 2011 when it comes out with its annual numbers end of the month.
Scale is just half the story. Where the Tata Group stood out is in its ability to spawn a profitable operation. That's the core of its retailing blueprint.
Click NEXT to read more...
The high and low of India's retail sector
Last updated on: July 1, 2011 08:49 IST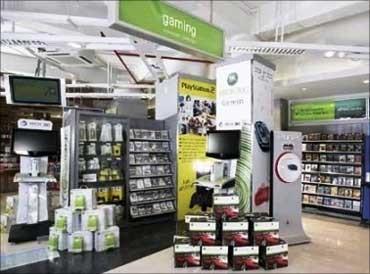 Barring Pantaloon, Future Group's flagship company, Titan and Trent are the only listed retailers that have been profitable in the last five to six years. Titan made combined profits of Rs 1,084 crore (Rs 10.84 billion) from 2006-07 to 2010-11 while Trent posted profits of Rs 158 crore (Rs 1.58 billion) from 2005-06 to 2010-11.
Croma, Tata Group's electronic megastores, has broken even operationally at the consolidated store level and is expected to do so at the corporate level also by 2011-12, says its confident chief executive Ajit Joshi.
This when some of the big boys in retail have been staring at even bigger trouble - with inefficient operations, high leverage, losses, and then the pangs of a slowdown which eventually triggered massive restructuring of operations and downsizing.
So while Pantaloon posted profits of Rs 630.26 crore (Rs 6.3 billion) between 2005-06 and 2009-10, on a consolidated basis, the Future Group booked losses of Rs 1,835 crore (Rs 18.35 billion) in 2009-10.
Click NEXT to read more...
The high and low of India's retail sector
Last updated on: July 1, 2011 08:49 IST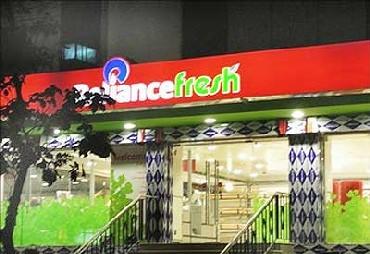 Analysts say its home d cor businesses and electronics stores have been drags on the bottom line. On its part, K Raheja Corp Group's Shoppers Stop was in the red in 2009.
Vishal Retail and Subhiksha went belly up, and the former was sold off by its lenders after posting losses for its last three years. RPG's Spencer's Retail is still bleeding, though losses are coming down from staggering Rs 5.2 billion (2008-09) to Rs 1.3 billion (2010-11).
Late entrants Reliance and Birla Retail, both of whom started operations in 2006-07, are hoping to break-even by 2012-13.
In retrospect, it can also be argued that Trent has been able to endure the sales slump during the recession because of the relative profitability of Westside and Landmark models.
When customers chose value or downtraded, it stepped up its promotions. And by picking up the warning signals of a slowdown faster than many, the inventory levels were kept extremely tight.
Click NEXT to read more...
The high and low of India's retail sector
Last updated on: July 1, 2011 08:49 IST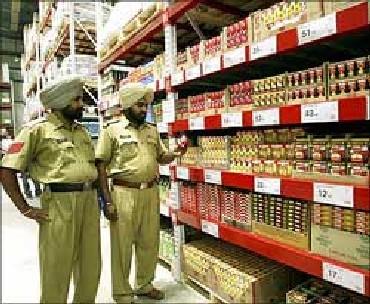 "Tatas had been the most under-covered and least appreciated retail groups despite being one of most successful and profitable retailers in the last five years," points out Arvind Singhal, chairman of retail consultancy Technopak Advisors.
"Retail is both an art and a science and they are conscious of both," says an executive from a rival chain on condition of anonymity.
All about profitability
Retail is a tough business to crack, leave alone make money, but the group seems to have got the hang of the module. And it goes about it in a clinical fashion - spreadsheet by spreadsheet, store by store.
"We observe a brand or an SKU for six to eight weeks. If it sells, it stays. If not, we are ruthless about it. Our private labels compete with the best of brands. After that the manufacturers meet our new lines committee and we share the data. We are transparent and that's why they respect our decision," adds Joshi to underscore the degree of micro management.
Click NEXT to read more...
The high and low of India's retail sector
Last updated on: July 1, 2011 08:49 IST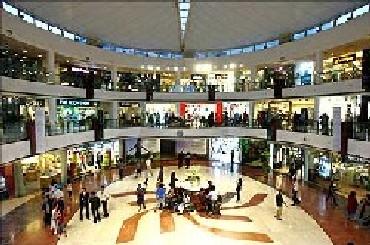 It's not that the group always gets it right. Steel retailing flopped as did Tata Motor's efforts in passenger car retailing via the dealership network of Concorde Motors.
Even product planning and displays throw up occasional lemons like when Croma got it wrong with children's electronic toys.
"We are building the retail piece brick by brick unlike our other manufacturing businesses like steel or auto where we think of the totality first. In retail, you have to get a number of micro things right. You aggregate the micros and only then you get the macro right," Gopalakrishnan decodes it for us.
Even though the group has entered most of the high growth segments of retail - namely, apparel, food and grocery, consumer durables and electronics, jewellery and footwear - and continues to evaluate new segments, most competitors scoff at the group's trade-off between pace of growth and profitability.
Trent took 15 years to open 54 Westside departmental stores and after 2004, took almost four years to open its second hypermarket Star Bazaar in Mumbai.
Click NEXT to read more...
The high and low of India's retail sector
Last updated on: July 1, 2011 08:49 IST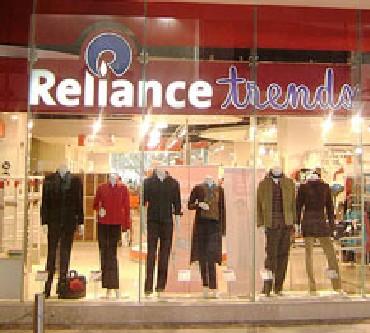 The new kid on the shopping mall block Reliance Trends, which is only into its third year, already runs 50-odd stores in the country. Both Reliance Retail and Birla Retail, which have started operations after 2006, manage 18 and 10 hypermarkets respectively.
"Given that they have set up their first hypermarket in 2004, they had an early mover advantage and could have used that to achieve higher economies of scale and top line," says a chief executive of Mumbai-based retail chain who did not want to be quoted.
Noel N Tata, the retailing master mind in the group - having built over 90 stores for Trent from one in 1998 as its former managing director - looks at it differently.
"We have not as yet seen economies of scale translate into profit. At this stage of retail development, it is more important to make sure that every retail format has sufficient customer appeal and is viable. Our experience has also shown that scale alone does not bring about profitability."
Click NEXT to read more...
The high and low of India's retail sector
Last updated on: July 1, 2011 08:49 IST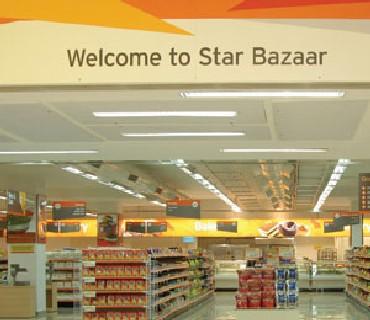 Abheek Singhi, partner and director at Boston Consulting Group (BCG), agrees. "Tatas have never tried for rampant growth. They have ensured value for customers, profits for shareholders and steady growth for the formats," he says.
Tata himself admits that he would rather guard his profits and pay out dividends rather than expand footprint; in the same breath he adds that both in hypermarkets and in fashion retailing, growth has been "tempered by a lack of properties in the right locations and at the right prices".
"Star Bazaar has opened seven stores and Westside 18 in the last two years and have set a good pace of growth," he adds. The number of Landmark stores has also more than doubled in six years.
Click NEXT to read more...
The high and low of India's retail sector
Last updated on: July 1, 2011 08:49 IST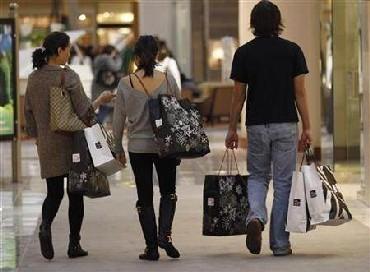 Sector analysts also say that both Pantaloon and Westside are private label-led and that means they are responsible for developing their own merchandise as opposed to multi-brand formats where the onus lies with the individual brands.
Such chains take longer and are more difficult to grow, but in the long run turn out to be more profitable as they capture value from the factory to the customer.
No coincidence then, that both are of the same age, have the same number of stores and are going through makeovers.
Star Bazaar especially has seen measured rollouts and says it wanted to perfect the model before expanding.
That means optimising range, supply chain, pricing, marketing and location before the market opens up in the true sense of the term. "Our plan is to have 50 hypermarkets over a period of five years. We have already signed over 25 properties," states Tata.
Click NEXT to read more...
The high and low of India's retail sector
Last updated on: July 1, 2011 08:49 IST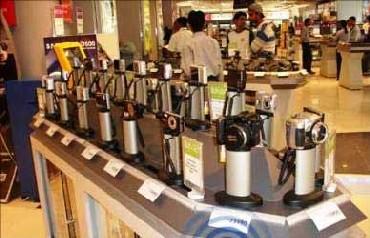 Scaling up is a science and according to TSMB's Bhinge, it takes time to excel. In bulky items like consumer durables and electronics or for the large format hypermarkets, a distribution centre (DC) at the backend is critical.
But each of such centre also needs to be viable. So Croma has to plan for 8-10 stores near a DC to make one viable. This will only be possible if the front-end and the backend are perfectly synchronised.
Keeping this structure in mind across the group's retail formats, ramping up means concentrating on geography.
"When we enter a city, we want to conquer a minimum of 20 per cent of the market. That itself takes us to a leadership position," says Joshi.
Click NEXT to read more...
The high and low of India's retail sector
Last updated on: July 1, 2011 08:49 IST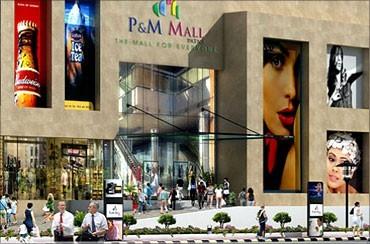 Next comes location. Where do you open once you zoom in on a city? "Tanishq will mostly be standalone stores in high streets. But never near a jewellery market," Bhaskar Bhatt, Titan's MD is quite emphatic.
But "watches are accessories, so a World of Titan will look at high traffic areas in big spending or upcoming neighbourhoods. Eye care too will have to be a neighbourhood format while Fastrack will have to be near youth hangouts."
Each of the formats go through similar mapping. And even though the demographics are blurring, locations do play a role in merchandising and inventory management as well.
The retail story has a rural angle. Tata Chemicals' Kisan Sansar is a successful agri-retail outlet offering a whole range of products and services.
"We offer the complete suite of farming products and nutrients - from seeds to fertilisers and pesticides. Also in a country where land holdings are small, we have been trying to provide value-added services like soil and water testing to boost farm productivity," explains R Mukundan, managing director, Tata Chemicals.
Click NEXT to read more...
The high and low of India's retail sector
Last updated on: July 1, 2011 08:49 IST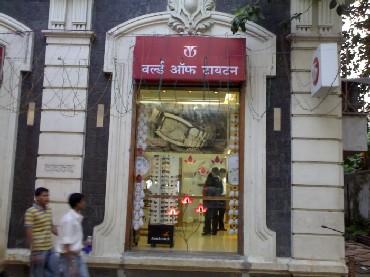 The accidental retailer
It will be a mistake thinking that retail is ingrained in the Tata DNA. Ask Bhatt and he will tell you that the Tata retail saga actually began as an extension of a marketing exercise.
Titan began as a manufacturer, built a brand and the retail part of it came as an essential enabler to that brand story.
"We realised in the late 1980s, despite investing in manufacturing, advertising or even ensuring availability, the brand would collapse at the point of sale as the manner in which watches were sold then was not up to the mark," recalls Bhatt.
So if fixing ambience of watch retail was the first challenge, the big the breakthrough happened with the standalone World of Titan stores.
"We grew as a catalyst for the market but we never wooed traffic by discounting," he adds.
Click NEXT to read more...
The high and low of India's retail sector
Last updated on: July 1, 2011 08:49 IST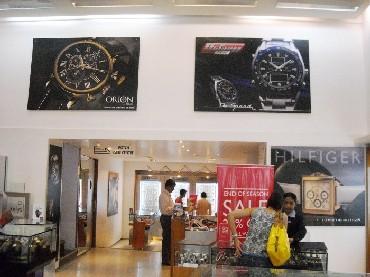 Titan has meticulously built on its early success to diversify in fragmented, unoraganised segments like jewellery and eye care with differentiated offerings which as Bhatt says "gives it a sustainable competitive advantage."
Today, 64 per cent of the group's retail revenue comes from the seven different formats of Titan.
So how did everything fall into place? The secret, says Bhatt, lies in decentralisation. "Even if the Business Review Committee of Tata Sons works on a strategy, their suggestions are forwarded to the board of the group company as they would be the final authority to vet," Bhatt is candid about it.
Each CEO charts his own agenda keeping in mind the group's emphasis on quality and service.
"The competencies required for jewellery and watch retailing are different from retailing food and vegetable or fashion apparel, and therefore it is not surprising that these evolved at different times along different lines," says Tata.
Click NEXT to read more...
The high and low of India's retail sector
Last updated on: July 1, 2011 08:49 IST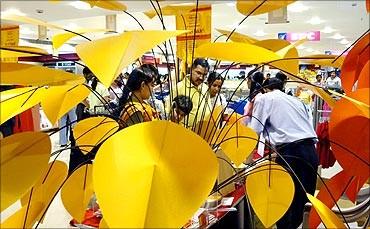 There is no one size fits all as both front and back ends are different for the different formats. Experiments with a common pool of personnel didn't take off either.
But that doesn't mean tapping group synergies - from bulk buying of real estate to cross selling or even data sharing - is uncommon. "If you need to brainstorm, imagine the in-house talent pool which is just a phone call away," points Joshi.
So for most, TCS usually provides the IT backbone while Drive India Enterprise Solutions becomes the logistics provider and supply chain manager.
Croma has been riding piggyback on Tata-AIG to provide extended warranty for the appliances beyond the stipulated time period. This novel scheme has been a hit, doubling the goodwill.  "We try to promote each other internally."
Click NEXT to read more...
The high and low of India's retail sector
Last updated on: July 1, 2011 08:49 IST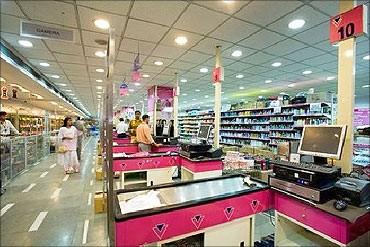 "We tie up wherever it's feasible, wherever there is commonality of customers," says Deepak Gulati, executive president, mobility, Tata Teleservices.
"Some of our products like Tata Photon are already in Croma and we sell Tata Sky DTH and may even explore Nano bookings."
Most executives vouch for the 360 degree evaluation exercise - the Tata Business Excellence Model - where a neutral team assesses and evaluates the different operations. So while Croma's Joshi will mentor Tanishq, Raymond Bickson, managing director of Indian Hotels, will guide Croma.
It also pays to adopt global best practices from the international partners like Woolworths of Australia or UK's Tesco, the world's third largest retailer.
"Our offices are next to each other, we work as a seamless operation. Every Monday, officials of Croma and Woolworths meet to review sales, next day there are joint discussions on new products," says Joshi. "Even rollouts need perfect planning between partners."
Click NEXT to read more...
The high and low of India's retail sector
Last updated on: July 1, 2011 08:49 IST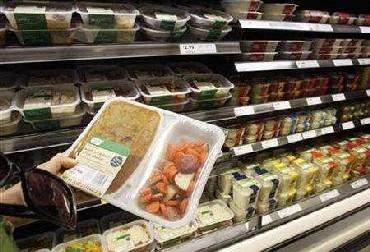 Tesco's technology and operational prowess while managing scale - like each of the 75,000 sq feet Star Bazaar hypermarkets - has equally helped in growing sales even during difficult and uncertain times.
You can't fault the group for being proud retailers. In 2002, at the annual Tata group management meet, chairman Ratan Tata, spelt out - for the first time at a public forum - that retail was an emerging opportunity the group should explore.
He even set a target then. "To foresee that retailing could be a Rs 10,500 crore (Rs 105 billion) business by 2012 when we were only clocking Rs 150 crore (Rs 1.5 billion) in 2002 was a very big deal in itself," says Gopalakrishnan.
It means growing 70 times in a decade. And when group officials say they will make it happen next year, you know they must be doing something right.
Source: