The best of Inc: Maharashtra's leading entrepreneurs
Last updated on: September 27, 2011 08:20 IST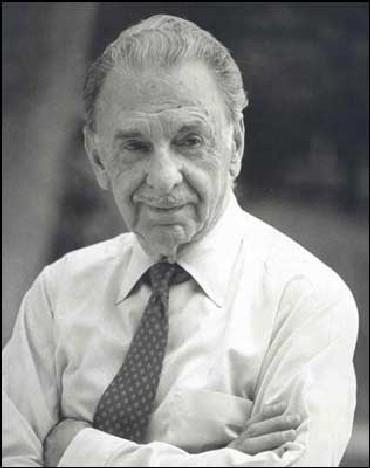 They personify true qualities of a leader. They are an inspiration for many budding entrepreneurs and businessmen. They are undoubtedly some of the best known faces of India's growth story.
In this series, we feature some of the top businessmen across different states in India. Featured here are the top entrepreneurs (in no particular order) from Maharashtra.
The Tatas: Jehangir Ratanji Dadabhoy Tata
Jehangir Ratanji Dadabhoy Tata, chairman of Tata & Sons for 50 years and recipient of Bharat Ratna in 1992, was also India's first licensed pilot.
JRD established Air-India International in 1948, as India's fist international airline.
JRD Tata is recognised as the most enterprising Indian entrepreneurs of all times. Recognised as the fourth Chairman of the Tata Group at the young age of 34, JRD is credited with placing the Tata Group on the international map.
JRD joined the Tatas as an unpaid apprentice in December 1925. His mentor in business was John Peterson, a Scotsman who had joined the Group after serving in the Indian Civil Service.
At 22, soon after his father passed away, he was on the board of Tata Sons, the Group's flagship company. Later in 1938, JRD was elected Chairman of Tata & Sons making him the youngest head of the largest industrial group in India.
During his tenure, the group expanded into diverse fields such as chemicals, automobiles, tea and information technology.
Click NEXT to read more...
The best of Inc: Maharashtra's leading entrepreneurs
Last updated on: September 27, 2011 08:20 IST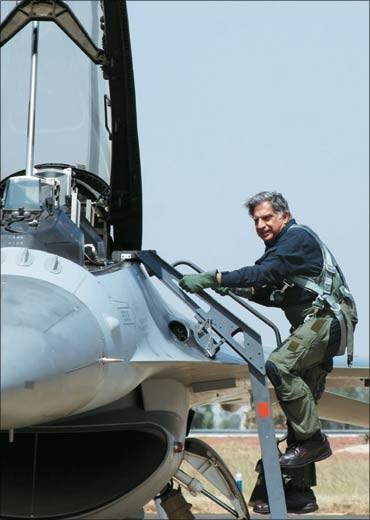 Ratan Tata
The 73-year old chairman, Ratan Tata started his career with the Tata Group in 1962, and was promoted as the chairman in 1981. During his tenure, the Tata Group's revenues have grown over ten-fold to annualised revenues of $67.4 billion.
For his excellence in work, Ratan Tata was awarded the Padma Vibhushan, in 2008 - second highest civilian award.
As of 2011, Ratan Tata has an income whose net worth is US $ 970 million. He does not figure in the Forbes' list of Indian millionaires because a large number of the shares (around 65.8 per cent) of Tata Sons, the holding company of the Tata Group, are held by charitable trusts.
A B.Sc. (Architecture) in structural engineering from CornellUniversity, Ratan Tata started his career at Jamshedpur, where he went to work on the shop floor at Tata Steel with other blue-collar employees, shovelling limestone and handling the blast furnace.
His next assignment came in 1977, where he was asked to turn around the sick Empress Mills, which he successfully did.
After many such successful attempts, including launching India's first indigenous car Indica and the people's car Nano, Ratan Tata is set to retire in December, 2012. A search has been underway for a successor since August 2010.
Click NEXT to read more...
The best of Inc: Maharashtra's leading entrepreneurs
Last updated on: September 27, 2011 08:20 IST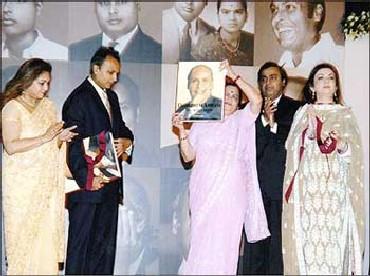 The Ambanis: Dhirubhai Hirachand Ambani
"Pursue your goals even in the face of difficulties, and convert adversities into opportunities." Dhirubhai Hirachand Ambani.
Dhirubhai Ambani started Reliance Commercial Corporation in 1966 with an initial capital of Rs 15,000.
Dhirubhai Ambani is still fondly remembered for his contribution to the Indian economy. To honour his commitment, the Union Government released a postage stamp in his memory, on Dhirubhai Ambani's first death anniversary.
Mukesh Dhirubhai Ambani
Mukesh Ambani is the chairman and managing director of Reliance Industries and his personal stake in the company is 48 per cent.
Mukesh Ambani joined Reliance in 1981 and was the brain behind Reliance's backward integration from textiles into polyester fibres and further into petrochemicals. Even, the petroleum refinery at Jamnagar is the brainchild of Mukesh Ambani.
Apart from RIL, Mukesh also owns the cricket team Mumbai Indians. He owns a rather lavish, 27-storey home in downtown Mumbai called Antila.
Anil Dhirubhai Ambani
A youth icon, Anil Dhirubhai Ambani is the chairman of Anil Dhirubhai Ambani Group. Before the split in the Reliance Group, Anil Ambani held the post of vice chairman and managing director in Reliance Industries Limited (RIL).
Anil Ambani joined the Reliance group in 1983 as co-chief executive officer.
Anil Ambani also ventured into politics. He was elected as an independent member Rajya Sabha MP in June 2004. But he resigned voluntarily in March 25, 2006.
Click NEXT to read more...
The best of Inc: Maharashtra's leading entrepreneurs
Last updated on: September 27, 2011 08:20 IST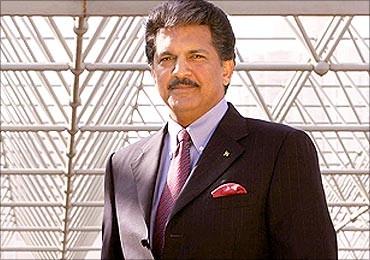 Anand Mahindra
For Anand Mahindra business is in his blood. After successfully leading the tractor market, Mahindra & Mahindra diversified into steel production, technology, real estate development and financial management.
But, joining the family business was never his dream. After studying architecture in Mumbai and then film and photography at Harvard, Anand Mahindra wanted to foray into films.
And, after a brief stint into films, he went to HarvardBusinessSchool in 1979 and joined the Mahindra Group in 1981.
Today, he is the managing director and vice chairman of the Mahindra & Mahindra Group, which is amongst the top ten industrial houses in India.
Under his management, the company acquired Satyam Computer Services in 2009, launched Reva Electric Vehicles in 2010 and entered into a venture with Ssangyong Motor Company in 2010.
Apart from business, Anand Mahindra involved with the Mumbai Festival, Mahindra Blues Festival and he is also the co-chairman of the International Council of the Asia Society, New York.
Click NEXT to read more...
The best of Inc: Maharashtra's leading entrepreneurs
Last updated on: September 27, 2011 08:20 IST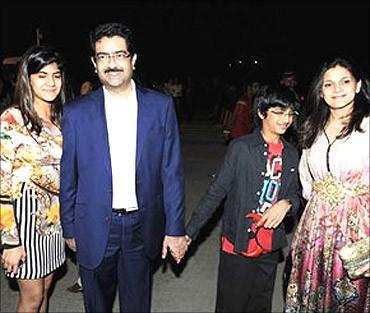 Kumar Mangalam Birla
Kumar Mangalam Birla is the chairman of the Aditya Birla Group. Major companies of Aditya Birla Group in India are Grasim, Hindalco, UltraTech Cement, Aditya Birla Nuvo and Idea Cellular. Aditya Birla Group's joint ventures include Birla Sun Life (Financial Services) and Birla NGK (Insulators).
He took over as the chairman in 1995, at the age of 28, after the sudden demise of his father -  noted industrialist Aditya Birla.
When he took over as the chairman, many raised doubts about his ability to handle a giant business house with varied interests. But Kumar Mangalam proved his skeptics wrong.
Under Kumar Mangalam Birla's leadership, the Aditya Birla Group ventured into sectors like cellular telephony, asset management, software and BPO.
Click NEXT to read more...
The best of Inc: Maharashtra's leading entrepreneurs
Last updated on: September 27, 2011 08:20 IST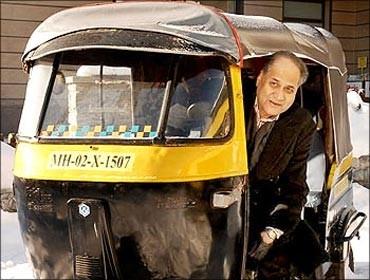 Rahul Bajaj
He is probably the most outspoken industrialists in India. Chairman of the Bajaj Group, Rahul Bajaj has successfully diversified the business into automobiles, home appliances, lighting, iron and steel, insurance, travel and finance.
An alumnus of Harvard, St. Stephen's and Cathedral, Rahul Bajaj joined the group in 1965. Under his leadership, the turnover of the Bajaj Auto the flagship company has risen from Rs 72 million to Rs.46.16 billion.
Rahul Bajaj created one of India's best companies in the difficult days of the licence-permit raj. He established factories at Akurdi and Waluj.
In 1980s Bajaj Auto was top scooter producer in India and its Chetak brand had a 10-year waiting period.
Presently, Rahul Bajaj's net worth is estimated to be at US$1.6 billion. He is currently listed 34th on the Forbes list of richest people in India.
Now, his sons Rajiv Bajaj and Sanjiv Bajaj are actively involved in the management of his companies.
Click NEXT to read more...
The best of Inc: Maharashtra's leading entrepreneurs
Last updated on: September 27, 2011 08:20 IST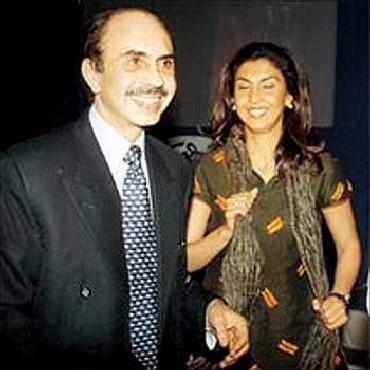 Adi Godrej
Adi Godrej, is the head of 114-year old Godrej Group, a consumer goods conglomerate, started by his granduncle.
After graduating from the Massachusetts Institute of Technology, Adi Godrej joined the family-run business. He is known to have modernised and systematised management structures and implemented process improvement.
In early 2000s, the group completed a 10-year restructuring process through which each business became a stand-alone company with a CEO/COO from outside the Godrej family.
Under Adi Godrej's leadership, the group is also involved in philanthropic activities. Godrej is major supporter of the World Wildlife Fund in India, it has developed a green business campus in the Vikhroli township of Mumbai, which includes a 150-acre mangrove forest and a school for the children of company employees.
In addition to his role as the chairman of the group, he is also the chairman the Hyderabad-based Indian School of Business (ISB).
Click NEXT to read more...
The best of Inc: Maharashtra's leading entrepreneurs
Last updated on: September 27, 2011 08:20 IST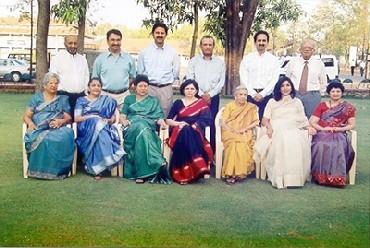 The Kirloskars
The Kirloskar group was founded by Laxmanrao Kirloskar in 1880. Later, his son Shantanurao Laxmanrao Kirloskar spearheaded the group and established KOEL and Kirloskar Electric Co Ltd in 1946.
S L Kirloskar was also amongst the batch of first Indians to graduate from MIT. After graduating from MIT in 1926, he got his little family-owned motor company to branch out into planters, seeders and harrows, invented a machine that speeded peanut shelling by 600 per cent.
Now, the three Kirloskar brothers - Sanjay, Atul, Rahul - and their cousin Vikram who restructured their ownership of the companies, independently manage their portfolio.
Sanjay Kirloskar runs Kirloskar Brothers Ltd (KBL), Atul Kirloskar runs KOEL and Kirloskar Ferrous Industries Ltd, and their younger brother Rahul Kirloskar manages Kirloskar Pneumatic Co Ltd. Cousin Vikram manages the auto component joint ventures such as TKM and TKAP in Bangalore. All are fourth-generation Kirloskars.
Even, the Kirloskars' daughter-in-law, Geetanjali Kirloskar who is married to Vikram Kirloskar is a well-known entrepreneur.
She heads Quadrant Communications. Geetanjali is also involved in the Rs 120-crore multi-speciality hospital business. This is her project and the hospital is a logical extension of a small medical equipment business which she runs.
Click NEXT to read more...
The best of Inc: Maharashtra's leading entrepreneurs
Last updated on: September 27, 2011 08:20 IST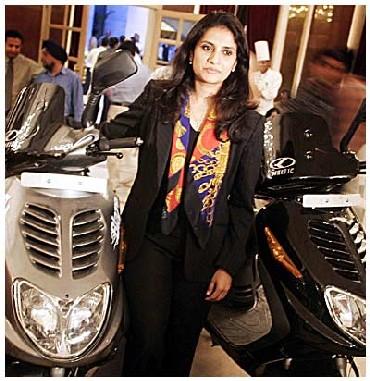 Sulajja Firodia Motwani
Joint managing director of Kinetic Engineering Ltd, Sulajja Firodia Motwani is an active participant in setting the company's operations in India.
Prior to joining Kinetic Company, Sulajja Firodia Motwani worked for a California-based investment analytics company, BARRA International. Excellent is academics, she has appeared in the toppers list in the SSC examinations and HSC examinations.
She graduated from the Pune University. Thereafter, she pursued a management course from Carnegie Mellon University, Pittsburgh.
The company has witnessed tremendous expansion during her tenure. From being a mere moped manufacturer, today, Kinetic Engineering has set its foothold in the industry as a manufacturer offering a complete range of two wheelers right from scooterette, scooters to motorcycles.
A fitness and sports enthusiast, Sulajja Firodia Motwani is also national level badminton player.Sulajja Firodia Motwani won a number of awards such as the award for excellent performance as the woman CEO by the Institute of Marketing and Management (2003); Young Super Achiever Award from the leading magazine 'Business Today' (2003); Society Young Achiever's Award for Business in the year 2002; Global Leader of Tomorrow by the World Economic Forum (2002); and 'Face of the Millennium' by 'India Today'.
Click NEXT to read more...
The best of Inc: Maharashtra's leading entrepreneurs
Last updated on: September 27, 2011 08:20 IST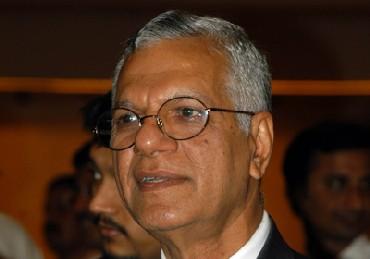 Chandru L Raheja
Chandru L. Raheja, 69, is the chairman and non-executive director of the Raheja Group, which runs the retail chain Shoppers Stop and other real estate projects.
He is a law graduate from the Mumbai University. He has extensive experience in areas of real estate, hospitality and retail.
Chandru Raheja has been involved in real estate development for more than four decades. Under his leadership, K Raheja Corp Group has built residential and commercial buildings, hotels and malls throughout India.
Under his direction and guidance, the group managed to develop Mindspace, an integrated township, with commercial, retail and residential developments at Malad, Mumbai.
He is now focusing on developing similar projects in Hyderabad, Pune, Bangalore and other cities across India.
Chandru Raheja, is also actively involved in the development of Shoppers Stop, started in 1991 with its first store in Andheri, Mumbai.
Shoppers Stop Ltd has been awarded "the Hall of Fame" and won "the Emerging Market Retailer of the Year Award", by World Retail Congress at Barcelona, on April 10, 2008.
Click NEXT to read more...
The best of Inc: Maharashtra's leading entrepreneurs
Last updated on: September 27, 2011 08:20 IST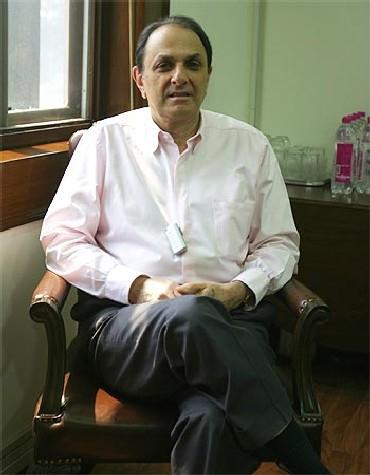 The Wadias: Nusli Wadia
Nusli N Wadia is the managing director and chairman of Nowrosjee Wadia & Sons Limited. Prior to this, he was the Joint Managing Director of Bombay Dyeing & Manufacturing Co. Ltd. since 1970.
Today, Nusli Wadia is joined by his two sons Ness and Jeh. Ness has taken over the management of one of the group's oldest and asset-heavy entities, Bombay Burmah Trading Corporation, as its managing director.
While, younger brother Jeh, who is also the managing director of GoAir, will step down as deputy managing director of the corporation, but will continue as an additional director.
Ness has been with Bombay Dyeing & Manufacturing Co. Ltd for over 11 years. He was closely involved in the marketing and retail distribution of the textile division of Bombay Dyeing and strategically involved in textiles & polyester divisions.
Younger brother Jeh is responsible for turning around Go Air and has managed to survive despite cut-throat competition in the domestic aviation space.
Click NEXT to read more...
The best of Inc: Maharashtra's leading entrepreneurs
Last updated on: September 27, 2011 08:20 IST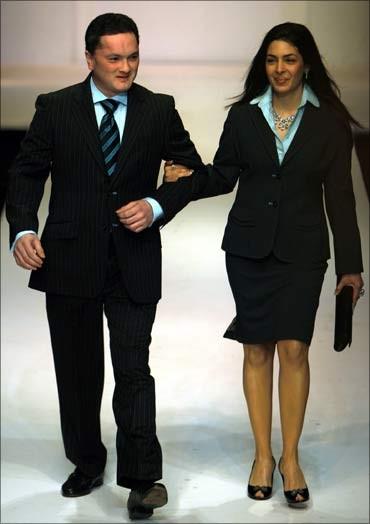 Gautam Singhania
He loves fast cars, speed boats, jets and is known for his flamboyant parties. But, he is also one of India's top industrialists. He is Gautam Hari Singhania chairman and managing direcor of the Raymond group.
Even though Gautam Singhania's exploits on the race track, speed boats and flying jets may grab more media attention than his boardroom decisions, he has proved his worth as an astute businessman.
Gautam Singhania joined the Singhania family's JK Group of companies in 1986. He later joined the family's Raymond Group, becoming the director in 1990, then managing director in July 1999, followed by the chairman in September 2000.
After taking over from his father, Vijaypath Singhania, he restructured the group and sold Raymond's non-core businesses - synthetics, steel and cement.
Under his leadership, the group moved its focus to fabrics, apparel brands, prophylactics (KamaSutra condoms), and men's toiletries. He has also focused on international partnerships for Raymond, including joint ventures with UCO of Belgium (denim) and Gruppo Zambaiti of Italy (shirting).
Click NEXT to read more...
The best of Inc: Maharashtra's leading entrepreneurs
Last updated on: September 27, 2011 08:20 IST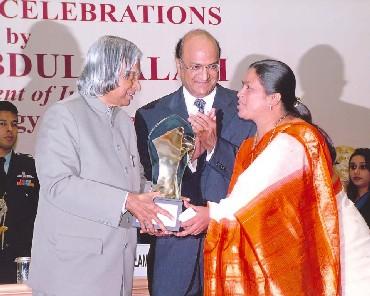 Jyoti Naik
"Do not be afraid of working hard. Nothing is impossible. Women, especially who hail from rural areas, should aspire to join together to imitate a small-scale business of their own. They can generate fantastic results if they pool their resources and strengthen their bonds with one another." Jyoti Naik.
Jyoti Naik, is currently the President of Shri Mahila Griha Udyog Lijjat Papad, an Indian women's cooperative based in Mumbai.
She has been repeatedly praised for her pioneering spirit by different organisations, for her contribution.
The Khadi and Village Industries Commission of India has conferred the Best Village Industry award on Lijjat Papad from the period 1998-99 to 2000-01.
Jyoti Naik was also conferred Businesswomen of the Year (2001-02) for corporate excellence by the Economic Times.
Shri Mahila Griha Udyog Lijjat Papad is a women's organisation of the women, by the women and for the women. It was started in 1959 with 7 lady members with a borrowed sum of Rs 80 at Girgaum in Mumbai.
The turning point of this institution was in 1966 when it was registered under the Bombay Public Trust Act 1950 and also registered under Societies Registration Act, 1860 and got recognition from Khadi & Village Industries Commission as a village industry.
Besides Lijjat Papad the institution has other products like Khakhra, Masala, Wadi, Detergent Powder & Cakes, Bakery Products & Chapaties.
Click NEXT to read more...
The best of Inc: Maharashtra's leading entrepreneurs
Last updated on: September 27, 2011 08:20 IST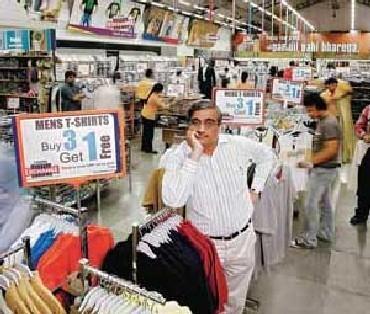 Kishore Biyani
Kishore Biyani, 50, is the CEO, Future Group, which is designed to cater to the entire Indian consumption space. He is the man who gave Indian retail a whole new definition, and made Big Bazaar, Pantaloons a household name.
After graduating in commerce, Kishore Biyani joined the family textiles business. Five years later he launched the first branded readymade trouser, called Pantaloon. It was marketed through The Pantaloon Shoppe.
Kishore Biyani is a strong believer in the group's corporate credo, 'Rewrite Rules, Retain Values. It's this that led to the start of a pan-India, no frills attached model Big Bazzar, which led to the democratisation of shopping in India.
He considers Indianness as the core value which is driving the group. Today, the Future Group operates through six verticals: Future Retail, Future Capital, Future Brands, Future Space, Future Logistics and Future Media.
Now, Biyani is spelling out his broad plans for the new generation. His nephew Vivek Biyani, his daughter Ashni Biyani and his niece Vidisha Bagri are already handling various responsibilities within the group.
Click NEXT to read more...
The best of Inc: Maharashtra's leading entrepreneurs
Last updated on: September 27, 2011 08:20 IST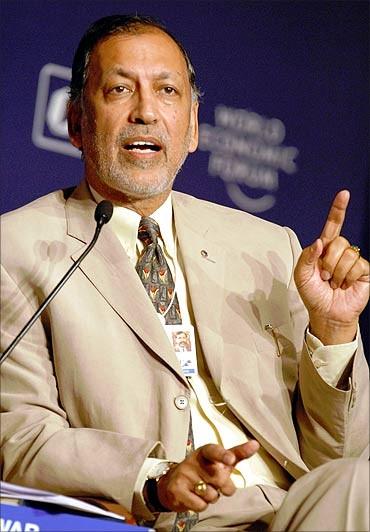 Rajendra Pawar
He hails from Kotli Tanda village, Gandherwan in Akhnoor. But, that didn't stop the visionary Rajendra Pawar from setting up NIIT Limited - the leading global talent development corporation and NIIT Technologies Limited - the software and services organisation.
Rajendra Pawar has done his school education from Army School, and is also an alumnus of Scindia School, Gwalior and Indian Institute of Technology, Delhi.
Set up in 1981, NIIT pioneered the computer education market in India, creating a completely new industry segment.
He is also a member of the Planning Commission's Task Force on Skill Development and has also served on the Prime Minister's National Task force, which aimed at making India an IT Superpower by 2008. He is also helping the Government of South Africa develop a growth strategy for its ICT industry.
Rajendra Pawar was also the founder member of NASSCOM (the National Association of Software & Service Companies).
In 1999, he won Ernst & Young's Master Entrepreneur of the Year Award. And, recently he was awarded the Padma Bhushan by the Government of India.
Click NEXT to read more...
The best of Inc: Maharashtra's leading entrepreneurs
Last updated on: September 27, 2011 08:20 IST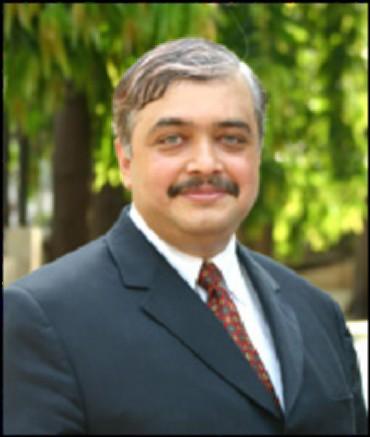 Deepak Ghaisas
Deepak Ghaisas is the chairman of Gencoval Strategic Services Pvt Ltd. Previously he was the CEO - India Operations and CFO of I-flex Solutions Ltd., India.
In 1993, Deepak Ghaisas joined as the Chief Financial Officer of I-flex Solutions Ltd., India for its global operations. In 1997, he added the role of the Chief Executive Officer (India Operations), while retaining the CFO position.
He along with the founder Rajesh Hukku and R Ravisankar were instrumental in the growth of i-flex. His colleagues would often say that in terms of getting deals he was the comfort factor between the company and the client and has been active in negotiation deals.
Now, at Gencoval Strategic Services (P) Ltd., he leads strategy development, visioning and conceptualises the breakthrough business models in Biotechnology. He has worked in the software industry since 1987.
His work has received global recognition. He has been the recipient of the CFO Asia Award in 2001, the first ever Indian to win the award.