How Samsung dislodged Nokia from the top
September 06, 2013 11:54 IST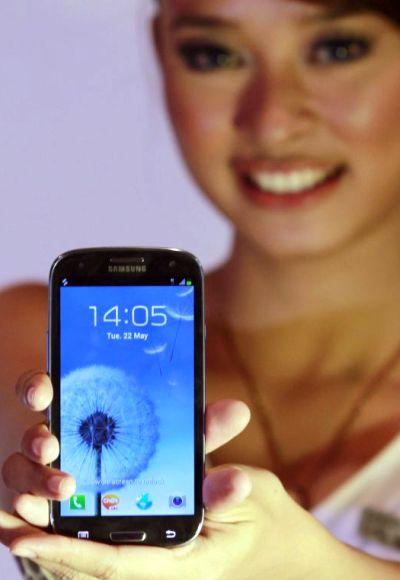 Going forward, the Korean company's real competition could be nimble-footed Indian companies, more than the Nokia-Microsoft combine.
On Monday, a day before Microsoft's $7.2-billion buyout of Nokia's mobile device business, the Finnish mobile manufacturer's India outpost was to host a press conference in the capital to announce the launch of a slew of products targeting the mass market.

The event was re-scheduled-ostensibly due to indisposition of the chief guest, Telecom Minister Kapil Sibal.

However, the overnight announcement in Seattle has changed the picture. From now on the shadow of the new owner will loom large on any move that Nokia makes. Wary competitors included.
The deal will have the biggest resonance for the market leader in India, Samsung, which occupies the No. 1 position both in terms of revenue generated and units sold.

According to a Voice & Data survey of mobile handset players released last month, Samsung generated sales worth Rs 11,328 crore in 2012-13, a jump of 43 per cent from the previous year.

Its market share for the year was pegged at 31.5 per cent as against Nokia's 27.2 per cent. While Nokia's sales were lagging Samsung's at Rs 9,780 crore, the Korean company may now have to step up its vigil to guard its market share in the country in the light of the new development.

Click NEXT to read more...
How Samsung dislodged Nokia from the top
September 06, 2013 11:54 IST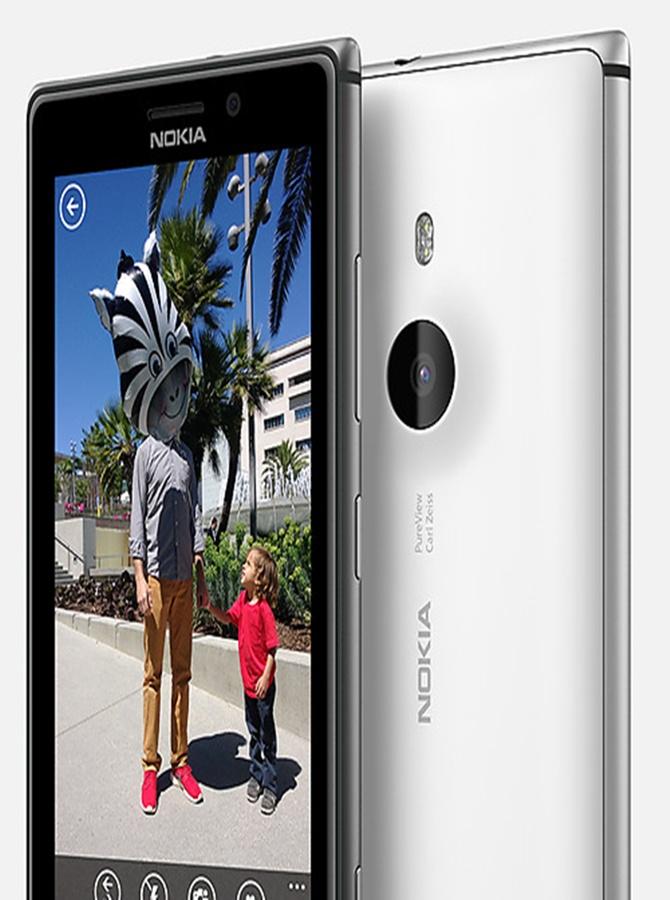 Nokia has been in India for around 18 years, for most of these it was the unquestionable leader of the handset market. In fact, it gave millions of Indians their first feel of a mobile phone.

At its peak-which lasted until the mid-2000s-the Finnish company had 60-65 per cent market share. The dream run came to an end in the second half of that decade as Android-operated phones took the industry by storm.

A few strategic missteps by Nokia only hastened that slide-making Samsung's growth in market share sweepstakes easier.
Analysts say what worked for Samsung was its different-strokes-for-different-folks strategy. Even as it went about building a channel distribution network on the ground, Samsung hit the market with a wide portfolio of handsets at varying price points, leaving no consumer segment untapped.

While highlighting the ease of user interface of its handsets through marketing promotions, frequent product upgrades kept its portfolio fresh. This helped to keep up consumer interest in its products. Samsung began sprucing up its product portfolio every quarter at a time when the industry norm was to come out with a new product line every six to eight months.

Click NEXT to read more...
How Samsung dislodged Nokia from the top
September 06, 2013 11:54 IST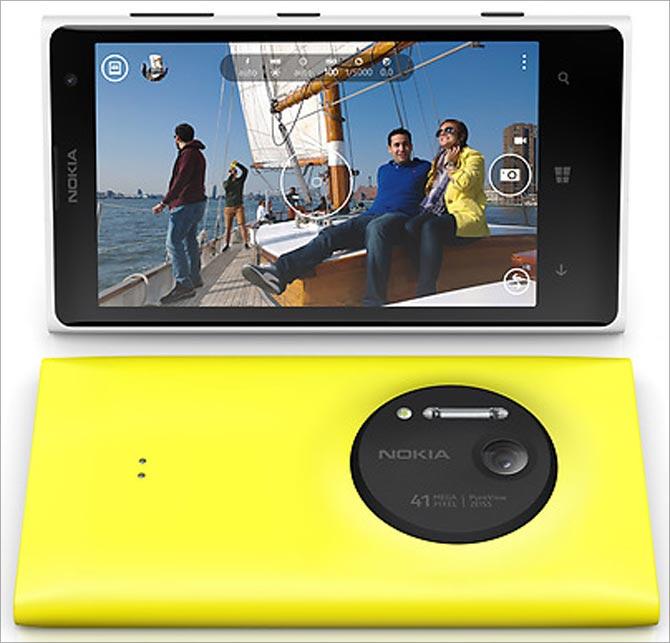 Wide array
"At any given point in time, we have 30-40 models available in the market," says Vineet Taneja, country head (mobile & digital imaging), Samsung India.

For instance, in the smartphone segment, there are 15-16 models in the price range straddling Rs 5,200 to Rs 40,000.

Samsung executives say the competitive edge in this journey has been its research & development, the steady stream of innovation pipeline and manufacturing prowess. "This was combined with our ability to gather customer feedback and speed-to-market. This helped us address a larger customer base," says Taneja.

Samsung backed its faster churn rate with strong branding and promotion activity, both at the consumer level and at the channel partner level. According to industry estimates, Samsung outspends its rivals by two times when it comes to advertising and marketing.
Analysts and industry players say Samsung's strategy of "throw everything at the wall, something will stick" worked to break Nokia's stranglehold in the Indian market. Samsung also made the most of the dual-SIM and the smartphone wave; Nokia caught on to the trend much later. By the time Nokia tied up with Microsoft to promote smartphones under the Windows operating system, Samsung had already obtained a sizeable lead in the market.

Click NEXT to read more...
How Samsung dislodged Nokia from the top
September 06, 2013 11:54 IST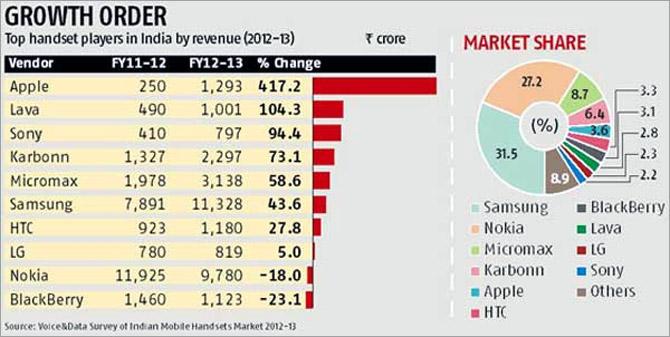 Clearly, the winds were blowing in smartphones' favour. In August this year, an international press release by research firm Gartner had two interesting highlights.
For the first time, global mobile smartphone sales in April-June quarter of 2013 surpassed ordinary phone sales.

Two, Microsoft Windows became the third largest mobile operating system, overtaking BlackBerry.

The writing on the wall was clear for both Microsoft and Nokia: smartphones-run on whichever operating system -were going to drive the mobile handset business in the future. A few weeks later, Microsoft announced the much-anticipated buyout of Nokia's mobile business.

For Nokia, which is fighting a losing battle to hold on to its market share in India, the deal offers a now-or-never chance. For Microsoft, it's an assault on the increasing stranglehold of Android operating system on the smartphone ecosystem.

The suddenness of the move has taken some industry players and analysts by surprise. "We were expecting it but not so soon," concedes a senior executive from a rival firm.
Analysts, however, do not see any immediate threat to Samsung's leadership position in India. According to Shiv Putcha, principal analyst (consumer services), Ovum, a research consultancy, there is no threat to Samsung's lead in the Indian market for at least two years. "By that time the full impact of the Microsoft-Nokia deal will play out in the market. We will also know whether any of the local Indian handset brands has the appetite to overtake Samsung in India," says Putcha.

Click NEXT to read more...
How Samsung dislodged Nokia from the top
September 06, 2013 11:54 IST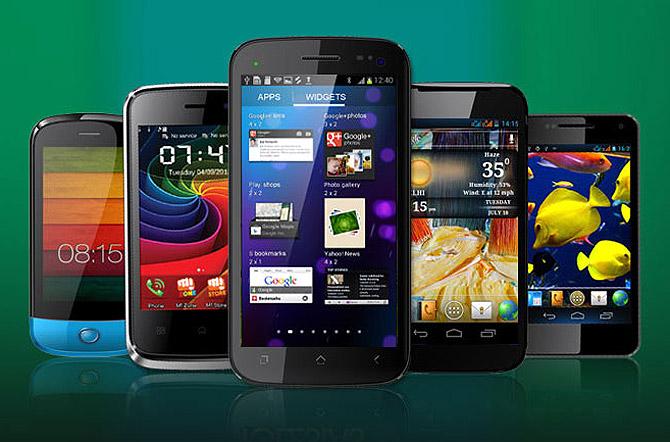 Challenge
In the last four years, a bunch of fleet-footed Indian handset players have cropped up riding on the Android wave, taking a few leafs from Samsung's aggressive market play in the country.

Already, Micromax is within striking distance of Samsung in the smartphone segment with 22 per cent of the market in Q2 of 2013. Samsung had 26 per cent share in the same quarter, while another Indian player, Karbonn, had 13 per cent share.
According to Lloyd Mathias, director, GreenBean Ventures, and former chief marketing officer, Tata Docomo and Motorola India, the biggest challenge to Samsung in the smartphone segment would come not from Nokia but from the clutch of Indian brands which collectively occupy 45-50 per cent of the market.

These domestic players have displayed the same speed and agility as Samsung when it comes to being price- and feature- aggressive. These players are pushing down the average selling price of handsets, putting pressure on the margins of multinational players.
Market players point out that price-conscious first-time consumers are changing handsets every 12-14 months. "They prefer feature-rich smartphones and are not so brand conscious," says Manasi Yadav, senior market analyst (mobile phones and tablets), IDC India. The growth in the phablet segment-smartphones with large screen size (5 inch to 7 inch)- has largely been driven by local Indian players.

Click NEXT to read more...
How Samsung dislodged Nokia from the top
September 06, 2013 11:54 IST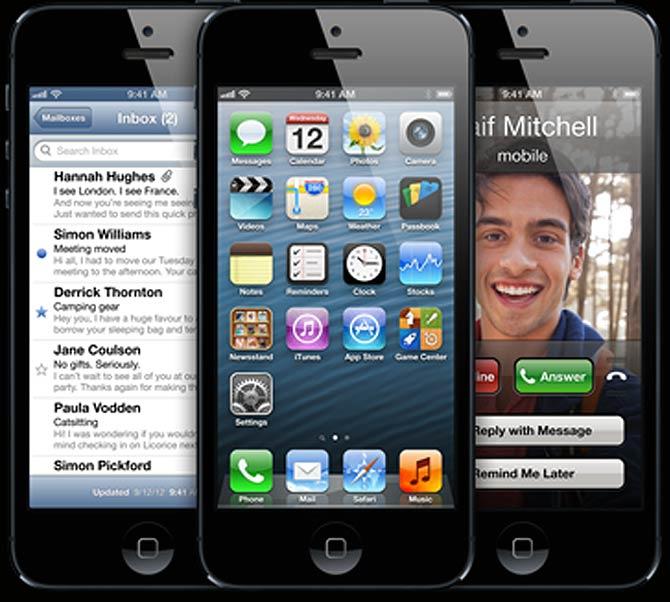 The handset market in India is also set to enter a new phase where partnerships between mobile operators and manufacturers become the norm.

"Mobile service providers are increasingly looking at locking in high average revenue per user post-paid customers with attractive 3G plans bundled in with brand-conscious users," says Llyod. This could prove to be the gamechanger for many handset players.
In that sense, the mobile phone market is poised for a lot of action in the coming months. Multinationals like Apple, Lenovo and Sony too are getting into contention, targeting the high-end, high-margin smartphone sales.

As the market gets crowded, Anshul Gupta, principal research analyst at Gartner, says Samsung may need to cut down on the clutter in its portfolio. "It needs to focus on fewer segments and models rather than fight rivals in each segment" says Gupta.
Sudhin Mathur, director (smartphones), Lenovo India, says: "Days of one brand dominating the market are over." The strategy that will work going forward for each player is to protect the market segment one is strong in, attack the market where there are growth opportunities. "India is not a homogeneous market, and every player needs to decide its battle field," says Mathur.
Source: