Why D-Mart is profitable when retail giants are not
July 11, 2013 13:36 IST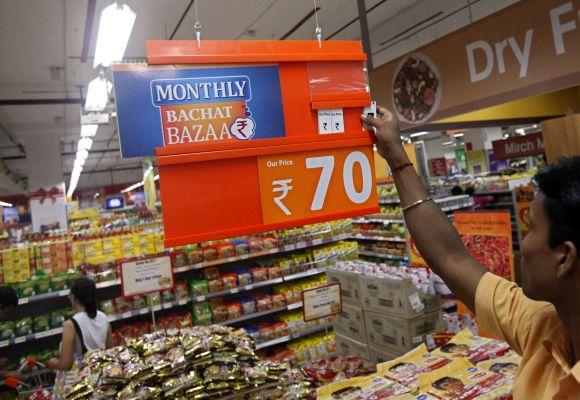 Very few would know that the extremely low-profile, Mumbai-based supermarket chain, D- Mart, made a topline of Rs 3,350 crore (Rs 33.5 billion) in 2012-13.
That makes it the third-largest among the branded retail chains in the country, after Kishore Biyani's Future Retail (Future) and Mukesh Ambani's Reliance Retail (Reliance).
While Future clocked a turnover of Rs 14,201 crore (Rs 142 billion) in the last financial year, Reliance did Rs 10,800 crore (Rs 108 billion), recording a cash break-even.
But if Reliance operates with over 1,450 stores and Future runs over 1,000 stores, D-mart, on the other hand, operates just 65 stores in Maharashtra and Gujarat and one each in Hyderabad and Bangalore.
Its sales per store, then, is the highest among grocery chains at Rs 53 crore or Rs 5.3 million (Reliance makes about Rs 7.45 crore or Rs 74.5 million per store).
Click NEXT to read more…
Why D-Mart is profitable when retail giants are not
July 11, 2013 13:36 IST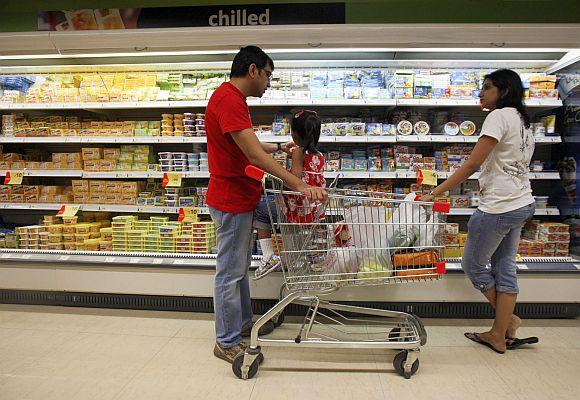 The 13-year-old D-Mart, founded by the stock-market icon, R K Damani, is not only profitable (making around 2.5 per cent of sales), but most of its stores are in the black too, says a company executive, who did not wish to be quoted to maintain the chain's low profile.
In comparison, more illustrious playes such as Spencer's, of the RP-Sanjiv Goenka Group, and one of the oldest retailers and Aditya Birla Retail's More are yet to break even.
The Tata Group-owned chain of hypermarkets, Star Bazaar and Shoppers Stop-owned Hypercity, too are waiting to achieve profits.
So how did D-Mart crack the code? By doing business differently from its larger counterparts.
For a start, the chain offers prices that are 6-7 per cent lower than its competition, no matter where it operates, which is a huge draw among its customers, say retail consultants.
"We sell at a price lower than others as we keep our costs low and run the business efficiently," explains the same company executive.
Click NEXT to read more…
Why D-Mart is profitable when retail giants are not
July 11, 2013 13:36 IST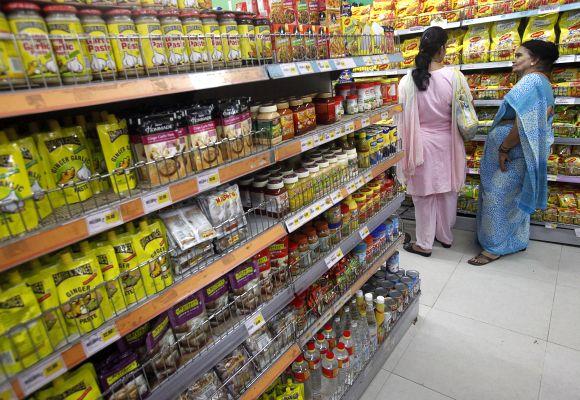 What lets it achieve such pricing tactics is its operational style?
Out of the 65 stores it runs, D-Mart owns 55 properties, saving substantially on rent, which constitutes 6-10 per cent of retailers' sales. D-Mart, also refrains from opening stores inside malls unlike other hypermarkets.
"Since rent is a big element of a retailer's operations costs, that burden goes away, boosting operating profits," says an executive of Reliance Retail.
"By not being present inside malls, D-Mart saves on high common maintenance charges and exorbitant rents," he adds.
But when opening a store, D-Mart is wont to select areas neighbouring residential societies, setting an easy catchment area. Costs are further kept low by a no-frills layout without any flashy interior.
"They do not spend much on interiors unlike bigger retailers who spend a bomb on them," says an executive from Aditya Birla Retail. The stores are also large, measuring 30,000 to 35,000 sq ft.
Click NEXT to read more…
Why D-Mart is profitable when retail giants are not
July 11, 2013 13:36 IST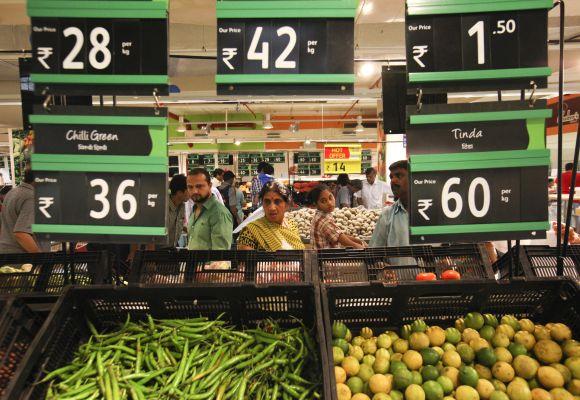 For D-Mart, it makes business sense to extend the low profile to its stores too. "We have discovered a level of profitability. Whatever rent we pay for a store, we assess whether we can make money from that store or not within one or two years. We are tough negotiators," says the D-Mart executive.
The executive explains the chain's idea of a slow and steady growth: "We will look at adding at eight-10 stores. We have seen a growth of 30 per cent in our revenues for the past four years."
"Its stores are down-to-earth and cost-effective and the staff highly-motivated," says Sanjay Badhe, a Mumbai-based retail consultant.
But D-Mart's cost efficiencies may be difficult to replicate. Larger chains point out that its practices are not commercially viable on a bigger scale.
"It is not possible for bigger chains to own stores as it requires huge capital expenditure. A smaller chain can still afford to do so," says a top executive from Tata Group's Trent, which runs Westside and Star Bazaar.
Click NEXT to read more…
Why D-Mart is profitable when retail giants are not
July 11, 2013 13:36 IST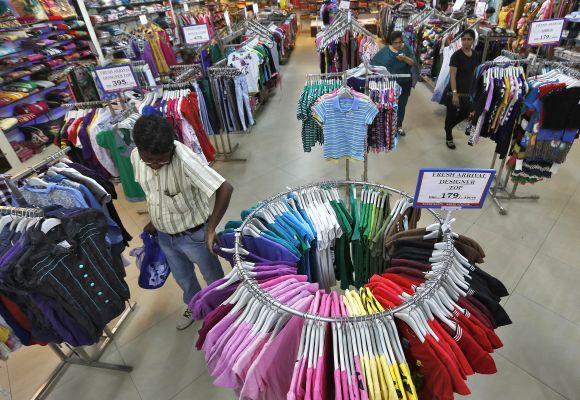 Not just by way of foot-print, D-Mart extracts a few brownie points even from its suppliers.
It pays them within 48 hours of delivery, and they, in turn, allow for an additional 2-3 per cent gross margin to the chain, enabling it to keep the prices low at most of its locations.
Organised retailers often buy goods on credit from suppliers on 30-60-days credit. A senior executive in Kishore Biyani's Future Retail says a short credit cycle cannot be adopted by large retail chains as credit plays an indispensable role in generating return on capital for large volumes as theirs.
"It responds very quickly to vendors. A lot of suppliers say D-Mart listens to them. For example, it initiates promotions within a few days," comments Badhe.
Badhe also attributes its popularity to its understanding of the consumer in the locality it opens shop in.
He points out the "good mix" of national products and local products even in towns such as Kolhapur and Sangli in Maharashtra. "In areas where rice consumption is high, they stock a large variety of rice," he says.
Click NEXT to read more…
Why D-Mart is profitable when retail giants are not
July 11, 2013 13:36 IST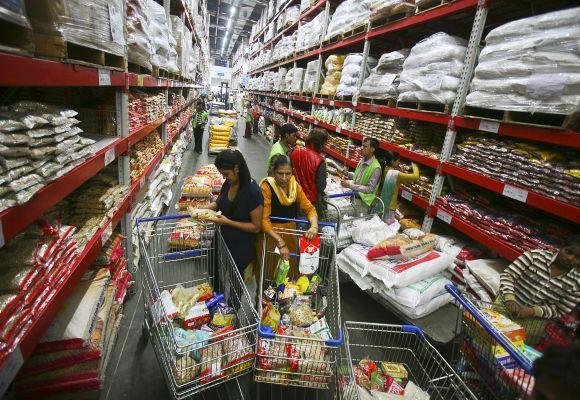 Given its size, D-Mart has been able to remain nimble-footed in financials too. It has not taken on a lot of debt, unlike its bigger peers and has cut advertising budgets by 30-40 per cent in the last couple of years to save costs. Its debt to equity ratio is 0.65.
But the real challenge for the brand will surface now that it is hoping to expand to more cities in Karnataka and Andra Pradesh.
"It is difficult to expand. It is difficult to find stores which match our expectations," says the D-Mart executive, explaining why it has just one store in Bangalore.
The Reliance Retail executive says, "Its first phase (of growth) has been successful. Replicating it in the next phases will be the challenge. When you are a regional player, you will run a people-driven business. But when you go national, you have to have foolproof and strong processes."
For D-Mart, its task will be cut out - of retaining its advantages even as it builds scale.
Source: