What is Gitanjali's MD doing to polish his diamond business
May 07, 2014 11:34 IST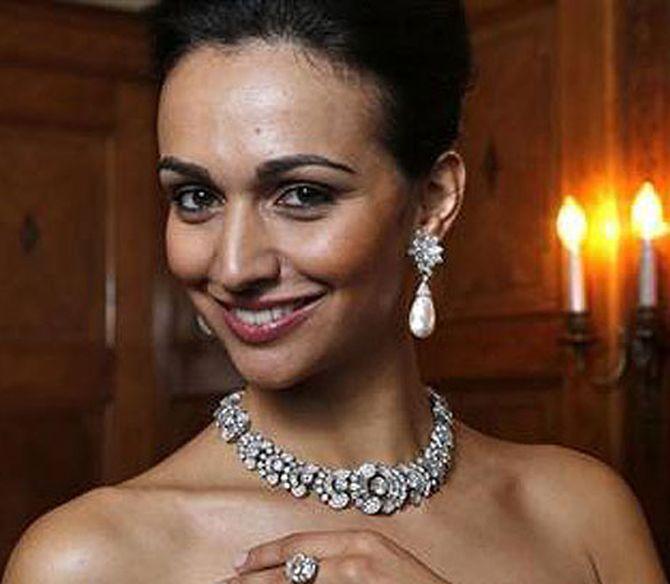 Superstar Salman Khan no longer endorses the brands of Gitanjali Gems. Neither does Kareena Kapoor.
However, newcomer Shraddha Kapoor has come on board.
This change in brand ambassadors is partly driven by a switch in marketing strategy and partly by business realities.
While the company is contemplating a new customer profile and is therefore revamping its product portfolio, it has also halved its marketing spend as part of the Rs 100-crore (Rs one billion) cost rationalisation drive.
That's because the company's profits have plummeted from Rs 265 crore (Rs 2.65 billion) in 2012-13 to Rs 12.32 crore (Rs 120 million) in the first three quarters of 2013-14.
It is straddled with a debt of Rs 4,953.57 crore ( Rs 49.53 billion). (With an average interest of 7.51 per cent, this drains the company of Rs 93.04 crore or Rs 930 million every quarter.)
Click NEXT to read more...
What is Gitanjali's MD doing to polish his diamond business
May 07, 2014 11:34 IST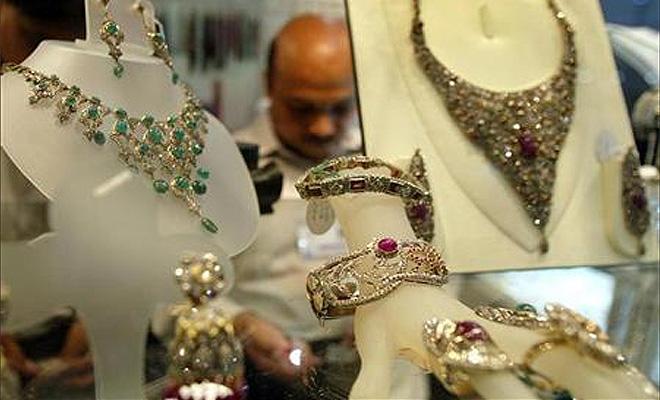 Till recently, Mehul C Choksi, the promoter & managing director of Gitanjali Gems, was easily India's best known jeweller.
He had a host of brands (Nakshatra, Gilli, Asmi and d'Damas, among others), endorsed by a bevy of celebrities, in his portfolio.
Problems started to arise in May 2013 when the Reserve Bank of India, or RBI, in an attempt to contain the current account deficit, imposed severe restrictions on the gold business.
This caused a crash in share prices of jewellers and triggered margin calls. Choksi, who had mortgaged shares to lenders, saw the Gitanjali Gems stock fall 90 per cent: it is currently trading at Rs 60, down from Rs 649 in April 2013.
This may be further hit by the enquiry by the Securities and Exchange Board of India, or Sebi, and the National Stock Exchange into alleged irregularities in the trading of Gitanjali shares.
The exchange is said to have submitted its report to Sebi, which is carrying out its own investigations. The company and its promoters have denied any wrongdoing.
Click NEXT to read more...
What is Gitanjali's MD doing to polish his diamond business
May 07, 2014 11:34 IST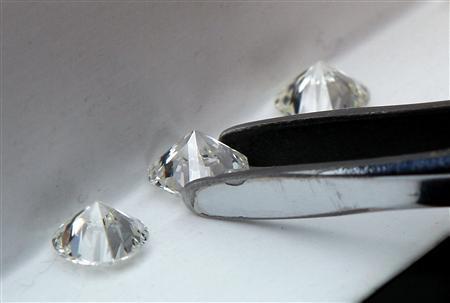 But Choksi's troubles had only begun. The slide in share price was followed by a sharp fall in profit, which impacted the cash flows and increased significantly the Mumbai-based company's dependence on working capital.
Rating agency Care (Credit Analysis and Research) downgraded the debentures and long-term bank facilities of Gitanjali Gems on July 5, 2013, on "account of strained liquidity" and the impact of RBI's new policies to curb gold imports.
The rating of long-term loan was lowered to BBB- from A and that of short term loan to A3 from A2.
"The revision in the ratings takes into account the stressed liquidity position of Gitanjali Gems as evidenced by full utilisation of the existing working capital limits which along with the recent RBI guidelines on gold import for domestic purpose would further put pressure on its liquidity position," its report said.
"Care also takes into account the significant erosion in share price and market capitalisation of the company in the last two weeks of June 2013, which in Care's opinion would have a weakening effect on Gitanjali Gem's financial flexibility and liquidity," it added.
Later that month, Care suspended the ratings altogether because the company failed to furnish the information required by the agency for monitoring the rating.
Click NEXT to read more...
What is Gitanjali's MD doing to polish his diamond business
May 07, 2014 11:34 IST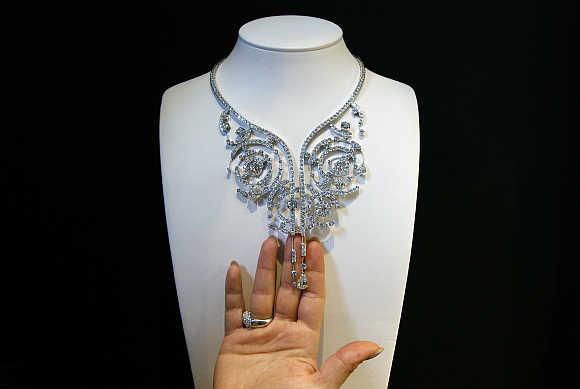 Making a new start
Choksi has since attempted to change the business model of Gitanjali Gems, which does annual business of around Rs 10,000 crore (Rs 100 billion), from domestic to greater focus on exports (he has already raised the contribution of exports to total revenues to 60 per cent from 40 per cent earlier), accompanied by a switch from gold to diamond jewellery.
Apparel also figures in the plan: jewellery brands like Gilli and Diya have been extended to apparel.
In addition, Gitanjali Gems is starting an "affordable jewellery segment and paying more attention to ultra HNIs (high networth individuals)", according to Choksi.
Lenders are not entirely convinced about the plans for expansion abroad and are looking into the viability of its 120 overseas stores.
They are still coming to grips with the company's operations, its changing business model and the effect RBI's new norms will have on the company. Ernst & Young is said to be preparing a report on these issues. An email sent to EY did not elicit a response.
Meanwhile, Choksi has started to implement cost cuts. Thus, he has reduced the workforce by 1,000 to 3,800 and has replaced expensive brand ambassadors with inexpensive ones.
And yet, he has not been able to entirely convince the lenders, who recently met the company's management. One of the lenders points out that the company's heavy dependence on working capital to run its day-to-day operations is an unviable proposition.
Says a banker: "We have our doubts about the company attaining profitability through working capital support." One way to unlock value is to leverage the brands.
The lenders want all brands to come under one roof so that they have greater access to them.
Currently, the numerous brands are not under the flagship, Gitanjali Gems, but under different subsidiaries. Three years ago, 70 per cent of the brands were valued at Rs 6,500 crore. Today, the company values all its brands together at Rs 11,000 crore (Rs 110 billion)
Click NEXT to read more...
What is Gitanjali's MD doing to polish his diamond business
May 07, 2014 11:34 IST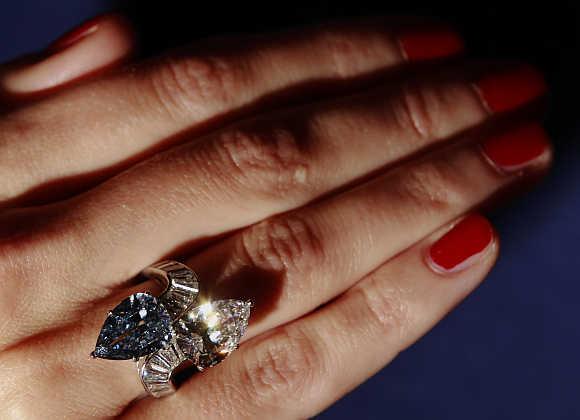 Repayment woes
Without wishing to be identified, a lender says "the company's account is standard", indicating repayments are taking place.
However, the payments are intermittent and made after due date but within the stipulated 90 days to avoid being categorised a non-performing asset.
He adds that the lenders want to look more closely at the company's clients. "Eventually," he says, "an investigative audit can be considered."
An executive of another lender, a public sector bank, points out that Gitanjali Gems may be able to service its interest component of loans, but its capability to repay the principal remains under a cloud.
Capital is the need of the hour, with the lenders assessing the loans at Rs 5,850 crore in 2014-15. One hope for the company is the imminent relaxation of gold import norms and duty levels.
Click NEXT to read more...
What is Gitanjali's MD doing to polish his diamond business
May 07, 2014 11:34 IST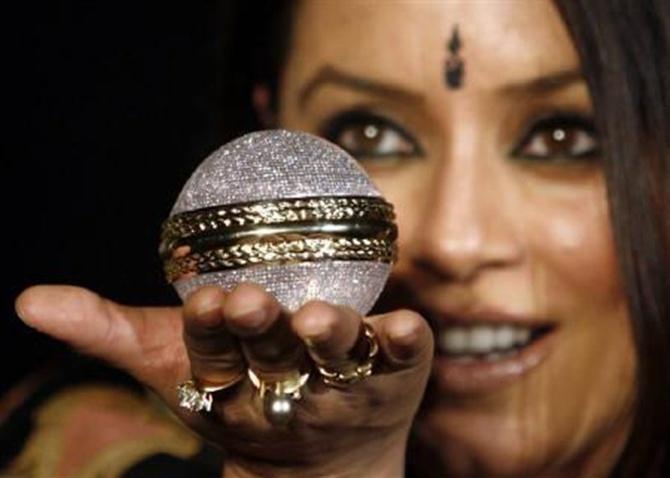 Explaining the changed circumstances, Choksi says: "The RBI clampdown on gold imports, disallowing of gold loans to jewellers and the rise in import duties completely derailed the working capital cycle last year.
In the earlier regime, we were able to 'fix' the purchase price after sale of goods had been effected [gold was available on loan, and its price was fixed after its sale], which meant we had a comfortable working capital cycle financed from within the trade.
Post the clampdown, jewellery manufacturers need to pay the cost of gold on purchase and wait three to six months for realisations."
The banks, for their part, are looking at various ways to deal with their credit exposure. "There is the option of converting that into a foreign currency debt," says one banker.
The company had come out with a plan for foreign currency convertible bonds, but suspended it. "The business has changed, it does not make sense," explains Choksi.
He, in fact, hints at private equity interest in his company, though he has not indicated if any serious talks are under way.
Ultimately, the company's survival will depend on how effectively it is able to manage the switch from the yellow metal that fuelled the company's initial growth to diamonds.
If Choksi manages to pull it off, the banks and shareholders will breathe a sigh of relief. Else, it may well end up as a story of the golden egg that killed the goose.
Click NEXT to read more...
What is Gitanjali's MD doing to polish his diamond business
May 07, 2014 11:34 IST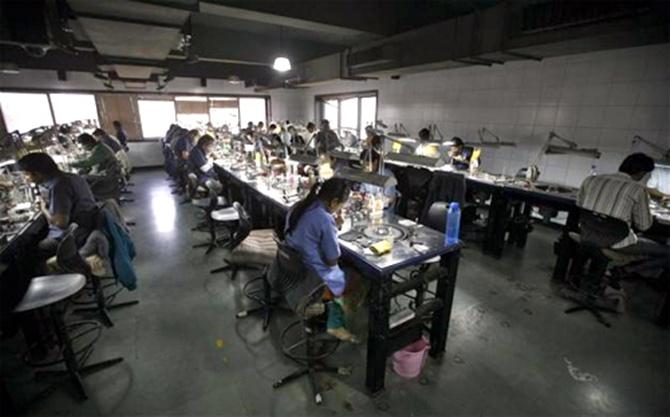 The new face of business
Gitanjali Gem's managing director, Mehul C Choksi, is credited with adding a corporate touch to the jewellery business in India.
In 1990, he corporatised Gitanjali Gems, a company founded by his father in 1966. In those days, most businesses functioned like a family-run small unit.
Choksi, 55, changed things completely. He took over his family's tiny Mumbai diamond business and turned it into a retailing giant. The diamond business he took over had stuck to cutting and polishing rough diamonds for generations. Choksi started making jewellery and retailing them.
Today, Gitanjali Gems has more than 20 branded jewellery lines and over 1,250 retail outlets.
In the last few years, the company has also expanded its reach outside India in the US China, and West Asia. While Gitanjali Gem's growth has been remarkable under Choksi, the restrictions on gold imports have badly hit its domestic business.
Choksi now wants to focus on exports to spur growth and to bring back the shine the business once had.
Source: