How Chhattisgarh transformed its corrupt ration shops
June 14, 2013 08:20 IST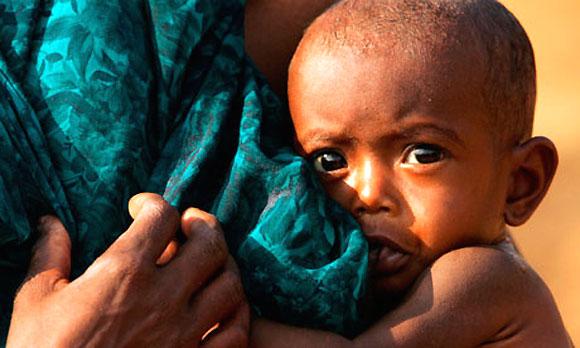 Chhattisgarh proves no cash transfer or Aadhar is needed to make the public distribution system work.
Viewed from a ration shop in Surguja in the largely poor tribal north of Chhattisgarh, the arguments for and against the food security Bill seem way off the mark.

We had travelled there to see first-hand Chhattisgarh's much-celebrated transformation of its broken, corrupt public distribution system (a recent survey found that wastage of PDS grain dropped from 60 per cent in 2004 to an astonishing 10 per cent in 2009).

In village after village, we were told that the grain arrives every month on a fixed date, is of decent quality, not worm-infested or broken, and that every ration card holder in the village gets his/her full due of 35 kg of rice at the declared price of Rs 1 or Rs 2 per kg.
The "revolution" began with Chhattisgarh wresting ownership of ration shops from unscrupulous private traders and handing over control to self-help groups, panchayats and cooperatives.
Click NEXT to read more…
How Chhattisgarh transformed its corrupt ration shops
June 14, 2013 08:20 IST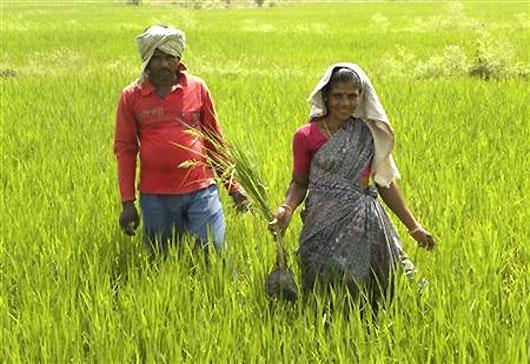 This has meant greater accountability, unlike in the past when villagers had to trek for several hours to a privately-run ration shop that would open erratically, overcharge or claim it has run out of grain.
There is also in place an extraordinarily (by government standards) efficient, corruption-free back-end logistics chain. Signals from the top and fear of the law are key ingredients.
Regular review meetings are common - as are FIRs. Private rice mills, which mill paddy for the state, no longer dare siphon off or adulterate rice. The week of our visit, FIRs were filed against five rice mill owners and officials of the food department in Surguja.

Click NEXT to read more...
How Chhattisgarh transformed its corrupt ration shops
June 14, 2013 08:20 IST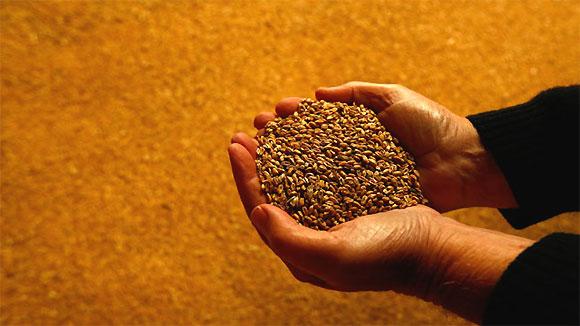 Corruption by transporters, an endemic problem, has been reduced by a mix of innovations like posting banners on PDS-grain bearing trucks, to sending SMSes to the ration shop once the truck has left the godown. Suresh Dwivedi of Surguja district's food department told us that even the theft of five kg of rice results in an FIR against the transporter. "We call him ration-chor," he says.
What does any of this have to do with the food security Bill? Not very much. The Bill does mention some of the above steps for PDS reform, but in a diluted form.
Political will is key. Until the Naxal attack on the state Congress leadership, PDS may well have ensured Raman Singh a hat-trick in Assembly elections later this year. The electoral potential of PDS has led poor-performing states like Odisha and Jharkhand to borrow elements from Chhattisgarh (which in turn is based on the Tamil Nadu model) to improve their broken PDS systems, again without a food Bill.
Click NEXT to read more…
How Chhattisgarh transformed its corrupt ration shops
June 14, 2013 08:20 IST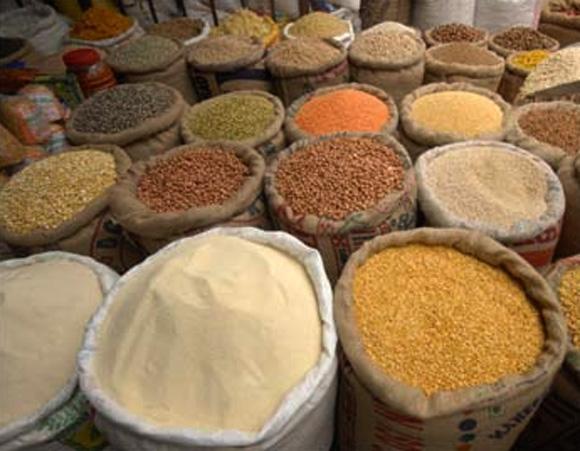 But supporters of the Bill argue that it will pick up the extra expenses the states bear as they move towards near-universalisation. Chhattisgarh provides PDS to 70 per cent of its population - 30 percentage points more than the Planning Commission's allotment. If passed, the Bill that mandates a similar expansion nationally (from the 40 per cent to 70 per cent) can pick up the tab for the state's extra spend.
Of course, the spectre of near-universalisation and the associated increase in procurement gives nightmares to critics of the Bill, who think it will burn a hole in the Centre's pocket and create huge distortions in agriculture.
In the case of Chhattisgarh, the first is partially true. The move to 70 per cent coverage cost the state Rs 950 crore (Rs 9.5 billion) last year - out of a state Budget of Rs 40,000 crore. But there is no great distortion of farming practices.
Click NEXT to read more…
How Chhattisgarh transformed its corrupt ration shops
June 14, 2013 08:20 IST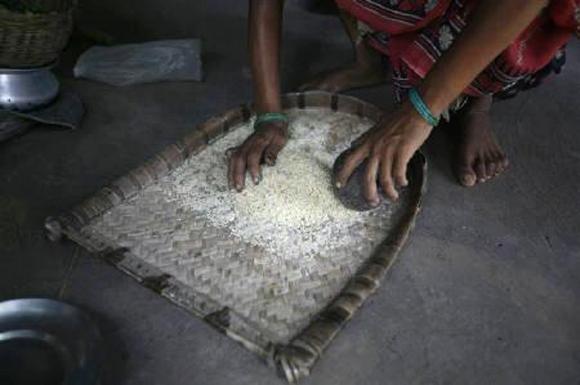 To cover 70 per cent, it procured only an additional 600,000 tonnes of rice last year over the one million tonnes it gets from the central pool, hardly a great dent in its annual production of 6.8 million tonnes of rice.
Importantly, Chhattisgarh is happy to take the fiscal hit because the move to near-universalisation proved crucial to its PDS success. More coverage meant that deserving beneficiaries don't get excluded.
Yes, some undeserving families sneak into the system, but the figure is far too small to count. The expanded footprint and cheaper rates meant an increase in the numbers of users of the ration shop, which places greater pressure on the system to perform. (The state is moving to 90 per cent coverage under its own food security Bill).

Click NEXT to read more...
How Chhattisgarh transformed its corrupt ration shops
June 14, 2013 08:20 IST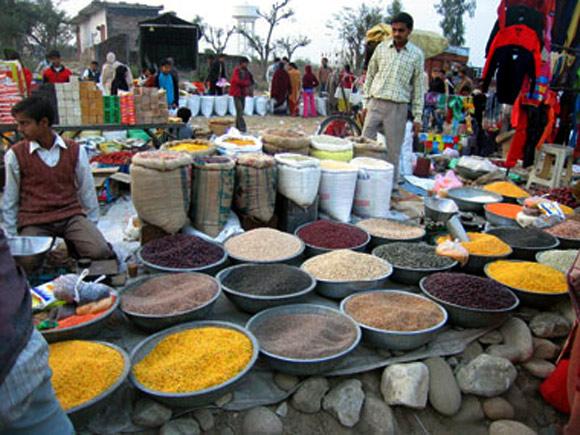 Proponents of the Bill who want to wrap up the PDS and replace it with Aadhaar-linked cash transfers do not have much to cheer from the Chhattisgarh experiment either.
Chhattisgarh proves that you don't need cash transfers or Aadhaar to get grain to the poor.
There is an information technology backbone that has placed everything online - from the paddy procurement to the inventory of every single ration shop - but it is basic and low-cost. In fact, a more innovative use of awareness "technology" is painting the walls of every single ration shop and even people's houses with their entitlements.
Click NEXT to read more...
How Chhattisgarh transformed its corrupt ration shops
June 14, 2013 08:20 IST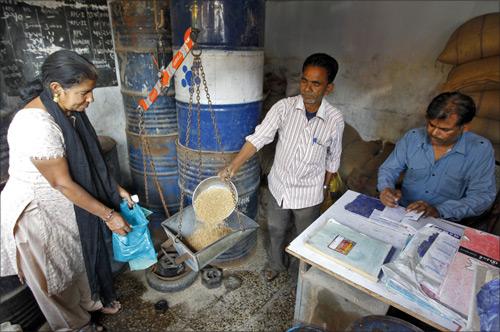 As activist Samir Garg points out, improving PDS has seen a drop in child malnutrition from 47 per cent to 35 per cent. He says though PDS doesn't directly focus on the child, it allows the poor to afford other food items that, in turn, improves the child's diet.
This is hardly to suggest that Chhattisgarh's regime with its dubious record of human rights excesses and mining-related corruption has suddenly developed a conscience.

But regardless of political motivations, those taking positions for and against the food security Bill, would do well to ground their arguments in the experience of states that are finding ways of getting grain to the poor.
The writer anchors the ground reportage show Truth vs Hype on NDTV 24x7.
Source: