Drug makers pay lip service to R&D in India
Last updated on: June 13, 2013 11:05 IST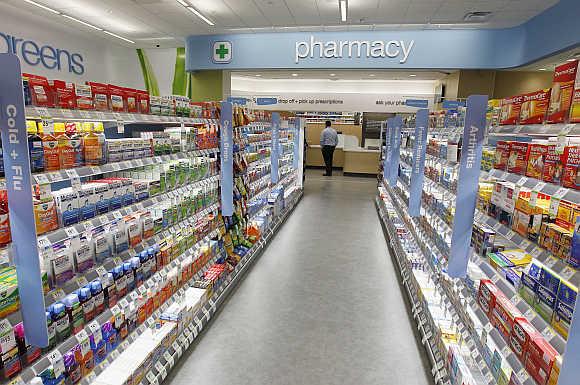 Companies known for spending huge amounts on innovation globally have minuscule budgets for India. What's holding them back?
India has the world's largest generic market, an evolving patent regime, and a growing demand for medicines, all because of its huge population.
However, there is one field where it pales out: research and development, or R&D. Investment data over the last two years shows that India is far from becoming a preferred destination for investments in new drug discovery research.
Even though the R&D outlay in the country has increased over the years, it is still far behind global peers. According to industry estimates, India attracted merely $0.7 billion into pharmaceutical research in 2010 and $0.8 billion in 2011. In contrast, $38.5 billion was spent in the US and $36 billion in Europe on drug R&D in 2011.
Among the top five domestic companies, only Dr Reddy's Laboratories, Glenmark and Piramal Healthcare made any significant spending on R&D in 2011-12, the last year for which such information is available. Dr Reddy's had the biggest budget of Rs 595.20 crore (Rs 5.95 billion), or 6.10 per cent of net sales, amongst Indian pharmaceutical companies, while Glenmark and Piramal spent Rs 291.62 crore (Rs 2.91 billion) and Rs 233.13 crore (Rs 2.33 billion), respectively.
Click NEXT to read more...
Drug makers pay lip service to R&D in India
Last updated on: June 13, 2013 11:05 IST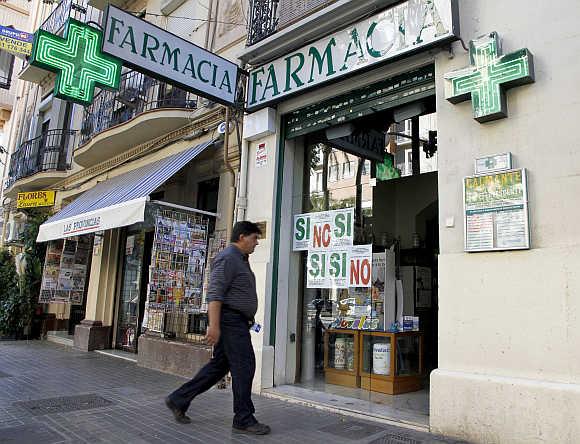 Of the other domestic companies, Orchid Chemicals spent Rs 69.33 crore (Rs 693.3 million) on R&D, or 3.7 per cent of its total sales, whereas Alembic Pharma's expenditure invested Rs 58.58 crore (Rs 585.8 million), or 3.99 per cent of its total sales. Sun Pharma spent Rs 473 crore (Rs 4.73 billion) on R&D in nine months ending December 2012.
Surprisingly, multinational corporations which spend large sums of money on R&D abroad too fared poorly in the country.
According to Capitaline, an industry research body, among the top multinationals investing in India, only Fresenius Kabi Oncology, the German drug maker which acquired Dabur's pharma business in 2008, had a substantial budget of over 12 per cent of sales for R&D in 2011-12 at Rs 65.69 crore (Rs 656.9 million).
Other major foreign players with noteworthy commercial operations in India such as Bristol-Myers Squibb, Pfizer, Merck, Novartis and Abbott spent either nothing or small amounts. Bristol-Myers Squibb, Abbott, Merck Sharp and Dohme, and Eli Lilly did not give details of their India investments.
Swiss multinational Novartis, which spent $ 9 billion on R&D in 2012 globally, does not do any R&D in India. What's holding these companies back in India? Experts blame the unpredictable regulatory environment and the high risks involved in R&D.
Click NEXT to read more...
Drug makers pay lip service to R&D in India
Last updated on: June 13, 2013 11:05 IST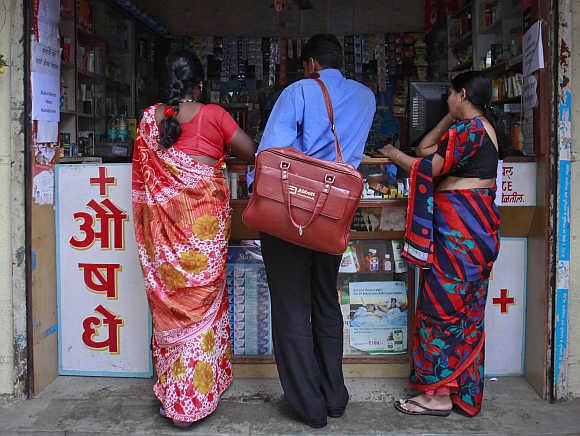 "India is a highly uncertain market to invest in drug research as it is mostly generics that dominate the market," says a senior official of a multinational firm. Indeed, branded generic drugs accounted for 90 per cent of the total pharmaceutical sales of Rs 72,000 crore (Rs 720 billion) in 2012.
A decade ago, India had started to market itself as the next big destination for pharmaceutical R&D because of its varied ethnic profile and inexpensive scientific workforce.
Rashmi Barbhaiya, the former R&D head of Ranbaxy who went on to set up his own R&D boutique called Advinus, had claimed that it was possible to develop a new drug in India for less than $ 100 million when globally the cost had spiralled to beyond $1 billion.
At that time, several Indian companies had launched into new drug discovery. In April 2003, Ranbaxy had replaced Roche as the pharmaceutical partner in the synthetic peroxide project of Medicines for Malaria Venture.
But the enthusiasm got dampened when some of the out-licensing deals went sour. For instance, in 2003, global drug major Novo Nordisk decided to dump Dr Reddy's insulin sensitiser compound Ragaglitazar after tumours were found in one mouse in its animal studies. Such incidents acted as a deterrent.
Click NEXT to read more...
Drug makers pay lip service to R&D in India
Last updated on: June 13, 2013 11:05 IST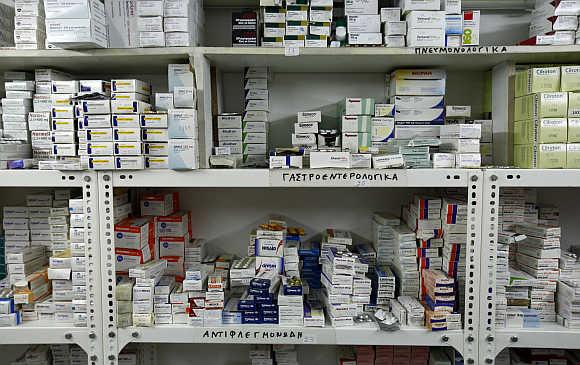 However, not all multinationals are averse to investing in India. Some have established R&D centres in the country, but they are waiting for the regulatory environment to improve before pumping in large amounts, says Utkarsh Palnitkar, partner and national head for life sciences in KPMG India.
"What the industry as a whole, and not just MNCs, is looking for is predictability and stability in regulation," says he.
American multinational Pfizer, which spends more than $ 7 billion annually in R&D globally, says, "Pfizer India is involved in clinical trials across phases II to IV in a variety of therapeutic areas ranging from oncology, inflammation, neurosciences, cardiovascular and vaccines.
"In addition, Pfizer India also contributes to a number of R&D capacity-building activities which include training programmes and educational events around various aspects of clinical research targeted at various stakeholders in clinical research".
However, the numbers speak for themselves. According to Capitaline, Pfizer India spent merely Rs 6.12 crore, or 0.56 per cent of its net sales, on R&D in 2011-12. Ranbaxy, which is now an MNC run by Japanese parent Daiichi Sankyo, spent around Rs 583 crore during 2012 on R&D globally.
The company refuses to divulge its India investment, but a spokesperson says that a "large part of the expenditure is incurred in India" to carry out research at its Gurgaon R&D centre. Despite these cautious steps, data shows that investment in R&D has been increasing year on year.
Click NEXT to read more...
Drug makers pay lip service to R&D in India
Last updated on: June 13, 2013 11:05 IST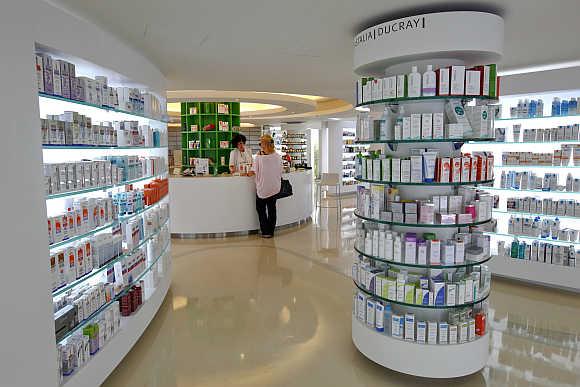 According to the department of pharmaceuticals' annual report for 2011-12, the investment in R&D by domestic pharmaceutical companies has increased from 1.34 per cent of sales in 1995 to 4.5 per cent in 2010.
Similarly, the R&D expenditure for foreign drug makers has increased from 0.77 per cent of their net sales in 1995 to 4.01 per cent in 2010.
"Whilst the overall quantum of investments in R&D in India may still be relatively modest, expenditure on R&D as a percentage of sales has been growing. The outcome of pharmaceutical R&D, especially in new drug discovery, is fraught with a great degree of uncertainty. Therefore, the quantum of expenditure that companies can commit to is relatively small. However, this scenario is slowly changing and if you look at the molecules in the discovery pipeline, their number is steadily growing," says Palnitkar.
But there is a catch: where does all the money go? A lot of this expenditure is diverted towards the development of mere generics.
"The Indian pharmaceutical industry comprises largely generic manufacturers, some of whom have begun their foray into new drug discovery research in recent times. Results of such R&D take time to realise their impact. As success stories emerge, investments in R&D will also see a commensurate increase," explains Palnitkar.
Click NEXT to read more...
Drug makers pay lip service to R&D in India
Last updated on: June 13, 2013 11:05 IST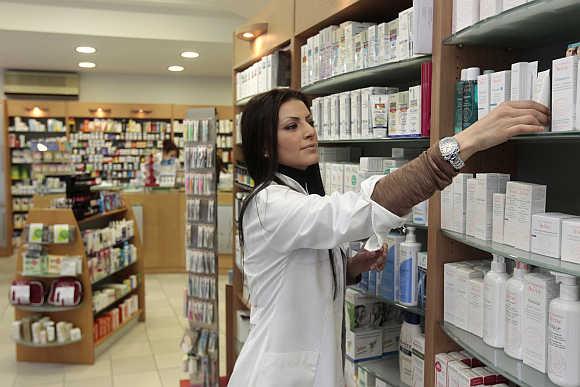 Also, R&D expenditure of various top domestic and foreign drug makers is inclusive of the costs incurred on generic development, regulatory compliances, litigations and even salaries and consultancy charges.
Piramal Enterprises, which was among the top spenders in R&D in 2011-12 with a budget that measured 10.93 per cent of its total sales, says the money was mainly spent on two areas - development of cartilage repair gel and on various new chemical entities.
"Main items include spending on manpower (mainly scientists), lab materials, analysis charges and clinical trial costs," the company says.
Similarly, for Chennai-based Orchid Chemicals, R&D expenditure of Rs 69.33 crore (Rs 693.3 million) during 2011-12 was "mainly on account of salaries, consultancy charges, patents & filing related charges, material purchase and the expenses related to outsourced trials".
Even companies like Dr Reddy's and Sun Pharma, known for their bent towards innovative research, spend a large part of their R&D expenditure on generic development and other costs.
For instance, Dr Reddy's spends two-third of its R&D expenditure on generic development, and the balance one-third on innovative and biologics research.
Sun Pharma says its "R&D supports all aspects of its generic business, formulation development, including for complex technologies, active pharmaceutical ingredient development, analytical support".
The company clarified that apart from clinical trials, its R&D expenditure also includes salaries of scientists and consultants, litigation cost and filing of applications in India and abroad.
Source: