Behind bars: Sahara urgently tries to free chief in bond case
March 06, 2014 08:19 IST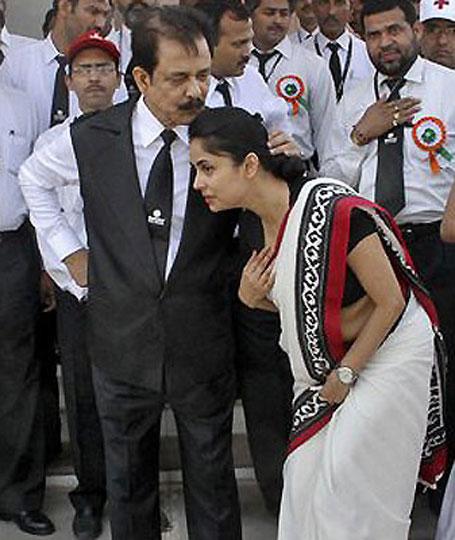 With its jet-setting boss in jail, Sahara conglomerate is scrambling for a way to satisfy a court order to repay billions of dollars in an outlawed bond scheme.

The Supreme Court on Tuesday ordered that Subrata Roy, 65, remain in custody until a March 11 hearing, a dramatic turn for a man accustomed to hobnobbing with sports stars, Bollywood actors and politicians. The court said it is open to an earlier hearing if Sahara has a satisfactory payment plan.

Roy is being held in a cell at Tihar jail, India's largest, with two other Sahara directors.

"We are now considering what we can do," Satish Kishanchandani, a lawyer representing Sahara told Reuters, declining to give further details. "It was urgent even before and it is urgent even today to find a solution."

Jail spokesman Sunil Gupta said Roy was receiving the same treatment as other inmates, the only privilege being that he gets a bed as he is over 60 years of age. "He slept well. He had his breakfast today," Gupta said on Wednesday.
Click on NEXT for more...
Behind bars: Sahara urgently tries to free chief in bond case
March 06, 2014 08:19 IST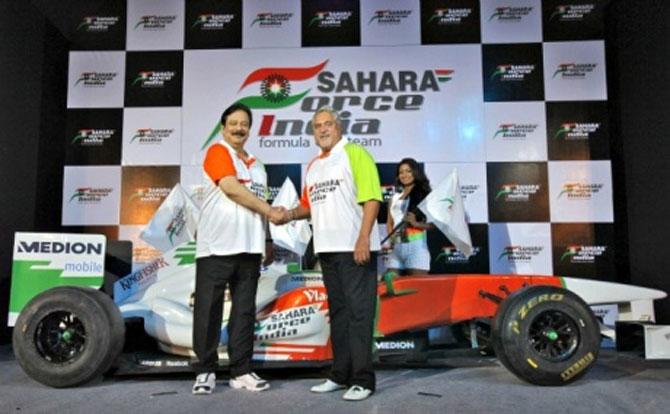 Sahara is best known as the former main sponsor of India's national cricket team, as well as owner of New York's Plaza Hotel and London's Grosvenor House. It has a net worth of $11 billion and more than 36,000 acres of real estate, according to its website. It also co-owns the Sahara Force India Formula One auto racing team with liquor baron Vijay Mallya.

Still, Roy and unlisted Sahara have long been figures of mystery, operating outside the Indian corporate mainstream.

In court on Tuesday, Sahara lawyers offered to give bank guarantees for 225 billion rupees within three to six months, but the court rejected the proposal and asked Sahara to come up with a "concrete" plan, according to two lawyers who were at the hearing.
Click on NEXT for more...
Behind bars: Sahara urgently tries to free chief in bond case
March 06, 2014 08:19 IST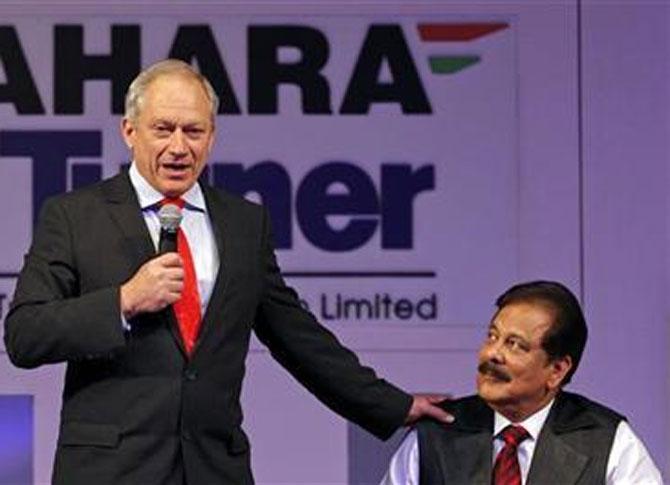 Sahara also proposed that the Securities and Exchange Board of India (SEBI) begin selling Sahara properties to which it holds title until it comes up with the bank guarantee. SEBI has argued that it does not have the needed paperwork for some Sahara properties and disputed the valuation of some of them.

SEBI had brought contempt proceedings against Roy and Sahara for failure to comply with a 2012 Supreme Court order to repay billions of dollars to investors. Sahara has said it repaid most investors and that its remaining liability was less than the Rs 5,120 crore (Rs 51.2 billion) it deposited with SEBI.

SEBI declined to comment on Wednesday.

A source at the regulator said it would consider taking steps to seize some of Sahara's foreign assets, although it had not yet begun to do so.

"As of now we have attached some of their domestic assets but we are waiting for directions from the court before proceeding with any auction," said a SEBI official involved in the matter, who declined to be identified.

"The original court order did not distinguish between their Indian and foreign assets, so I don't see any reason for us to not go for the international assets," the official said.
Click on NEXT for more...
Behind bars: Sahara urgently tries to free chief in bond case
March 06, 2014 08:19 IST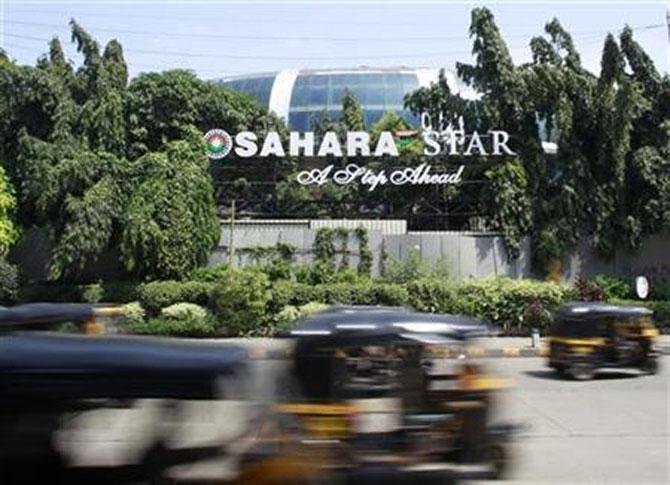 In India, Sahara's highest-profile assets include the Aamby Valley City resort in Maharashtra and the Sahara Star hotel near Mumbai's airport.

In a strongly worded order following the hearing, the two-judge panel at the Supreme Court expressed frustration over Sahara's failure to comply with its orders to repay money in the bond case and cast doubt on the veracity of documents submitted by Sahara that show it has repaid investors.

"All the fact finding authorities have opined that the majority of investors do not exist," the court said in its order.

There has not been a public clamour by Sahara investors seeking repayment.
Click on NEXT for more...
Behind bars: Sahara urgently tries to free chief in bond case
March 06, 2014 08:19 IST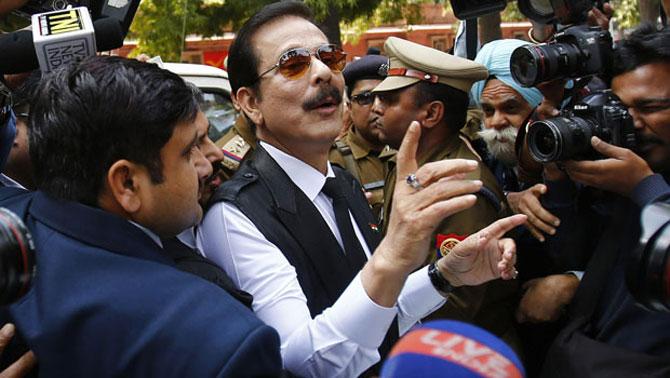 Tumultuous week

Roy's trip to jail late on Tuesday capped a dramatic week.

Last Wednesday, the court issued an arrest warrant for Roy after he missed a hearing in the contempt proceeding. Roy said he was unable to be present as he was attending to his ailing 92-year-old mother.

On Thursday, police looking to arrest Roy couldn't find him at his sprawling gated compound in the northern city of Lucknow, although his mother was there. The next day, Roy said he was not "absconding" and turned himself in to police.

After being held at a government guest house in a forested picnic spot on the outskirts of Lucknow, Roy was driven the roughly 500 km to New Delhi, where on Tuesday a man outside the court threw ink on his face. The man was pummelled by members of the crowd and taken away by police.
Click on NEXT for more...
Behind bars: Sahara urgently tries to free chief in bond case
March 06, 2014 08:19 IST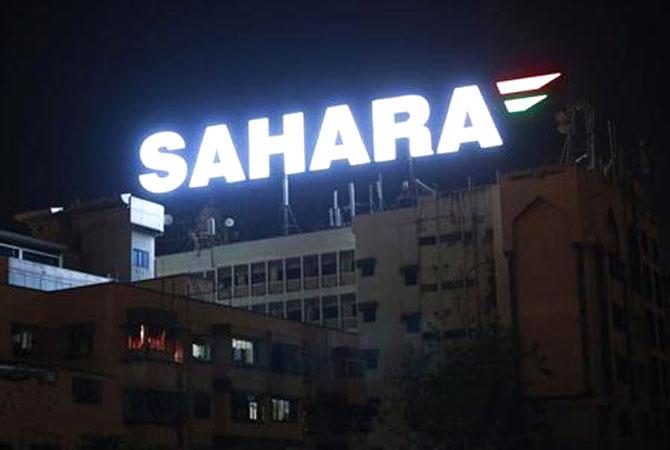 Following the hearing, Sahara sent an invitation for an "urgent" press briefing at the home of its lawyer Ram Jethmalani, 90, a member of parliament and one of India's highest-profile lawyers. Jethmalani's staff appeared to be caught off guard when the media arrived, and the briefing did not take place.

Tuesday's order by the court showed it had lost patience with Sahara, legal observers said.

"The whole intention now is to tell them that we are fed up of all your gimmickry, now be serious and tell us how you are going to go about it, otherwise jail is your place," said S.D. Israni, a Mumbai lawyer who is not involved in the case.


---
Additional reporting by Suchitra Mohanty in New Delhi
Source:
© Copyright 2020 Reuters Limited. All rights reserved. Republication or redistribution of Reuters content, including by framing or similar means, is expressly prohibited without the prior written consent of Reuters. Reuters shall not be liable for any errors or delays in the content, or for any actions taken in reliance thereon.