Rahul Gandhi outlines UPA's economic agenda
December 22, 2013 11:48 IST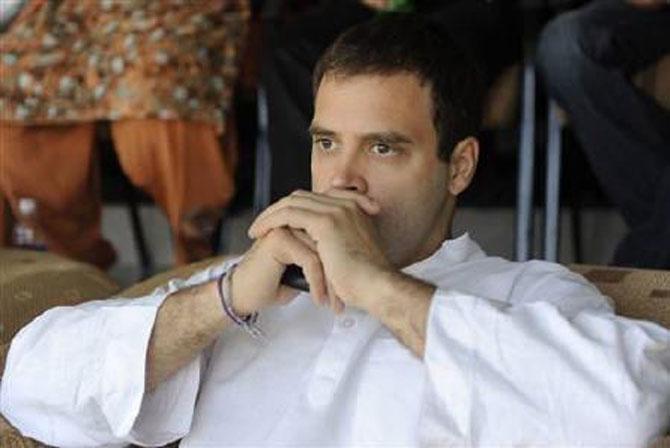 Congress Vice-President Rahul Gandhi, expected to be named the Congress' prime ministerial candidate for the coming Lok Sabha elections, on Saturday tried to woo industry with a clear economic agenda — a special-purpose vehicle for natural resource investment, flexible labour laws, fast-tracking environmental clearances, cracking down on hoarding to combat food inflation, among other things. He was addressing industry captains at the annual general meeting of industry body Ficci.

Gandhi touched "all our concerns", said industrialist Rajiv Kanoria, but another businessman quipped: "Hope the government is listening." Hardly deviating from his prepared script, a clean-shaven Rahul Gandhi appeared much different — there were few signs of the rebel-within image he had displayed at a CII gathering in April this year, soon after taking charge as the party's vice-president.

Before addressing his audience, Gandhi admitted the political reality of the electoral drubbing that the Congress had received in four of the five states that had gone to polls recently. "My last quarter results have not exactly been resounding," he said, but expressed confidence — CEO-style — that the Congress would bounce back.
Click on NEXT for more...
Rahul Gandhi outlines UPA's economic agenda
December 22, 2013 11:48 IST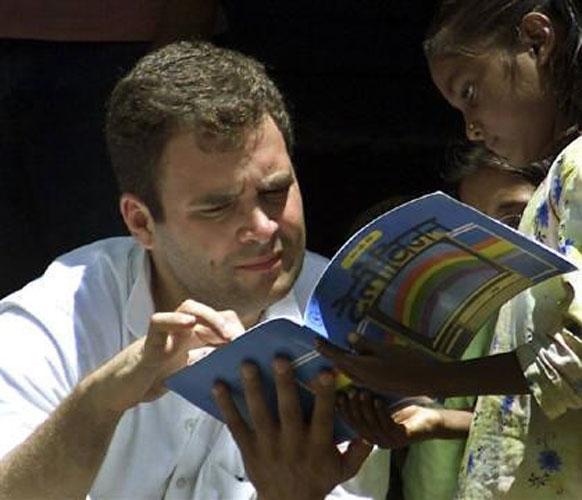 Speaking the language industry wants to listen to, Gandhi addressed the concerns several industry delegations had flagged — land acquisition difficulties, labour laws forcing companies to engage contractual labour, environmental bottlenecks, etc.
"We can't allow you to be held back because of slow decision-making," he said, conceding there had been a lapse on the part of the government, led by Prime Minister Manmohan Singh.

Without blaming the Opposition for holding up governance or decision-making (unlike on many occasions earlier), he attempted to lay out a road map of the United Progressive Alliance's (UPA's) economic vision and highlight the achievements of its "decade in power".

Accused consistently of sidelining industry concerns and prioritising social welfare sops, Gandhi was at pains to impress upon industry that it was a partner in the process of economic growth. The natural resource investment SPV for obtaining prior clearances before auctioning projects to private players was one such innovative idea. "Poverty cannot be fought without growth," he emphasised.
Click on NEXT for more...
Rahul Gandhi outlines UPA's economic agenda
December 22, 2013 11:48 IST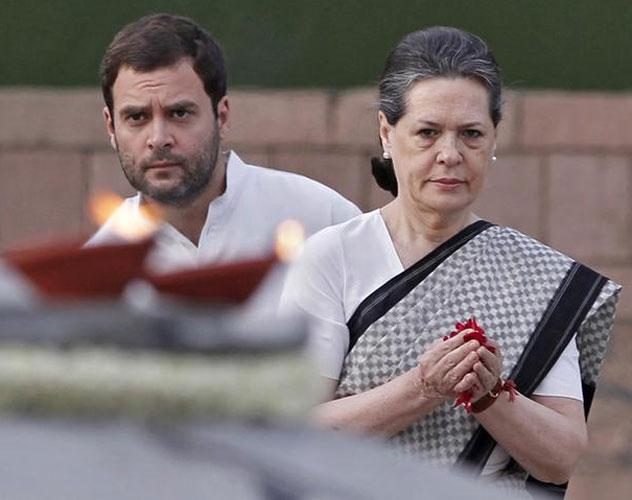 He did not directly address the scams that had frayed the UPA government's relationship with industry, Gandhi said UPA was serious about tackling corruption, which he labelled UPA's "biggest " concern. In a reference to the scrapped ordinance on tainted politicians — which elicited peals of laughter — Gandhi admitted: "I got to learn that it is not polite to ask that ordinances be torn and thrown into the dustbin!"

Launching into the framework of legislation that UPA had lined up to tackle corruption, including the recently-cleared Lok Pal Bill, he candidly admitted the Right to Information (RTI) had "opened ourselves to scrutiny".

Highlighting UPA's achievements, such as bringing a third of the population above the poverty line, he read out the Congress-led UPA's electoral plank loud and clear: "It is today's investments in people that create tomorrow's markets."

He also made it clear that UPA was not going to sacrifice any of its welfarist agenda, such as the food security programme, rural development schemes and the employment guarantee scheme.

Realising that rising prices had brought the Congress down in the Assembly elections, Gandhi flagged tackling inflation, including the food part, as top priority.
Click on NEXT for more...
Rahul Gandhi outlines UPA's economic agenda
December 22, 2013 11:48 IST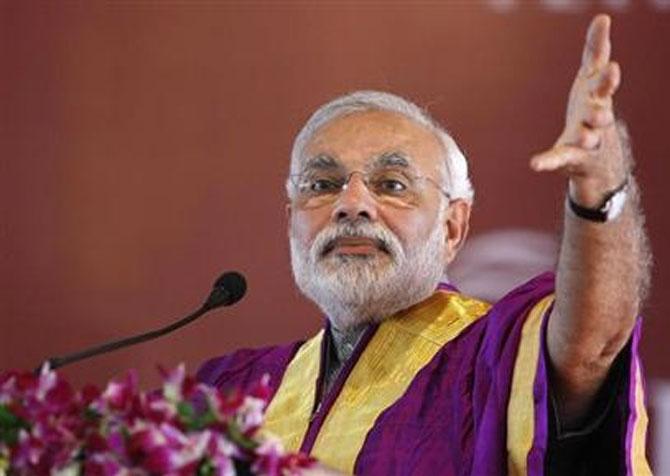 Without naming the Bharatiya Janata Party's (BJP's) prime ministerial candidate Narendra Modi, Gandhi recalled the Nazi era in the 1930s and the pitfalls of bringing in power "a party built on a divisive ideology" — obviously, hinting at BJP.

He also tried to explain to industry (considered the strongest advocate of bringing Modi to power), that "wealth cannot be constructed on poverty" and "societies cannot be built on injustice…".

Unlike his previous outing at CII, Gandhi did not ambitiously resort to metaphors like "India is a beehive of energy", etc. Responding to Kanoria's question on "mismatch" between laws like the land acquisition law and easing policy bottlenecks, Gandhi said: "Take the Tata example in West Bengal. It was the absence of law that allowed such a (people and political) mobilisation," adding politics in this country was changing and there was transparency. "We need to provide you a framework."

Responding to questions put to him from former Ficci Presidents, Gandhi said: "The biggest problem is absolute arbitrary powers at all levels of the system. The real issue in all these things, whether land acquisition or environment, is arbitrary power — of chief ministers and environment minister — to do what they want."

To sum up, he said: "We have to build rule-based structure... We have to get used to the new paradigm." But, as Rajan Bharti Mittal said, "you definitely have your heart in the right place" but "hope the government is listening".
Click on NEXT for more...
Rahul Gandhi outlines UPA's economic agenda
December 22, 2013 11:48 IST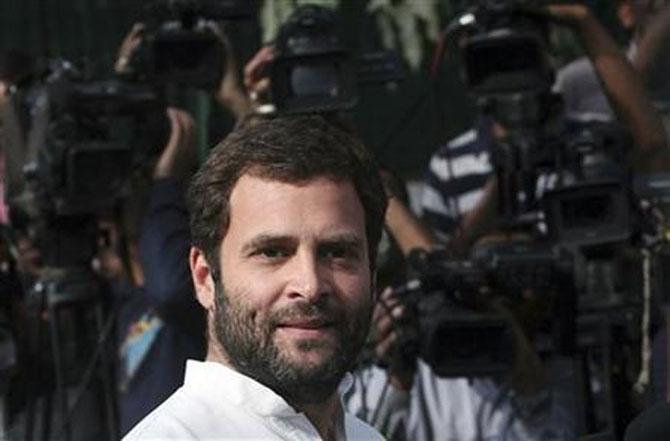 From the sidelines:
* The Venue: A jam-packed Ficci auditorium had members of the audience squatting even on the aisles and stairs
* A new look: Rahul Gandhi seemed to have shed the rebel-within image he had displayed a CII event in April
* Body language: Not aggressive — no characteristic rolling up of sleeves, no tearing papers, no nervous shuffle, not even the stubble (he was clean shaven)
* The gait: Instead of striding across the stage, as he did in April, he limited himself to standing at the lectern
* To the point: Gandhi mainly stuck to his written speech. He did not take questions put to him by Ficci's past presidents. There was no bombastic metaphor on India, either
* Clear talk: His speech, unlike earlier occasions when he made vague academic references, was much clearer

* No family friends: He avoided narrating stories of the Gandhi family and friends from abroad. Only mentioned Europe and US when talking about IT industry and its competitiveness

Policy remedies of Rahul Gandhi

* Time-bound decision-making for infrastructure projects

* Need to balance environmental clearances with industry's needs

* The Cabinet Committee on Investment and the project monitoring group are a recognition of the need to fast-track clearances

* Need to build a robust and open real-estate market

* A natural resource investment SPV for obtaining prior clearances before auction of projects to private players

* Framework of legislation to fight corruption

* Increased investment in education and research & development

* In a decade, manufacturing sector should be 25% of GDP and generate 100 million new jobs

* Need to reform labour laws and make labour market flexible

* Beating inflation, including in food, top priority; crackdown on hoarders a must
Source: