Petrol price hike 'unreasonable': BJP
Last updated on: May 23, 2012 19:15 IST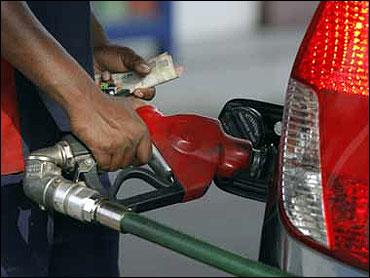 The Bharatiya Janata Party on Wednesday flayed the steep hike of Rs 7.5 per litre in petrol price terming it as "unreasonable" which will make the life of the common man "miserable".
"This whole petrol price hike is clearly unreasonable, arbitrary and is condemned as it will put further inflationary pressure and lead to further rise in prices. Life of the common man will become more difficult and miserable," BJP's chief spokesperson Ravi Shankar Prasad said.
He said the petrol price hike "will have a cascading effect and prices are going to go out of control. It is condemnable."
He alleged the government's inept handling of the economic situation was responsible for this. "The gross mismanagement of food and general economy by the UPA regime has led to the decline of the rupee," he said, adding it has also led to the rise in prices of petroleum products.
He wondered why the government was unable to check the decline of the Rupee as compared to other currencies of the world while smaller countries like Thailand, Vietnam, Bangladesh and China were not witnessing such a decline of the value of their currencies.
In the steepest ever hike, petrol price was increased by Rs 7.50 a litre with effect from midnight.
Photograph: Reuters

© Copyright 2021 PTI. All rights reserved. Republication or redistribution of PTI content, including by framing or similar means, is expressly prohibited without the prior written consent.