How to get the BEST car loan
Last updated on: November 1, 2010 08:22 IST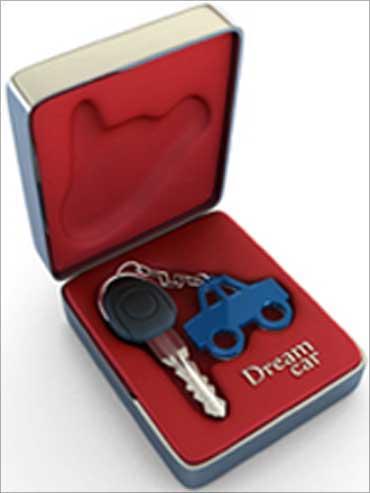 What is the going interest rate for a car loan? The broad answer you will get today is 10.50-11.50 per cent. If this were a home loan, that would normally be it.
But for a car loan, things are not that simple. What if you wanted a model that the manufacturer was trying to push? The interest rate, in such a case, could go down even to the 6 per cent range or lower. So, things can get significantly complicated.
Now, throw in cash-back offers, free insurance, accessories and service contracts tied to the car loan. Top it up with 30-odd manufacturers, 44-odd scheduled banks and a rash of other sundry lenders trying to push various cars and loan packages and the level of complexity increases geometrically.
So, what is the best way to negotiate this lunar landscape? Most people would throw up their hands and say, "Here's my down payment, this is the car I want, give me loan for the remaining amount at whatever the going rate is, and tell me how soon I can get delivery."
Financed vehicles account for about 60 per cent of all vehicles sold in India, and anecdotal evidence suggests a huge chunk of them are sold pretty much this way.
This apparently easy way out may not eventually be so. You could end up with a deal that not only is loaded against you, but also take on too much of a debt load. In the worst case, you could default on the repayment and have the car repossessed.
And all it takes to avoid such a predicament when you are buying a car this festive season is a bit of homework, more so with the interest rates creeping up. So, how do you go about it?
Click on NEXT to read more...
How to get the BEST car loan
Last updated on: November 1, 2010 08:22 IST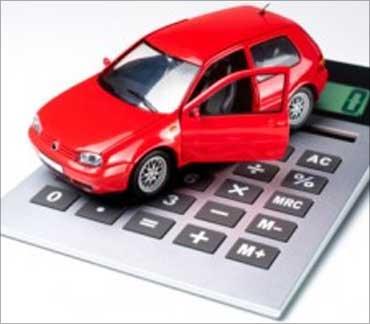 Fix the budget
The predicament that faces most car buyers is the tussle between the head and the heart. Car companies know this very well. Look at any model in the market. Most of them have a stripped out base variant, which you will almost never see in a dealership.
But look at the advertisements and, almost unfailingly, it is the price of the base variant that is flogged.
The trick is simple: dangle the price carrot, get the buyer into the showroom, sell up by telling him that the car he is looking for is not as nice as the costlier model (and they aren't), why the latter is such a hot deal at a 'slightly' (sic) higher price, that the necessary loan can be arranged, and would make a 'small' (sic) difference to the EMI.
The beauty of this is that most buyers fall for it almost every time, even though it is the oldest trick in the book. And that is also where you start overreaching yourself. And all this after you have spent hours on the Net and with magazines and newspapers and done your research, which an increasing number of buyers are doing before hitting the showrooms, according to a J.D. Power Asia Pacific Escaped Shopper study.
Every extra bit of cash you pay for a car, which is a depreciating asset, reduces the amount available for investment in appreciating assets. To stay within the prudent limit, says an Axis Bank official, "40 per cent of the annual income can be allocated towards car buying".
Harsh Roongta, CEO, Apnapaisa.com, takes a less conservative view. "Typically, the total EMIs of all loans put together should not be more than 50 per cent of income," he says.
"Of this, 35-40 per cent I would reserve for a home, even if I don't need it right away. So as a thumb rule, a car loan EMI should be around 10-15 per cent of my monthly income and the target car price should be 50-60 per cent of annual income."
This trend has been seen in developed markets too. Comerica Bank of the US, for instance, tracks how many weeks' pay (they pay weekly wages there), on an average, goes into buying a car.
Over the years the number has varied between 22 and 30, or about 42-57 per cent of annual pay. So, it is important to get a fix on how expensive a car you can afford before you even decide on a car so that the pristine beauty gleaming under showroom spotlights can only tug at your heartstrings only so much and no more. (See Which Car You Should Go For?)
Click on NEXT to read more...
How to get the BEST car loan
Last updated on: November 1, 2010 08:22 IST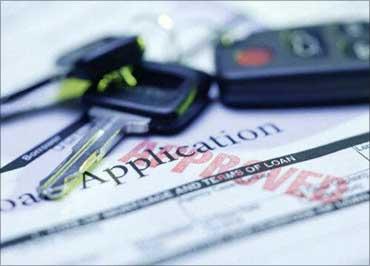 Do your homework
10 things you must ask your lender
Documents to be submitted along with the loan application;
Turnaround time with regard to loan approval and disbursement after the application is submitted;
Margin money required to be paid and time of payment;
Processing fee to be charged on the loan amount;
Interest rate, typically the monthly reducing rate of interest, applicable;
Discounts and promotional schemes on offer;
Modes of repayment available;
Foreclosure charge (percentage of the loan outstanding) applicable
The time taken by the lending institution to issue you an NOC to your loan account after you clear the loan; and
The dedicated helpline number of the lending institution.
Click on NEXT to read more...
How to get the BEST car loan
Last updated on: November 1, 2010 08:22 IST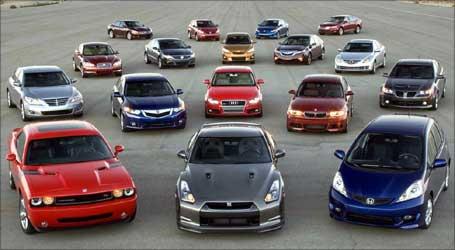 Home in on the car
Once your budget is set, you need to ask yourself how you expect to use the car.
Says Roongta: "For someone doing a lot of travelling, fuel efficiency would be very important, but those who often take their family out might be willing to sacrifice a bit of that for safety."
Other factors could be the brand, the running costs and the resale value.
A good place to start searching is the Internet, with most manufacturers putting up fairly detailed information about their products and prices.
There are EMI calculators too, which are quite easy to find, thanks to Google.
So, even before you see a car, you can compare features and options to zero in on your car without the salesman providing you his two bits of input that, you can be sure, will help him more than you.
Click on NEXT to read more...
How to get the BEST car loan
Last updated on: November 1, 2010 08:22 IST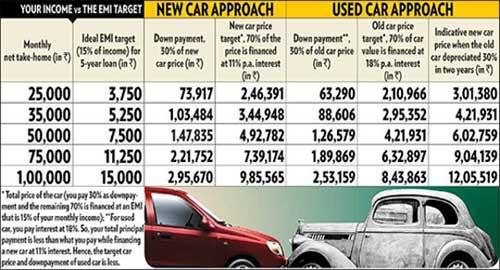 Which car should you go for?
You can zero in on the car of your choice and, then, work out your down payment and EMIs.
However, a far prudent idea would be to reverse your approach.
We suggest that, first, you work out what's the ideal EMI that you could pay depending on your monthly income.
Then, decide on the price range in which you would want to buy the car.
Click on NEXT to read more...
How to get the BEST car loan
Last updated on: November 1, 2010 08:22 IST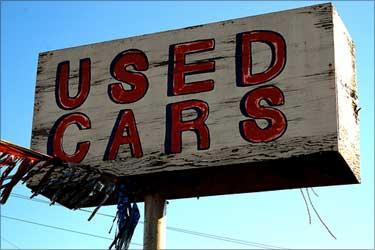 Buy new or used?
For those open to the idea of buying a used car, the search gets tougher. New cars usually give a better ownership experience since the tough competition in the market has ensured that most of them are of pretty good quality.
But you could look at a used car for a number of reasons. Arvind Hali, head, retail assets and credit cards, Dhanlaxmi Bank, says, "If one rides a two-wheeler and he wants to graduate to a car, he may not be able to afford a new one."
Ashok Khanna, business head, auto and two-wheeler loan, HDFC Bank, gives the most compelling reason: "It makes lot of sense in today's scenario to go for an old car both... (since) cars typically depreciate most in their first two years."
So, by buying a used car, you can minimise the loss of value for that reason.
Adds R Vaithianathan, head (consumer finance & advisory business), Tata Capital: "Buying an old car for higher segments make sense. Similarly customers who just learnt the driving sometimes prefer to use an old car for a year or so."
Click on NEXT to read more...
How to get the BEST car loan
Last updated on: November 1, 2010 08:22 IST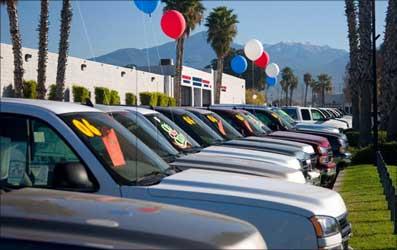 Buying a used car is tricky in absence of organised players.
But things are changing with the establishment of organised players, such as Maruti True Value and Mahindra First Choice Wheels.
Says Rajeev Dubey, president, HR, after-market & corporate services, Mahindra & Mahindra: "Opting for a pre-owned car makes immense sense... For instance, they can easily purchase a C-segment car (sedan) for the price of a new B-segment (hatchback) car. Moreover, purchasing a used car from an organised player such as Mahindra FirstChoice Wheels ensures a certain level of fidelity. Each car purchased undergoes an extensive 118-point quality check by a trained engineer."
But if you are looking to buy a used car with a loan, you would have to pay a far higher rate of interest on it.
If new car loans can be had for 10.50-11.50 per cent per annum, for used it would come at around 18 per cent. So, for a Rs 500,000 loan for three years, the increase in your EMI could be Rs 1,600-1,700.
Alternatively, you would have to go for a smaller loan. (See Which Car Should You Go For?)
So, keeping your finances in line, the two-year-old used cars you could look at are the ones that would have been 20-25 per cent more expensive, when new, than the new car that fits your budget.
Click on NEXT to read more...
How to get the BEST car loan
Last updated on: November 1, 2010 08:22 IST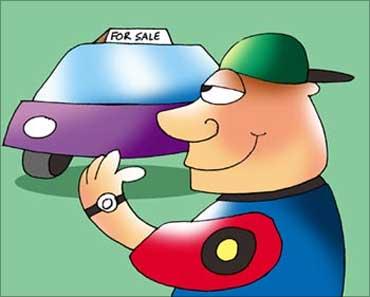 Ready the margin money
The first thing to remember is never to borrow the down payment amount.
It's surprising how many people do that. Says HDFC Bank's Khanna: "Prudential obligation management would require for 15-20 per cent of customer equity."
Adds Tata Capital's Vaithianathan: "I would suggest that this should come from savings."
While that is the minimum, should a buyer pay more up front than that? Dhanlaxmi Bank's Hali says: "If a person has the capacity to pay more, he should. One should ideally try to have least leverage (loan), especially on a consumption asset like car. Why pay interest if you have money lying in your saving account earning 3-4 per cent and, on the other hand, pay 9-11 per cent interest on your car loan?
Click on NEXT to read more...
How to get the BEST car loan
Last updated on: November 1, 2010 08:22 IST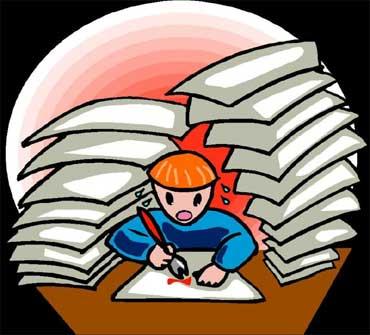 On your mark
Papers you should keep ready
Identity proof (any of the following: passport, voter ID card, pan card, driving licence);
Address proof (any of the above or driving license, utility bill);
Proof of official address for non-salaried individuals;
Income proof (three months' salary slip, 'Form 16' of the last two years for a salaried person; income tax returns of the last three years for the self-employed)
Bank statement of last six months of your primary account
Signature identification from your banker if you are applying for a loan from a new bank;
Two or three photographs; and
Post-dated cheques
Click on NEXT to read more...
How to get the BEST car loan
Last updated on: November 1, 2010 08:22 IST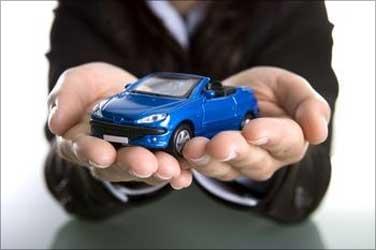 Pick your lender
Should you approach the dealer first or your financier? While dealers offer you loans from various financiers and assure to get you the best deal, a financer gives you a host of dealer options and gives you the same assurance.
It's advisable to shop around. Dealers can offer you discounts on price, free accessories, extended warranty, free service and free insurance.
Financiers make offers, such as better rates, lower or no processing fee and free service coupons.
Hali gives it a new twist: "When you go to a dealer, in India, it will almost invariably be a single-brand one as you don't have multi-brand dealerships. When you approach a financer, some of them could even help you select a car and give you comparative information across models and manufacturers."
As car loans are for longish tenors, you will have to deal with the lender for a considerable period. Since the interest rate on the loan will affect your EMIs, try to keep that the lowest to start with.
But there are also factors such as the running around you would need to do to get the loan processed or doorstep service. Kotak Mahindra Prime CEO Sumit Bali's laundry list for things to look at while choosing a lender are: interest rate, turnaround time, transparency in deal, reference of service quality and assurance from existing users; and percentage of funding offered.
Competition among dealers and among financers has brought the loan approval time down to 3-48 hours.
For a car loan approval, typically all lenders want the Credit Information Bureau, India report and do some verification, says Roongta.
So, unless something is wrong there, approval or rejection happens quickly.
Bali says, "Once the loan is approved, disbursement can be done within 24 hours, subject to completion of documentation, and delivery depends upon the availability of the car at the dealership (colour, model, variant, and so on).
Click on NEXT to read more...
How to get the BEST car loan
Last updated on: November 1, 2010 08:22 IST
Loan against car
In the pursuit of that dream car of yours, there's a possibility that you may have stretched your budget a bit. If that's the case and, somewhere down the line, you find yourself in an urgent need for some cash, it won't be a bad idea for you to go for a loan against the car.
It would certainly be more prudent than availing a personal loan or using a credit card and paying through your nose on the interest. Says Arvind Hali, head, retail assets and credit cards, Dhanlaxmi Bank: "A loan against a car can be taken to fund a marriage or meet emergencies, such as a medical requirement, and so on."
The loan amount
The amount of loan you can get against your car depends on its residual value and also on any outstanding loan you may have on it.
Says Rishi Mehra, founder and director, Deal4loans.com: "If you aren't already servicing a loan, your car would be evaluated by the bank, which would disburse 70-80 per cent of its current value as loan. If you already have a loan, it would evaluate the difference between the value of the car and the loan amount. This difference can be taken care of through a top-up loan."
Interest rate and tenure
As it is a secured loan, a loan against a car carries lower interest than an unsecured loan.
Says Mehra: "The prevailing interest rate is 14-17 per cent. The maximum tenure for which a loan is available is 4-5 years and the age of the car at the end of tenure should not be more than seven years."
Ashok Khanna, business head, auto and two-wheeler loan, HDFC Bank, adds: "The interest rate for this kind of loan is in the range of 15-16.50 per cent."
Paperwork
Typically, the documents required for this loan are the original registration certificate, the insurance copy, address and identity proofs and bank statement.
Availability
Though lucrative, only a few banks offer this product. Says Khanna: "HDFC Bank offers this product for existing car owners; these can be availed as a cheaper alternative to unsecured loans." HDFC Bank has following two products:
Cash back - A customer who has recently purchased a new car without finance can avail up to 85 per cent of the invoice value;
Car N Cash - This is for customers who have a minimum nine months' repayment track on their existing new car loan.
This will be as a top-up based on the residual value of the vehicle netted of with the principal outstanding at a given point.
Click on NEXT to read more...
How to get the BEST car loan
Last updated on: November 1, 2010 08:22 IST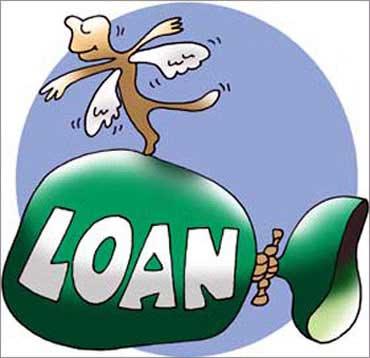 Pay on advance or arrears
There are two options on the EMIs you pay, either 'in advance' or 'in arrears'.
Under the first, you pay your first EMI the day you sign the agreement. So, effectively, the loan you get is for the agreed amount, say Rs 500,000, minus, say, Rs 16,221 (at 11 per cent for three years), that is Rs 483,779.
Under the 'EMI in arrears' repayment, the EMI could be slightly higher, in this case Rs 16,369, but you get the full amount of loan you applied for and repayment starts from the following month.
So, if you are trying to maximise bang for your buck, it might be worth going for the latter as you will be paying a slightly higher total interest (Rs 5,328 in this case) over three years, but can opt for a slightly more expensive car.
(For this calculation, loan processing charge has been kept separate and EMIs have been calculated using the daily reducing balance method.)
The best loan
In short, it is one that lets you satisfy your needs without robbing you of a good night's sleep.
It also lets you get the best for your money. No one size fits all, but with a little bit of work, it shouldn't be difficult to find one that does.