India not stealing US jobs: PM
Last updated on: November 8, 2010 18:14 IST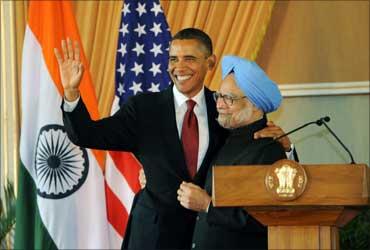 India on Monday told America that it was not stealing jobs there, while US President Barack Obama said he had not made a "boogeyman" out of outsourcing, an issue on which he's facing pressure at home.
Addressing a joint press conference with Prime Minister Manmohan Singh on the last leg of his India visit, that comes shortly after his Democratic party suffered poll reversals on unemployment and other economic issues, Obama said that $10 billion worth deals signed with India would create 50,000 jobs in the US.
"...when I go back to the US, a part of the reason that I advertised these 50,000 jobs is I want to be able to say to the American people when they ask me why are you spending time with India when they are taking our jobs.
"I want to be able to say they actually created 50,000 jobs and that's why we should not be resorting to protectionist measures. We should not be thinking that it's just a one-way street. I want both the citizens of the US and India to understand the ties between the two countries," the President said.
Click on NEXT to read more...
India not stealing US jobs: PM
Last updated on: November 8, 2010 18:14 IST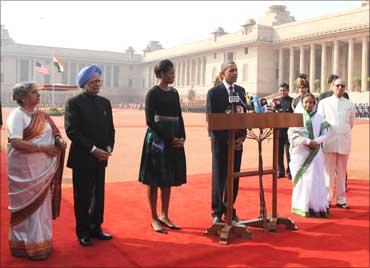 Following him up, Prime Minister Manmohan Singh sought to assuage fears among Americans, saying "As far as India is concerned, India is not in the business of stealing jobs from the US. Outsourcing industry, I believe, has helped to improve the productive capacity and productivity of American industries."
To a pointed question whether America's concern on job losses due to outsourcing work to India were misplaced, Obama said: "First of all, I don't think you heard me make outsourcing a boogeyman during the course of my address in Mumbai."
He added that he had cautioned at a meeting of business leaders in Mumbai that both countries are operating on stereotypes that have outlived their usefulness and that the two had enormous win-win potential.
The US accounts for about 60 per cent of India's estimated $60 billion IT and IT-enabled services exports.
The deals that the US had struck with India would create jobs in the US, he said, adding that he was proud that US wanted to sell some of the high-tech products to growing Indian market.
Click on NEXT to read more...
India not stealing US jobs: PM
Last updated on: November 8, 2010 18:14 IST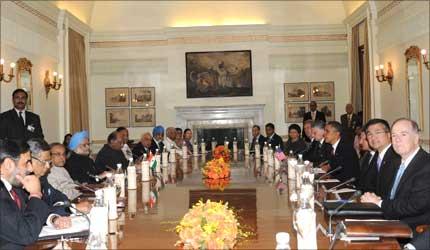 He, however, pointed out that the same technologies would help grow Indian entrepreneurs, create jobs here and build up Indian infrastructure.
On his part, Prime Minister Manmohan Singh welcomed the decision by the US to lift controls on exports of US high-technology items and "support India's membership in multilateral exports control regime such as the Nuclear Suppliers Group.
"This is the manifestation of growing trust and confidence in each other."
Singh said India needed American assistance by way of capital export and would welcome American investment here.
"India needs an investment of more than a trillion dollars in the next five years for its infrastructure development projects. We need American contribution in fulfilling the ambition of ours."
Dubbing America as a home of 'high techonolgy', Singh said India needed technology to upgrade skills in both civilian and defence sectors, which would be a significant factor in strengthening of cooperation between the two nations.
Click on NEXT to read more...
India not stealing US jobs: PM
Last updated on: November 8, 2010 18:14 IST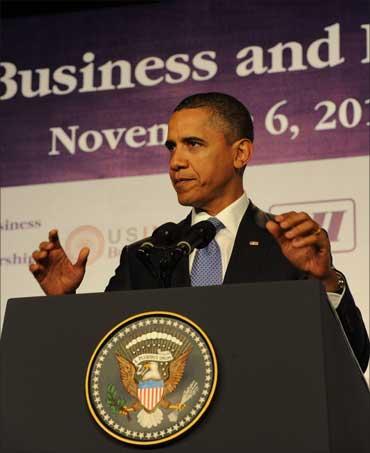 While Obama described India as a power that has emerged on the global stage, Singh said the deals signed between corporations of the two countries was truly an example of trade being a win-win situation for both the nations.
The Prime Minister said that he had communicated to the US that any protectionism was detrimental to the two nations, while pointing that India was among the fastest growing source of investments in the US helping the American economy to grow.
US data shows that Indian companies invested $4.5 billion in America in 2008 and as of now, India is the second largest investor after the UAE.
India receives about 8 per cent of total foreign investment from the US.
FDI in 2009-10 was $25.8 billion, while Indo-US trade in 2009-10 stood at $36.5 billion.
In fact, Singh pointed out that US was India's largest trading partner, while the US President is desirous of making India its top trade partner from 12th position now.
"We welcome US investments and high technology in key sectors of our economy, including nuclear energy. We have agreed to facilitate trade and people-to-people exchanges, recognising that protectionism is detrimental to both our economies," Singh said.
Click on NEXT to read more...
India not stealing US jobs: PM
Last updated on: November 8, 2010 18:14 IST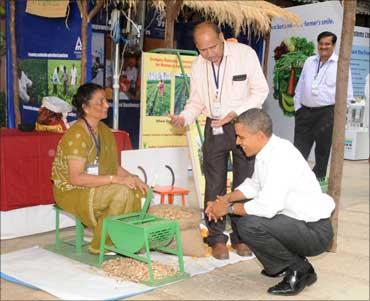 Obama announced the launch of a new partnership with India in the agriculture sector for an "Evergreen Revolution" to achieve global food security.
"Building on Indian and American agriculture collaboration, like that of the Green Revolution, we are launching a new partnership for an Evergreen Revolution that improves food security around the world," he said.
Singh said that an agreement has been reached between the two nations for maximum cooperation on "weather and crop forecast".
In March, 2010, India and the US had signed an MoU to cooperate on agriculture and food security.
Addressing the students at St. Xavier's College in Mumbai on Sunday Obama had said: "India can become a model for countries around the world that are striving for food security."
He called for furthering cooperation in the field of agriculture and said the collaboration between the two countries had contributed to India's first green revolution in the 60s.
Click on NEXT to read more...
India not stealing US jobs: PM
Last updated on: November 8, 2010 18:14 IST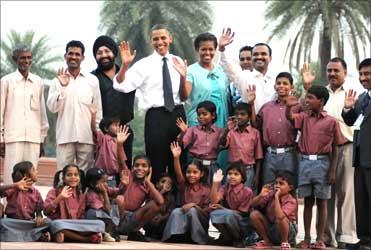 President Obama also said: "We have agreed to reducing trade barriers and resist protectionism. As a result of this visit, we have already started implementing our civil nuclear agreement."
In this context, he said: "We have agreed to reform our controls on exports" and welcome India's preliminary agreement to purchase 10 C-17 cargo planes that would enhance Indian capability and support 22,000 jobs in the US.
He also assured that America would remove Indian organisations from the so-called 'entity list' to help greater cooperation in a range of hi-tech sectors like civil, space
and defence.
The two leaders also committed to play together a greater role to address the concerns afflicting the global economy.Click on NEXT to read more...
India not stealing US jobs: PM
Last updated on: November 8, 2010 18:14 IST
President Obama evaded a direct question on the contentious issue of valuation of Chinese currency, saying: "The Federal Reserve is an independent body and it doesn't take orders from the White House. And it is important as a policy on institutional matter that we don't comment on particular Federal actions.
"I will say that Fed's mandate and my mandate is to grow our economy."
Talking about the global economic crisis and its impact on the US, Obama said the worst thing that could happen to the world economy was to be stuck with no growth or very limited growth.
"I think that's the Fed's concern and my concern as well now. When we go to the G20, we are going to talk about a host of issues. how do we start creating balance and sustainable growth," the President said.
Click on NEXT to read more...
India not stealing US jobs: PM
Last updated on: November 8, 2010 18:14 IST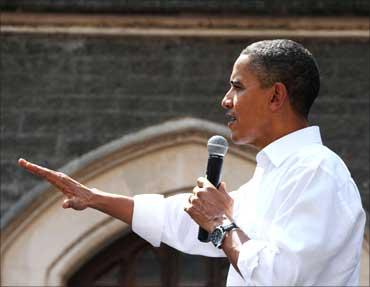 Referring to a situation in which some countries were maintaining massive surpluses and others massive deficits, without the adjustments with respect to currencies, he said India was part of the solution and not a part of the problem.
"India has been moving in a more liberal direction under Prime Minister Singh's leadership and India has been a very constructive partner in some of these international issues and I expect this will continue so."
On the global economic situation, Singh said that the world needed a new balance between deficit countries and surplus countries and the global leaders would focus on these issues at the meeting of G20 in Seoul later this month.
© Copyright 2021 PTI. All rights reserved. Republication or redistribution of PTI content, including by framing or similar means, is expressly prohibited without the prior written consent.