'Business can't be held hostage to unresolved issues between India and China'
Last updated on: November 2, 2010 14:53 IST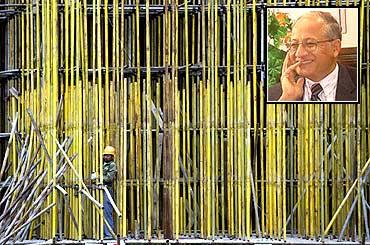 Tata Consultancy Services's Asia head Girija Pande explains the intriguing India-China-US triangle.
Girija Pande, chairman, Asia Pacific region, Tata Consultancy Services, lives in Singapore and has a vantage point to view the crucial strides both India and China have been making of late.
TCS employs around 1,200 people in five offices across China. Having worked in various countries across the continent, he feels he is an Asian.
Indeed, in true Asian tradition, he understands Oriental culture and the mystery attached to the phenomenon. He equally understands the Western rationalisation of all things Asian.
In an exclusive conversation with Rediff.com's Sheela Bhatt, Pande explains why he is bullish about China and India's trade relations.
On what India can offer China in IT
India was a part of the IT(Information Technology) revolution in its early days. TCS started exporting to the US in the 1970s. India can bring global experience cost effectively to Chinese companies.
We (TCS) are bringing our experience in the financial sector to China; we have worked with four Chinese banks.
I don't see China as a competitor. I work in both countries. Our five centres -- whether it is in Guangdong or Chengdu -- all are growing well.
India's IT companies can add value to Chinese enterprises in global solutions, especially in the financial sector. Indian companies are doing very well in training areas.
I look at the Chinese market as the strategic market for the future. It takes time. We need to create trust in our capabilities.
There are lots of Asia Pacific companies that want to offshore to China. China has Asian language capabilities, which is very useful.
When we do regional roll outs, China comes up very strong. TCS is using the China base to deliver to our customers in Hong Kong, Taiwan and other nearby areas.
India is growing in software as well as hardware now and China is growing in software like India.
It is a question of time when China will catch up. Both are certainly going to collaborate and compete. It will be a world of co-opting.
'India has a system that doesn't allow us to move fast'
Last updated on: November 2, 2010 14:53 IST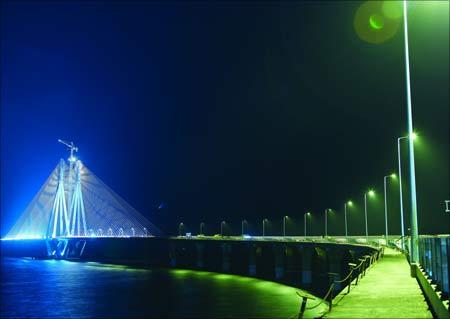 On China's unique characteristics
I go to China every two weeks. China is focused on development. Other issues don't divert it.
It is purely focused on a one-point agenda -- growing at 8 per cent-plus. They say Bau ba (means 8-plus). Nothing should come in the way.
They have had a single-minded focus on growth since 1980s. As Deng Xiaoping once said, 'I don't care what the colour of the cat is as long as it catches mice.' That is a very powerful statement for enterprises and entrepreneurs.
Of course, the Chinese are enterprising; they are good in picking up skills.
All of them say uniformly that they want their country to develop. Take the language out of the equation and you will find that Indians and Chinese are very similar.
We both have Asian culture. We respect age and family life like the Chinese do. Both of us want to grow.
They even say we have common superstitions. There is also the Buddhism link.
But, beyond all this, they have one point agenda -- growth.
The Chinese are very good in execution. Outstanding! They can think in terms of scale.
India should learn to think in terms of scale from China. They can think scale in a big way.
In Hangzhou Bay, I went to the Ningbo Bridge, which is around 30 km long over the sea. It was done in four-and-a-half years.
Then, I went to Mumbai, where there is a bridge of around two km that has taken 15 years (pictured above). That is the pace of change.
Guangdong gets more foreign direct investment than the whole of India.
India has a system that doesn't allow us to move fast. India's infrastructure projects have been delayed. They are building ahead and they think business would follow.
The weaknesses of China and India
China's political system is different. Whether it is good or bad, it's for them to decide.
It allows them to grow fast, but creates other issues for them. They are struggling with it. They are trying to come to terms with it.
I am optimistic that they will find their way. They are a pragmatic people motivated by growth.
We (Indians) get diverted by past issues. The Chinese have put their past behind.
We have the Ayodhya issue going back 2,000 years, we have caste issues going back 5,000 years. These distract us.
India's young people want to grow like China. The young should be growth-oriented. Every policy should be against that benchmark.
We Indians are very creative people. We are entrepreneurial.
There is a lot of strength in India. So much so that even the Chinese want to learn from us. The IT industry is one such example.
'Indian newspapers don't reflect the growth that goes on'
Last updated on: November 2, 2010 14:53 IST
The future of the China-India trade relationship
Business is growing. It (India-China trade) has crossed $60 billion. It is the largest trade anywhere we have done by far.
We have to take into account the fact that both governments are encouraging business to grow.
The China-US relationship is not easy either. Yet, they are the biggest partners in business.
China and Japan are not on good terms always, yet they have the biggest investment in each other's country. The same is true for China and Taiwan.
How is India different? Business will grow. There will always be some issues between the two countries. We have issues (the border issue) that need to be resolved.
Business can't be held hostage to the unresolved issues between India and China.
Those issues will be resolved over a period of time. These are issues which are not easily resolvable. Both countries are at it; they are meeting.
I am very optimistic about India. Whenever I come to India and see the newspapers, I find them pessimistic.
They (the newspapers) never reflect the growth that goes on in India. They don't reflect reality. They reflect part of the distortions of India.
There is eight to nine per cent growth. It is not a small thing. We never give value to it. I am very bullish about India.
Advice for new Indian entrants in China
You should find the proper reason to enter China. They have some inherent strengths, like infrastructure for manufacturing and marketing. Also, the Chinese domestic market is growing faster than India's.
Is it easy for Indian entrepreneurs to create businesses in China? No. Can he avoid it? No!
If China is growing to grow like this, you know how big it will become.
I always say India and China should have a relationship like the US and Canada. We should look at it as an opportunity.
Many nations would love to be (China's) neighbours. Think of it!
When the US grows, Canada grows, Mexico grows. The reality today is that China is the second largest economy in the world. We are next to them and we should take the benefit of it.
We should look for businesses to grow. The border issues are issues of the past. It should be resolved in the time to come.
Business looks at growth and the markets and even China looks at growth and the markets.
'The Indian IT industry has added value to American enterprises'
Last updated on: November 2, 2010 14:53 IST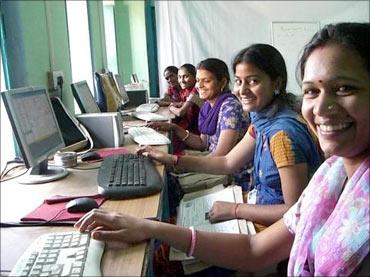 On the Outsourcing controversy between the US and India
TCS has one of the biggest operations in North America. It is very difficult to say how the issue will go.
We are serving our customers in North America to the best of our capability and to their advantage. That relation is going on.
The Indian IT industry has added value to American enterprises. They know about it and that's why we keep growing in America and keep getting business.
You should look at the numbers. They are growing. I can't say if it's a political issue or not. It is difficult for businessmen to talk about it.
On the US-China, China-India, India-US triangle.
In the years to come, the triad of India, China and the US will be one of the most interesting relationships in the world.
We saw it during Copenhagen, we saw it during the WTO talks, and we have seen it in politics.
China, India and the US will compete and they will collaborate.
All three of us have the common issue of global warming. India and China have common issues on global warming and world trade.
On issues of the governance of the world we are with China. I think we have to work together.
China and the US have a huge economic relationship. India is not even near it.
This is the most important three-way relationship that the world will see.