Modi pleases India Inc with tax talk
January 16, 2014 09:26 IST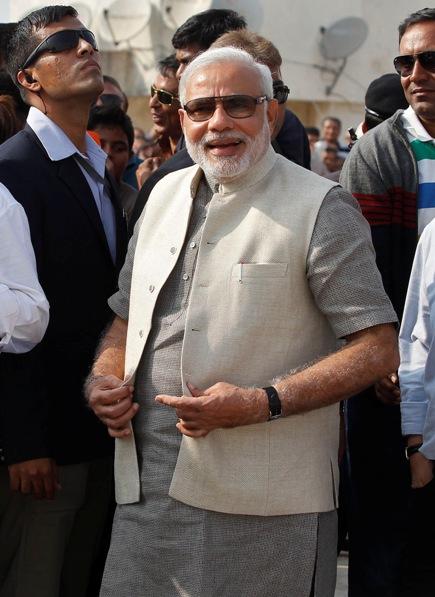 Capturing the pulse of one of India Inc's grouses, Gujarat chief minister and Bharatiya Janata Party's prime ministerial candidate Narendra Modi on Wednesday called for reforms in what he termed 'tax terrorism'.
Modi had been invited for an interactive session with members of the Federation of Indian Chambers of Commerce and Industry's national executive committee meeting in Gandhinagar.
He ensured he addressed as many queries and concerns as possible.
What struck a chord with the audience -- representatives from the infrastructure, power, information technology, manufacturing, pharmaceutical and financial sectors, among others -- were his views on tax reforms.
"This tax terrorism in the country is terrifying. One can't run the government by thinking that everybody is a thief," said Modi, to loud clapping from the audience.
Click NEXT to read further. . .
Modi pleases India Inc with tax talk
January 16, 2014 09:26 IST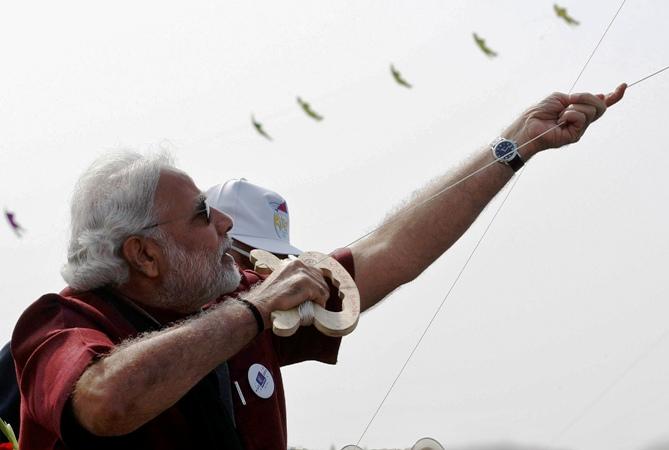 "The alternatives being reported in the media need to be given a serious thought.
Ficci's experts and tax payers should be asked about the problems they face.
All stakeholders should sit and brainstorm about tax reforms.
If you give your suggestions, the Bharatiya Janata Party will seriously think over it.
This is one sector where there is need for serious debate," he added.
Sidharth Birla, Ficci president; his predecessor at the chamber, Naina Lal Kidwai, country head of HSBC India; Jyotsna Suri, senior vice-president of Ficci; A Didar Singh, secretary general of Ficci; Rajan Bharti Mittal, vice-chairman, Bharti Enterprises; Harshpati Singhania, managing director of JK Paper; and Pankaj Patel, chairman, Zydus Cadila, were some of those present.
Apart from tax reforms, Modi dealt with queries highlighting concerns of industry.
Click NEXT to read further. . .
Modi pleases India Inc with tax talk
January 16, 2014 09:26 IST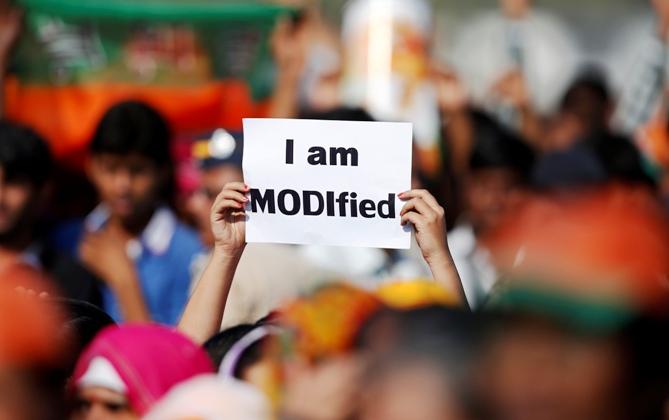 Such as returning to an eight to nine per cent annual economic growth, involving private entities in the defence sector, labour policies and administrative reforms.
If not openly, quite a few expressed their confidence in an economy under Modi's leadership.
"Bahut logon ko yeh baat samajh aa gayi hai ki Modiji aayenge toh development toh hoga hi hoga (Many have understood that if Modi comes, development will definitely happen)," said K K Modi of The Modi Group.
In his reply to a question from Singhania on involvement of private industries in the defence sector, Modi said that while he welcomed such an involvement, the country will have to decide a specific year by when it could be self-sufficient.
"Everybody feels India has the potential of being self-sufficient here," he added.
Click NEXT to read further. . .
Modi pleases India Inc with tax talk
January 16, 2014 09:26 IST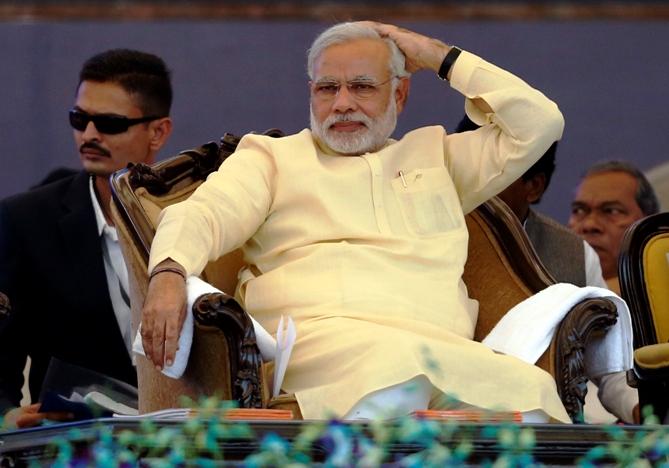 Among labour issues, one industrialist raised the issue of the manufacturing sector incurring losses due to the national rural jobs guarantee scheme, MGNREGS.
"We feel India's productive labour has become unproductive. What do you have to say?" asked S K Poddar, chairman of the Adventz Group. In his response, Modi said, "When liberalisation was being talked about, labour law reforms should have been talked about, too, but we lost that chance.
"Today, there is a need for the next generation of NREGS, which should focus on asset creation.
"China says it wants to create jobs. I believe India should focus on job creation, too."
Click NEXT to read further. . .
Modi pleases India Inc with tax talk
January 16, 2014 09:26 IST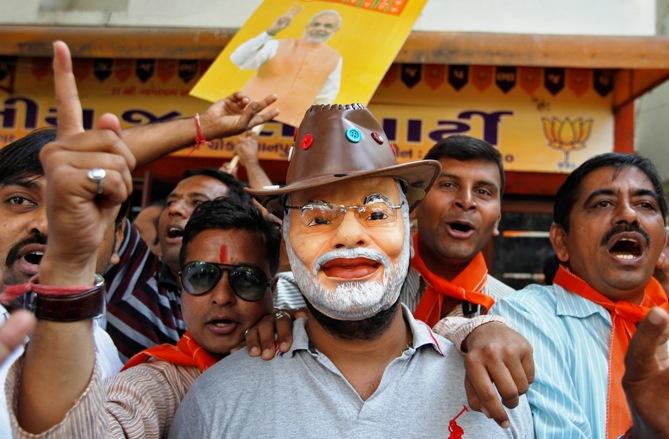 On Kidwai's query on how Ficci can join on an agenda of returning to eight to nine per cent annual growth, Modi said, "We should come out of policy paralysis.
"The economic system cannot run on just one pillar. The three pillars are agriculture, manufacturing and services.
"Hence, if there is a lull period in any one, the other two are able to sustain growth."
In his inaugural speech, Modi emphasised the need for rebuilding the "broken trust" between industry and government.
"Rebuilding an environment of trust and faith between the industry and government is the need of the hour," he said.
Source: