Image:
A cashier counts rupee notes inside a bank in Amritsar.
Photographs:
Munish Sharma/Reuters
Somasroy Chakraborty
in Kolkata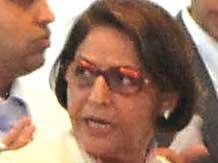 Madhu Kapoor (left), widow of YES Bank co-founder Ashok Kapur, has appealed to the bank's shareholders to vote against most resolutions to be placed at the lender's annual general meeting on June 14.
"It is important to first clarify that as the second-largest shareholder of the bank, I do not desire the functioning of the bank to be disrupted in any manner whatsoever.
"Therefore, I recommend you to pass the accounts but limit myself to requesting you to vote against resolution numbers four, five, six, seven, eight, nine, and 10, which I believe are not in the interest of the bank or its shareholders, and resolution number 11, which is in breach of the articles and the rights of late Ashok Kapur's family," she wrote in a letter to shareholders.
Asked about Madhu Kapur's letter to shareholders, a YES Bank spokesperson declined to comment.
. . .
Madhu Kapur writes to YES Bank shareholders

Image:
A cashier counts rupee notes inside a bank in Lucknow.
Photographs:
Pawan Kumar/Reuters
Ashok Kapur had co-founded YES Bank with his brother-in-law Rana Kapoor, the bank's managing director and chief executive. Madhu Kapur and Rana Kapoor's wife Bindu are sisters.
Last year, Madhu Kapur had moved the Bombay High Court, claiming her right as co-promoter was violated, adding she wasn't consulted before the lender had appointed directors on its board.
In her letter to shareholders, she questioned the resolution to appoint Ravish Chopra as independent director.
"Last year, he (Chopra) was appointed as Rana Kapoor's nominee. I have challenged his appointment and the court has passed an interim order that his appointment will be 'subject to court order'. . .
. . .
Madhu Kapur writes to YES Bank shareholders

Image:
A bank employee counts bundles of rupee notes at a cash counter in Agartala, Tripura.
Photographs:
Jayanta Dey/Reuters
"This year, Rana Kapoor is attempting to convert the nominee director into an independent director.
"How can Ravish Chopra perform the duties of an independent director?
"Can he judge the performance of Rana Kapoor which, by law, he is obligated to do as an independent director?" Kapur asked.
She requested shareholders to vote against the resolutions seeking appointment of other independent directors and reject taking on record the Reserve Bank of India's approval of M R Srinivasan's appointment as non-executive part-time chairman.
While RBI had, in August 2012, approved the re-appointment of Rana Kapoor as managing director and chief executive for three years, Kapur claimed this wasn't disclosed to shareholders till this annual general meeting.
. . .
Madhu Kapur writes to YES Bank shareholders

Image:
An employee counts rupeee notes at a cash counter inside a bank in New Delhi.
Photographs:
Mukesh Gupta/Reuters
"This speaks volumes, and shareholders must know about it," she said.
"Rana Kapoor could not have applied to be MD and CEO without my recommendation under Article 127, which obviously is not given by me.
Second, the shareholders have not been informed that though the approval sought in August, 2012, was for five years, RBI granted it only for three years.
Kapur also alleged the bank hadn't been transparent to its shareholders on whether it had sought RBI's approval for the appointment of three senior management executives -- Rajat Monga, Sanjay Palve and Pralay Mondal -- as whole-time directors.
So far, YES Bank has maintained its stance of not considering Madhu Kapur as co-promoter.
The lender claims banking isn't a family business and 'financial family successors' do not automatically become part of the promoter group of a bank, owing to regulatory criteria.