Lenders to sell Kingfisher Airlines' brand to recover dues
Last updated on: April 08, 2014 11:42 IST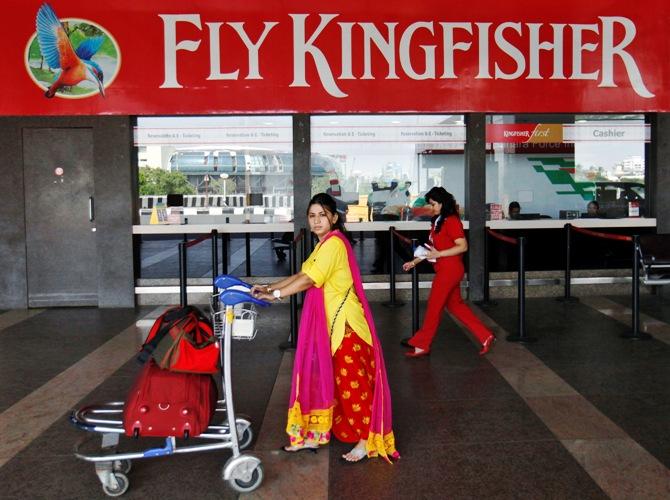 Lenders have initiated the process of selling Kingfisher Airlines (KFA) brand to recover their dues.

The brand name was pledged to 14 lenders, including State Bank of India (SBI), under a debt recast agreement in which loans valuing Rs 6,500 crore were restructured and converted into equity.
SBICAP Trustee Company Limited, a subsidiary of SBI Capital Markets, has invited expressions of interest (EOI) from organisations, which wish to acquire trademarks related to Kingfisher Airlines.
After the airline failed to pay the interest, the banks swung into action by selling pledged shares of UB Group companies — United Spirits and Mangalore Chemical Fertilisers — and netted about Rs 600 crore. However, the banks failed to take the possession of airlines Chairman Vijay Mallya's Goa villa.
In its FY13 annual report, Kingfisher Airlines said at its peak it was the largest airline in India with a five-star rating from Skytrax and brand valuation by Grant Thornton put its brand value at $550 million on resumption of operations.
A Kingfisher Airlines spokesperson refused to comment on the issue.

Click NEXT to read more...
Lenders to sell Kingfisher Airlines' brand to recover dues
Last updated on: April 08, 2014 11:42 IST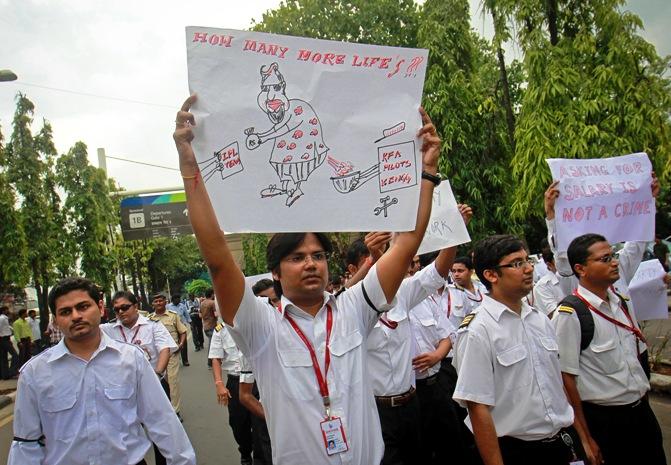 The company suspended operations in October 2012 and its operating permit expired in December that year. Attempts to revive the airline failed to yield any result.
A public sector bank official from Mumbai said, "We are enforcing all available securities in this case (brand). Our aim is to sell pledged assets, which can bring value.''
SBICAP Trustee said EOI was not a bid, but a non-binding invitation expressing interest in acquisition of the various trademarks related to Kingfisher Airlines and EOI would be considered solely for determining estimated market value of the trademarks and determine interest of prospective buyers.
trademarks for which EOI has been issued include Fly Kingfisher, Flying Models, Funliner, Fly the Good Times, Kingfisher and Flying Bird Device, which are registered in the name of Kingfisher Airlines or held by UB Group but transferred to the airline for use.
According to Mahua Roy Chowdhury, partner, Solomon & Roy Advocates, the latest move to sell airline's trademark will not have an impact on Kingfisher beer brand, which would have been separately registered. A trademark can be registered in various classes.
Click NEXT to read more...
Lenders to sell Kingfisher Airlines' brand to recover dues
Last updated on: April 08, 2014 11:42 IST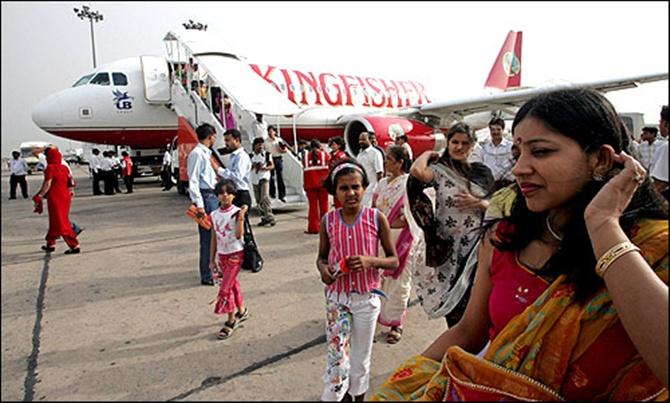 "A value of a trademark is based on use in operational business and not mere registration. Based on the fact that Kingfisher is unable to utilise the same as of now, SBI has no option but to recover while it still has some value (three of the marks are expiring registration in August). In the event, if Kingfisher wants to seek an injunction against SBI, it has to propose how it plans to use the mark in business. One cannot block a mark without use in business,'' she added.
Brand experts said the banks would not be able to realise a good valuation, considering the airline has shut down. Nabankur Gupta, founder and chief executive, Nobby Brand Architects & Strategic Marketing Consultants, said, "If one is looking at it purely for an airline point of view, then there is no value to the trademark given the position in which it is. If one would have to derive value then one would have to unravel its current position. Instead of doing that, it would make perfect sense to build a new brand from scratch.''
Click NEXT to read more...
Lenders to sell Kingfisher Airlines' brand to recover dues
Last updated on: April 08, 2014 11:42 IST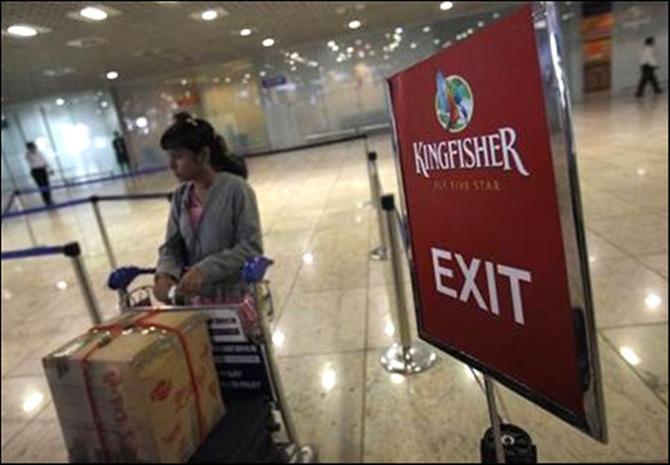 Ramesh Jude Thomas, president and chief knowledge officer, Equitor Consulting, added, "Kingfisher Airlines drew its equity from the highly celebrated beer brand of the same name. But the similarity ends right there. The airline has not made any money from the beginning. Plus, it has been aground since 2012. Why would anybody want to buy it?"
FAMILY SILVER
Trademarks on the block include Fly Kingfisher, Flying Models, Funliner, Fly the Good Times, Kingfisher and Flying Bird Device, registered in the name of Kingfisher Airlines or held by UB Group but transferred to the airline for use
No affect on the Kingfisher beer brand, which would have been separately registered
Banks unlikely to get a good amount from the sale, considering the airline has remained grounded for over a year now
Source: