The success story of Sathya Agencies
Last updated on: October 9, 2012 15:39 IST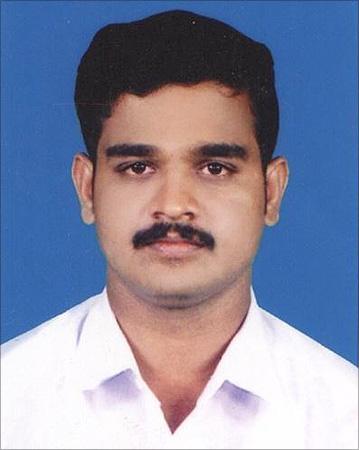 Sathya Agencies started off as a small store in Tuticorin in Tamil Nadu in 1987 selling electronic appliances and household articles.
Three years later, its founder A. John Samuel passed away. His eldest son, Johnson who was just 18 then, took over the business.
Along with his brothers Charles and Sathya, Johnson strived to make Sathya a successful business.

From an annual turnover of Rs 2 crore when he joined in 1990, today it has grown revenues to the tune of Rs 225 crore.
S. Johnson, managing director of Sathya Agencies shares his success story.


The turnover of your business was Rs 2 crore when you joined, where was this coming from?
At that time we had 3 showrooms dealing in fast moving consumer goods (FMCG). We saw a good growth in this sector.
When did you decide you needed to branch out? When did you start?
Competition was very high and we were not getting the right price for our products so I decided to branch out. The first branch I started was in Eral.
Where did you get the finance from?
Eral is a small town. It did not require too much money. We used our own funds. The next two branches also were in small towns, which we could afford. We opened our first branch in Chennai only after we were better off.
How fast was the expansion?
We opened our fifth branch in the same year. The next year we opened in three other towns. In 2006 we entered Chennai for the first time. Now we have ten branches in Chennai alone. We have covered most of Tamil Nadu.

Click NEXT to read more...
The success story of Sathya Agencies
Last updated on: October 9, 2012 15:39 IST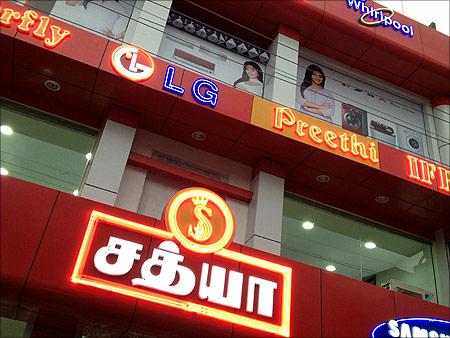 When did you branch out beyond FMCG - cable TV, resort, finance company? 
My younger brother was interested in a TV channel and so I started a cable TV business for him. In 2003, we had 15 liqour shops. The government took over the liquor business and so we had to withdraw.

We had surplus funds so we wisely decided to invest it in a resort, which is an asset.
What does your finance company do? What is its turn over?
It has a paid up capital of Rs 6 crore. The turn over is about Rs 7 crore. We give loans on monthly interest to small businessmen.
Are you planning any more resorts?
No, we do not have plan to open new resorts.
Is it true that you are building a mall? What is its budget?
We have bought the land. Due to the recession, work has not started yet. The budget is around Rs 20 crore only.
Click NEXT to read more...
The success story of Sathya Agencies
Last updated on: October 9, 2012 15:39 IST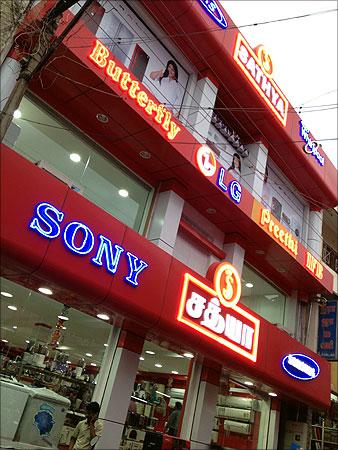 Is it easier to get bank loans now? 
Yes now it's easy. Earlier when we were in the low income tax bracket, banks did not give us money easily. Now that we are in the high tax bracket they compete amongst themselves to lend money to us.
How many people work for you? Your entire business is sales driven, how qualified is your staff? Do you train them?
We have a staff strength of 320 people. We never look for qualified staff. We train them for our needs. We find that this works best.
What is your USP?
Our after sales service is the best. Even if a customer calls ten years after he has bought a product, we makes sure it is repaired to his satisfaction. We do not make any money on after sales service but we create good will.
Does your staff get provident fund PF, mediclaim and other benefits?
Yes, I give them all benefits that are due to them.
Do you offer commission to staff to encourage them to sell more?
Yes, we too give sales incentives to our staff.
Do you involve yourself in politics?
No, I keep away from politics.
Do you find government policy restrictive to business?
The government policy is good for retail business. They do not interfere.
What do you think of FDI in retail?
I welcome it. Foreign funds coming in is good for us. We will get finance at better rates than now. We will get funds at much lower rates than what the banks are charging us now.
Do you have an online presence?
Yes, we have Sathya Bazaar where you can shop for our products online.
Click NEXT to read more...
The success story of Sathya Agencies
Last updated on: October 9, 2012 15:39 IST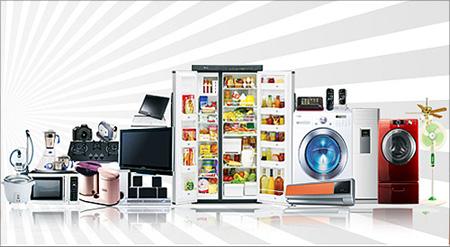 How come you never expanded beyond Tamil Nadu, for you Trivandrum is much closer than Chennai?

That is our next plan of expansion. We will shortly open in Trivandrum, Hyderabad and Bangalore.
What do you think is the biggest hurdle to your business?
Trained man power is our biggest problem. Getting good staff is always difficult.
From Rs 2 crore to Rs 225 crore, how has the journey been?
It has been an interesting journey. It has taken us 20 years to build this business. Every time we solved a problem we reaped the benefits. I found that every hurdle led to a greater benefit once we got over it.
How much does your turn over increase every year?
It increases by 20 to 30% every year.
Tell me about your CSR activities?
We do not do anything that is in the public eye, like medical camps or eye camps. We help schools with books, furniture as per their needs.
What are your future plans?
We are aiming for a turn over of Rs 20,000 crore, let's see what the future holds.