Indian economy is caught in a vicious cycle
Last updated on: June 26, 2013 14:07 IST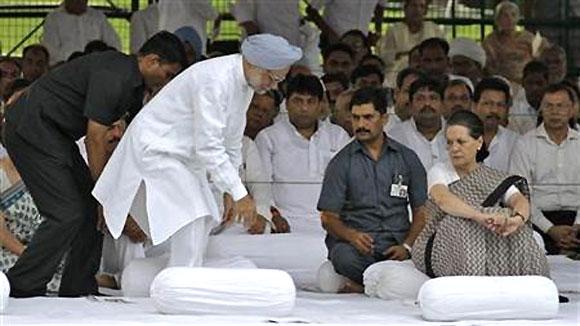 India is in a Chakravyuh, where with every passing day it is getting mired in one crisis after another.

India's Gross Domestic Product (GDP) grew at 4.8 per cent in the fourth quarter of FY13 - a marginal improvement over the Q3 GDP growth rate of 4.7 per cent.
However, the GDP for the entire FY13 grew at a decade low of 5 per cent. The manufacturing sector of the economy grew at 2.6 per cent.

The markets are in a bear hug, the rupee collapsed to a record low of 60 per US dollar -- things can't get any worse for India.
One economic crisis is feeding on another and the government is getting deeper and deeper into this mess.

Yet it is in a state of denial and is refusing to acknowledge that the present situation that the country finds itself in is, to a great extent, the consequences of its policies followed over the past nine years.

Yes, there are some external issues and problems which have also contributed to the slowdown, but the government cannot, at any point deny that its policies have actually mostly failed the country and its people.

As told to Rediff.com by Paranjoy Guha Thakurta, an independent journalist and educator.
Click NEXT to read more...
Indian economy is caught in a vicious cycle
Last updated on: June 26, 2013 14:07 IST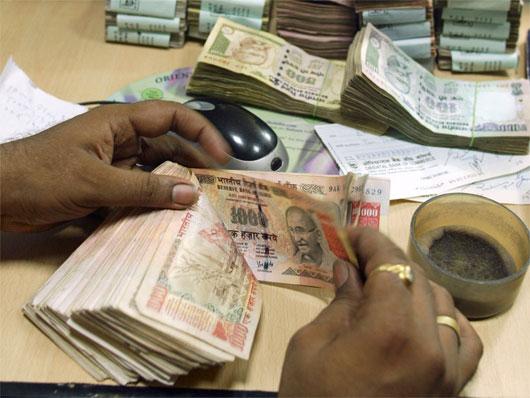 What is Current Account Deficit (CAD)?
Current Account Deficit occurs when a country's total imports of goods and services are greater than the country's total export of goods and services. CAD makes a country a net debtor to the rest of the world.
Difference between the money that a country earns by way of foreign exchange at any given point and the amount the country spends is the balance of payment.

Now as the Reserve Bank of India Governor S Subbarao pointed out that ideally India's CAD should have been around 2 per cent of the country's GDP. But the government's own data shows this proportion, in the quarter ending December 2012, touched a record 6-7 per cent of the country's GDP, which, in absolute number is about $33 billion.
Why do we have such high CAD?

The principal reason is that we have a high trade deficit, which is the difference between the value of imports and the value of exports. If our trade deficit narrows, then automatically the country's CAD will fall.

Click NEXT to read more...
Indian economy is caught in a vicious cycle
Last updated on: June 26, 2013 14:07 IST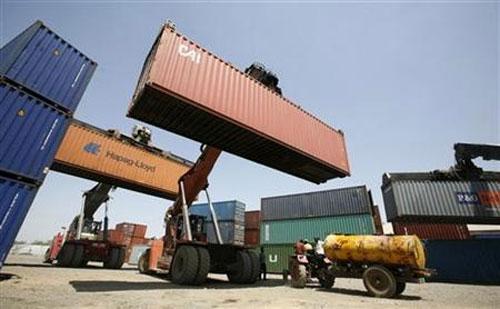 Exports
Now let's go into trade deficit in detail. The biggest problem is that despite the devaluation of the Indian rupee vis-à-vis US dollar, India's exports are not going up.

When your currency is weak, and exports become cheaper and imports costlier, you expect exports to become more competitive. But why is that not happening?

It's largely because of the double-dip recession in Europe, slowdown in the US, and the economic crisis that has been ravaging the world over the past five years.
Textiles, garments, gems and jewellery, polished diamonds, handicrafts, certain food items including processed food are the major export items from India.

If the markets for these products either disappear or shrink as has been happening, then even if your exports have become cheaper and thus competitive you are not actually able to gain.

Click NEXT to read more...
Indian economy is caught in a vicious cycle
Last updated on: June 26, 2013 14:07 IST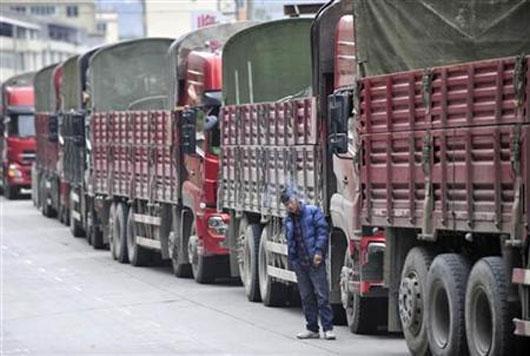 Imports
One-third of India's import bill comprises crude oil. We are today importing about 80 per cent of our total requirement of crude oil.

When your currency devalues, your cost of imports go up, so cost of importing crude also goes up. Indian Oil, Bharat Petroleum, and Hindustan Petroleum are forced to pay more in rupee terms even when global oil prices are stagnant.

It is imprudent on the part of the government to align international energy prices to domestic diesel prices.

The moment you do this, you fuel inflationary fire. Since diesel is an universal intermediate, the cost of transportation goes up and as a ripple effect, those items of mass consumption which are transported via trucks, lorries and even the Railways, quite typically go up.

Click NEXT to read more...
Indian economy is caught in a vicious cycle
Last updated on: June 26, 2013 14:07 IST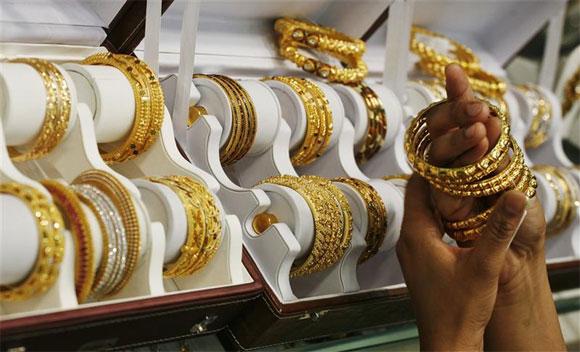 Gold
Now let's come to India's other problem – gold import. Finance Minister P Chidambaram is urging people not to buy gold.

But people are not going to stop buying just because the FM is telling them to. He has increased the custom duty from 6 per cent to 8 per cent besides imposing certain restrictions.
Gold is the second largest item on the import bill.
Now, why are people investing in gold? Because, it is the best hedge against inflation.

The irony is the government has failed to control inflation, its policies are actually fanning inflation, and yet it is urging people not to buy gold.

Click NEXT to read more...
Indian economy is caught in a vicious cycle
Last updated on: June 26, 2013 14:07 IST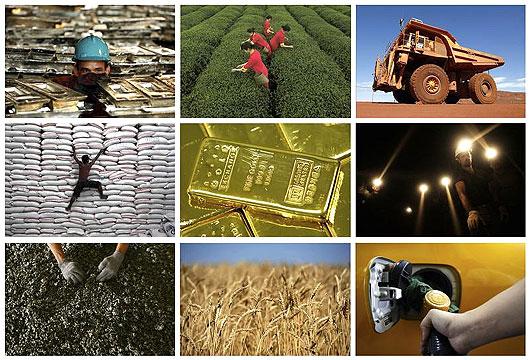 So this is the vicious cycle we have entered into. India's stock markets are driven by the purchase decision of the Foreign Institutional Investors.

It is said that India has barely 10 million domestic investors, which is not even one per cent of the total population. Whether the Sensitive Index (Sensex) goes up or down, whether the Nifty goes up or down, depends on whether FIIs are purchasing or not.

Why is the government so bothered about what these international credit agencies are saying?

These agencies have not really covered themselves with glory during the recession, as they got it all wrong. India is so dependent on FIIs to bridge the ballooning CAD that it is desperately seeking an endorsement of its policies from Fitch, and it frets and fumes when Standard & Poor's or Moody's say something that you don't like.
FIIs are fair weather friends, their money is distinctly hot, and it comes and goes. In this kind of a scenario, the RBI has limited option to ensure that the rupee does not collapse. RBI's firepower is naturally limited given the fact that India's foreign exchange reserves stands around $291 billion, enough to cover imports for just seven months - an unsettling prospect for a country with a record high CAD.
We are thus caught in this chakravyuh of high inflation leading to high demand for gold, which is leading to high current account deficit, high CAD leading to the weakening of the rupee, and weak rupee leads to imported inflation, and we go round, and round.
And the government continues to be in a state of denial. When we read about inflation (wholesale or retail) coming down, you must bear in mind that these are mere figures, and are not reflected in reality. Inflation has devastating consequences. At one level it is really hurting the poor, and also eroding the real income of the middle-class.