India, a hotspot for American cos
Last updated on: November 4, 2010 08:10 IST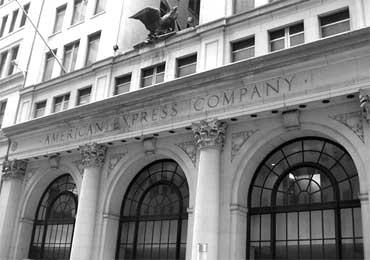 Just as India gears up to celebrate Diwali, the festival of lights, the country is overtaken by another kind of fervour -- 'Obamania'. Yes, we are talking about US President Barack Obama's India visit.
Since the air at the moment is laden with a flavour all too American, we thought of taking a look at the American companies that are doing business in India.
There are a number of such companies which have been trading in our country successfully over the years.
We present here some of the popular companies:
Agilent: Headquartered in Santa Clara, California, in the Silicon Valley region, Agilent designs and manufactures electronic and bio-analytical measurement instruments and equipment for measurement and evaluation.
Agro Tech Foods Ltd is a public limited company engaged in the business of marketing food and food ingredients to consumers and institutional customers. Affiliated to ConAgra Foods Inc. of USA, this is one the world's largest food companies.
American Express: American Express Company is a diversified global financial services company headquartered in New York City. The company is best known for its credit card, charge card, and traveler's cheque businesses.
Amway: It is the largest direct selling company and manufacturer in the world. The company uses network marketing to sell a variety of health, beauty, and home care products. It is headquartered in Ada, Michigan.
Click NEXT to read further. . .
India, a hotspot for American cos
Last updated on: November 4, 2010 08:10 IST
Avaya is a telecommunications company specialising in enterprise network, telephony, and call centre technology. It is headquartered in Basking Ridge, New Jersey.
Caltex is a petroleum brand name of Chevron Corporation used in more than 60 countries in the Asia-Pacific region, West Asia and southern Africa.
Caterpillar Inc, also known as 'CAT', designs, manufactures, markets and sells machinery and engines and sells financial products and insurance to customers via a worldwide dealer network.
CB Richard Ellis Group, Inc. is a multinational real estate corporation based in Los Angeles, USA. The company is widely considered to be the world's largest real estate services firm.
Click NEXT to read further. . .
India, a hotspot for American cos
Last updated on: November 4, 2010 08:10 IST
Cisco Systems, Inc. is a US-based multinational corporation that designs and sells consumer electronics, networking and communications technology and services. It is headquartered in San Jose, California.
Coca Cola Company is a beverage company, manufacturer, distributor, and marketer of non-alcoholic beverage concentrates and syrups.
The company is best known for its flagship product Coca-Cola, invented by pharmacist John Stith Pemberton in 1886.
Cognizant Technology Solutions is an American multinational IT services and consulting corporation headquartered in Teaneck, New Jersey, United States.
Colgate Palmolive Company is an American diversified multinational corporation. Headquartered in New York, the company is focused on the production, distribution and provision of household, healthcare and hygiene products, such as soaps, detergents, toothpaste and toothbrushes.
Click NEXT to read further. . .
India, a hotspot for American cos
Last updated on: November 4, 2010 08:10 IST
Citigroup Inc. has the world's largest financial services network, spanning 140 countries with approximately 16,000 offices worldwide. Citigroup was formed when Citicorp and financial conglomerate Travelers Group merged on April 7, 1998.
CSC is an IT services and consultancy company. CSC India is the second largest location for CSC and one of its most strategic locations. CSC's recent acquisitions have increased its development and delivery centres to seven locations within India, including Noida, Indore, Hyderabad, Chennai, Mumbai, Bangalore and Vadodara.
Cummins Inc. is a corporation that designs, manufactures, distributes and services engines and related technologies, including fuel systems, controls, air handling, filtration, emission control and electrical power generation systems. It is headquartered in Columbus, Indiana, USA.
Discovery Channel is an American satellite and cable TV channel (also delivered via Internet Protocol Television, terrestrial television and internet television in other parts of the world), founded by John Hendricks and distributed by Discovery Communications.
Click NEXT to read further. . .
India, a hotspot for American cos
Last updated on: November 4, 2010 08:10 IST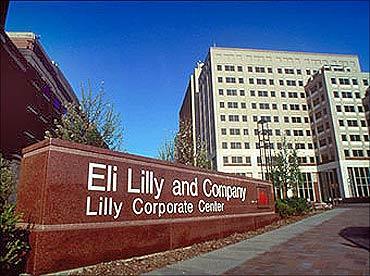 DuPont: E I du Pont de Nemours and Company, commonly referred to as DuPont, is an American chemical company. Headquartered in Wilmington, Delaware, it is currently the world's second largest chemical company in terms of market capitalization.
EDS: Electronic Data Systems is headquartered in Plano, Texas. The company defined the outsourcing business when it was established in 1962 by H Ross Perot. General Motors acquired the company in 1984, spun it off again as an independent company in 1996, and became an EDS client.
Eli Lilly: Eli Lilly and Company is a global pharmaceutical company. Headquartered in Indianapolis, Indiana, the company was founded in 1876 by a pharmaceutical chemist, Eli Lilly, after whom the company was ultimately named.
Lilly was the first company to mass-produce penicillin and today is the world's largest manufacturer and distributor of psychiatric medications.
Emerson Electric: This is a major multinational corporation headquartered in Ferguson, Missouri. This Fortune 500 company provides engineering services for a wide range of industrial, commercial, and consumer markets.
Click NEXT to read further. . .
India, a hotspot for American cos
Last updated on: November 4, 2010 08:10 IST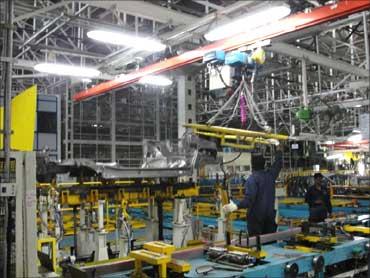 EXL Service is a provider of outsourcing and transformation services. Headquarterd in New York, EXL's services are structured around insurance, banking, financial services, utilities, transportation and travel industries.
Federal Express: It is a logistics services company, based in the United States with headquarters in Memphis, Tennesseeis. FedEx is a syllabic abbreviation of the name of Federal Express, which was used from 1973 until 2000.
Ford: The Ford Motor Company is an American multinational corporation based in Dearborn, Michigan. The automaker was founded by Henry Ford and incorporated on June 16, 1903.
Franklin Templeton Investments is one of the largest financial services groups in the world based at San Mateo, California USA.
Click NEXT to read further. . .
India, a hotspot for American cos
Last updated on: November 4, 2010 08:10 IST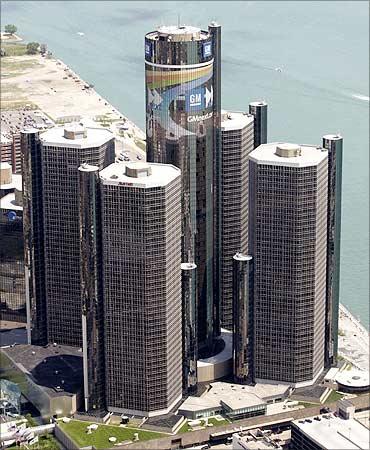 GE: The General Electric Company is an American multinational conglomerate corporation incorporated in the State of New York. The Company operates through five segments: energy infrastructure, technology infrastructure, NBC Universal, Capital Finance and Consumer & Industrial.
The General Motors Company, also known as GM, is a United States-based automaker with its headquarters in Detroit, Michigan. The company manufactures cars and trucks in 34 countries.
Gillette is a brand of Procter & Gamble currently used for safety razors, among other personal care products. Based in Boston, Massachusetts, it is one of several brands originally owned by The Gillette Company.
Honeywell India I is a group company of Honeywell International. The latter  is a Fortune 100  global diversified technology and manufacturing leader. Each of the company's four businesses -- aerospace, automation and control solutions, transportation systems, and specialty materials -- has operations in India.
Click NEXT to read further. . .
India, a hotspot for American cos
Last updated on: November 4, 2010 08:10 IST
BM: Burson-Marsteller is a leading global public relations and communications firm. It provides its clients with counsel and programme development across the spectrum of public relations, public affairs, digital media, advertising, and other communications services. Its clients are global companies, industry associations, professional services firms, governments, and other large organisations.
Intel Corporation is an American global technology company and the world's largest semiconductor chip maker, based on revenue. Headquartered in Santa Clara, California, it is the inventor of the x86 series of microprocessors
Johnson & Johnson is a global Amercian pharmaceutical, medical devices and consumer packaged goods manufacturer founded in 1886. The company is headquarterd in New Brunswick, New Jersey. Its  key person is William C Weldon, chairman and CEO. As of 2009, the company had 118,700 employees.
Kellogg India is part of Kellogg Company. The latter is the world's leading producer of cereal and a leading producer of convenience foods, including cookies, crackers, pastries, cereal bars, fruit-flavored snacks, frozen waffles, and vegetarian food. Its global headquarters are in Battle Creek, Michigan.
Click NEXT to read further. . .
India, a hotspot for American cos
Last updated on: November 4, 2010 08:10 IST
JPMorgan is part of JPMorgan Chase & Co, a global financial services firm with assets of $2.0 trillion. John Pierpont Morgan (April 17, 1837 - March 31, 1913) was an American financier, banker and art collector who dominated corporate finance and industrial consolidation during his time.
Kimberly Clark Corporation is an American corporation that produces mostly paper-based consumer products. Based in Irving, Texas, it has approximately 56,000 employees.
Kodak or Eastman Kodak Companyis a multinational US corporation which produces imaging and photographic materials and equipment. The company is headquartered in Rochester, New York.
McDonalds Corporation  is the world's largest chain of hamburger fast food restaurants, serving more than 58 million customers daily. It is headquartered in Oak Brook, Illinois.
Click NEXT to read further. . .
India, a hotspot for American cos
Last updated on: November 4, 2010 08:10 IST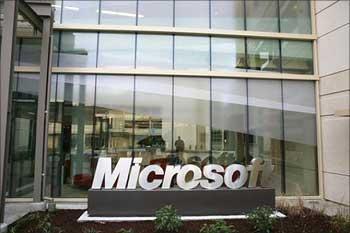 MetLife India Insurance Company Limited is an affiliate of MetLife, Inc. MetLife is one of the fastest growing life insurance companies in the country.
Microsoft Corporation is a public multinational corporation headquartered in Redmond, Washington, USA that develops, manufactures, licenses, and supports a wide range of products and services related to computing. The company was founded by Bill Gates and Paul Allen.
Pfizer Incorporated is a pharmaceutical company, ranking number one in sales in the world. The company is based in New York City, with its research headquarters in Groton, Connecticut.
New York Life Insurance Company is the largest mutual life-insurance company in the United States, and one of the largest life insurers in the world, with about $287 billion in total assets under management, and more than $15 billion in surplus and AVR.
Click NEXT to read further. . .
India, a hotspot for American cos
Last updated on: November 4, 2010 08:10 IST
Morgan Stanley is a global financial services firm. Headquartered in New York City, it serves corporations, governments, financial institutions, and individuals. Morgan Stanley operates in 36 countries with over 600 offices and a workforce of over 60,000.
Ogilvy and Mather is an international advertising, marketing and public relations agency founded in 1948.
Oracle is a relational database management system produced and marketed by Oracle Corporation.
Pepsico is a Fortune 500, American multinational corporation. Headquartered in Purchase, New York, manufactures and markets a variety of carbonated and non-carbonated beverages, salty, sweet and cereal-based snacks.
Besides the Pepsi brands, the company owns Quaker Oats, Gatorade, Frito-Lay, SoBe, Naked, Tropicana, Copella, Mountain Dew, Mirinda and 7 Up (outside the USA).
Click NEXT to read further. . .
India, a hotspot for American cos
Last updated on: November 4, 2010 08:10 IST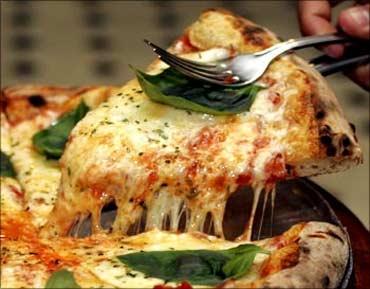 Pizza Hut is an American restaurant chain and international franchise that offers different styles of pizza along with buffalo wings, breadsticks, and garlic bread.
Pizza Hut is a subsidiary of Yum! Brands, Inc.
Sun Microsystems was a company selling computers, computer components, computer software, and information technology services. The company was headquartered in Santa Clara, California. On January 27, 2010, Sun was acquired by Oracle Corporation for $7.4 billionSun Microsystems, Inc. was subsequently renamed Oracle America, Inc.
Xerox Modicorp is a part of Xerox Corporation. The latter is a Fortune 500 global document management company (founded in 1906) that manufactures and sells a range of color and black-and-white printers, multifunction systems, photo copiers, digital production printing presses, and related consulting services and supplies.
Timex Group designs, manufactures and markets innovative timepieces and jewellery globally. Timex, founded in 1854, has expanded to become Timex Group, a privately-held company, with several operating units and over 5,000 employees worldwide.
Click NEXT to read further. . .
India, a hotspot for American cos
Last updated on: November 4, 2010 08:10 IST
Tyco Electronics is a $10.3 billion global provider of engineered electronic components for thousands of consumer and industrial products; network solutions and systems for telecommunications and energy markets; undersea telecommunication systems; and specialty products.
UPS India: United Parcel Service, Inc., commonly referred to as UPS, is a package delivery company. Headquartered in Sandy Springs, Georgia, UPS delivers more than 15 million packages a day to 6.1 million customers in more than 200 countries and territories around the world.
Visteon is an automobile designer. It also produces components, systems and modules for vehicle drivers and passengers. Its corporate offices are in Michigan, USA, Shanghai, China and in Chelmsford, UK.
Whirlpool: The company was founded in 1911 as first commercial manufacturer of motorised washers.
It is a manufacturer and marketeer of major home appliances.
The parent company is headquartered at Benton Harbor, Michigan, USA with a global presence in over 170 countries and manufacturing operation in 13 countries.
It owns 11 major brand names such as Whirlpool, KitchenAid, Roper, Estate, Bauknecht, Laden and Ignis.