How the women's bank can be a success
December 05, 2013 12:06 IST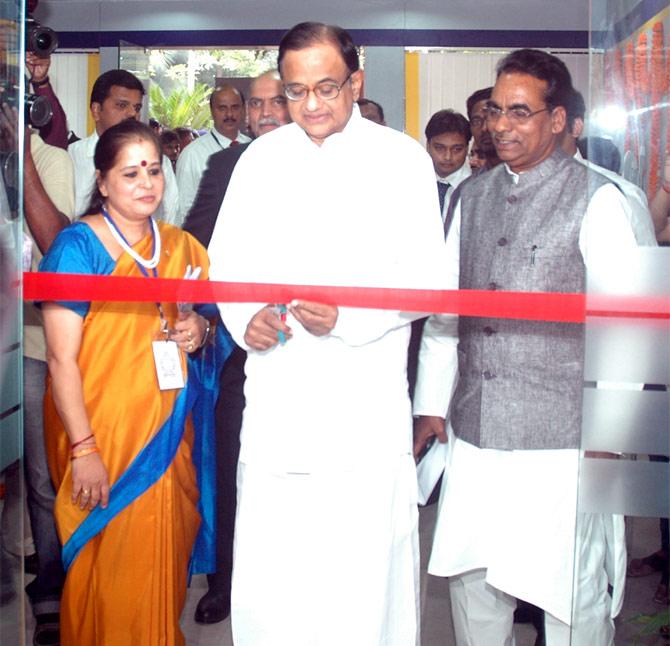 The bank has been garnering interest from women far and wide, but it needs to mobilise savings from customers to be able to take off.

About two weeks after opening, the Bharatiya Mahila Bank is receiving a good demand for loans, a stream that will eventually bring revenues and fees.

While most of the demand has come from women belonging to places without banks and those who are self-employed, several working professionals have also approached for home loans.

This indeed is music to the ears of the bank staff. But it comes with the challenge of mobilising deposits. An executive, who came on board through direct recruitment, says that having heard about the launch of the Mahila Bank, people even from distant places are showing an interest in loans.

While the bank offers higher interest rates on saving accounts to attract customers, it is still a challenge for the bank to grow deposits. The bank offers a special interest of 4.5 per cent on savings deposits of up to Rs 1 lakh and 5 per cent for higher amounts.

All public-sector banks offer a 4 per cent interest on savings deposits. Among the domestic private banks, Yes Bank offers the highest rate of 7 per cent on savings accounts. Kotak Bank offers 6 per cent.

Click NEXT to read more...
How the women's bank can be a success
December 05, 2013 12:06 IST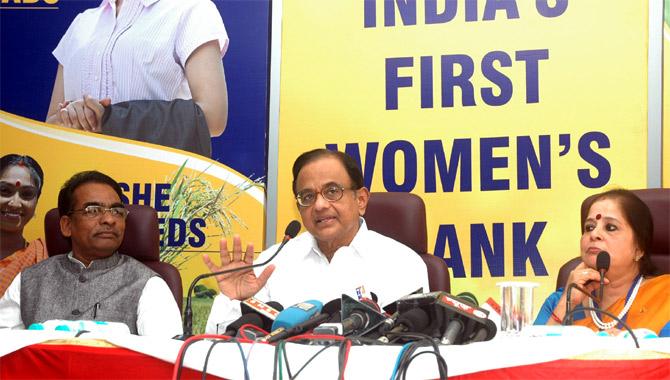 "It is important to establish a banking relationship through the opening of bank accounts before thinking about loans. Convincing people about this is a 'tough call'," says an official.

The higher interest rates could also push up the bank's finance costs. Yet the bank enjoys certain advantages. Being a new-generation bank, it is free of legacy issues, like high cost-to-income ratios that some fellow public sector banks have to grapple with.

According to data from the Reserve Bank of India, the cost-to-income ratio of banks in India is 44.53 per cent (the Basel III norms suggest banks should strive to achieve a ratio of 40 per cent). Moreover, the use of an established software and good hardware support could keep cost per transaction low.

Click NEXT to read more...
How the women's bank can be a success
December 05, 2013 12:06 IST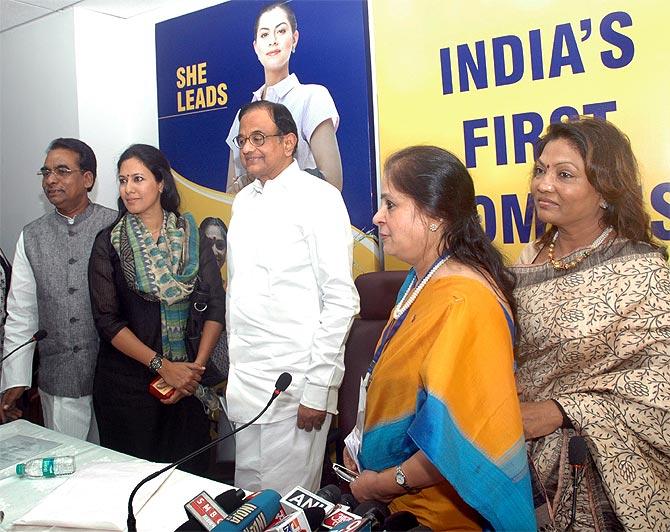 The genesis

The idea of a bank for and by women had been floated at the Congress conclave in Jaipur in January this year. In February, Finance Minister P Chidambaram made a budgetary provision of Rs 1,000 crore (Rs 10 billion) as initial capital.

The bank, which has its headquarters in New Delhi, opened last month with four branches in Mumbai, Chennai, Kolkata and Bangalore.

After the launch, the focus has shifted to creating deposits, improving operating culture and achieving stability for the bank. The bank expects to break even in its third or fourth year of operation.

A partner (financial services) with a large international advisory firm says: "India needs more banks - commercial viability is beyond doubt as there is a large market for banking services." The finance ministry estimates total credit for women to grow to Rs 25 lakh crore by 2030. This assumes a 16.5 per cent compounded annual growth rate in bank credit between 2010 and 2030.

It will be a while before the Mahila Bank evolves a business model. Being a politically-piloted project, the bank draws careful comments, with most bank executives saying they did not want to talk about the details.

Click NEXT to read more...
How the women's bank can be a success
December 05, 2013 12:06 IST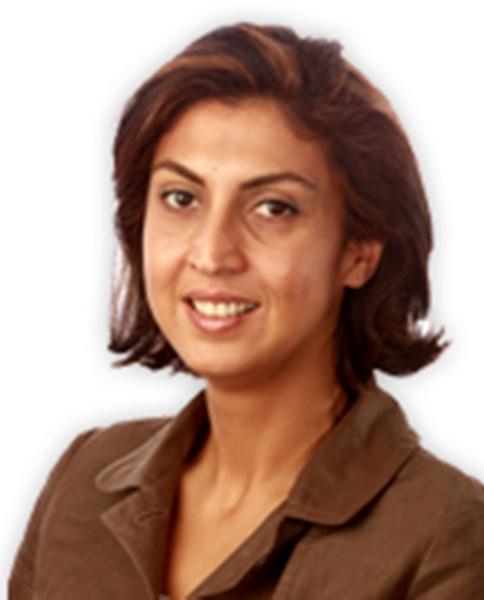 However, the Delhi-headquartered lender envisages a business mix (deposits plus advances) of Rs 60,000 crore, with 771 branches by 2020. The bank has sought regulatory leniency for one year in opening branches in rural areas.

Usha Ananthasubramanian, chairman and managing director of the bank, says besides growing business, building an organisation in a highly competitive environment is important but not easy. For this, she has the support of a 9-member board.

Prominent among them are Chhavi Rajawat, a sarpanch from Rajasthan, Kalpana Saroj, a Mumbai-based entrepreneur who turned around Kamani Ltd, Renuka Ramnath, founder of private equity firm Multiples, Tanya Dubash, a Mumbai-based industrialist and daughter of Adi Godrej and Nupur Mitra, former CMD of Dena Bank.

In the last two decades many new banks have been launched in India. So the key question is how the new bank is going to compare with them in the initial days. For one, many private banks started as a one-branch outfit.

While, with the government of India as promoter, public-sector banks could not settle for anything less than a national presence, the Mahila Bank too started operations on a pan-India basis from day one. Many banks began by focusing on raising low-cost deposits.

The Mahila Bank is doing business on both sides with gusto — accepting deposits as well as giving loans from the start.

Click NEXT to read more...
How the women's bank can be a success
December 05, 2013 12:06 IST
Focus areas

Carrying on business to meet the specific needs of women in different regions will need intricate knowledge of their economic profile. Ananthasubramanian says bank will do business with women across the economic strata — from high net-worth women to low-income groups.

The emphasis will be on funding skill development of women. For working mothers, it is looking at assistance to set up well-managed and hygienic day-care centres as well as starting organised catering services. At present, the bank has a team of 150 members across branches, many of them recruits from other public sector banks.

The Mahila Bank is starting at a time when the chips are down for the economy and competition for business is intense. Its thrust is on providing timely credit and the right kind of product. It is first establishing beachheads in large urban areas.

But in the months to come, it will have to spread its wings into semi-urban and rural areas. Considering the difficulties of moving into villages and the hinterland, it has asked for leeway in meeting RBI's norms for the rural segment for at least this year.

"We are looking at centres where the working women population is significant. For instance, it could be a place that has large women farm labour," says Ananthasubramaian.

The bank starts with the advantage of the latest hardware support. It will work on the Core Banking Platform from the outset. FIS, the US-based IT provider of banking and payments technologies, is providing software support and Wipro will roll out the hardware.

This tech edge and business growth would need capital. The government has given Rs 1,000 crore as seed capital. This may help it go forward for a few years, but it will not quench the capital hunger in the long term. Chidambaram has been categorical in taking this bank public.

To be able to become eligible to raise money from the market, it would need a business track record and critical mass. So the first priority is to achieve stability and become visible. In the long term, it will look at various routes, including a public issue, to raise capital.

ON A STEADY PATH


The bank plans to reach a business mix of Rs 60,000 crore by 2020
Intends to be profitable from fourth year of operations
Will open about 770 branches by end of the decade
Rural expansion may commence next year (2014)
Is on Core Banking System from the outset
Source: