How the UPA killed the Indian economy
February 28, 2014 12:29 IST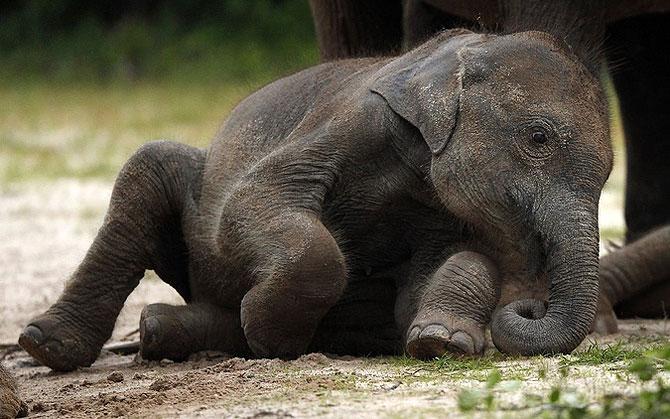 Shreekant Sambrani looks back at the tragedy of errors that has landed the once buoyant Indian economy in its worst mess in recent times.
Continuing our Series on the state of the Indian economy ahead of the general elections.
Earlier in the series: 'US economy needs to improve for India to turn around'
It will take three years for economic growth to pick up
From boom to doom: An uphill task to revive the economy
The shrewd man that he is, Palaniappan Chidambaram not only distinguished between the performance of the United Progressive Alliance I and II, but also between the challenges that Chidambaram II faced as compared to those of Chidambaram I while presenting the Budget-that-isn't on February 18, 2014. Even he could not defend the abysmal mismanagement of the Indian economy under Pranab Mukherjee's stewardship in the first half of UPA II.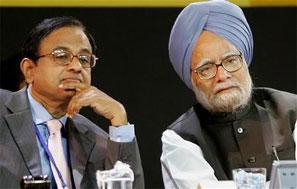 But Chidambaram, left, with Prime Minister Manmohan Singh, stoutly defended the UPA's overall record. Armed with a raft of statistics, he said, 'Average annual GDP growth during the period 1999-2004 (in the National Democratic Alliance rule) was 5.9 per cent, that is below the trend rate (of 6.2 per cent in a 33-year period). In...2004-2009 it was 8.4 per cent and in...2009-2014...it will be 6.6 per cent. UPA I and UPA II have delivered.'
Every schoolboy knows how deceptive averages can be. For example, the average net worth of Mukesh Ambani and his chauffeur would be above $10 billion each. The latter, however, is not likely to rush out to buy his wife a jetliner any time soon.
Let us look at the big picture while comparing 2004 and 2014.
In June 2004, India was surging ahead. The economy was in cruise mode: The growth rate nicely picking up (eight per cent), inflation (four per cent overall, two per cent food), the budget deficit (under four per cent) and the current account (surplus of two per cent) all well under control.
The India buzz abroad was growing and investments -- mostly by foreign institutions -- were steadily growing. Most regions, including Naxal-belts, were relatively quiet. India maintained reasonable harmony with all its neighbours and partner nations. This tranquil state, unimaginable now, existed a scant decade ago. As the slogan, much-maligned since then, claimed, India was indeed Shining.
Please click on Next to read more...
How the UPA killed the Indian economy
February 28, 2014 12:29 IST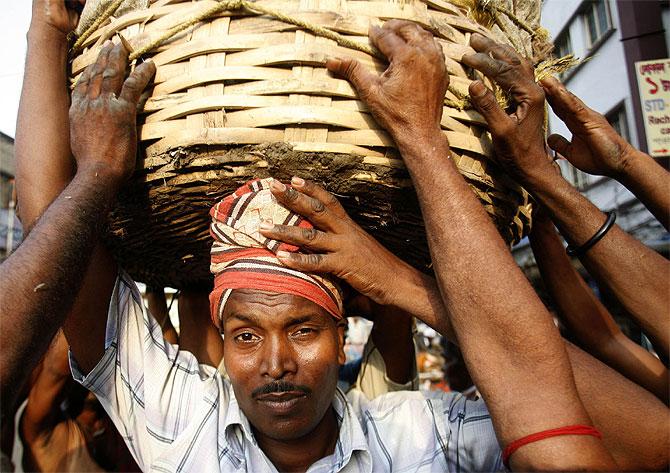 In 2014, India was sputtering to reach a five per cent growth rate for the second year in a row. The finance minister held his red line of budget deficit at 4.6 per cent by ruthlessly cutting out planned development and defence expenditure and leaving the burden of current year's unbent subsidies for the next government, something he had done last year as well.
The current account deficit was 'manageable' at 2.5 per cent only in comparison to the previous year's five per cent. Inflation, especially in food articles, continues to cause sleepless nights to all but a handful of the billion-plus nation.
The international community now counts India among 'the fragile five' (along with South Africa, Turkey, Indonesia and Brazil). It is no longer beating a path to India with investments. Even the prospect of a government led by Narendra Modi does not warm Moody's Analytics to raise India's growth hopes much beyond five per cent any time soon.
So Mr Chidambaram's claims are quite underwhelming. The average Indian has not felt this despair and the feeling of gloom and doom in at least two decades.
Please click on Next to read more...
How the UPA killed the Indian economy
February 28, 2014 12:29 IST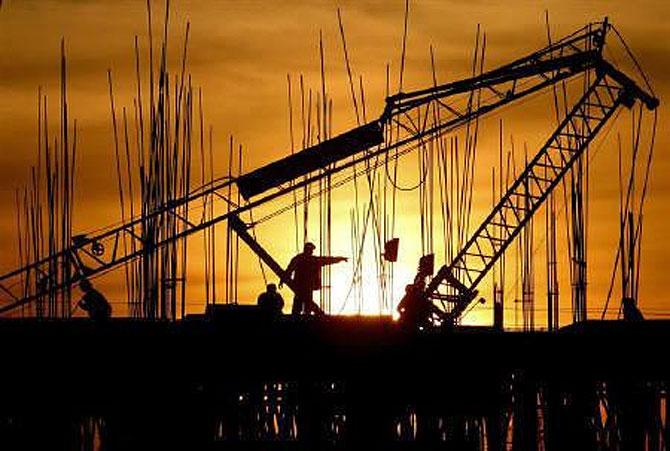 What went wrong? Popular, accepted wisdom has it that while UPA I did quite well even in economic matters, UPA II really lost its way and messed it up. I believe that is not entirely true.
The record of missteps, miscalculations and resulting economic mismanagement covers the entire decade of UPA governments.
The problems began right from the Congress 'victory' by a whisker in 2004 and continued unabated.
Whether by design or serendipity, the National Democratic Alliance government had infrastructure as its strategy cornerstone. General B C Khanduri in surface transport, Mr Nitish Kumar in railways, Dr Arun Shourie in telecommunications and Mr Suresh Prabhu in power achieved breakthroughs between 1999 and 2004.
None of these was a technical expert in his fields but they were simply people dedicated to their jobs. They led to increases in commerce with very significant spread and multiplier effects, resulting in accelerated growth.
The Congress believed the BJP's India Shining line was wrong and caused the upset loss. Ever since, it has striven hard to corroborate this article of its faith. Mrs Sonia Gandhi's National Advisory Council believed that since India was not Shining, the first order of business was to vastly increase the system of entitlements regardless of consequences. The government did not even demur.
Infrastructure was an inconvenient word best put aside. Railways became fiefdoms of populist allies who bled the ageing giant white even while burdening it beyond limits, proffering ever greater subsidies. Telecommunications and coal mining became mired into unimaginable cesspools of corruption.
Yet the government took the earlier growth for granted. Tax buoyancy convinced it that it had found the pot of gold at the end of the rainbow, enough to pay for ever-expanding populist schemes.
The pilot Mahatma Gandhi National Rural Employment Guarantee Scheme of 2006 was ambitiously enlarged by 2008. Food and fertiliser subsidies continued to grow apace. Oil companies groaned under the rising burden of under-recoveries of the fuel they sold, but Big Government dipped into its non-existent deep pockets to assuage them, without fearing the day of reckoning.
India had already reached the slippery slope in UPA I under the same wise leadership that has continued to guide it until now.
Please click on Next to read more...
How the UPA killed the Indian economy
February 28, 2014 12:29 IST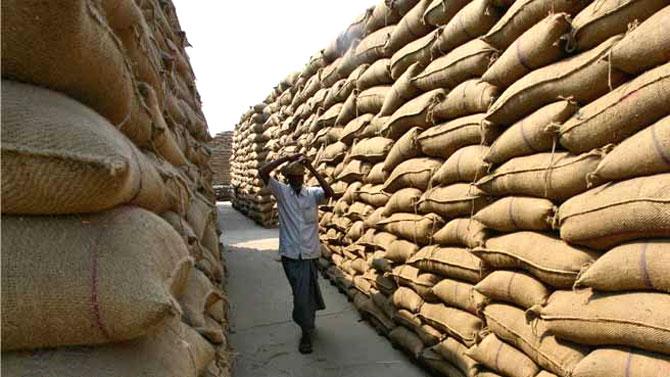 The first wake-up call to the UPA keen to shower entitlements on an India it believed was not Shining came in early 2007. Foodgrain prices started shooting up. A global supply contraction affected India as well, but our economic wizards chose to treat it through their monetary policy tool kit designed to control demand. Alarm met with a snooze response.
The government responded to the deep-rooted structural problems of agriculture by offering a palliative of a one-time debt-waiver of Rs 60,000 crore to 40 million farm families. It also committed simultaneously to spending Rs 20,000 crore annually on 5.5 million families of government employees and retirees.
States had to follow suit, staring at bankruptcy, but overdrafts from the central government could come to their rescue! While one hand of the government tightened money to control inflation, the other opened the floodgates.
Two fortuitous (but unintended) results ensued. One, the bumper crop of 2008 temporarily paused food inflation. Food prices continued their upward march the very next year, not checked till date.
Between 2007 and 2011, food inflation was 80 per cent, and fruit and vegetables doubled in prices. That trend continues to exacerbate, as is evident from onion prices literally causing tears all through 2013.
A worse disaster followed the Mumbai terror attacks. Mr Chidambaram moved to the home ministry and Mr Pranab Mukherjee strode into North Block. His four Budgets from 2009 to 2012 paid mere lip service to sound macro-economic concerns, but were text-book examples of flouting them in practice.
Year after year actual results missed Budget targets. The growth target of Mr Mukherjee's final Budget, hopelessly high to begin with, went the way his other forecasts did.
Inflation persisted, despite the Reserve Bank of India tightening money supply quarter after quarter. Equally regularly, Montek Singh Ahluwalia, deputy chairman of India's Planning Commission, assured us that inflation would be in the 'comfort zone' the next quarter, a forecast that was rolled over quarter after quarter without any discomfiture.
Please click on Next to read more...
How the UPA killed the Indian economy
February 28, 2014 12:29 IST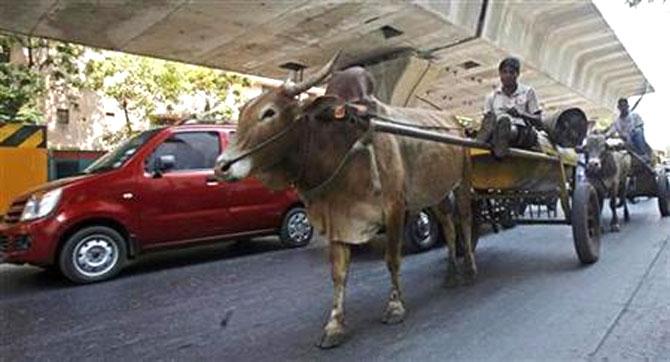 By 2012, slowdown in all economic activity was evident. Business leaders entreated the government to end the policy paralysis, but the top Congress leadership maintained a posture that would have done the Sphinx proud.
When Mr Mukherjee was kicked upstairs, the prime minister moved Mr Chidambaram just over a year ago back into his old seat, amidst huge expectations. He declared fiscal consolidation to be his first priority.
In September last, a series of 'reforms' were unveiled -- higher foreign direct investment in retail, partial decontrol of fuel prices, a cabinet committee for coordinating project clearances and monitoring, among other things.
Many noises and announcements later, the current situation is that the growth rate has sunk to below five per cent, the lowest in 10 years. Food inflation continues to devour consumer confidence. Investments and industrial production are moribund.
Budget and current account deficits may not be controllable, Mr Chidambaram's confident assurances and legerdemain notwithstanding. It would seem that the UPA and its finance wizards have suffered the fate of Humpty Dumpty.
Warren Buffet has given up on the Indian insurance sector. Jim Rogers gleefully admits to shorting the rupee. Paul Krugman, puzzled by the Indian situation, wonders aloud what he is missing.
Morass does not even begin to describe the situation.