Markets consolidate as May 16 nears
Last updated on: May 14, 2014 16:26 IST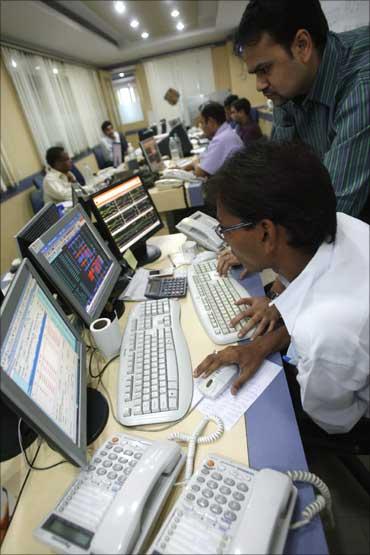 Benchmark share indices consolidated on Wednesday as investors remained wary of mounting aggressive bets and booked profits ahead of the general elections results due on Friday.
Investor sentiment was also subdued after consumer price inflation (CPI) numbers for April, released on Monday, showed that retail inflation rose from 8.3 per cent in March 2014 to 8.6 per cent in April 2014.
An increase in inflation will only delay the Reserve Bank of India's potential easing of policy rates, say analyst.
The 30-share Sensex closed 56 points at 23,815 and the 50-share Nifty closed flat at 7,109.
Nifty ended almost unchanged from its yesterday's closing levels.
"Ahead of election outcome, market would look for opportunity to rise. Exit poll results indicated BJP candidate coming to power.
"For last so many years, the country has been devoid of a strong government and now investors are exuberant that a strong government will come in with a good majority.
There is a large participation from FIIs," said Deven Choksey, MD & CEO, KR Choksey Securities.
Exit poll results announced on May 12 pointed to the formation of a stable government at the centre led by National Democratic Alliance (NDA) with Narendra Modi at the helm.
Any disappointment will see the markets react sharply on the downside on May 16 and over the next few months as well, analysts say.
"If exit poll projections are proven right i.e. if NDA gets a decisive majority then benchmark Nifty will head to 7500-8000 levels.
"If exit polls are wrong and the final seat tally for NDA is somewhere around 230, then Nifty might tumble to 6,300-6,500 levels.
"My own guess is that NDA is likely to get 240-250 seats." said Rahul Arora, CEO- Institutional Equities, Nirmal Bang.
"To sum it up, anything above 250 seats for NDA in the final tally will spark a major rally; while 230-250 seats for NDA could move market 5% in either direction.
"A seat tally for NDA below the 230 mark will spark off a correction. This scenario is for May 16," he added.
The money and forex markets are closed today on account of Buddha Jayanti.
Asian markets closed on a firm note with the exception of Japanese market which witnessed profit taking after recent gains. Shanghai Composite in China closed 0.1% lower while Hong Kong's Hang Seng index and Straits Times were up over 1% each.
Japan's Nikkei average fell on Wednesday, slipping from a 1-1/2-week high on profit-taking after big gains the previous day, while JGC Corp tumbled after forecasting dismal profit.
The benchmark Nikkei ended 0.1% lower at 14,405.76.
BSE Realty, metal and consumer durable indices were the top gainer among the sectoral indices up between 2-4%. Capital goods, IT and Oil and Gas indices were only losers among sectors.
Index heavyweight -Reliance Industries witnessed profit taking after the stock hit a 52-week high of Rs 1,067 on the BSE. The stock closed nearly 1.5% lower at Rs 1,046 levels.
Tata Steel has surged almost 6% to Rs 365.65 after touching a high of Rs 451- its highest level since July 2012 on the BSE, ahead of its January-March (Q4FY14) quarter earnings due for release later today.
"We expect Tata Steel's net profit to improve by 24.2% yoy due to an improvement in profitability from its European operations, " an analyst at Angel Broking said in a note.
Capital goods shares which had seen sharp gains recently also witnessed profit taking. L&T and BHEL were over 1% each.
Drugs manufacturer Dr Reddy's Laboratories closed 3.5% lower after reporting a lower than 15.6% year on year (yoy) drop in consolidated net profit at Rs 482 crore for the quarter ended March 31, 2014 (Q4FY14), mainly due to higher operating expenses. The pharmaceutical company had profit of Rs 571 crore in the same quarter last year.
Vehicle manufacturer Mahindra & Mahindra was down almost 3% on the back of multiple block deals on the NSE and BSE. Around 7 million shares representing 1.1% of total equity capital of the company have changed hands on the NSE at a price between Rs 1,075 and Rs 1,082.
On the BSE, around 189,000 shares changed hands at Rs 1,093 per share, the stock exchange data shows.
Other Sensex losers include, HDFC, HDFC Bank, Infosys and Bajaj Auto among others.
Among Sensex gainers, index heavyweight ITC was up nearly over 1% at Rs 366.
Shares of infrastructure and real estate companies remained in demand with many of them hitting their 52-week high levels on back of heavy volumes amid expectations that a new government at the centre would give the much-needed thrust to economy recovery.
Adani Enterprises, Reliance Industrial Infrastructure, Srei Infrastructure, Indiabulls Real Estate, BEML, IVRCL, Hindustan Construction Company, Prestige Estates, HDIL and Unitech rallied on the Bombay Stock Exchange today.
Broader markets outperformed the benchmarks with both BSE mid-cap and small-cap indices ending 1% higher as compared to benchmark Sensex's marginal dip.
Market breadth was strong with 1692 gainers and 1218 losers on the BSE.
Source: