Sensex plunges to two-week low on global cues
Last updated on: March 20, 2014 16:20 IST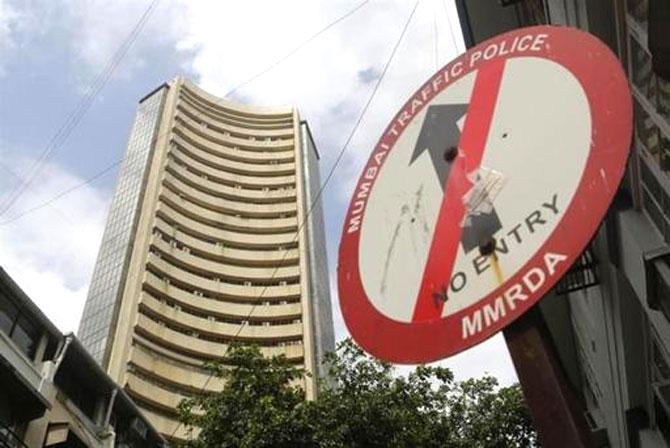 Benchmark stock indices plunged to their lowest levels in almost two weeks tracking weak global cues. US Federal Reserve Chairper Janet Yellen hinted at raising interest rates sooner than expected, in her first press conference after assuming the top job at US central bank.
Also, Fed's bond-buying program was expectedly snipped of another $10bn this month, adding to the gloom.

Stocks world over as measured by the MSCI world equity index dropped 0.6%, after Yellen said the US Fed might end its bond-buying program as early as autumn, and could start to raise interest rates from historic lows, around six months later.

The 30-share Sensex closed 80 points lower at 21,753 levels while the 50-unit NSE Nifty index was down 38 points at 6486 levels. Benchmarks plunged to their lowest levels since March 06, 2014.

"(Considering only futures prices) – the Nifty could stabilise between 6500-6525 or higher.
If that level breaks, it could fall till 6450 or lower.
Assume that there will be resistance/ support at roughly 50-pt intervals. As of now, the market looks a little bearish," said technical analyst and market expert Devangshu Dutta.

Among stocks that pulled benchmark stock indices lower significantly were banking and financials.
Mortgage lender HDFC and banking stocks such as HDFC Bank, ICICI Bank, SBI and Axis Bank collectively pulled the benchmark Sensex 82 points lower.

Other notable losers were L&T and ITC which were down 1-2%. Top Sensex gainers which helped to cap the losses were software behemoths TCS and Infosys which rebounded 1-3% after slipping in past sessions owing to their respective management commentaries which hinted at subdued fourth quarter.

The S&P BSE IT index, the largest gainer among sectoral indices, is up 1.99% or 173 points as compared to 0.33% or 72 points fall in S&P BSE Sensex.

Among BSE sectoral indices which track stocks of various industrial sectors, nearly all sectors ended in red barring IT and Healthcare which ended 0.1-1% higher.

BSE Realty lost 2.2% and emerged the biggest losers among sectors, followed by capital goods, power, bankex, metal and auto indices which scrapped 1-2% on Thursday.

Among broader markets, BSE mid-cap was down 0.3% while the small-cap index was up marginally.

Market breath was weak with 1271 stocks advancing against a decline seen in 1531 stocks.

Market participants world over didn't take kindly to US Federal Reserve Chair Janet Yellen's comments to increase interest rates earlier than expected.

Globally, stocks in Japan slumped to a six-week low on Thursday after Federal Reserve Chair Janet Yellen hinted at raising interest rates starting earlier previosly expected, sparking a sell-off in equities.

The Nikkei share average shed 1.7% to close at 14,224.23, its lowest closing level since February 6. For the week, the index dropped 0.7%. Markets in Japan will shut on Friday for a public holiday.

On Wednesday, Yellen said the Fed might end its bond-buying program this fall, and could start to raise interest rates around six months later, earlier than most analysts had anticipated.

The dollar rose 0.9% to 102.40 yen, after Fed's comments. Exporter-oriented stocks remained mixed.
Vehicle-maker Honda Motor Co gained 0.5%, Toyota Motor Corp shed 0.3% while Canon Inc was down 0.3%.

Movers and Shakers

Among stocks that made headlines today, Mukand Limited got locked in the upper circuit of 20% at Rs 24.95 on the BSE after the company said its promoters have hiked their stake in the company to 73.30% from 54.30%. The promoters have increased the stake via rights issue.
Source: