Markets end low as investors book profits
Last updated on: March 11, 2014 16:21 IST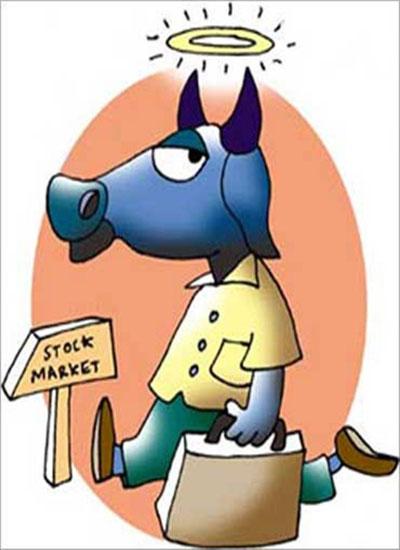 Key benchmark indices ended 0.4% lower as investors booked profits after the recent rally which pushed stock valuations to record highs.
Markets dipped as investors booked profits after sharp gains recently which pushed the Sensex above the 22,000 mark in intra-day trades on Monday. Metal and Capital goods shares were among the top losers.

Reliance Industries, HDFC Bank, Tata Steel, Sun Pharma and ITC were the top Sensex dragging the benchmark 93 points lower.

The 30-share Sensex shed 108 points or 0.4% to close at 21,826 levels after hitting an intra-day low of 21772 and the 50-share Nifty recovered from its day's low of 6,494 to close at 6,512 levels, down 25 points or 0.4%.

Meanwhile, trade deficit for February narrowed to $8.13 billion compared to $9.92 billion recorded in January. It was $14.12 bn in the same period last year. Exports stood at $25.68 bn compared to $26.35 bn in January. They were down 3.7% on a y-o-y basis.

Trade deficit narrowed in February on a sharp fall in imports, which would further ease pressure on the current account balance.

Imports were at $33.81 bn compared to $36.49 bn month-on-month. They were down 17% on a y-o-y basis. Oil imports for Feb were at $13.7 bn vs $14.13 y-o-y.

Rupee

The rupee is trading at 60.91 versus its close of 60.85/86 on Monday after hitting a seven-month high of 60.5925 earlier in the session, tracking gains in most other Asian currencies. Traders say foreign fund flows into debt and equities continue to boost sentiment for the local currency.

Around the globe

World stocks stabilised on Tuesday as traders remained cautious of the developments in Ukraine and Russia and on the trade pace of growth in China.

Ukraine's current president announced the formation of a volunteer national guard as diplomatic solution to the problem seemed distant with Russia continuing to assert its right over Crimean region in Ukraine .

The yen got support as Bank of Japan chief Haruhiko Kuroda said there was no need to adjust Japanese monetary policy for now. Bank of Japan kept its easy money policy intact in a bid to boost growth.

Asian markets remained range bound with positive bias but concerns over China's economy following the fall in exports during February weighed on investor sentiment. Shanghai COmposite and Hang Seng were trading with marginal gains. Japan's benchmark Nikkei ended up 0.7% while Straits Times was trading 0.4% higher.

Sectors and stocks

BSE Metal index was the top loser among the sectoral indices down 2.9% followed by oil and gas, capital goods and realty indices. In the metal Tata Steel;

Shares of metal companies are under pressure second day in a row after LMEX, a gauge of six metals traded on the London Metal Exchange (LME), hit seven-month low on Monday, February 10, 2014.

LMEX lost nearly 4% in past two trading sessions to 2,995 from Rs 3,118 on March 6. The index close at its lowest level since August 2013 on LME as China's exports unexpectedly tumbled in February, raising fears of a slowdown in the world's second-largest economy.

Hindalco Industries, Tata Steel, Steel Authority of India (SAIL), Sesa Sterlite, Jindal Steel and Power, NMDC, Hindustan Zinc and JSW Steel are down 2-4% on the Bombay Stock Exchange (BSE).

Shares of Sun Pharma extended losses and were down nearly 3%. According to FDA statement, Sun Pharma began recalling the bottles of metformin HCL extended-release tables on January 28, 2014, after it received a customer complaint that one of the bottles contained tablets of epilepsy drug Gabapentin.

L&T and Reliance Indsutries which had gained in the past few sessions witnessed profit taking at higher levels and were down over 1% each.

Profit taking was also seen in auto shares after growth in February sales. M&M, Maruti, Bajaj Auto and Hero MotoCorp were down 0.1-2.4% each.
Source: