Markets vault to record highs on F&O expiry
Last updated on: April 23, 2014 16:32 IST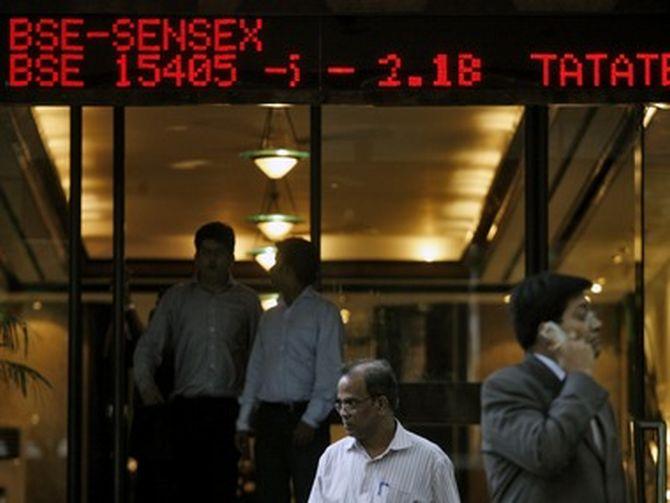 The markets scaled fresh all-time highs on the last day of April derivatives series due to strength in capital goods and banking stocks.
The Sensex ended at 22,877, higher by 118 points and the Nifty ended at 6840, up 25 points.
The broader markets performed in unison; the midcap index ended at 7395, up eight points and the smallcap index ended at 7646, up 17 points.
Among the sectoral indices, the S&P BSE Capital Goods Index was up 1.4% and the Bankex gained 1.1%.
The Indian markets had another splendid session in run-up to the fast-approaching D-Day i.e. May 16.
The remarkably steady proceedings of the day, with the Sensex confining itself to a range of around 100 points, negated fears that volatility would rear its head on account of derivatives expiry.
In the process, the markets also turned a blind eye to the negative vibes emanating from their global counterparts on a day when Asian markets such as Straits Times, Hang Seng, Taiwan and Shanghai had a nervous outing and the European bourses were stuttering in early trades.
On the economic front, the rupee has weakened past 61/dollar to 1-month low, trading at 61.06/07 versus its previous close of 60.76/77 as the dollar demand from oil companies and weakness in other regional currencies helped the greenback.
The capital goods continued their uptrend of the previous session. L&T strengthened by 2.4% at Rs 1377 and BHEL moved higher by 1.4% at Rs 189.
The banking names also saw buying interest, with Axis Bank, HDFC Bank, ICICI Bank and SBI adding around a per cent each. YES Bank ended at Rs 442, higher by Rs 7 or 1.6%, after reporting an 18.7% jump in Q4 net.
The bank reported a Q4 net profit of Rs 430 crore compared to Rs 362.2 crore in the same period last year, a growth of 18.7%.
The stocks of railway stocks raced ahead for the third day in a row as investors increased exposure in anticipation of a stable government at the centre post the elections in May.
Titagarh Wagons, Kalindee Rail Nirman, Kernex Microsystems, Hind Rectifiers and Texmaco Rail and Engineering added between 5% and 10% each.
So far this week, Titagarh Wagons is up close to 48%. Kalindee Rail Nirman is up more than 27%.
Kernex Microsystems has moved up 23%, Hind Rectifiers is up about 15% and Texmaco Rail and Engineering is up over 10%. BEML has seen the lowest gain at around 3%.
VST Industries zoomed 5.6% at Rs 1,882 on reporting 49% year-on-year (yoy) growth in net profit at Rs 51.89 crore for the quarter ended March 2014 (Q4).
The cigarettes and tobacco products company had a profit of Rs 34.74 crore in the same quarter a year ago.
Mangalore Chemicals and Fertilisers (MCF) rallied 6.6% to Rs 66 after Deepak Fertilisers and Petrochemicals Corporation makes an open offer to acquire 26% stake in the company at price of Rs 61.75 per share.
Rallis India surged 7.7% to Rs 179 after the agrochemicals company reported a 71% year-on-year (yoy) jump in net profit at Rs 19.3 crore for the quarter ended March 2014. The Tata group firm had posted a net profit of Rs 11.26 crore in the same period last year.
The laggards on the BSE were NTPC (slipped 1.4% at Rs 122) and Tata Motors (shed 0.8% at Rs 425). Select IT stocks such as TCS and Wipro also ended in the red.
The market breadth was positive.
Out of 2971 stocks traded on the BSE, there were 1469 advancing stocks as against 1358 declines.
Source: