Faltering Air India looks set for take-off
October 03, 2013 16:07 IST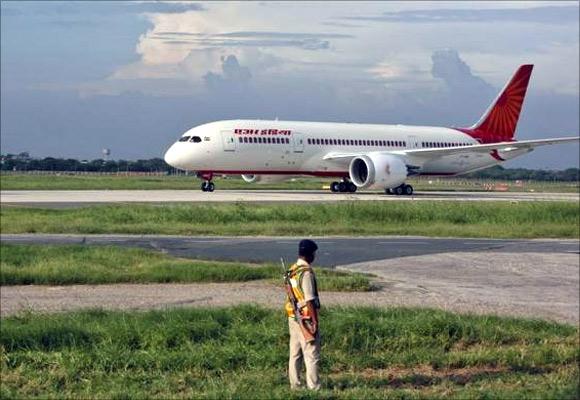 After several failed attempts, the state-owned carrier finally seems to be on track to become profitable as turnaround plan gains traction.

Air India's various attempts to turn its operations around may have failed earlier, yet, judging by the series of initiatives undertaken by the airline and the results thus far, industry observers are saying that perhaps this time it may just manage to pull it off.

It has been 18 months since the government granted the state-owned carrier a performance-linked bailout package of over Rs 30,000 crore (Rs 300 billion), and the first results have started to trickle in.

Indications are that a turnaround could happen in a few short years, provided there are no major disruptions during the period. Despite initial hiccups over execution of some of the key measures outlined in the turnaround plan, Air India has managed to prune its massive workforce by around half since the beginning of this financial year.

The airline has put into service fuel-efficient Dreamliners on long-haul routes for operational viability and has set the ball rolling on its ambitious asset-monetisation programme to reduce debt liabilities.

Click NEXT to read more…
Faltering Air India looks set for take-off
October 03, 2013 16:07 IST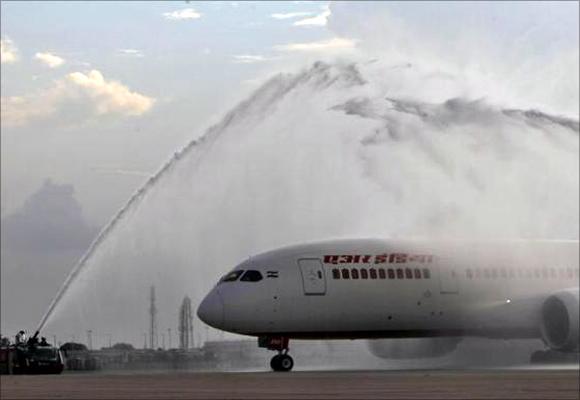 The first element in Air India's three-pronged strategy to achieve operational stability has been the restructuring of the company into two subsidiaries.

While around 6,600 employees have been transferred to the engineering services subsidiary called Air India Engineering Services, over 5,300 employees have been shifted to ground-handling services venture Air India Air Transport Services.

The two companies have been functional since February. As a result of this restructuring, the current manpower of Air India stands at around 13,000, down from around 25,000 in March 2013.

The engineering subsidiary is projected to make nominal losses in the first two years but swing into profit from the third year, while the ground-handling subsidiary is expected to be profitable from the first year itself.
Click NEXT to read more…
Faltering Air India looks set for take-off
October 03, 2013 16:07 IST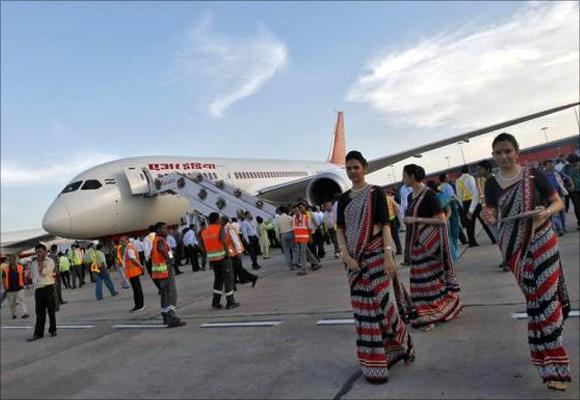 Despite the ministry of finance turning down Air India's demand to provide Rs 1,200 crore (Rs 12 billion) to fund a voluntary retirement scheme (VRS), the airline's employee strength is set to come down by another 4,600 over the next three years. "Our natural attrition is quite high.

Even without the VRS, over the next three years, around 1,500 employees will retire every fiscal. As a result, our wage bill would come down by about Rs 300 crore (Rs 3 billion) every year," says a senior Air India functionary. The airline is projected to have an employee base of around 9,500 by 2015-16.

In the current financial year itself, staff costs are estimated to come down to Rs 3,100 crore (Rs 31 billion) from Rs 3,300 crore (Rs 33 billion) in the previous financial year.

"The reduction in staff costs is not proportionate with the reduction in the employee base because we have given pro-forma promotions to over 800 employees and an added 1,400 promotions in the engineering department. But with the reduction in employee base over the next three years, our employee expenses will come down substantially," the functionary adds.
Click NEXT to read more…
Faltering Air India looks set for take-off
October 03, 2013 16:07 IST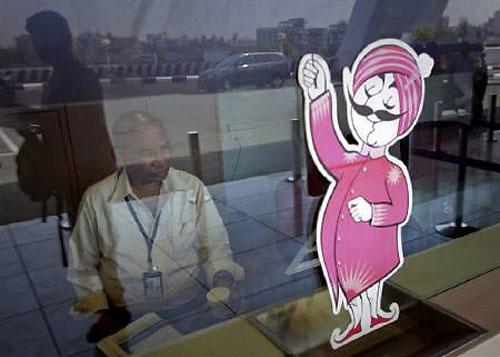 Improving efficiency

Another Air India officer says that with the reduction in manpower strength to 9,500 by 2015-16, Air India's "aircraft/employee ratio would improve to 1:179 in 2015-16 from a peak of 1:301 in 2011-12."

The projected ratio for 2015-16 includes the employee strengths of the two newly-formed subsidiaries.

If these two subsidiary companies are not included, the aircraft/employee ratio for the airline would improve further to 1:82 - among the best globally, according to Air India executives.

Industry sources inform the aircraft to employee ratio of leading private airlines in India such as IndiGo stands at around 1:112.
Click NEXT to read more…
Faltering Air India looks set for take-off
October 03, 2013 16:07 IST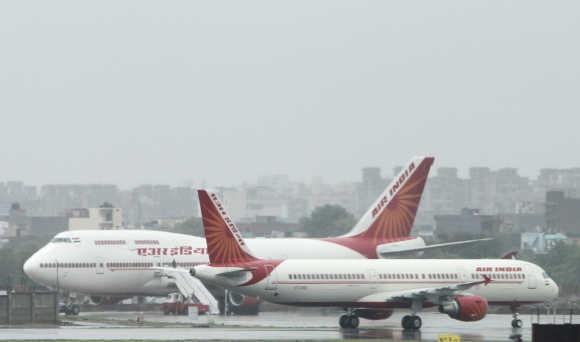 The second prong of the turnaround plan of the loss-making government carrier banks on the Dreamliners which are said to be 20 per cent more fuel-efficient, and on a better alignment of routes with aircraft capacity - bigger aircraft for busy routes and smaller one for less busy ones.

The results of the realignment have already started to show.

A third airline official says, "We were not meeting cash costs in 69 per cent of our network a year back. This has now reduced to 25 per cent. While there would be flights in which we would not be able to generate operational profits, we are looking at meeting cash costs on 85 per cent of our network by the end of this financial year."

The official explains that the losses were due to a mismatch between the aircraft deployed and demand on the route that had resulted in making the operations unviable.

A case in point is the Delhi-Japan route, which is being serviced by a Boeing 777 and requires Air India to have 95 per cent passenger load factor (PLF), or occupancy, to make it profitable. However, the occupancy on the route is currently as low as 40 per cent.
Click NEXT to read more…
Faltering Air India looks set for take-off
October 03, 2013 16:07 IST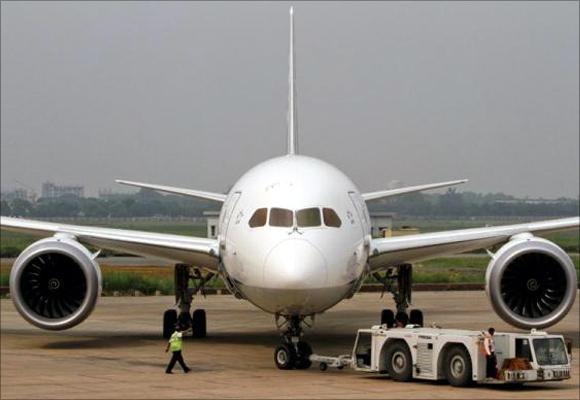 "Now with the Boeing 787 (the Dreamliner) coming into operations, all these problems will vanish. The aircraft is crucial to the turnaround plan of Air India, as the planes are 20 per cent more fuel-efficient than comparable middle-haul aircraft," adds the official. In other words, a Dreamliner can be profitable even with a low PLF. With the help of these initiatives, the national carrier is expected to pare cash losses by Rs 1,102 crore (Rs 11.02 billion).

Air India, which operates 480 flights daily on international and domestic routes, has already switched to the Dreamliner on a few international routes.

However, the biggest relief for the airline has come from the restructuring of its debt. Banks have restructured the airline's short-term loans of Rs 18,000 crore (Rs 180 billion).

Of this, while Rs 10,600 crore (Rs 106 billion) was converted into long-term debt with a repayment period of 15 years, for the remaining amount, the banks were issued non-convertible debentures (NCDs).

The NCD issue was designed to reduce the airline's exposure to banks and to reduce its interest rate burden on loans.
Click NEXT to read more…
Faltering Air India looks set for take-off
October 03, 2013 16:07 IST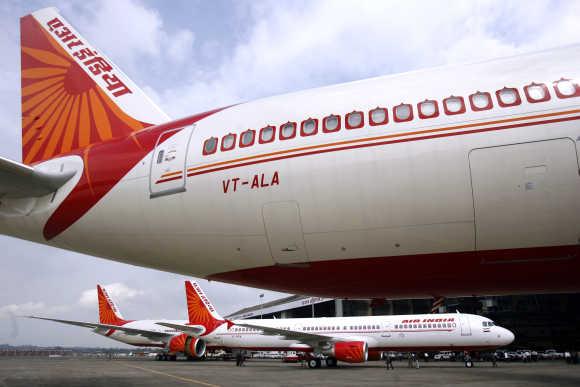 Fresh funding

Meanwhile, Air India has approached the ministry of finance for a sovereign guarantee to raise Rs 2,500 crore (Rs 25 billion) from banks due to the government's inability to infuse funds into the carrier, given the dire macroeconomic conditions.

"The current account deficit is at an all-time high. There is a resource crunch in the finance ministry because of which it has become difficult for the government to infuse funds at present. There is a shortfall of around Rs 2,500 crore in the total sum of Rs 15,600 targeted for infusion in the airline in 2013-14 and 2014-15," says the official quoted earlier.

The sovereign guarantee would enable Air India to raise loans at cheaper rates from the market. The money would be utilised to clear dues to vendors and airport operators. As of March 2013, Air India and its subsidiary companies owed Rs 1,539.75 crore to the Airports Authority of India.
Click NEXT to read more…
Faltering Air India looks set for take-off
October 03, 2013 16:07 IST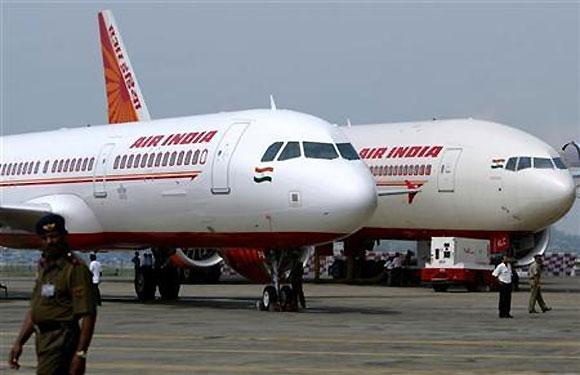 While many are still sceptical of the airline's capacity to turn itself around, the figures for the last financial year tell a different story. Civil Aviation Minister Ajit Singh says, "Air India's performance has been improving consistently and it is meeting most of the landmarks laid out in the turnaround plan. Despite the pilots' strike, Air India's revenues increased by 9.6 per cent to Rs 16,130 crore (Rs 161.30 billion) last fiscal."

The revenue of Air India is expected to increase 20.2 per cent to Rs 19,393 crore (Rs 193.93 billion) in the current financial year. Net losses in the period too are expected to fall 23 per cent to Rs 3,989 crore as compared to Rs 5,198 crore (Rs 51.98 billion) in the last financial year. The airline hopes to be Ebitda (earnings before interest, tax, depreciation and amortisation) positive by Rs 1,040 crore (Rs 10.40 billion) as against Rs 19.45 crore registered in FY13.

In the future, the airline hopes to open another revenue stream by monetising some of its real estate assets. In the current financial year, the assets in Delhi, Mumbai, Chennai and Coimbatore are expected to generate additional funds of Rs 1,500 crore (Rs 15 billion).
Click NEXT to read more…
Faltering Air India looks set for take-off
October 03, 2013 16:07 IST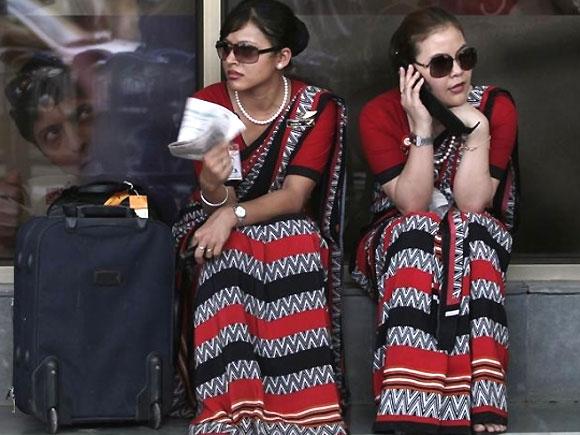 Some relief will also come from the jet-fuel marketing companies that have agreed to provide concessions of Rs 500 crore (Rs 5 billion) to the airline.

The infusion of funds into Air India is conditional and the airline has to earn it. It has to improve its on-time performance to 90 per cent in two years from 71 per cent last year. It also has to improve its PLF to 73 per cent by 2015, from 69 per cent in 2012, and further to 75 per cent beyond 2015.

Based on the plan, the airline could make an operational profit by 2018. While the airline's PLF has already increased to 78 per cent in the domestic sector this year, on-time performance has improved to around 85 per cent for the entire network.

There is no doubt Air India is more confident than ever before of flying out of trouble.
Source: