Cyrus Mistry's to-fix list widens
Krishna Kant
in Mumbai
Many investments failed to generate projected returns and hit the company.

Steve Jobs once said there were many great firms but very few made good money for shareholders. Cyrus Mistry, who completes a year as Tata Sons chairman on Saturday, faces a similar challenge.
There is no doubt he has received an enviable legacy from his predecessor — many Tata firms have consistently shown the ability to take risks, invest in new products and ideas and put the money where his mouth is; but that hasn't always translated into superior financial returns for shareholders.
Nearly half the group's revenue is currently is accounted for by companies and businesses that earn below-par returns (see chart).
Click on NEXT for most...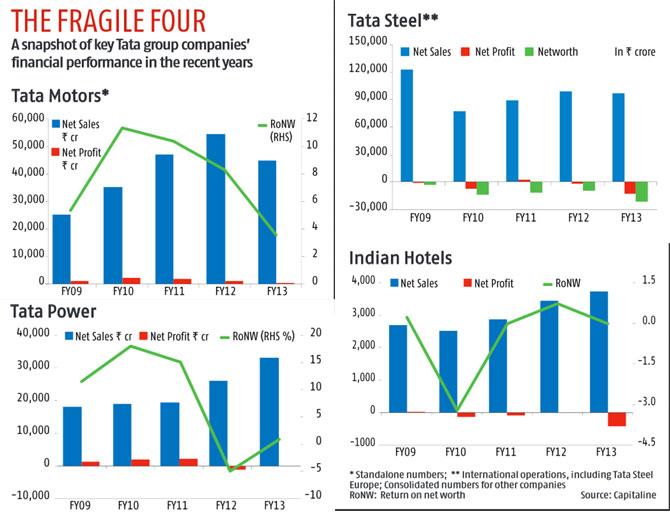 Photographs:
Reuters
Cyrus Mistry's to-fix list widens
This is partly due to an economic slowdown in India and Europe compressing demand for goods and services but some of the wounds are self-inflicted, too.
The slowdown heat has been felt the most in steel, commercial vehicles and hotels, but even companies in consumer-facing businesses like passenger cars and telecom haven't done too well on the brand test.

Despite being the group's largest company by revenues, Tata Motors has failed to go up consumers' preference ladder, despite many firsts to its credit.
The story is similar for the group's telecom business. Despite huge investments, Tata Indicom has failed to connect with mobile users and Tata Tele has finally ditched the brand in favour of Tata Docomo.
Click on NEXT for more...
Photographs:
Adnan Abidi/Reuters
Cyrus Mistry's to-fix list widens
In capital-intensive and cyclical businesses like Indian Hotels and Tata Steel, the problem has been compounded by expensive acquisitions at the peak of the valuation cycle. These investments failed to generate projected returns and hit the company.
Tata Power, on the other hand, was caught in a regulatory crossfire. Its biggest investment, Mundra Power, has become a big financial headache.

Fortunately, Mistry doesn't have to look too far for remedies. In TCS, he has one of India's top execution teams, while Titan is almost a serial brand factory.

By available indications, Mistry is aware of the challenges. That explains his efforts at consolidating and getting more from existing businesses. And, in his first year, he has taken some tough decisions as well — much of that spent on understanding the challenges.
Photographs:
Reuters