Modi's economic strategy fails to address India's problems
August 04, 2014 09:26 IST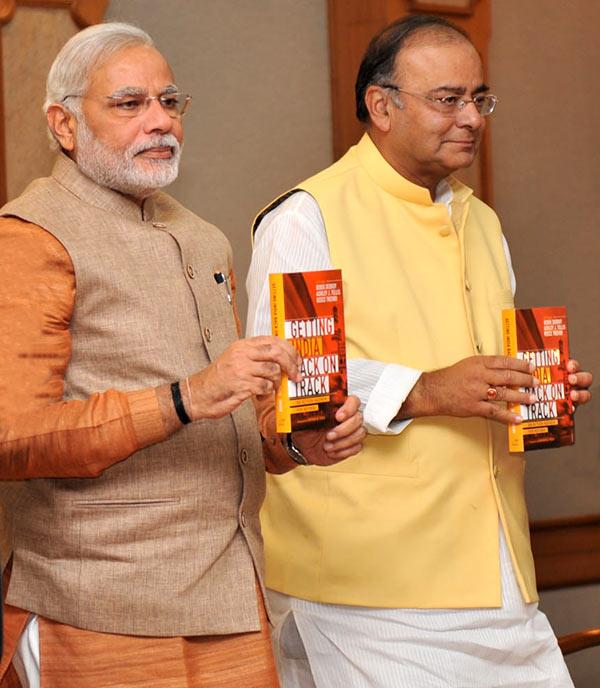 Narendra Modi's strategy in Gujarat was to run the state as a business entity. But it will be difficult to turn the country around since India is far removed from the salubrious environment that existed in Gujarat, says Shreekant Sambrani.
The National Democratic Alliance (NDA) Budget for FY2015 has come in for well-deserved criticism for being merely incremental and not showing enough of a vision for the future nor a sufficient break from the past.

Its recent stance in World Trade Organisation (WTO) negotiations has caused more confusion.

Surjit Bhalla and Pratap Bhanu Mehta have voiced their bafflement in The Indian Express of July 29. Prime Minister Narendra Modi is the focal point of these concerns.
Why has this happened?

The situation bothers those who have known Modi primarily as a candidate on the stump, but not as the chief minister of Gujarat for twelve and a half long years. He appears to be pursuing the Gujarat Model, not the kind discussed to death in the election campaign of 2014, but the one he actually practised during his earlier avatar.

Please click NEXT to read more...
Modi's economic strategy fails to address India's problems
August 04, 2014 09:26 IST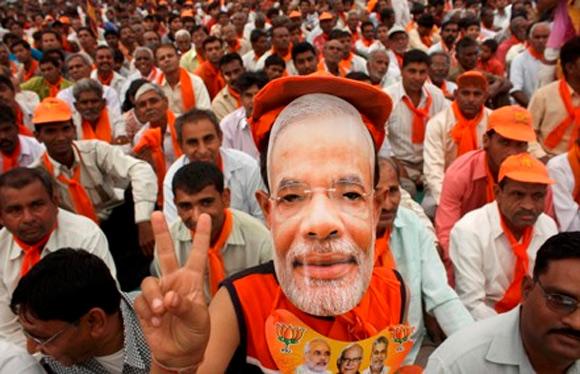 Modi perhaps has not had much use for economists.

This predates the bastion of economists, the Planning Commission, being in limbo or the position of the chief economic adviser lying vacant for long.

The stock of economists is not very high right now, after the dismal performance of the United Progressive Alliance (UPA), top-heavy with economic mavens.

But neither has Modi been much inclined to seek advice from even those pundits generally supportive of him - Jagdish Bhagwati, Arvind Panagariya, Arun Shourie, Bibek Debroy, to name a few - leave alone including them in the government apparatus, as was speculated earlier.
Modi's indifference to economic theories can be seen from the start of his administrative career. Vajubhai Vala, the state finance minister, was his early benefactor. He is the ultimate please-all politician, who has assiduously cultivated all leaders regardless of party affiliations and has a stack of IOUs.

Please click NEXT to read more...
Modi's economic strategy fails to address India's problems
August 04, 2014 09:26 IST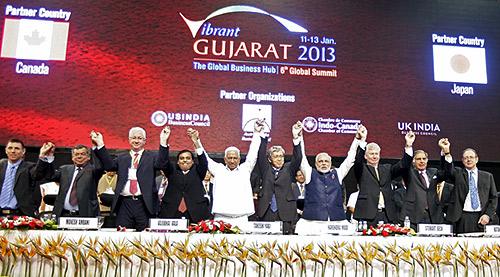 He offered Modi his safe Rajkot seat for election to the state Assembly in 2001. Vala returned to the finance ministry in 2002 and remained there until 2013, when he became the Assembly speaker, when Modi's march to Delhi had already begun.

Vala, who has no academic qualification in economics, presented 18 state Budgets, 12 of which had no additional taxes.

These Budgets showed specific tinkering of the kind seen recently in central Budgets as well. They all fully deserved to be called incremental.
Modi's strategy was to run the state as a business entity. For this purpose, he depended on two younger members of his team, both with business background and experience, Nitin Patel (current finance minister) and Saurabh Patel (current industries and energy minister).

Modi trusted their acumen and gave them key responsibilities. They delivered on issues such as 24x7 power supply and industry-friendly ambience, leading to showcase projects such as Vibrant Gujarat.
Modi orchestrated and executed many a scheme with great aplomb, which caught everyone's imagination, most of all, that of India Inc. Thus was born the legend of the Gujarat Model.
To this end, Modi depended heavily on the bureaucracy. His chief secretaries such as P K Laheri, D Rajagopalan and A K Joti delivered plenty.

All through his chief ministership, Modi was very much his own chief economist with little regard for theory or ideology, but possessing pragmatism in abundance and an unerring instinct for what sells.

Please click NEXT to read more...
Modi's economic strategy fails to address India's problems
August 04, 2014 09:26 IST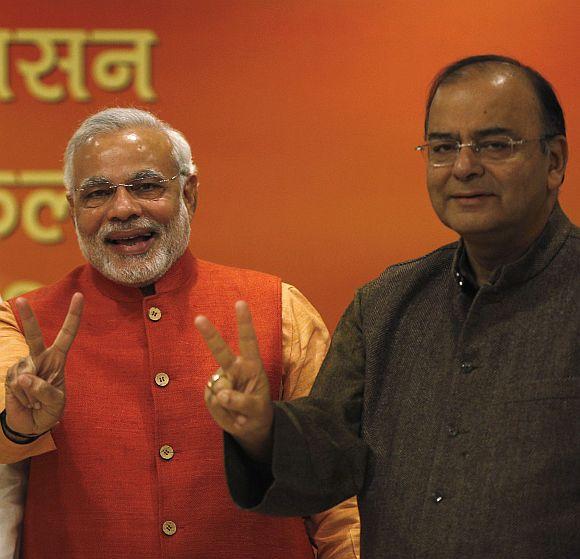 Modi is now trying to faithfully put into practice the maxim "don't-fix-it-if-it-ain't-broke". His new Vala is Arun Jaitley, albeit a far more sophisticated version.

Modi does not forget, certainly not one who saved him in 2002, just as he did not forget the favour Vala had done. His equivalents of the two Patels in Gujarat are Piyush Goyal and Dharmendra Pradhan, both young and reasonably business-savvy, in the all-important energy field.

Why, he even has a younger and more articulate and presentable Anandiben Patel (who began as education minister and eventually succeeded Modi) in Smriti Irani. And, of course, his new Amit Shah is his old Amit Shah. He does not need eminences grises, nor theories.

He has his slogans, and pet schemes that strike a chord with people. He has as willing a set of bureaucrats in Delhi to serve him as he did in Gandhinagar. He was highly visible with plenty of photo-ops with visitors and projects, but spoke only on ceremonial occasions, something we are seeing now in Delhi as well.

Modi is now his own chief economic adviser and Planning Commission deputy chairman, with Arvind Mayaram as a trusted factotum. That is why the Economic Survey and the Budget show remarkable continuity with the UPA.

Please click NEXT to read more...
Modi's economic strategy fails to address India's problems
August 04, 2014 09:26 IST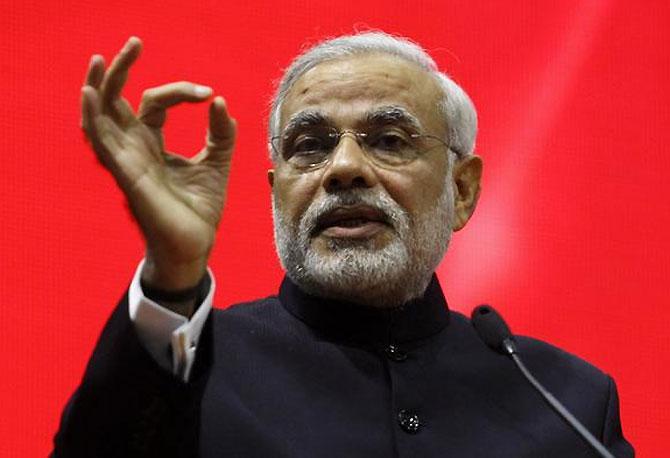 Modi also knows what plays to the gallery. Removing or reducing subsidies does not, no matter how compelling the economic rationale for it is. That is why he has carefully avoided any action that smacks of such intent.

All through the campaign (and even earlier), he never opposed food security, but emphasised how he would do it differently as he had done in Gujarat and as Raman Singh was doing in Chhattisgarh.

Not touching the UPA crowd-pullers such as the MNREGS or food security or the stance in WTO are of a piece with this please-all strategy, even if it comes at a somewhat steep cost.
But there is a fly in the Gujarat Model ointment. Gujarat had been on a growth and governance trajectory ever since it came into being in 1960, a few hiccups as in 1975 and 1986 notwithstanding.
Most of India is far removed from such salubrious environment. Its wounds and sores are far more difficult to heal, as we see now nearly every day.
It is early days yet for the new government. The natural reaction of people as well as organisations to any new situation is to extrapolate from the past.

Modi has followed this common practice. He appears to derive further motivation to do so on the basis of the spectacular electoral victory, which he obviously attributes to the seemingly irresistible appeal of the Gujarat model.

That is not entirely invalid or without justification. His actions seem to stem from the belief that he addresses people's needs, and not any specific school of thought. He has said as much frequently in the campaign.
But a major policy rethink is what is needed to address our myriad problems. Perhaps Modi intends to do so, but it is so far not evident in his scheme of things.

The zeal that has brought about some changes, mostly cosmetic, until now needs to be applied to serious diagnosis of body politic and economic, leading to effective prognosis, Dr Modi.
Source: