Branded living: Five-star hotels offer posh homes
June 24, 2013 15:26 IST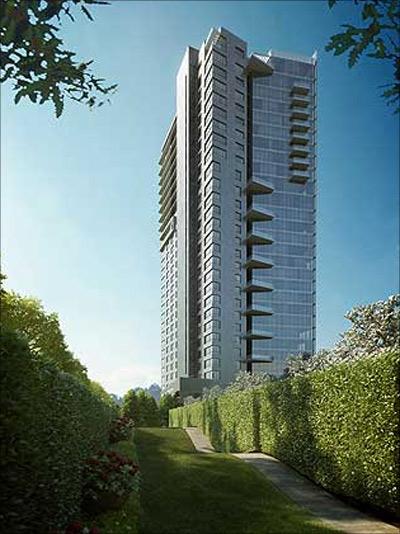 Five-star hotel chains and real estate developers are collaborating on branded homes that not only offer a premium lifestyle but are sound investment options as well

Round-the-clock concierge services, chauffeurs on call, laundry services, private elevators and access at discounted rates to fancy restaurants. You might expect these services when you check into a five-star hotel. But what if they were available in your own home as well?

Ever on the lookout to tempt high net worth individuals (a segment that has grown 22 per cent over last year according to the latest Capgemini-RBC World Wealth Report), real estate developers are now offering just that.

Such developments, termed branded residences, are a familiar concept abroad. Not to be confused with projects that are endorsed by celebrities or design brands, these are residential units that are managed by hotel chains and are part of a hotel compound. And the concept is slowly gaining ground in India, with projects coming up across the country.


Click NEXT to read more…
Branded living: Five-star hotels offer posh homes
June 24, 2013 15:26 IST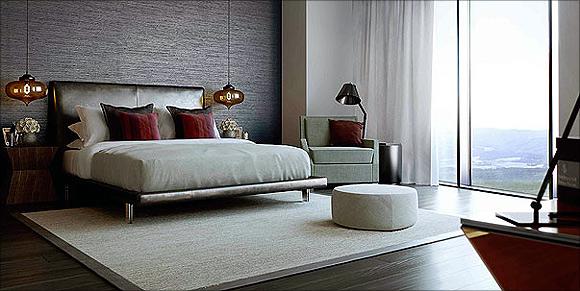 Earlier this month, the Delhi-based Bhartiya group announced that its $1.5-billion integrated township in Bangalore, Bhartiya City, would also feature 150 branded residences to be developed in collaboration with luxury hotel company Leela.

Tentatively titled Leela Residences, the apartments will have a 258-key luxury hotel adjacent. This is the second such project under way in Bangalore, the first being City View, developed by international hotel chain Four Seasons and real estate developer Westcourt.

Located on Bellary Road, near Hebbal, City View has 110 Four Seasons Private Residences, split across two towers. The property will also house a Four Seasons hotel, offices and a boutique retail space.

Four Seasons is also part of a branded residences project being developed by realty firm the 3C company in Noida, incidentally the location for another 100 branded residences and a 250-room luxury hotel being developed by Supertech in partnership with Leela.
Click NEXT to read more…
Branded living: Five-star hotels offer posh homes
June 24, 2013 15:26 IST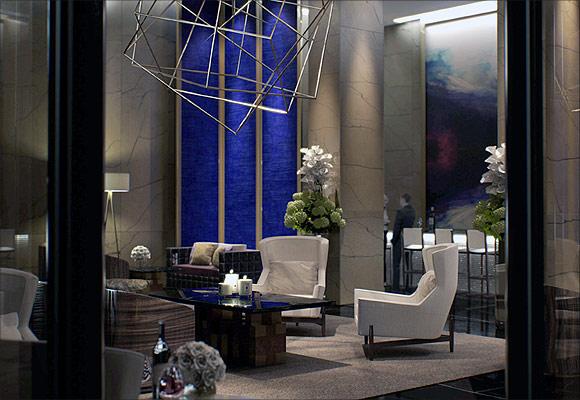 In Mumbai, Oberoi Realty is reported to have signed on Ritz Carlton for a similar project in Worli, though the company would not confirm or deny this as the spokesperson was travelling. Ritz Carlton has also tied up with Bangalore-based Nitesh Estates for a branded residences project in Chennai.

So what sets these branded residences apart from other high-end properties? By combining the services of a five-star hotel chain with a luxury apartment, developers hope to offer the best of both worlds.

"All hotel services will be extended to the owners, on a chargeable basis. Suppose you are throwing a party and do not want to cook, then there will be a chef on call. Residents will also have access to concierge services, a travel desk, private wine coolers and a priority pass at airport lounges, among others," says says Arjun Aggarwal, CEO of Bhartiya City.
Click NEXT to read more…
Branded living: Five-star hotels offer posh homes
June 24, 2013 15:26 IST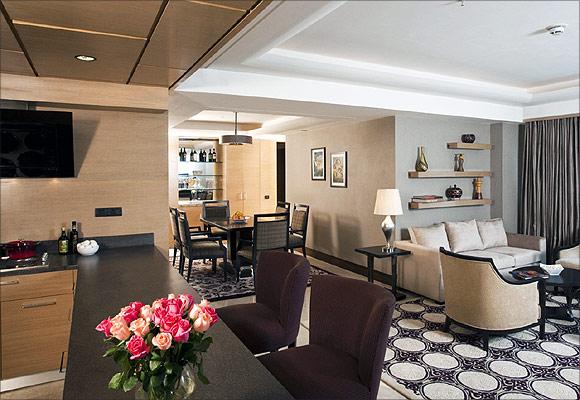 At City View, the Four Seasons-Westcourt project in Bangalore, residents will be able to avail of 24-hour concierge, valet parking and direct-dial access to the services of the Four Seasons hotel — which includes in-room dining and even a limousine service, available for a separate fee.

Leela's 100-apartment project in Noida, meanwhile, will offer housekeeping, laundry pick-up and drop-off and facilities to organise banquets on request, according to the spokesperson.

As a 2012 report on branded residences by real estate consultancy Knight Frank points out, "the significant level of attention paid to both architecture and interior design" is another feature of such projects. So if the Bhartiya group has roped in Thailand's PIA for the interiors of the Leela hotel and apartments, Westcourt has got Studio u a, Yabu Pushelberg and P landscape for architecture, interior and landscape design.
Click NEXT to read more…
Branded living: Five-star hotels offer posh homes
June 24, 2013 15:26 IST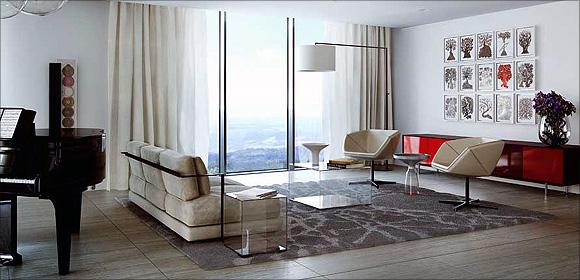 By joining hands with five-star hotel chains, developers are hoping to guarantee residents a certain standard of luxury living. Bhartiya's Aggarwal says it made sense to align with a hotel group like Leela because the hospitality sector in India has been able to deliver luxury to the customer successfully.

But these offerings come at a premium. Knight Frank, in its report on branded residences all over the world, found that that branded developments are priced at a premium over non-branded developments with an average 31 per cent uplift, "although the rate of uplift ranges from 5.7 per cent in Jakarta to over 50 per cent in several locations."

In Bangalore, the analysis found that there was a markup of 27 per cent. While Aggarwal says the developers have not yet decided on the pricing of the apartments, the Four Seasons private residences in Bangalore begin upwards of Rs 4.5 crore for a 1,800 square feet apartment and upwards of Rs 9 crore for three- and four-bedroom apartments starting at 3,800 square feet.
Click NEXT to read more…
Branded living: Five-star hotels offer posh homes
June 24, 2013 15:26 IST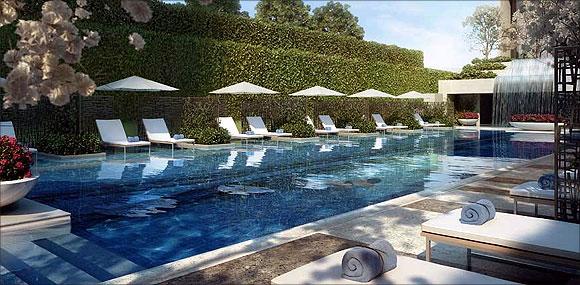 "The services and, to some degree, the appeal of the brand do drive the premium but this remains secondary to the quality of the building and location," says James Price, head of international residential development at Knight Frank, London, in an email.

Branded residences are aimed squarely at a premium clientele, and are more of a lifestyle buy than an investment option, say consultants.

"These apartments are aimed at the highest bracket of customers. It's not something that everybody will adopt," says Karun Varma of realty consultants ETZ. "These are people who don't mind trading money for time, if they are getting world-class facilities in return," says Rohan D'Silva, national director (residential agency), Knight Frank India. Varma adds that these residences would usually be second homes or "away homes".
Click NEXT to read more…
Branded living: Five-star hotels offer posh homes
June 24, 2013 15:26 IST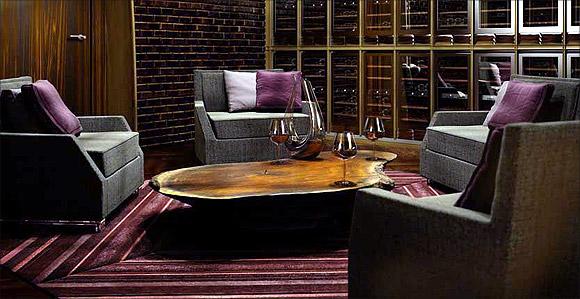 But the total operational costs of such residences, says Varma, would be quite high and people might not want to lease these apartments.

While the market is yet to mature in India to get a clear picture of the investment value of such projects, the global trend suggests that these apartments might not be a bad investment option either, according to Knight Frank's Price. "They appear to perform well in most cases, particularly where the number of units is limited and the operator brand continues to thrive."
Nevertheless, both developers and consultants are bullish about the segment. "It's good for the hotels because they are getting land at zero cost when land is the single-largest cost for hoteliers," says Knight Frank's D'Silva. And the developers would benefit from the services of a veteran luxury hotel chain and the brand value. "It's adding value, so it's a concept that could definitely take off."